Key Highlights
Activate Zeus Network: Install Zeus Network → Sign in → Note down the activation code → Visit the activation site → Enter the code → Log in.
Zeus Network is an American-based online streaming service that offers on-demand content from various genres like live shows, TV series, dramas, documentaries, fitness videos, and many more from hundreds of local channels. To access all this content, you need to subscribe to the plan. However, if you want to stream on your streaming devices, you should activate the Zeus network app.
Unfortunately, there is no free trial on Zeus Network. If you want to check the features, subscribe for the monthly plan available on this
How to Activate Zeus Network App on Your Streaming Device
First, go to the respective app store on your streaming device and install the app.
[1]. Install the Zeus Network app on your Streaming device from the default app store.
[2]. Launch the app and sign in to your account.
[3]. An activation code will appear on your TV Screen. Note down the code.
[4]. Now, open the preferred web browser on your smartphone or PC and visit www.thezeusnetwork.com/activate.
[5]. If prompted, enter the email address and password. Enter the activation code that appeared on your TV screen.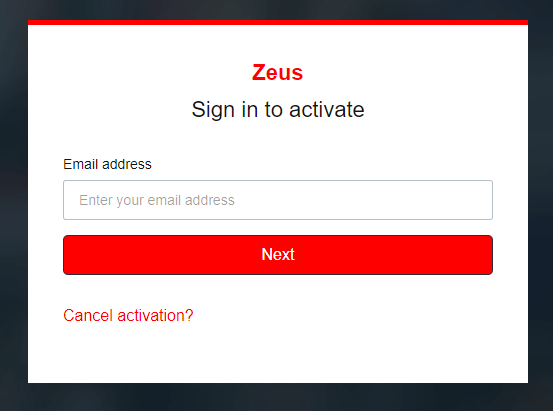 [6]. That's it. Your Zeus Network app will be activated successfully, and you can now stream your favorite Zeus Network content on your streaming device.
How to Sign Up for Zeus Network
[1]. On your default web browser, visit Zeus Network's official website.
[2]. On the top right corner of the screen, tap on Subscribe.
[3]. Choose any of the subscription plans, either Annual or Monthly.
[4]. Enter the email address and password.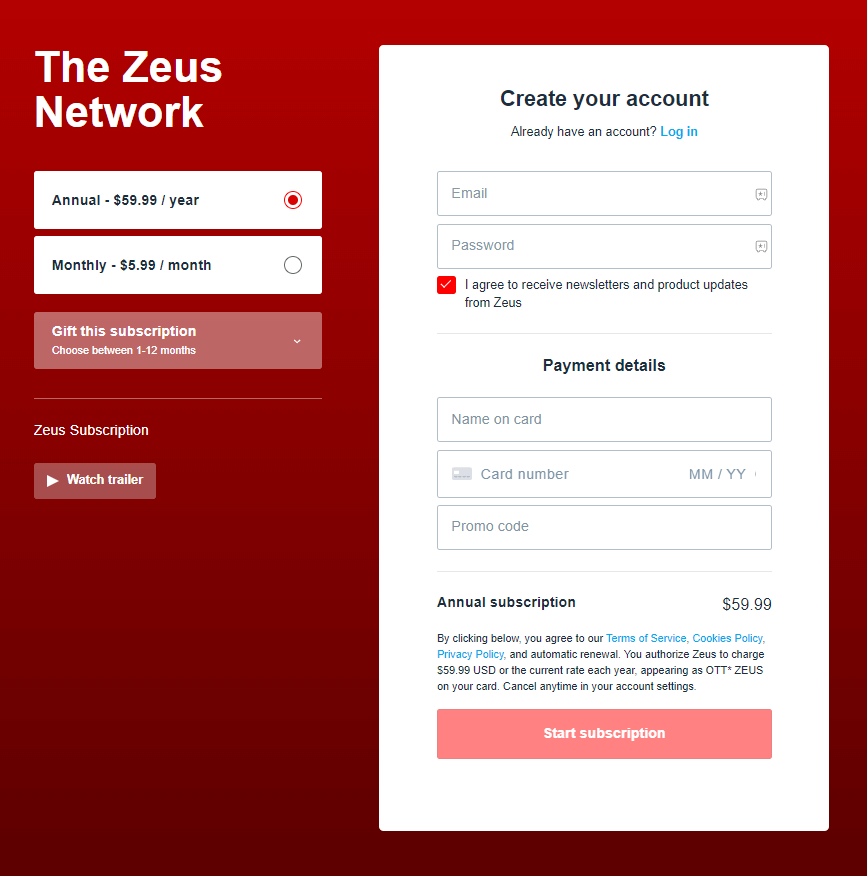 [5]. Attach your payment details (card name and number). If you have a promo code, enter it to get the subscription
[6]. Finally, tap the Start subscription button.
Frequently Asked Questions
1. How much does the Zeus Network subscription cost?
Zeus Network subscription plan costs $5.99 per month and $59.99 per year.
2. How to fix the Zeus Network app not working issue?
If the Zeus Network app is not working correctly,
– Restart your streaming device.
– Check your internet connection.
– Update the app on your streaming device.
– Uninstall the app and reinstall it again.
– Reset the device and install the Zeus Network app.
Was this article helpful?