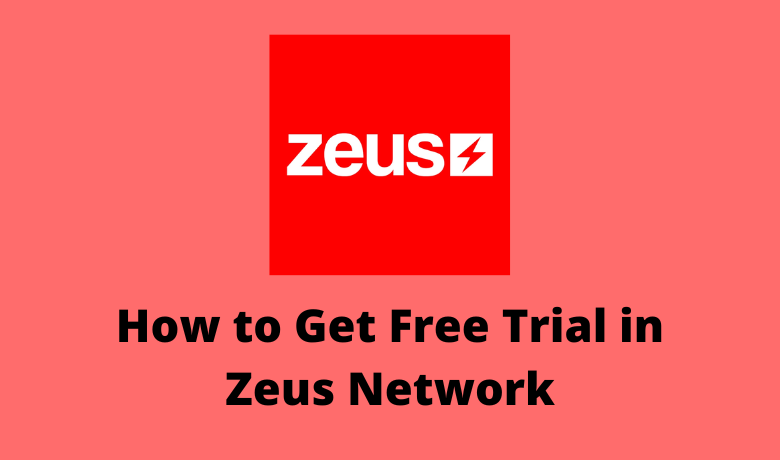 The Zeus Network is a popular entertainment streaming service. It is a subscription-based channel containing original independent series and a mix of fitness videos, comedy, drama series, talk shows, reality TV, etc. The popular shows streamed on Zeus Network are Life with Lik Tay, The Real Black Chyna, Bad Boys, and more. Zeus Network offers the user to watch all the available shows offline. Many think that Zeus Network offers a dedicated free trial to users. Unfortunately, there is no free trial period provided by Zeus before subscription. But, there is a possible way to get the free trial to experience the premium features and watch content on Zeus Network.
Zeus Network Subscriptions
Zeus Network provides users with two major subscription plans.
Monthly – $5.99/month
Annually – $59.99/year
How to Get Zeus Network Free Trial
As there is no free trial for new or existing users, with the help of a virtual credit card or physical card, you can subscribe to any plan with a free trial and access the content.
[1] Visit the official site of Zeus Network using your smartphone or PC web browser.
[2] Click Subscribe on the top-right.
[3] From the subscription plan, choose either an Annual or Monthly subscription.
[4] Next, type the Email ID and Password.
[5] Select the check box near 'I agree to receiver newsletter and product updates from Zeus' if you wish to receive notifications from Zeus.
[6] Under the Payment details section, provide the card name, number, and expiry date.
[7] If you have promo codes, type the code in the required box for concession.
[8] Finally, click the Start Subscription option and stream your favorite content on the Zeus Network.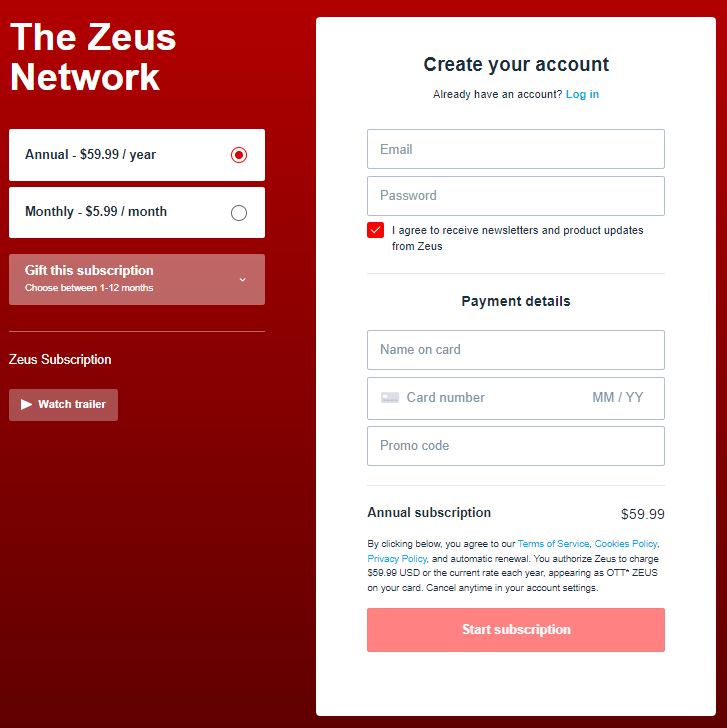 Tips! If you are looking for feel-good movies and family entertainment, you can sign up and get a free trial on Pure Flix.
How to Watch Free Content on Zeus Network
Zeus Network offers content to watch for free on the Zeus Network website. You can watch them in the Free section without any subscription.
[1] From the browser, visit the Zeus Network website.
[2] Navigate to the top and click on the Browse option.
[3] Scroll down and click on the Free section and click View All.
[4] Now, you can choose the free content you want and stream it for free.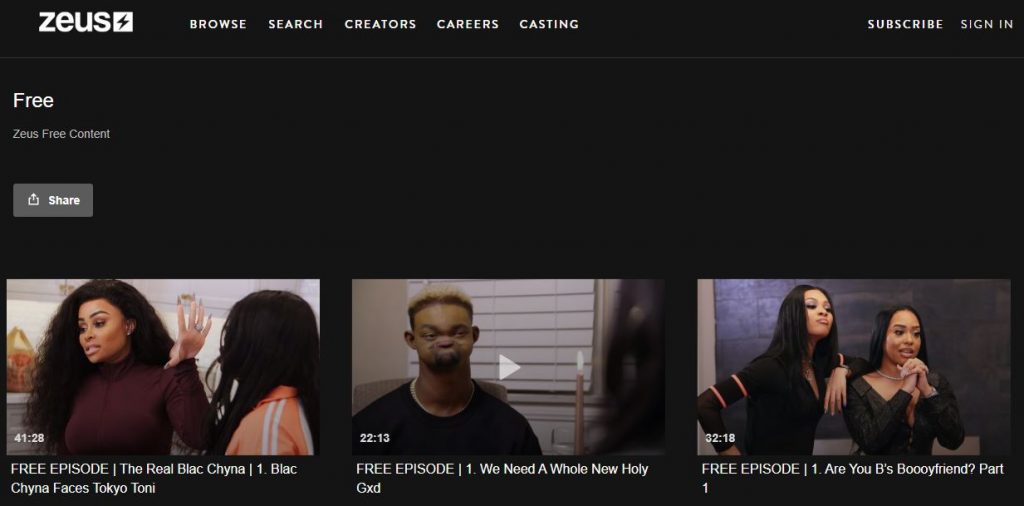 Tips! If you are a sports and entertainment freak, get a free trial on Vidgo by signing up on the platform.
Frequently Asked Questions
1. Does Hulu have Zeus Network?
Unfortunately, Zeus Network is not available on Hulu. Instead, you can access the Zeus Network directly on the website or by installing the Zeus Network app on smartphones.
2. Where can I watch Zeus Network for free?
You can watch free content available on the Zeus Network. You can watch Zeus on Apple TV, Fire TV, Roku, Android TV, and Chromecast.