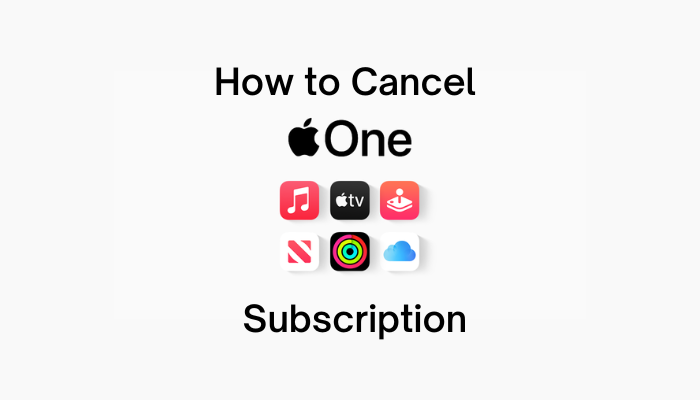 Apple One is a single subscription that brings six different Apple services into a single monthly payment. With Apple One, you can save a considerable amount of money. It brings you Apple Music, Apple TV Plus, Apple Arcade, iCloud, Apple News Plus, and Apple Fitness Plus. Apple One has three different subscription plans: Individual ($14.95/month), Family ($19.95/month), and Premiere ($29.95/month). You must cancel your subscription or free trial when you think the Apple One service is not suitable for you. It can be canceled on your iPhone/iPad or Mac.
iPhone/iPad: Open Settings → tap on your Apple ID → choose Subscription → select Apple One → click on Cancel Subscription.
Mac: Open Music app → click on Account → select View my Account → navigate to Subscription → choose Manage → find Apple One → click on Edit → select Cancel Subscription.
How to Cancel Apple One Subscription or Free Trial on iPhone/iPad
1: Open the Settings app on your device and tap on your name (Apple ID) at the top.
2: Under your Apple ID tab, select the Subscriptions option.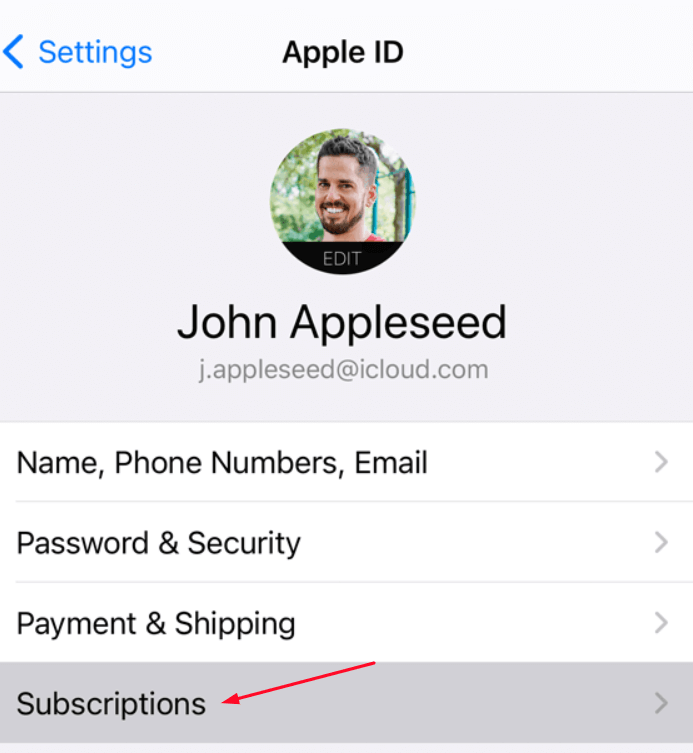 3: Select the Apple One subscription from the list.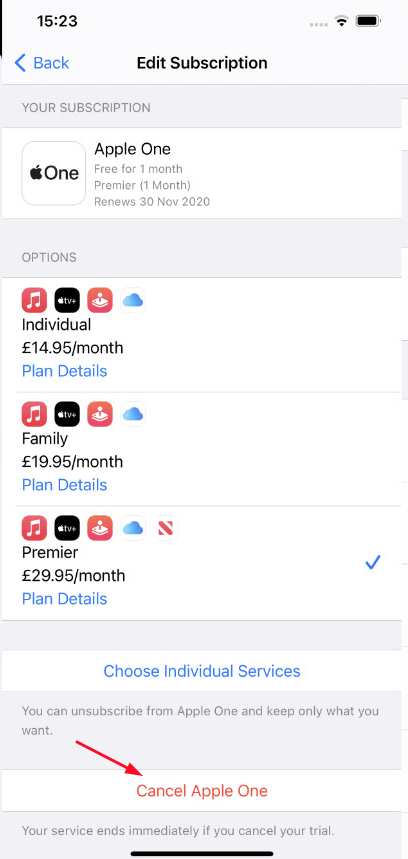 4: Click the Cancel Apple One option at the bottom. It will cancel your whole subscription plan.
If you have signed up for Apple Music alone, you need to cancel the Apple Music subscription separately.
Using Mac
First of all, ensure that your Mac is connected with the appropriate Apple ID.
1: On your Mac, launch the Music app.
2: Select the Account option at the top and choose View my Account.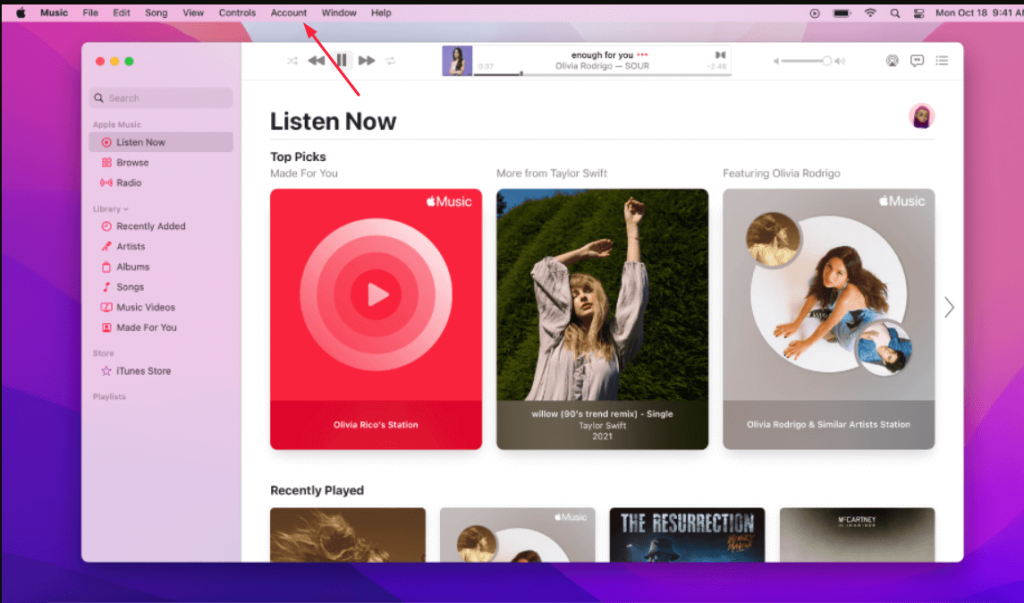 3: On the Account screen, scroll down to the Settings section and tap the Manage option next to the Subscriptions option.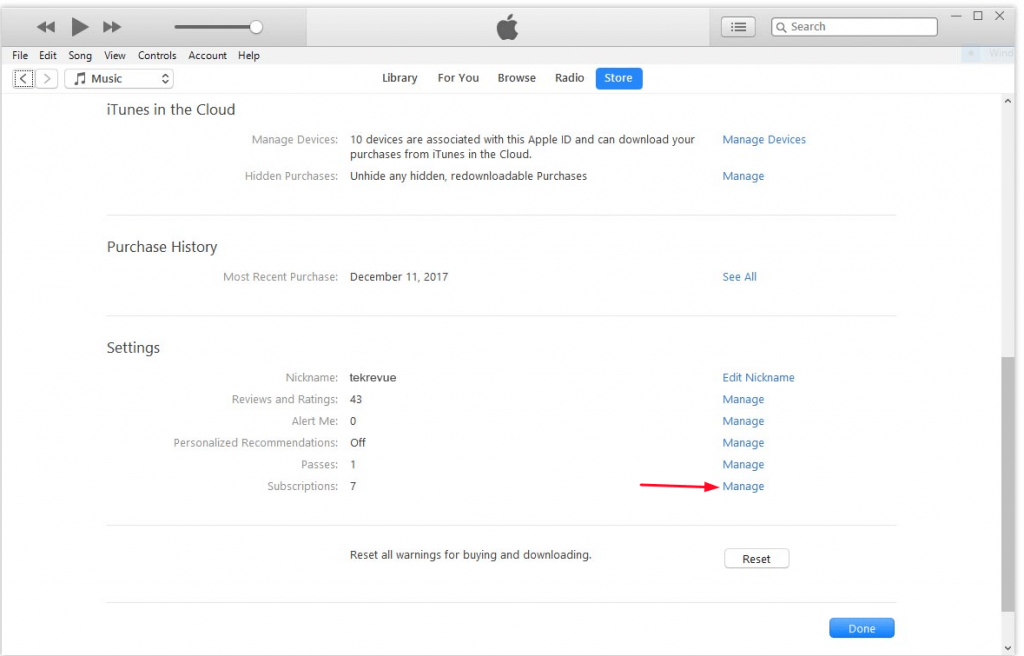 4: Find the Apple One subscription and tap on the Edit option.
5: Click on the Cancel Subscription button.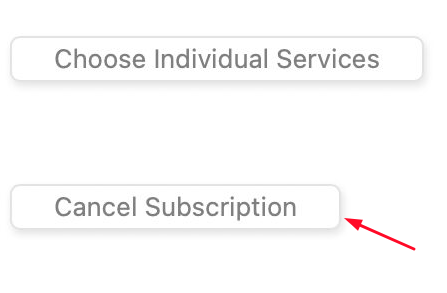 6: Confirm your cancellation to complete the process.
Tips! You need to cancel your Apple Arcade subscription when you don't want Apple's mobile gaming service.
Frequently Asked Questions
How to share Apple One family subscription?
On your iPhone or iPad, go to Settings → tap on your Apple ID → choose Family Sharing → click on Set Up Your Family → add your family members. You can add up to five people.
Why can't I cancel the Apple One subscription?
If you're unable to cancel the subscription, report a complaint to the Apple support team, and they will help you to fix the issue.
Was this article helpful?