Key Highlights
You can deactivate your Instagram account anytime directly from your iPhone or computer.
For Android devices, you can deactivate the account only using the mobile browser.
Most smartphone users have an account on Instagram. Though Instagram makes you stress-free, it can lead to frequent use, which isn't a good sign. Even I have gone through the same phase and decided to disable Instagram. If you like to stay away from Instagram for a while or take a break, you can deactivate your account temporarily from your smartphone or desktop.
Deactivating Instagram doesn't delete your account permanently. It is very similar to hibernate and can be activated instantly by signing in. For those who don't want to delete their Instagram account, deactivation will be the best choice to opt for.
In this article, we will guide you on how to deactivate your Instagram account safely on mobile and desktop.
How to Deactivate Instagram Account on Android Mobile
Unfortunately, you can't deactivate Instagram on the Android app. Hence, you need to use the mobile browser to deactivate.
1. Head to the official website of Instagram – https://instagram.com/ on the default browser.
2. Login with your account credentials.
3. Click the Profile picture on the bottom right.
4. Select Profile → Edit Profile.
5. Navigate down and select Temporarily deactivate my account.
6. You can find the drop-down near the option Why are you deactivating your account?
7. Choose the desired reason and type the password.
8. Click Temporarily Deactivate Account.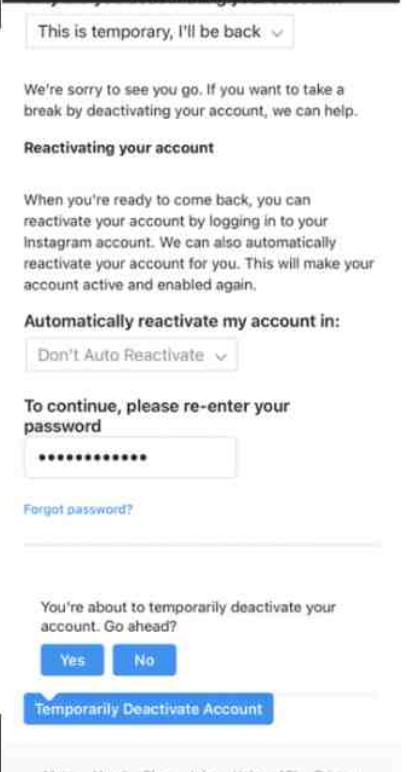 9. Select Yes for the confirmation.
How to Deactivate Instagram on iPhone
Fortunately, the iPhone app of Instagram gives the option to disable the account.
1. Open the Instagram app and click the Profile picture.
2. Tap the Hamburger icon (top right).
3. Select Settings and privacy.
4. Choose Deactivate account.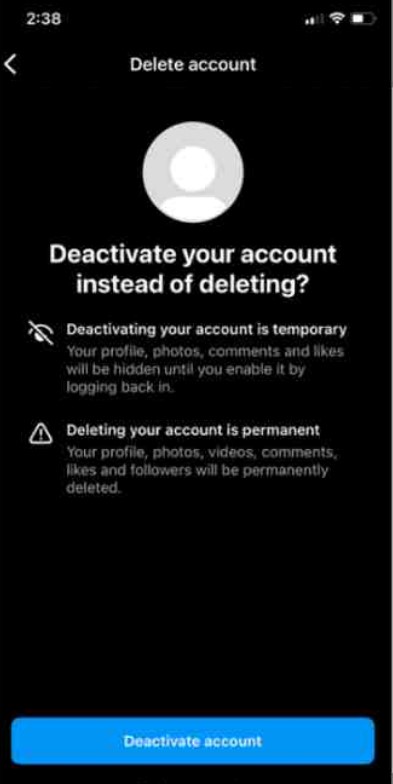 5. Click an option under Why are you deactivating your account?
6. At last, select Temporarily Deactivate Account.
How to Disable Instagram from Accounts Centre
Note: In this method, you can deactivate your Instagram account directly from the Android app
1. Hit the Profile picture and select Menu (Hamburger icon).
2. Choose Settings and Privacy.
3. From the options, click See more in the Accounts Centre.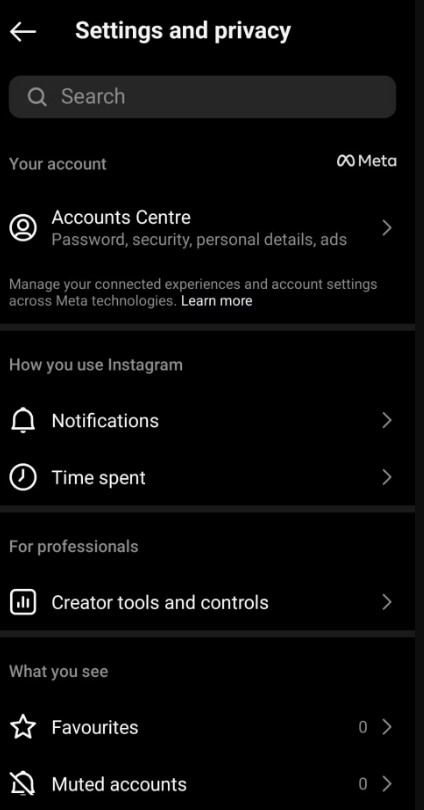 4. Under that, tap Personal Details.
5. Go to Account ownership and control → Deactivation or deletion.
6. Select your account from the list.
7. Tap Deactivate account and click Continue.
How to Deactivate Instagram on Computer
Deactivating your Instagram profile on the desktop browser is similar to the Android mobile version.
1. Visit the Instagram webpage on your Windows PC or Mac.
2. If you are not logged in already, log in using your Email/Username and Password.
3. Once logged in, click your Profile picture icon in the top right of the webpage and click Profile
4. On the profile page, click Edit Profile.

5. Scroll down and click 'Temporarily Disable My Account' in the bottom right of the 'Edit Profile' webpage.
6. Select an option from the drop-down menu next to Why are you disabling your account? and enter your password.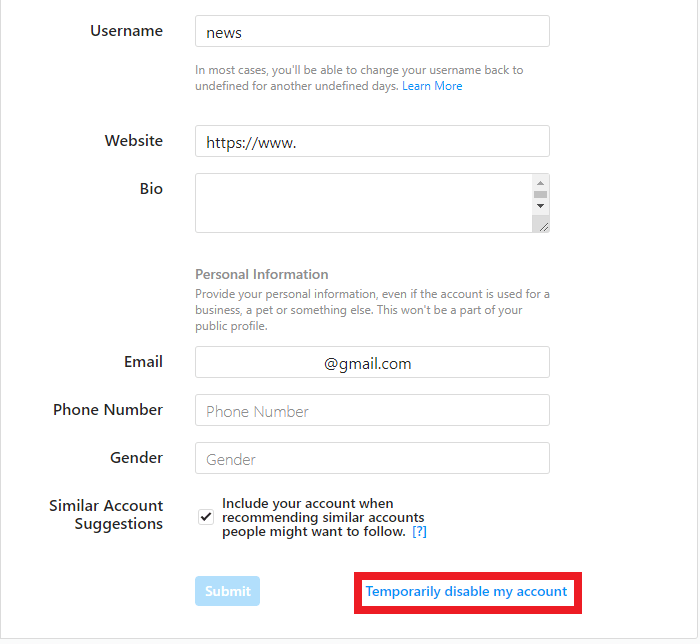 Note: The option to disable your account will appear only after selecting a reason and entering your password.
7. Click Temporarily Disable Account.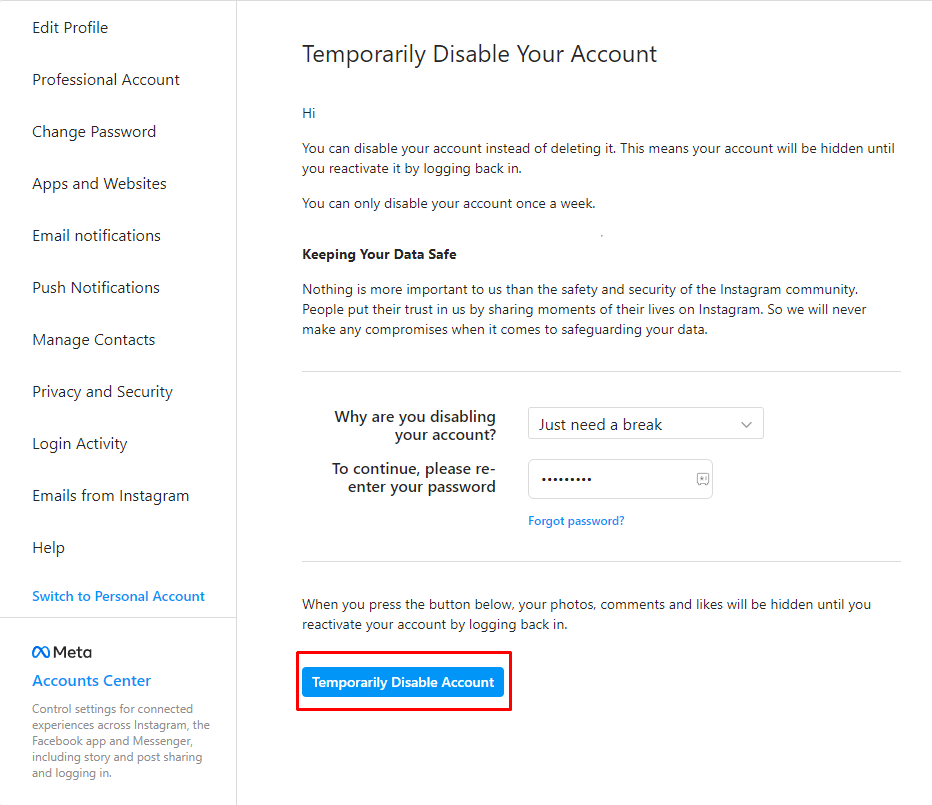 8. Select Yes on the confirmation.
Note: You can reactivate the disabled Instagram account by simply logging in with your email ID/username and password.
FAQ
1. How to deactivate an Instagram account twice a week?
You can't deactivate an Instagram account twice a week. Once you have deactivated your account, you can't deactivate it again for the next seven days.
2. Can you deactivate Instagram permanently?
No. Deactivation is a temporary action that will disable your Instagram account until you sign in.
3. Is it possible to disable Instagram from Facebook?
Yes, you can disable your Instagram account from Facebook Accounts Centre.
4. How to deactivate Instagram without a password?
Sadly, no. It is impossible to deactivate the Instagram account without using the password.
Was this article helpful?