How To
How to Get LinkedIn Premium for Free
Get LinkedIn Premium subscription packs for free up to 6 months with this simple trick.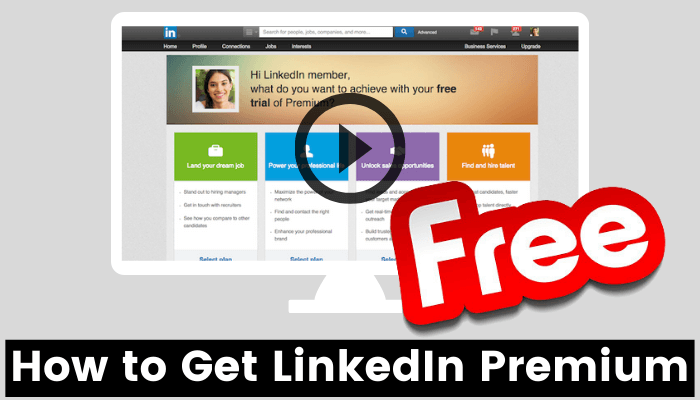 LinkedIn is a social network platform that primarily focuses on career development and professional networking. Like Facebook and Twitter, LinkedIn is also a social network owned by the tech giant Microsoft. You can use LinkedIn to display your resume to search for a job. LinkedIn is free to use, but the premium subscription packs give additional in-depth analysis and online classes along with webinars.
The LinkedIn home page is similar to the Facebook home page, displaying other posts on your news feed. LinkedIn also has features that are not available on other networks, like the Career dashboard, displaying your career while hovering over your profile icon.
LinkedIn Free vs. Premium
| FEATURES | FREE | PREMIUM |
| --- | --- | --- |
| Profile Searches | up to 100 | up to 300 |
| Who viewed your profile in 90 days | No | Yes |
| Advanced search | No | Yes |
| Multifeatured Email | No | Yes |
| Applicant Insights | No | Yes |
| Keyword suggestions | No | Yes |
Subscription Packs
Career – $18.99/month
Business – $24.99/month
Sales – $51.99/month
Hiring – $66.99/month
How to Get LinkedIn Premium Subscription for Free
If you are a member of the US Military or a US Military Veteran, you can get one year of LinkedIn Premium for free. For that, you have to verify your US Military credentials with SheerID. To do so,
1. Go to the LinkedIn Global Impact website.
2. Specify the necessary information and click the Verify My Military Startus via SheerID.
3. When your profile is verified, you will get the credentials to access LinkedIn Premium without any subscription for one year.
Note: This is a one-time offering. You can't use the same ID more than one time.
Alternate Way
LinkedIn premium offers a variety of extra features. We can avail of LinkedIn premium for free using these hacks. They are,
Using LinkedIn free trial.
Using Visual Studio learning program.
Plus-One Pledge
50% Off
Surprisingly, LinkedIn is not offering any student discounts.
Using LinkedIn Free Trial
1. Go to the LinkedIn website and click the Try free for 1-month button.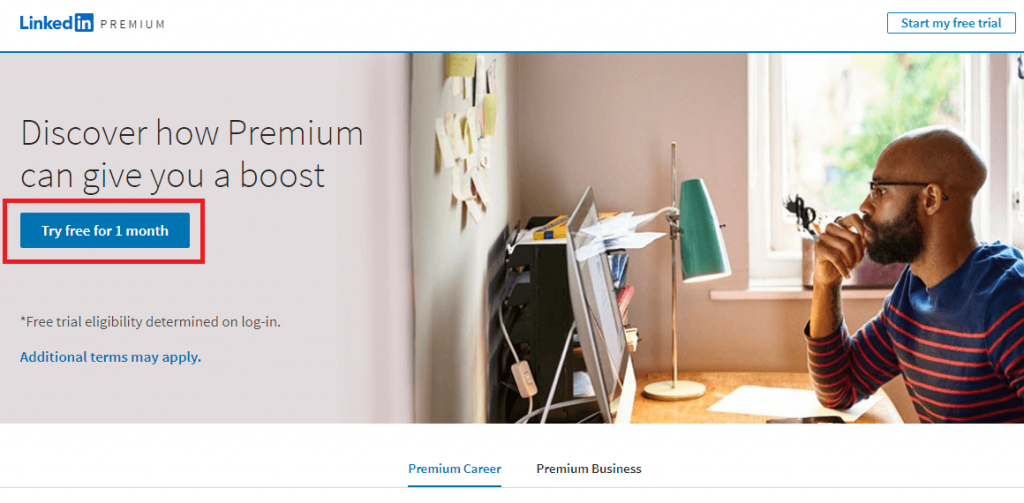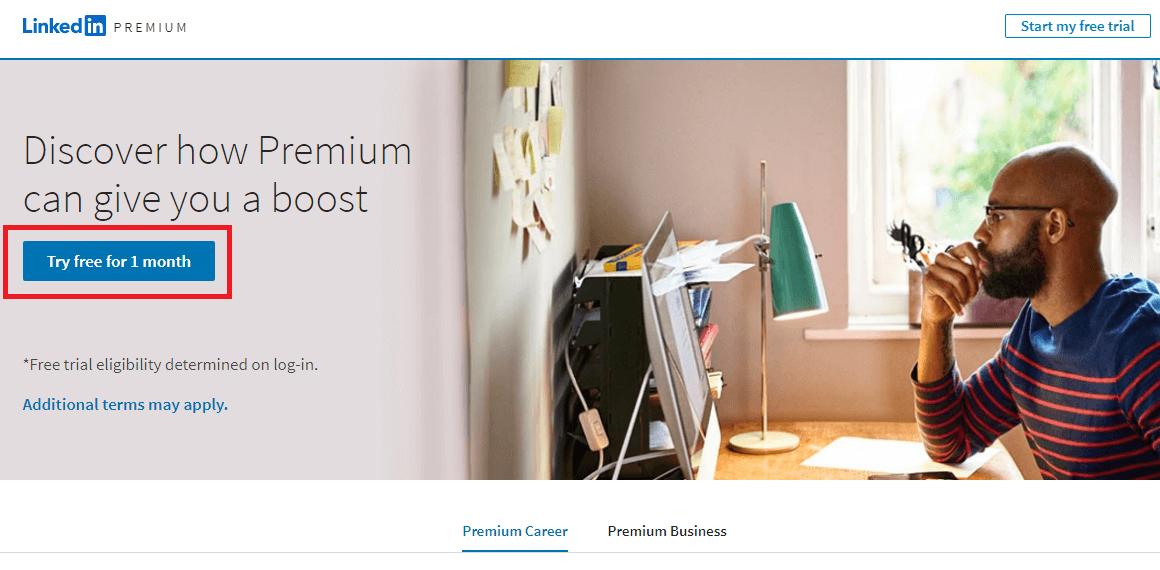 2. Log in to your LinkedIn account.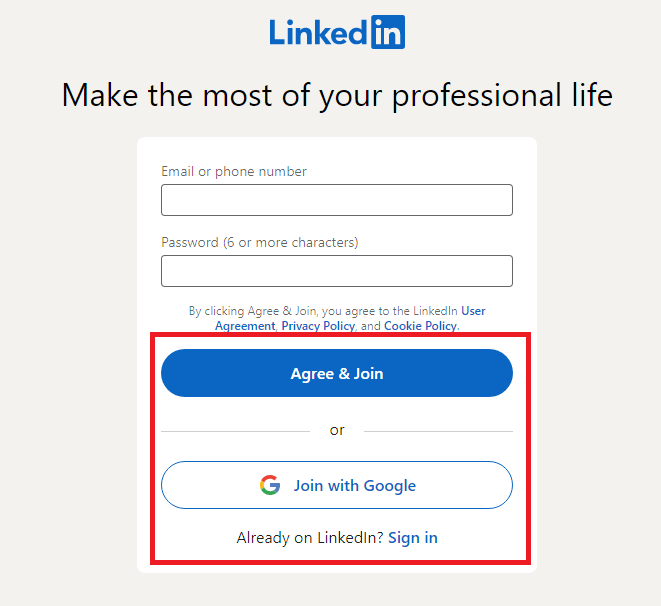 3. Now, complete the security check verification.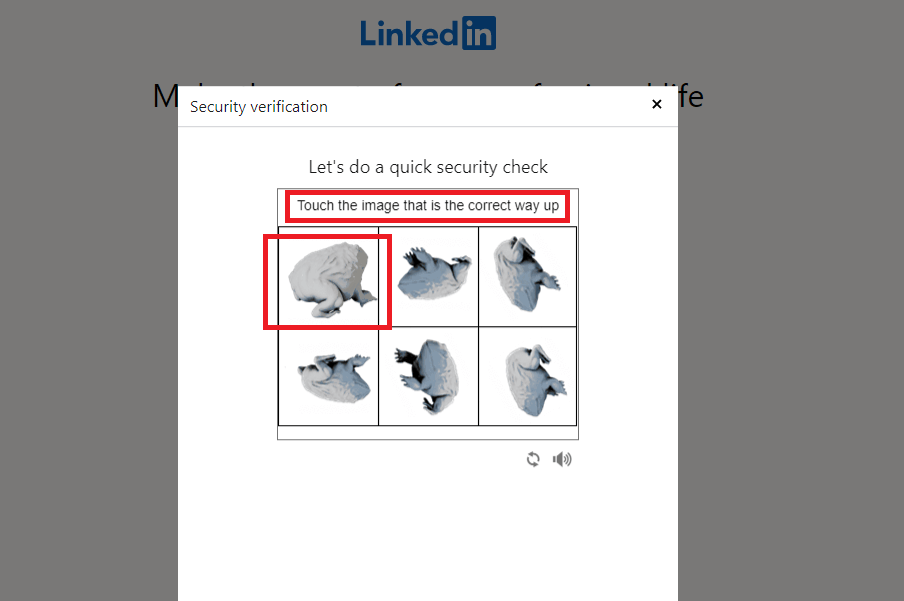 4. Select any one of the premium plans which suits your requirement.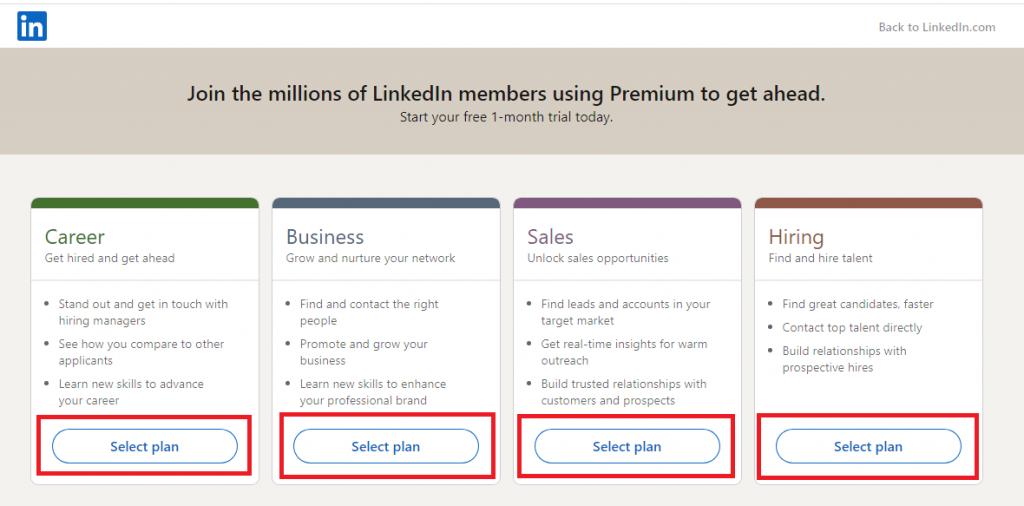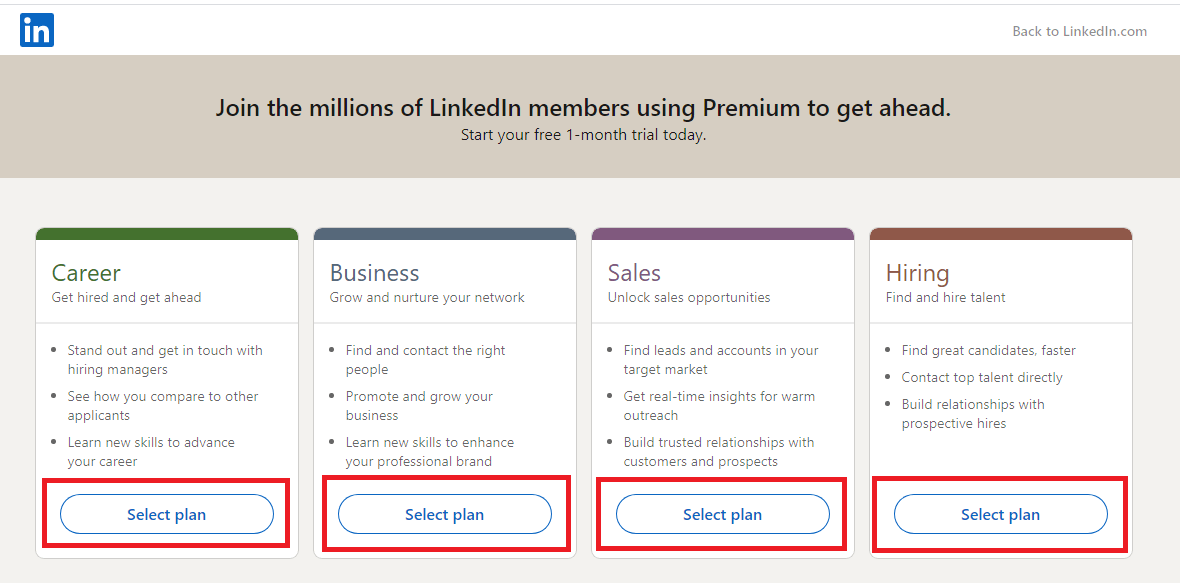 5. Select Start my free month.
6. Complete the free checkout process either with your Credit card or PayPal.
7. After successful checkout, your LinkedIn premium will be activated for 30 days validity.
You should cancel LinkedIn Premium free trial within 30 days to avoid money debited from your account.
Using Visual Studio Learning Program
Microsoft's Visual Studio offers a LinkedIn free trial to its user as a part of the learning program. So in the below article, we teach you how to activate the LinkedIn premium with a Visual Studio account.
1. Visit the LinkedIn website.
2. Now Signup or login to your Visual Studio account.
3. Go to My Visual Studio > LinkedIn Learning benefit.
4. If you are a Visual Studio Enterprise user, then you will get 6-month free trial.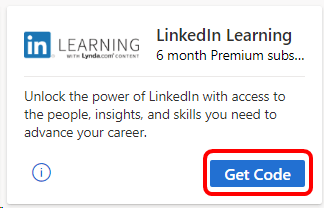 5. If you have any other Visual Studio Subscription, you will get a three-month free trial.
7. Now, you have successfully activated LinkedIn premium using Visual Studio.
Using Plus-One Pledge
Plus-One Pledge is an initiative by LinkedIn where the premium membership can be shared. People working at LinkedIn, especially in the Sales department, will have free coupons. They can send these free coupons to anyone on LinkedIn. At times, some will update a status about these coupons and Plus-One Pledge. All you have to do is to find those people who are offering these coupons.
By contacting them via LinkedIn chat or InMail, you can get a free subscription. The time period will vary from 3 months, 6 months, and one year. While messaging them, be honest with your opinions and how important the LinkedIn premium to your career is.
Using 50% Off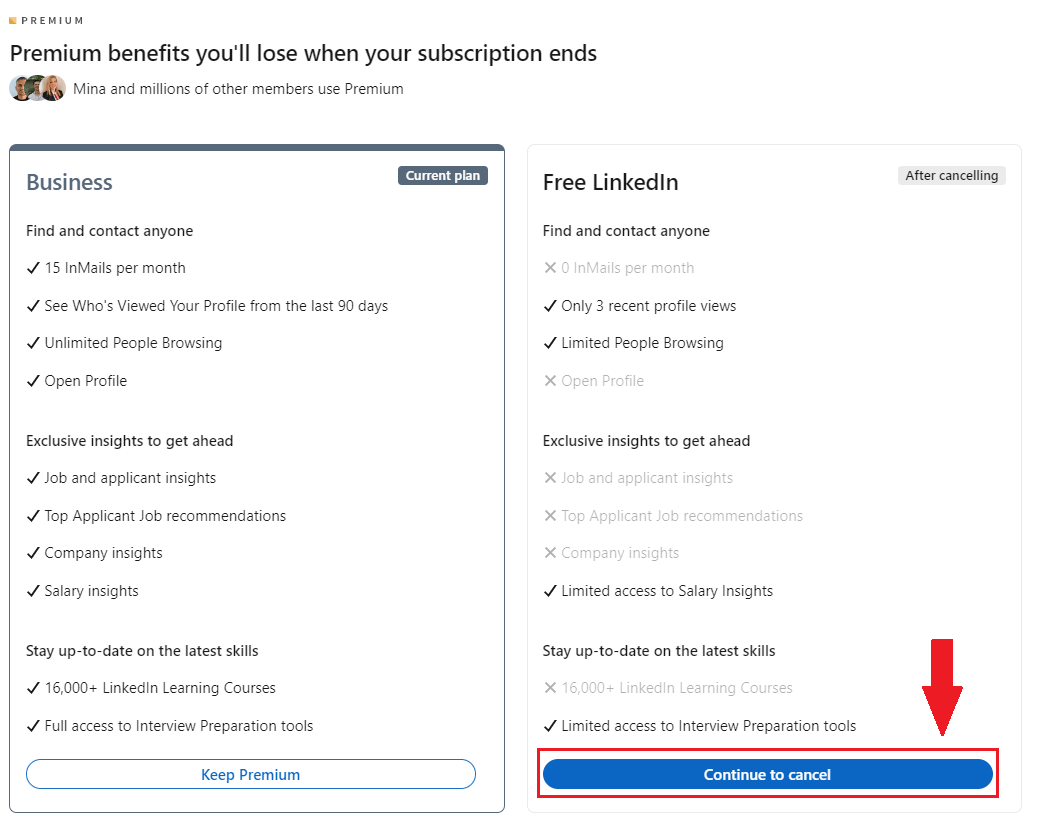 If you think LinkedIn Premium is too costly for you, you can avail the 50% offer. But, to avail of this, you need to buy a LinkedIn subscription. While canceling the subscription, choose the reason as It's too expensive. Now, you will get the 50% off for the next two months. You can get this offer by tapping the Claim offer button. If you want to cancel the subscription once and for all, tap the Confirm Cancel button.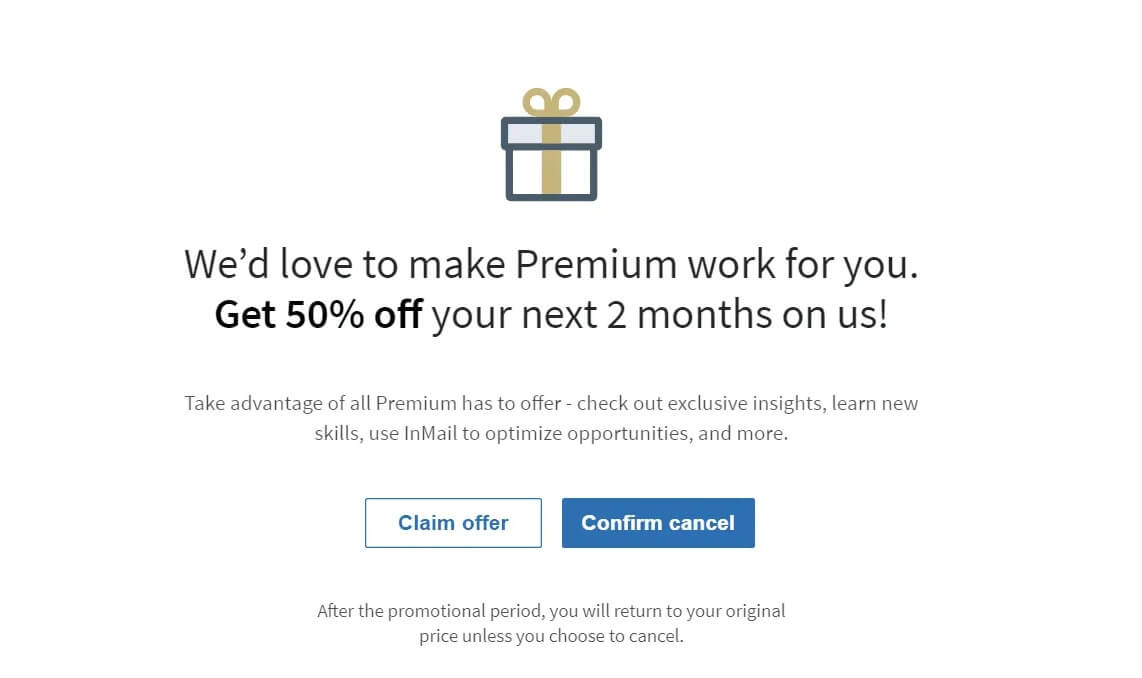 If you are running a business, then we suggest you try LinkedIn premium because it has in-depth analytics and more profile searches, etc. If you are a job seeker, then the LinkedIn free version is more than enough for you.
FAQs
1. Is LinkedIn premium free for Veterans?
Yes, you can get LinkedIn Premium free for one year by using your US Military credentials.
2. How do students get LinkedIn Premium for free?
If you have a student mail ID that ends with .edu, you can get LinkedIn Premium for free for three months.
Was this article helpful?