In the digital era, smartphones and apps developed for it are helping us with our everyday activity. In some way or the other, apps have transformed the way we work, chat, and play games. Currently, Android seems to be having the largest number of apps. In other words, not all of the Android apps are available for other OS like Windows Phone. It is because the app for Android OS will be incompatible on Windows Phone OS. This has vanished if your Windows Phone uses Build 10240 and later. Such devices aren't limited to installing Android apps. With this, accessing your favourite Android app on your Windows Phone is possible. Learn How to Install Android Apps on Windows Phone in this article.
How to Install Android Apps on Windows Phone?
It is possible to install and access a few Android apps on Windows Phone with the steps given below.
Preliminary Requirements
On your PC,

Download and extract the Android SDK tool and Control app
IpOverUsbInstaller.msi and vcreditst_x86.exe with wconnect folder
(1) Turn on Windows Phone and navigate to Settings > select Update & security option.
(2) Click on For Developers and then select Developers Mode.
(3) Navigate below to the Device discovery section and enable the slider.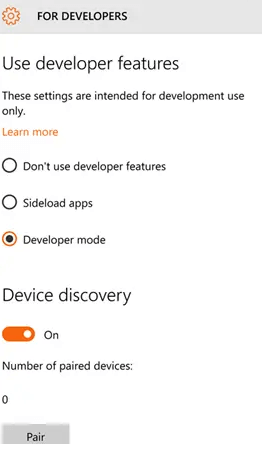 (4) Click on the Pair button at the bottom of the screen to receive a Pair code. Make a note of the code to pair Windows Phone with other devices.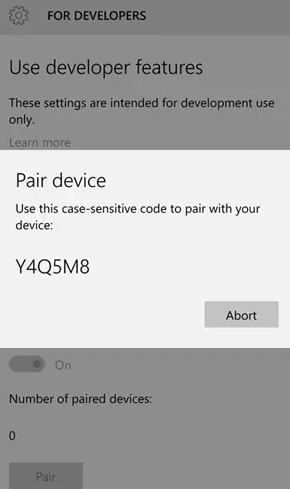 (5) Now, use a USB cable to connect your Windows Phone with PC.
(6) Use the Search bar on your PC home screen to type in as Command Prompt. Then click on Run as administrator option.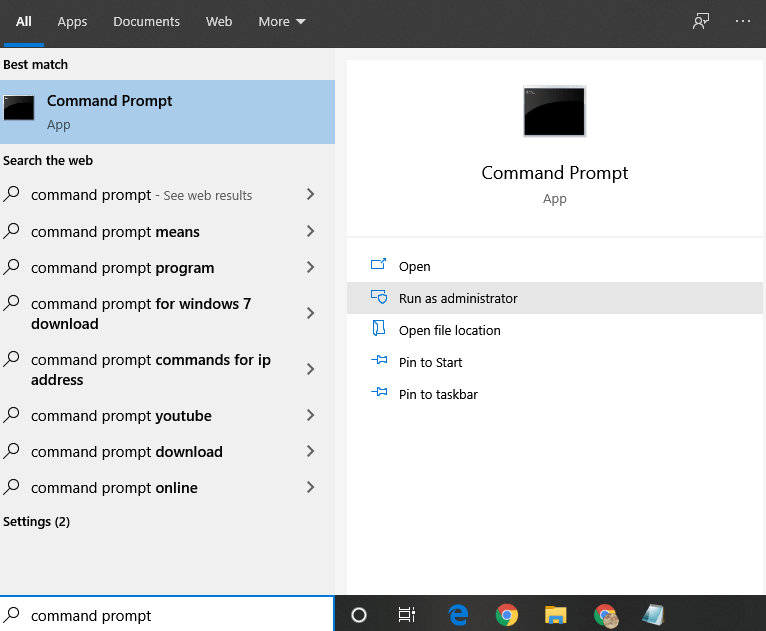 (7) Enter the following on the Command window to change the directory to wconnect.exe. (C:\Users\yourusername\Downloads\Folderinwhichwconnectissaved ) Press Enter key.
(8) Now, input as "wconnect.exe" and click on Enter.
(9) When prompted to input the pairing code, enter it.
(10) Then, type as "C:\Program Files (x86)\android-sdk\platform-tools" to change the Android SDK tool.
(11) Lastly, you can copy the apk file adb folder directory of an app and type adb install app name.
Did you know? You can easily export contacts from Windows Phone.
Alternative Method :
If you have Windows 10 or Windows 8/8.1, then it is possible to install an Android app on it.
Note: Windows 10 users should get Appxbundle file while Windows 8/8.1 users should get ZPPX / XAP file.
(1) Visit https://nokiapoweruser.com/official-appx-downloads/ to look for the app that isn't available on Windows Store.
(2) Look for an Android app and download the file.
(3) After the download, open Windows Phone Settings.
(4) Select Developer option under Update & Security.
(5) Turn On Developer option and checkin to sideload apps.
(6) Open File Manager on Windows Phone to locate the app you have downloaded previously.
(7) Select the App file named APPX / XAP and then click on the Install button to access the Android app on Windows Phone.
Techowns Tip: Learn how to reset Windows Phone?
Here comes the end of installing the Android app on Windows Phone. You can try any of the above methods to use the Android app on Windows Phone.
Have got any doubts regarding how to install Android apps on Windows Phone? Ask us in comments. Get notified about such useful article by following us on Twitter and Facebook page.
Was this article helpful?