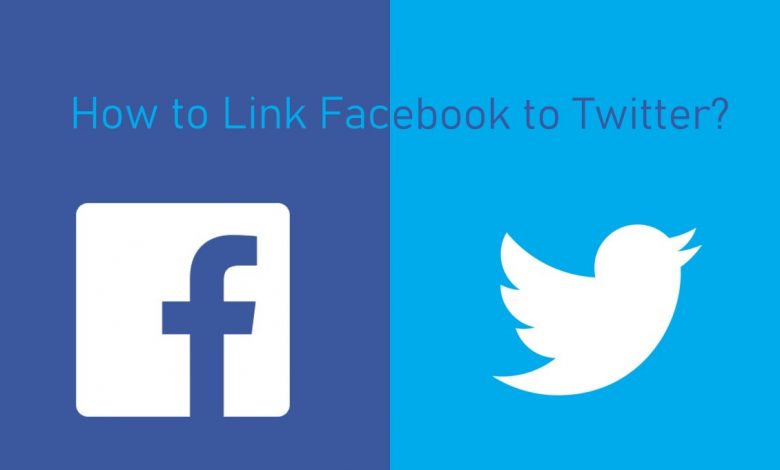 Social Media is an integral part of our day to day life. When social media is introduced, it was used as a social tool to share your thoughts, favourite moments, and unforgettable things. Now things have changed. Social media is now used to promote new products that are hitting the market, to sponsor brands, and to grow the business. Facebook and Twitter have their own business tools to expand small businesses. To minimize the workload between apps, you can link your Facebook account to your Twitter account. To know how to link your Facebook account to Twitter, follow the below steps.
How to Link Facebook to Twitter?
By linking your Facebook account to your Twitter, you can get plenty of benefits. Instead of coping the same content from your Facebook and pasting it in the Twitter account, you can link both accounts.
Linking Facebook to Twitter can't be done using either Facebook or Twitter apps. You need to use your web browser do to this task.
(1) On your web browser, go to www.facebook.com/twitter.

(2) You will get the following screen or it will ask for you to log in to your Facebook account. If asked, log in with your Facebook credentials.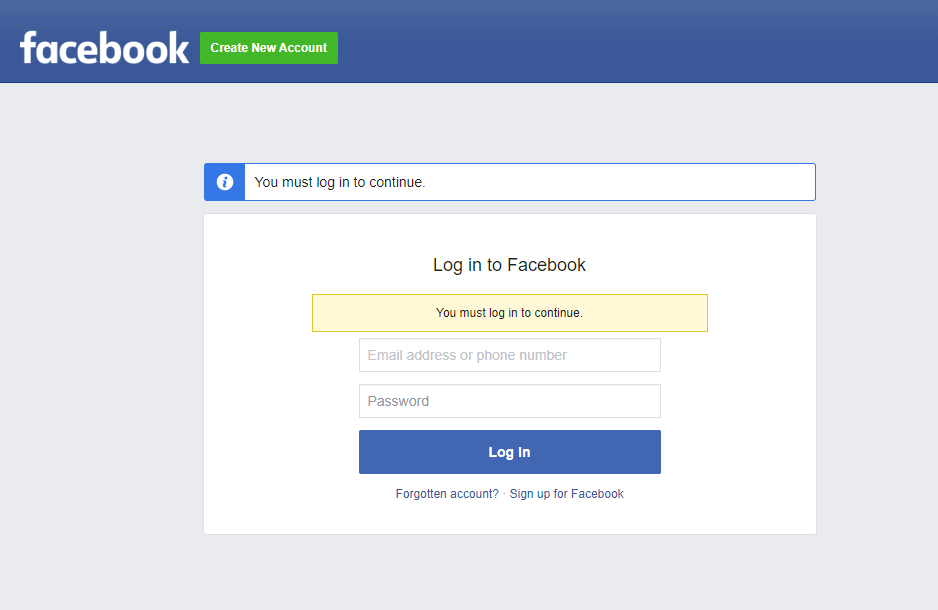 (3) If you want to link your Facebook profile, click Link my Profile to Twitter. If you want to link your Facebook Page to Twitter, click Link a page to Twitter.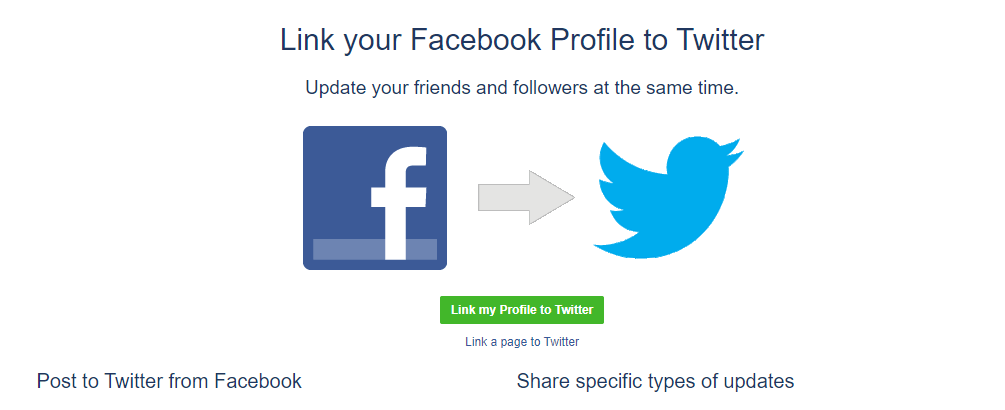 (4) The next step is to authorize Facebook to your Twitter account. Enter your Twitter credentials if asked and click Authorize app.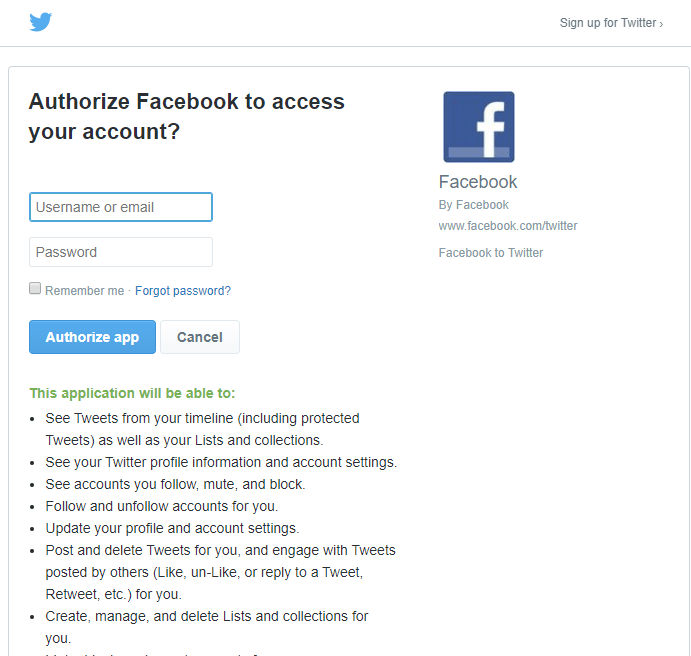 (5) It will take some time to link your accounts.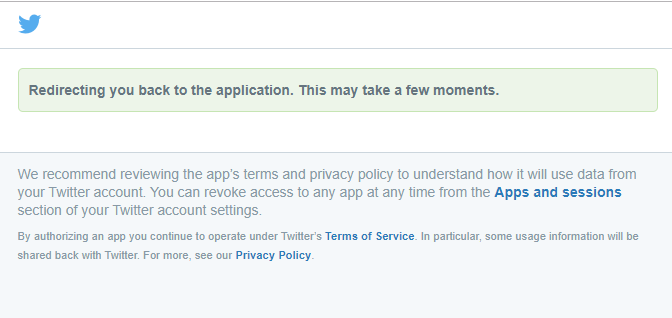 (6) After that, you will get the confirmation screen on the next window.

Now you have linked your Facebook account to your Twitter account. Whenever you post on your Facebook account under the Public in Privacy Settings, it will be automatically posted on your Twitter account.
Types of Post on linking Facebook to Twitter
Other than posting the update from Facebook to Twitter, you can choose the type of posts that should be posted on Twitter.
(1) On the linked confirmation page, click Edit Settings.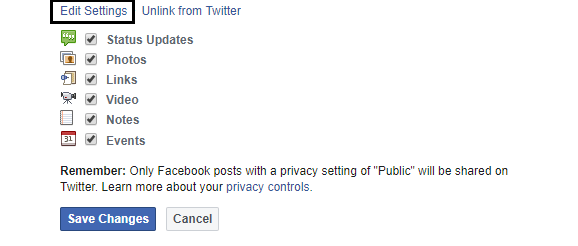 (2) You can see Status Updates, Photos, Links, Video, Notes, and Events. These are the different types of post updates that you can post on Facebook. Untick the unwanted post types.
(3) For instance, if you untick Video, it won't post any video from your Facebook to your Account.
(4) After unticking the unwanted post, click the Save Changes button.
How to Remove/unlink?
If you want to remove or unlink your Twitter account from your Facebook, you can do that with a single click. Go to the activation page and click the Unlink from Twitter button below your Facebook profile. It will unlink your Twitter account from your Facebook account.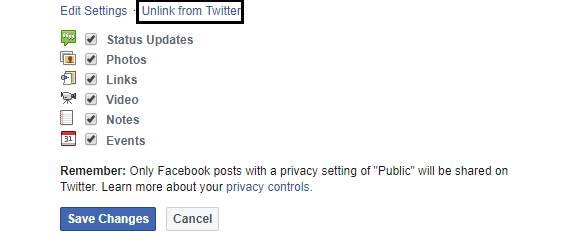 Link Twitter to Facebook
Linking your Twitter account to Facebook is the inversion of the above process. If you post an update on Twitter, it will automatically be posted on your Facebook account. But this linking process is sacked from June 2015. You can't link your Twitter to your Facebook account now.
Techowns Tip: How to Delete Facebook Group?
Our Opinion
Linking your Facebook account to your Twitter account is the easiest process. By linking social media accounts, you can save time in posting contents on all the apps. If you are posing content on Facebook, it will automatically get posted on twitter through linking.
Still, confused? Don't worry, Comment your queries in the below section. We will get to you as soon as possible.
Was this article helpful?