Are you looking for ways to play Spotify Music on Apple TV? If so, we've got your back. Spotify is compatible with Apple TV 4K and Apple TV HD that has tvOS 13.0 or later. You can view the complete list of Spotify-compatible devices by visiting its support center. Spotify's free version is more than enough. If you want to listen to add-free music or download music for listening to it in offline, you have to get a Premium subscription. In case you are a new subscriber, you can get a 7-day free trial.
Spotify has a vast variety of music compiled in its library which also gets segregated according to the genre. With Spotify on your Apple TV, you can listen to podcasts along with music and can customize your playlists according to your preference.
How to Install the Spotify App on Apple TV
Spotify app is available for all Apple TV that has tvOS 13.0 or later. You can directly install the Spotify app from the App Store.
1. Go to the App Store on Apple TV.
2. Hit the Search Bar to browse for the Spotify Music app.
3. Select the Spotify Music app from the search result and hit the Get button.
4. Wait for a couple of minutes to install the Spotify Music app.
5. After the installation is complete, launch the Spotify Music app.
6. Hit the Login button and note down the activation code generated on-screen.
7. After that, go to a web browser and visit the activation webpage of Spotify Music.
8. Log in to your Spotify account and submit the activation code you noted down earlier.
9. Once you submit the activation code, the Spotify Music app will get activated.
10. Next, launch the Spotify Music app and start listening to your favorite music online.
How to AirPlay Spotify Music on Apple TV
In case you have an Apple TV with tvOS below 13.0, the following are the steps you can use to AirPlay the Spotify app.
Before you follow the steps below, you need to enable AirPlay on Apple TV from Settings > Apple AirPlay and HomeKit Settings > Choose AirPlay and turn it on.
1. Go to the App Store and install the Spotify app.
2. Launch the Spotify app and sign in to your account.
3. Play any music you want and hit the Devices tab from the bottom left corner.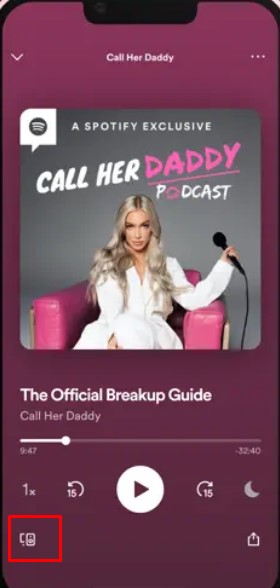 4. Choose AirPlay and select your Apple TV device name.
5. Note down the AirPlay Passcode displayed on your Apple TV screen and enter it on your iOS device.
6. Once successfully connected, the selected music will play on your Apple TV.
Guide to Play Spotify Music on Apple TV using Mac
To do this, your Mac and Apple TV should be connected to the same internet connection.
1. Install and launch Spotify App on your Mac.
2. Play a song and tap on it to view the speaker icon.
3. Click on the Speaker icon to view all the available devices to pair.
4. Select your Apple TV and cast to hear the music on it.
How to Cancel Spotify Subscription on Apple TV
1. Open Settings on your Apple TV.
2. Tap Account > Subscription.
3. In the subscription list, select Spotify.
4. Select Cancel > Confirm to cancel your Spotify subscription.
You can follow the steps below to cancel your Spotify subscription using its official website.
1. Visit the official website of Spotify and log in with your account.
2. Navigate Your Plan > select Change Plan.
3. Scroll down to cancel Spotify > Select Cancel Subscription.
Incidentally, you can also check how to cancel your Spotify subscription on other compatible devices.
How to Delete or Uninstall Spotify on Apple TV
If you don't have a subscription and are no longer in need of Spotify, you can simply uninstall the app on your streaming device.
1. Press the Home button on your Apple TV remote control.
2. Select Spotify in the available apps shown on the home screen.
3. Press and hold the Play/Pause button on the remote control.
4. Select Delete in the options shown and click Confirm.
Frequently Asked Question
Can I get Spotify on my Apple TV?
Yes, you can directly install and play Spotify if your Apple TV has tvOS 13.0 or higher. If your streaming device doesn't support the Spotify app, you can AirPlay the app on the big screen.
Why Spotify is not working on Apple TV?
The Spotify app is not working because of app cache, poor network connection, exceeding the device limit, or not updating the Spotify app. You can resolve these issues by clearing the cache, limiting the number of device usage, or because of the outdated version of the app.
What is the highest audio quality you can stream on Spotify with Apple TV?
You can stream Spotify Music with the highest quality of 320 kbps on your streaming device.
Was this article helpful?