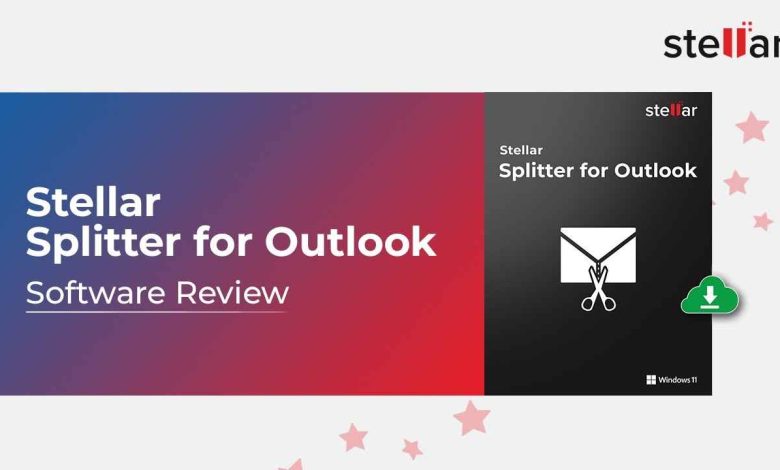 MS Outlook has become the care of address for anyone who wishes to establish substantial communication within the business model or across organizations. It is also useful to store data related to employees, projects, and clients in the form of email IDs and communication threads. But if you don't know enough about this Microsoft tool, you might end up losing all your data!
The Outlook application saves data as PSTs and they usually end up piling up as large files. These are dangerous because larger files can end up deleting data or corrupting files. That is why you need to split the files, organize them and then continue working on the application.
However, MS office doesn't have any tool that will help you with splitting PST files. That is why we have to rely on third-party tools. Choosing one is difficult because there are a plethora of options on the world wide web. We have narrowed down the best for you – Stellar Splitter for Outlook!
Here's what we think about this software.
The Benefits that come along with Stellar Splitter for Outlook

This software can be your best friend if you are not very computer-friendly. There is no rocket science behind understanding the controls or initiating the splitting process. Three simple steps, and you have the product right in your hands!
Data is safe – You might think that splitting the files will erase the data from the original PST. That is not the case when you are using Stellar Splitter for Outlook. It takes special care of data integrity.
Multiple Splitting – You don't have to wait for one PST to split and then proceed to another. You can create specific folders, split multiple files and then organize them into different storage spaces on your PC.
Options for Splitting – Depending on your requirement, you can split the files based on date, origin, email ids, folders, or even the size of files. This will make the whole process easier and much more disciplined for the software as well.
Log Reports – This is a boon in disguise! Stellar Splitter for Outlook also maintains Log records of all the PST files that it has broken down and their location. It is easier for us to go back and refer to them.
How to work with Stellar Splitter for Outlook?
There is no rocket science involved here, like other applications that we have tested in the past. Anyone who can follow instructions can understand and initiate the process. We will explain the three steps of usage to you.
Step 1: Select the PST file that you want to be broken down. Ensure that this one is either dragged or added to the initial page on the Stellar Splitter for Outlook.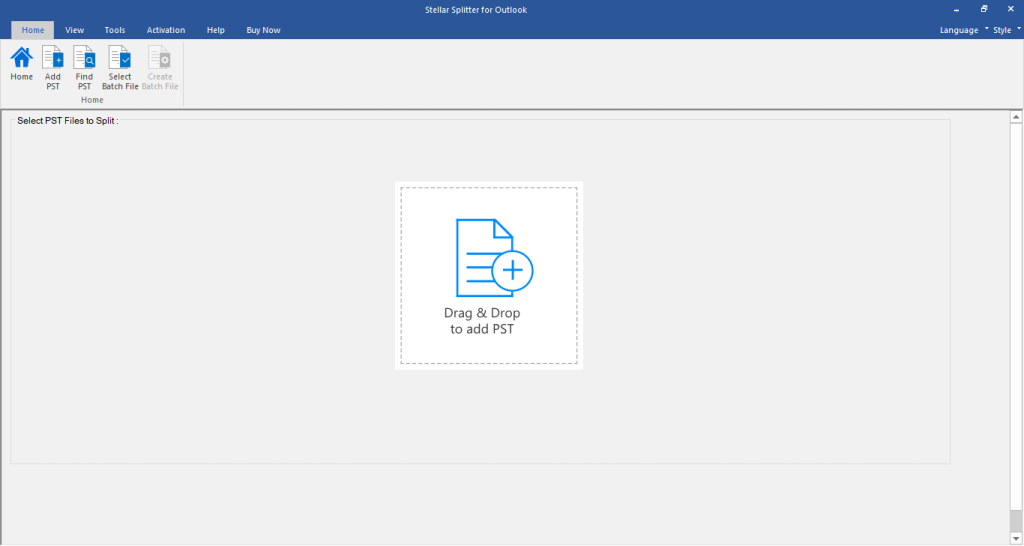 Step 2: Select the criterion for breaking. This can be a date, size, email, or folder. Then click on the 'Split' option.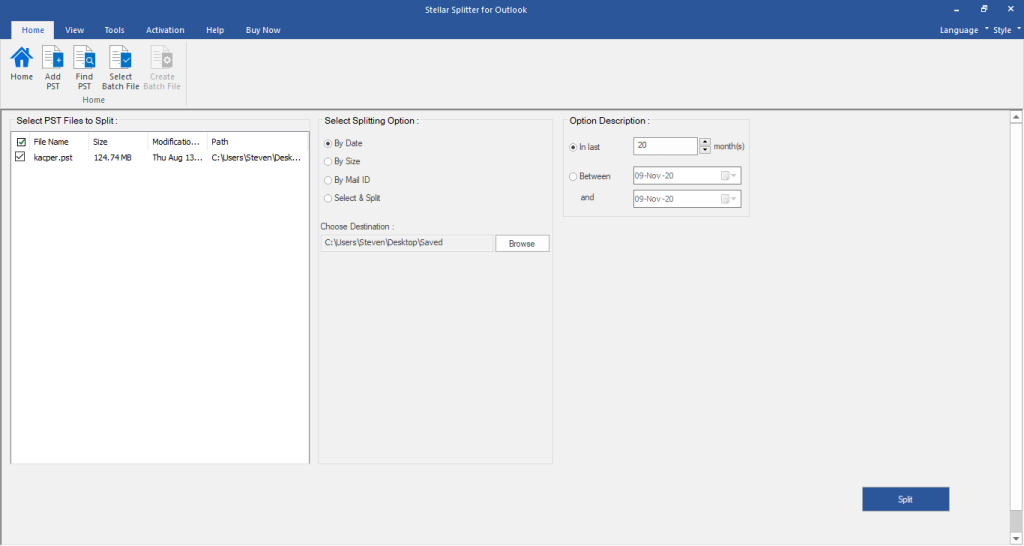 Step 3: Wait while the process continues, and finally, you will see a 'splitting completed' pop-up that indicates that the process is done.

How Fast is the Stellar Splitter for Outlook Software?
The speed is pretty impressive owing to the concept of criterion here. As you select the basis of splitting, Stellar Splitter for Outlook also organizes the PST files accordingly and immediately launches into splitting them. An organized approach like this will save a lot of time for people, especially those who are working with multiple PST files.
Is it compatible with all MS Outlook versions?
Stellar Splitter for Outlook has put in a lot of effort to ensure that they are able to extend its services to almost all the major versions of MS Outlook. Any outlook version after 2003 till 2021 is compatible with this software and you can edit files accordingly.
What is the Splitting Criterion that we are talking about?
In simple words, these are the parameters based on which you would want your PST files to be broken or split. This will give a course or direction for the app to function properly. I am thoroughly amazed at the accuracy with which the software works as soon as you give the criterion command and proceed with 'Split.' You have the following options.
Date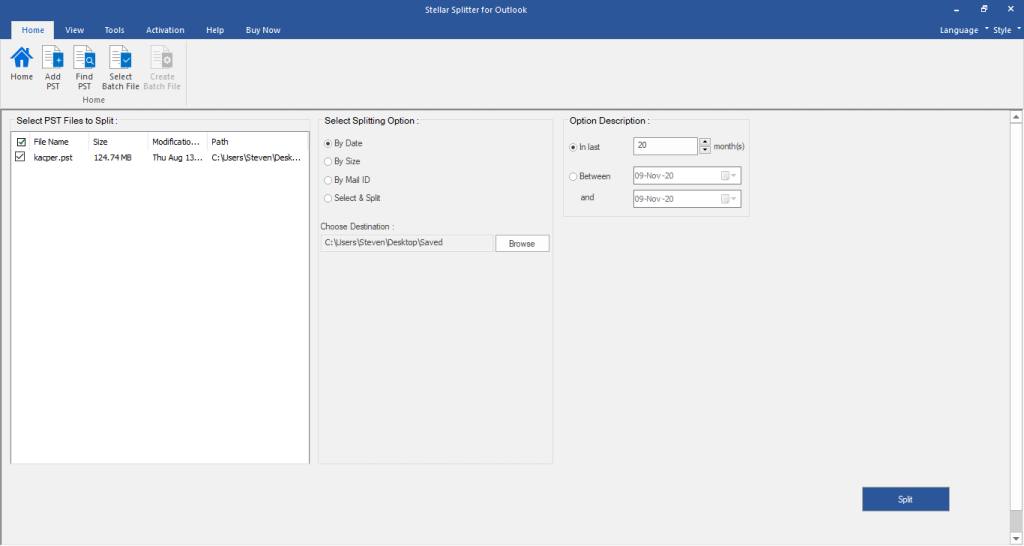 As soon as you launch the software and select the PST file, this is the first option in the list of preferences that Stellar will show you. Based on specific months, weeks, or a different time period, you will be able to break down larger PST files and further categorize them into different folders.
Size
You can pre-determine the size of the PST files once they are broken down into smaller files. In other words. Stellar will split your PST according to the input that you give about the final size of the processed PST files. You can select anything between 5Gb to 50Gb. To be more precise, the options are 5GB, 10 GB, 20GB, 30GB, 40GB, and 50 GB.
E-mail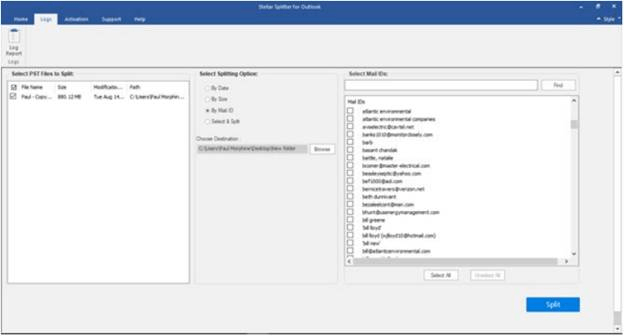 Outlook is all about Emails. You can ensure that the PST files associated with specific emails are only broken down into desired smaller sizes. This will help you deal with files of certain projects or a specific event, easier than getting every PST file into the splitting process.
Also, see how to recall an email in Outlook.
Folders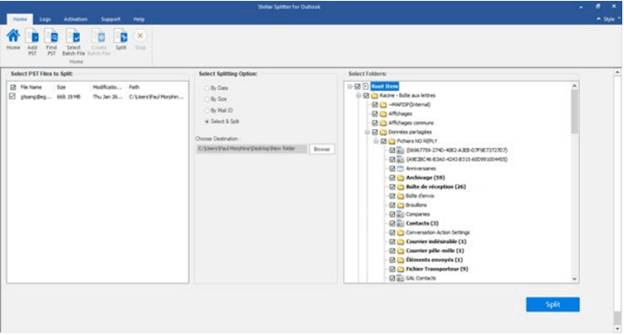 You can have certain folders dedicated to specific email IDs. You can choose to split PST files that belong to these folders or email IDs, and only those will be split down to smaller versions without any alteration in the original data from the larger PST files.
After you select the preference, you can choose the location of the final folder where the smaller PST files will be ultimately saved. One advantage of Stellar Splitter for Outlook is that it maintains a record or log of all the folders and files that it has split. In case you forgot your route to the smaller PST files, you will know where to look. Isn't that splendid?
Our Final Opinion
We would always vote Stellar Splitter for Outlook as one of the most desirable software for splitting larger Outlook PST files. You can choose to split files based on Size, Date, Folders, Email IDs, and specific Ranges. The three-step process is easy to understand and you can purchase it for a lifetime subscription or yearly subscription based on your requirement. We also fell in love with the accuracy and organizational skills of this software. A definite try for anyone who is struggling with Large PST files on MS Outlook.
Was this article helpful?