Key Highlights
Unsend Messages: Messages app → Enter Chat → Long press the message → Undo Send.
Edit Messages: Messages app → Enter Chat → Long press the message → Edit.
With every iOS update, iPhone users have a new feature on their devices. Likewise, Apple released the stable version of iOS 16 with a new feature on the iPhone where you can Unsend and Edit messages on the Message app.
Things to Know Before Using Unsend Messages Feature
The Unsend message feature only works on the iOS 16 version. If you unsend a message to a user who doesn't use iOS 16, the message will not be unsend. It will only be unsend on your device, but the user on the other can still see the message. Moreover, you can use the unsend feature on messages that are sent to iPhone, iPad, & Mac.
Steps to Unsend Messages on iPhone
1. First, open the Messages app on your device.
2. Go to the desired chat and choose the message you want to Unsend.
3. Long press on the message, and you will get a small pop-up with options like Undo Send, Edit, Copy, Reply, etc. Select Undo Send. This unsend feature is likely similar to deleting messages on WhatsApp.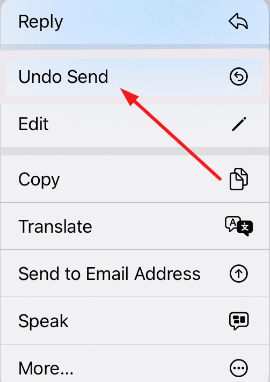 By clicking on it, the message will be unsend to the user and deleted on both ends (Including the receiver). But remember, you can only unsend messages within 2 minutes of the delivery time.
Tips! If you have purchased a new iPhone, you can restore your messages by transferring messages from the old iPhone to the new iPhone without iCloud.
Steps to Edit Messages on iPhone
With the Edit message feature, you can edit the messages already sent to a person.
1. Launch the Message app, navigate to the desired person's chat, and long press on the message you want to edit.
2. Click Edit on the pop-up.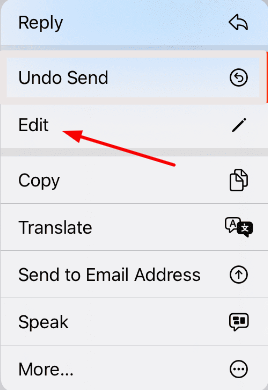 4. Edit the desired part in your message and hit Send.
When you edit and send a message to a person, they will receive messages with a note 'Edited' below the text. The sender and recipient can both see the Edited note on their chat.
You can edit a message within 15 minutes of delivery and can edit upto 5 times.
Like the above feature, edit messages will only work for iOS 16 users. If you have edited and sent a message to an iPhone user (Using iOS16), they will receive two messages. First with the misspelled or wrong message and second with the edited message.
Frequently Asked Questions
1. How to unsend messages on iOS 14?
Unfortunately, you can't unsend messages using the iOS 14 version. This new feature is available only on iOS 16.
2. How to cancel Voicemessages or Voicemails on iPhone?
You can delete voicemail on your iPhone within a few steps. First, launch the Phone app → Voicemail → Choose Voicemail → Delete.
Was this article helpful?