Roku has an innovative way of showing errors and issues in the device. If a minor issue like no internet connection, entered password was incorrect, and some issues related to WiFi, Roku will display an error message with a code. Each error code has its own meaning. For instance, Roku Error Code 009 means that the device has no access to an internet connection. Like these, a lot of other error codes may be displayed by the Roku streaming device. In this article, we will discuss the different types of Roku error codes and what does it have to tell us.
Cause of Roku Error Code 009
The main cause of Roku Error Code 009 is that the Roku device is connected to a Home WiFi but has no internet access. When your router is not constantly delivering the data, this code will appear on your Roku screen. Most of the error codes will appear like a warning pop-up, like the one shown below.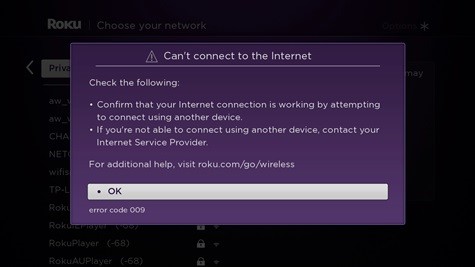 How to Fix Roku Error Code 009
To fix the error, check your WiFi's internet connectivity. Connect any other smart devices like smartphone or PC to check the internet connection. If you are not getting the internet, restart your router.
Contact your ISP provider to look into the issue. If the router you are using is an old one, replace it with a new router. When your Roku device gets a constant internet connection, you won't get the Roku Error Code 009.
Error Codes similar to Roku Error Code 009
Like 009, there are a lot of error codes in the Roku streaming devices. All are related to WiFi and internet connectivity.
Error Code
Type of issue
Causes
Fixes
Error Code 003
Software Error
Roku is unable to update the latest software
Make sure the WiFi connection is stable and try again.
Error Code 012
Ethernet related issue
Ethernet cables and Routers
Ensure that the Ethernet cable is in working condition.
Change the Ethernet cable and try again.
Restart your Router & TV and try again.
Error Code 013
Same as 012
Ethernet cables and Routers
Try the fixes for 012 issue.
Error Code 014
When your Roku fails to connect to the WiFi
Incorrect WiFi name and password
Make sure that you are typing the correct password for the right WiFi network.
Error Code 014.20/ 014.30/ 014.50
Strength of the WiFi signal
Your router is not providing enough data to your Roku
Place the WiFi router nearer to the Roku device and free from obstacles.
Lower the streaming quality manually.
Error Code 014.40 / 014.41
Wrong password
Incorrect password or username
Check that you are using the correct username and password.
Error Code 016
Internet connection issues
When you try to open a streaming channel without internet
Connect your Roku to a WiFi network.
Make sure that the WiFi has an active network connection.
Error Code 017
Poor WiFi signal
Your Roku is not getting enough data from the WiFi
Place the router nearer to Roku.
Restart your TV and router.
Error Code 018
Poor internet bandwidth
Low download and upload speed
Check your router's download and upload speed.
If possible, try to upgrade the plan to higher download speeds
These are the things you need to do to eliminate the Roku error code 009 and other error codes. These error codes are mostly related to your WiFi router and internet connectivity. If you have a good router with a constant internet connection, you will never get these error codes. If you are getting an error code that is not mentioned above, mention that in the comments section and we will give you the solution to that.
Follow our social media profiles, Facebook and Twitter to get more updates about Roku
Was this article helpful?