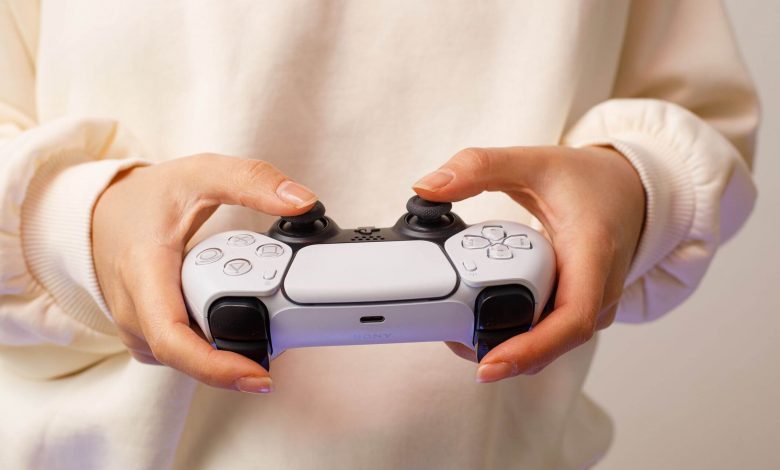 Are you looking for the best PS5 controller? Every gamer will have this eagerness to own the best PS5 controller since the launch of the PlayStation 5 console in November 2020. As technology booms at a fast pace, video games are also well-evolved. Therefore, it is essential to use one of the best PS5 controllers to enjoy the games to their fullest.
The gaming sector is developing at a rate that we could never imagine. Even though the PS5 comes with one DualSense controller, Professional gamers may opt for something better than that. To get a real-time gaming experience, it is mandatory to use the best controller. There are several PS5 controllers to meet the recent trend in the gaming world. This article covers the best ten PS5 controllers.
Ten Best Controllers for PS5
DualSense Wireless Controller
HexGaming Rival
Aim PS5 Controller
DualShock 4 Wireless Controller
Victrix Pro FS Arcade Sticks
Nacon Revolution Unlimited Pro
Razer Raiju Tournament Edition
Thrustmaster T248
Scuf Impact
PowerA Fusion Pro
DualSense Wireless Controller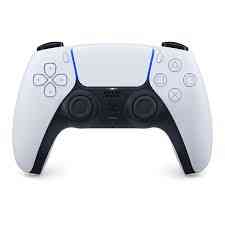 Highlights
Haptic feedback
Adaptive triggers
Built-in microphone
The PS5 DualSense wireless controller is more stylish, powerful, and sleek than its predecessors. It is from the renowned brand, Sony. Haptic feedback is a sensational feature with the addition of rumble motors in this model. It allows gamers to experience the on-screen game in real life, using vibration to simulate the sound and other environmental effects. Have you ever imagined that you can feel the trigger of a gun or bowstring being pulled like a real experience while playing it on a screen? It is made possible with the adaptive triggers of DualSense. Overall, it is an outstanding device compared to other PS5 controllers.
The built-in microphone is an advantage, but the sound quality is not up to the level. Use a headset for a better experience. Battery lasts up to 15 hours, but gamers may expect this attribute to improve. To conclude, no other controller offers such an immersive gaming experience as DualSense these days. Therefore it is on the top of our list.
HexGaming Rival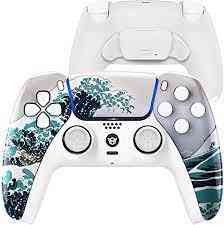 Highlights
Hair triggers
6 in 1 interchangeable thumbstick
Reprogrammable back buttons
Different skin choices
It is an upgraded version of the DualSense controller and is available in 19 different styles. It comes with 6 in 1 interchangeable thumbstick to adjust the height at three different angles and two ergonomic thumb grip designs- doomed or concave. The hair trigger will let you shoot in a flash, just in a slight press. It is only for shooting games and not for racing games. But this hair trigger will neutralize the adaptive triggers feature. It is very simple to enter remap mode. The two buttons on the back of this controller can perform the functions of any two front buttons in this remap mode. To indicate this remapping, a red LED is also set in the controller. Even though this is one of the best PS5 controllers with more customization, it is pricey.
Related – How to Pair PS4 Controller with Console
Aim PS5 Controller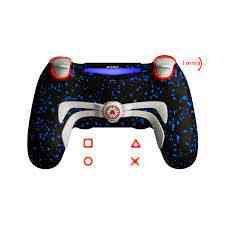 Highlights
Customizing Options
Remappable Paddles
Smart Bumpers and Triggers
Lifetime Warranty
AIM controller is the best customizable controller available for PS5. A gamer can control any part of the controller, add or remove buttons, and trigger as per their preferences. It has a plastic paddle with four additional buttons. It can be remapped with any function button for users' convenience on the fly. The main reason for remapping choice is easy to access and minimal finger movements. Aim controllers come with swappable thumbsticks to adjust the height and shape as per the necessity of a game. It is up to the gamer to choose between Sony and Microsoft-style thumbsticks.
Activating the smart bumper and trigger saves time for a gamer. One can shoot instantly and without any effort with such smart options. It is also offered with a lifetime warranty, an added bonus. But you have to bear the cost. The price varies depending upon the customization choice.
DualShock 4 Wireless Controller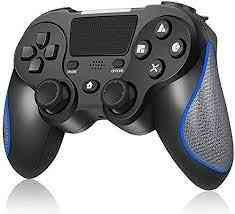 Highlights
Touchpad
Recharge with USB cable
Built-in speaker
Best for both PS4 & PS5
Create button
This controller dates back to the time of the PS4 launch. Still, it remains popular for PS5 among gamers because of its design and quality. The touchpad on this controller allows you to control the game with a swipe. It functions just like a smartphone. The indicator in this controller gives a low battery warning. Like most other controllers, DualShock 4 comes with customizing options for its design. Its battery life can last for 8 hours only. Of course, it can be a drawback. With a USB cable, it is very convenient to charge this controller. It comes with a built-in speaker and an additional audio jack input. The share button is helpful for creators to engage their audience. gamers can share their experiences with friends and followers with this feature.
Victrix Pro FS Arcade Sticks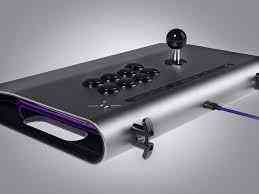 Highlights
Unique and Comfort design
Easy Access to button Mod
Removable Analog Stick
Removable USB-C Cable
Victrix Pro FS is one of the premium tools for gaming. Its aluminum body with a gentle slope gives comfortable space for your wrist. It is also designed with an optimum weight for gaming. The LED lights on the side enhance its aesthetic look. Anyone can easily access the case using the foam-padded latch at the bottom. Gamers can modify any button by themselves, without much effort, as per their gaming necessity. Eventually, one can remove a button and add it back anytime.
The joystick is detachable, and it has a space to store the joystick within. The buttons and joystick come from Sanwa. As a result, it has a high standard. It has an audio jack in the front and a USB-C port in the back. Overall, it is designed to be a travel-friendly device. It is simple, sturdy, and travel-friendly. But it costs a lot of investment for a gamer.
Nacon Revolution Unlimited Pro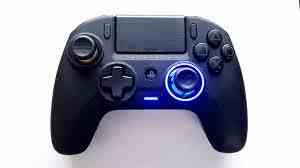 Highlights
Customization options
Easy to handle
Powerful vibration
Wireless connection
Remappable buttons
The Nacon Revolution Unlimited Pro is a high-end PS4 controller. The good news on PS5 is backward compatible. So you can play any backward compatible games on PS5 using a PS4 controller. Therefore Nacon Revolution Unlimited Pro will not disappoint you. This controller has a good range of aesthetic and functions customization. The rubber finished back offers more grip to the gamers.
For a better playing position, it is designed to operate wireless for up to 7 hours. It also has the facility to remap buttons and change functionality as per gamers' convenience. The weight of the controller is also adjustable. In addition, there are many more attractive features like textured vibrations, analog triggers, an audio jack with volume buttons, and an LED indicator for charging indication. All these together result in a great experience.
Razer Raiju Tournament Edition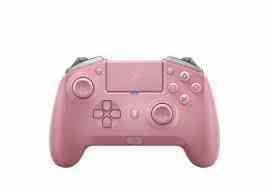 Highlights
Four extra keys
Hair-trigger switches
Wireless performance
Adjustable buttons and rumble function
Even though it was designed for PS4, it can be used on PS5 backward compatible games like that of the Nacon model discussed above. It is twice as expensive as Sony's DualShock 4 controller. It is specially designed for fighting and shooting games. There are four additional keys divided into two in the front and two in the back. The front-two buttons are for remapping functions. The buttons in the back are called hair triggers. They help in increasing the responsive time, enabling the player to take the quickest actions. It comes with an audio jack and micro-USB connector for charging and wired playing.
Thrustmaster T248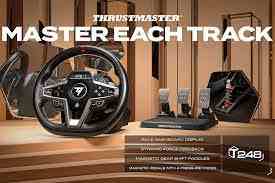 Highlights
Powerful feedback
High-quality build
Customizable digital display
Broad compatibility
Thrustmaster T248 is a force-feedback wheel and pedal setup designed for PS5, PS4, and PC. It is a boon to racing game lovers. Thrustmaster T248 provides strong resistance and replicates the effect of track of your vehicle for excellent game involvement. This controller is developed on a hybrid drive system. It uses belts and pulleys to create force feedback.
The LCD screen on the wheel displays lap info, position, speed, etc. It also has settings, such as the angle of the wheel and type of force feedback. But it does not have a gear stick. Instead, it comes with magnetic shifter paddles behind the wheel. It can be a great choice for beginners. Of course, there are many more high-end wheel systems available in the market. But it is worth the money.
Scuf Impact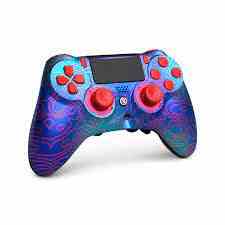 Highlights
Interchangeable paddle controls
Customization options
3 in 1 trigger control system
Adjustable hair triggers
Electron-magnetic remapping
Scuf Impact has customization choices from button to body. The four paddles are designed to remap most of the functions easily. The buttons are high quality, and the triggers offer a quick response. It is more like DualShock 4 with added features like dual vibration motors, a touch bar, and a light bar. These features give more involvement to a gamer. In addition, Scuf Impact comes with a headset jack and a built-in speaker. To conclude, shape and paddles are two good reasons for buying the Scuf Impact controller.
PowerA Fusion Pro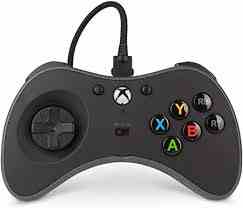 Highlights
Paddle buttons
High-quality buttons
Bluetooth enabled
Anti-friction rings
PowerA Fusion Pro works with PS5 but supports only PS4 games. This is similar to DualSense in most aspects. The four rear paddles are customizable like most other controllers. Its rubber finish adds extra grip. It comes with two different-sized thumbsticks and a long USB-C cable. The pro pack can be easily removed if you are willing to play without the additional inputs. Any individual paddles can be removed as per the user's preference.
The anti-friction rings allow you to move fast without getting stuck on the edges. All buttons, including the paddles and triggers, give great pleasure with every click. It shows the quality of the controller. PowerA Fusion Pro has a Bluetooth option to play wireless in PS. Other than that, it works only when wired with a USB-C cable. Additionally, the cable is used for charging. The battery life of this pro lasts for 20 hours.
There are many differences in the controller externally. But the main features lie inside. PS5 is already the best in its performance. And the PS5 controller gives a fantastic feel to the gamers. The PS5 controllers offer a whole new experience.
Related – How to Access Hidden PS5 Web Browser
Frequently Asked Questions
Which is the best PS5 Controller charger dock?
The best PS5 controller charging docks that you can buy are Oivo DualSense Charging Station, PlayStation DualSense Charging Station, Oivo PS5 Stand and Charging Station, NexiGo Dobe DualSense Charging Station, InnoAura DualSense Charging Station.
Which is the best-modded PS5 controller?
AIM Controllers and Mega Mods offer some best-modded PS5 controllers. You can get a PS5 controller with complete customization for any game like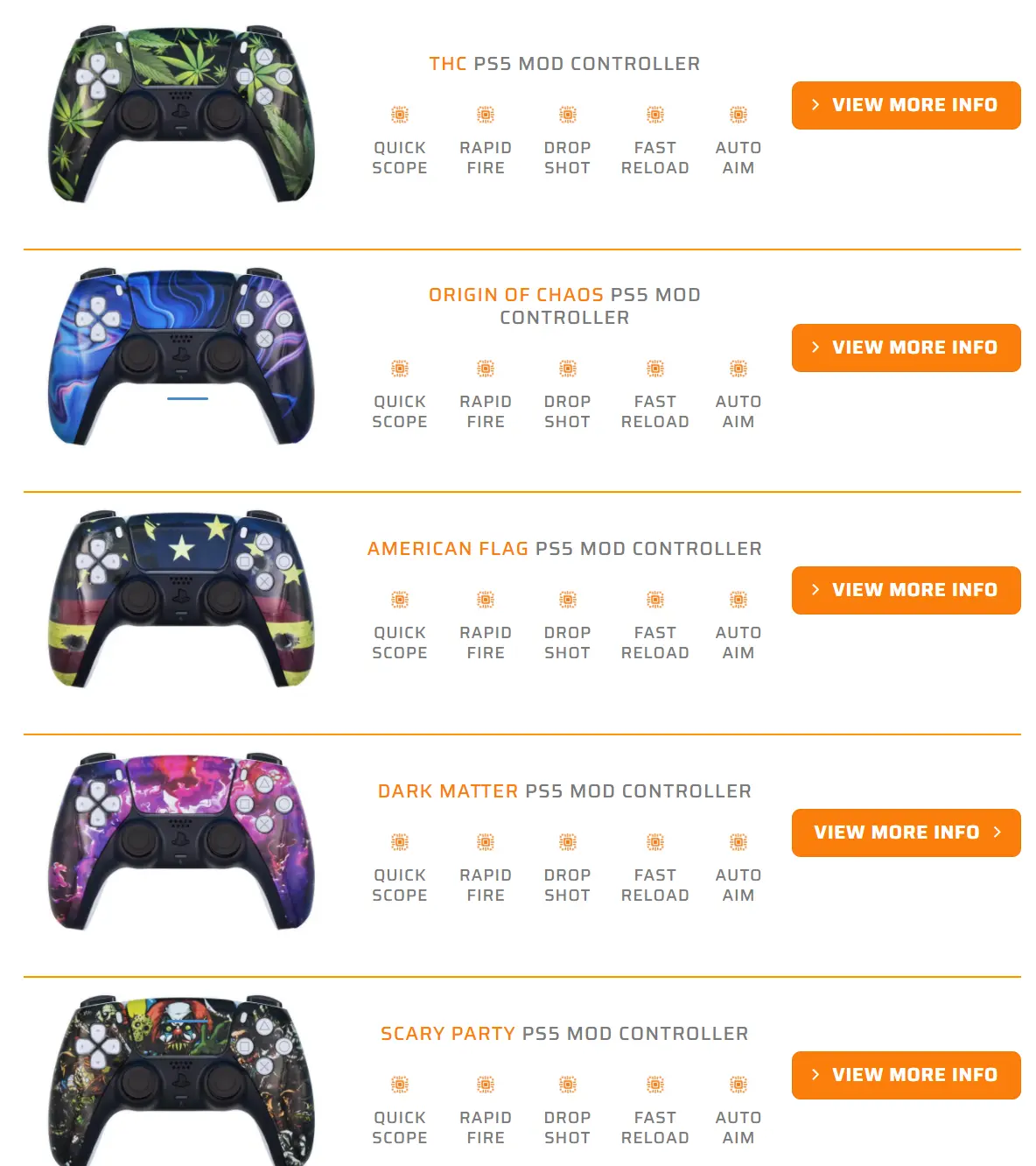 Was this article helpful?