If you're trying to build a business, you need a brand identity. Without this identity, customers can't connect with your company, leading to fewer sales and a weak bottom line. The core component of any brand identity is a logo, as it serves as the foundation for everything else, from your website to your marketing materials.
Fortunately, it's never been easier to design a captivating logo for your business. With the rise of artificial intelligence software, you can customize designs in seconds instead of waiting for days or weeks for a design firm to come up with ideas. In this article, we'll look at the top seven AI-powered logo creators that can elevate your brand identity.
Why is a Logo Important?
Logos are valuable because they help establish trust and confidence in your business. Overall, customers are more willing to shop at an online retailer with a smart, professional logo. Logos also make it easier for consumers to remember a brand, ensuring that your marketing strategies will have more of an impact. Finally, a logo can help align your company values as it can represent your core mission statement. Thankfully, AI-powered logo creators can incorporate all of these elements, so let's see what you can expect from them.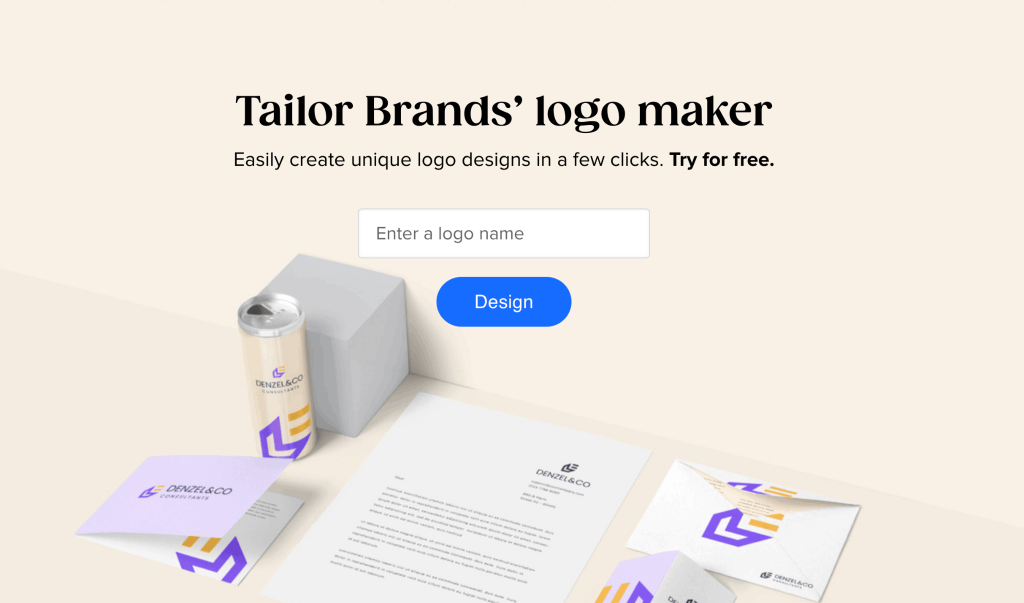 Although a logo is the foundation of your brand identity, it's only one piece of a much larger puzzle. Tailor Brands is a full-service design suite that can help you launch your business by developing various marketing materials. With this one platform, you can build everything from a website to social media posts and see how your logo looks on multiple products.
As far as the logo maker goes, the setup is pretty straightforward. First, you enter your company's name and slogan, then choose from a list of industries. Tailor Brands will ask you to select some fonts you like and generate logos based on your input. We appreciate that you can immediately see how your logo looks in different situations (i.e., web pages and business cards). From there, you can decide how to customize it and then purchase the logo once it's finalized.
Pros
Intuitive logo interface
Access to a full design suite
Affordable purchase options
Excellent customer support
Cons
Limited icon options for logos
Pricing: $9.99 Basic, $19.99 Standard, $49.99 Premium plans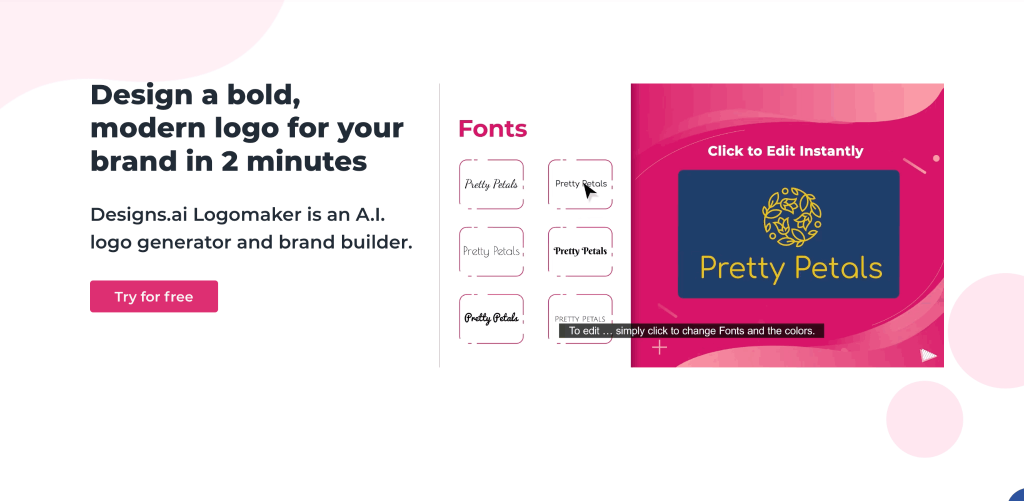 For the AI-powered logo creators to be effective, it needs lots of data points. Designs.ai excels in this regard because you can choose from a wide array of color palettes, industries, and logo icons. The industries even get pretty specific. For example, if you sell beverages, you can choose between alcoholic drinks, coffee, and tea, or juices and smoothies. This attention to detail can lead to better initial logos, meaning that you don't have to edit the design too much afterward.
We also like that Designs.ai offers other tools like a video maker and a graphic design maker. So, you can utilize artificial intelligence to develop your marketing materials once you've landed on a compelling logo. That said, AI is still in its early stages, so there are limits to what you can achieve with this technology. However, we're excited to see what sites like Designs.ai will do in the future.
Pros
Tons of color palettes
Expansive industry and icon selection
Fast and efficient logo creation
Access to other AI tools like video maker and graphic design maker
Cons
Limited font selections
Most of the logos are very similar
Pricing: $29/month for the Basic plan, $69/month for Pro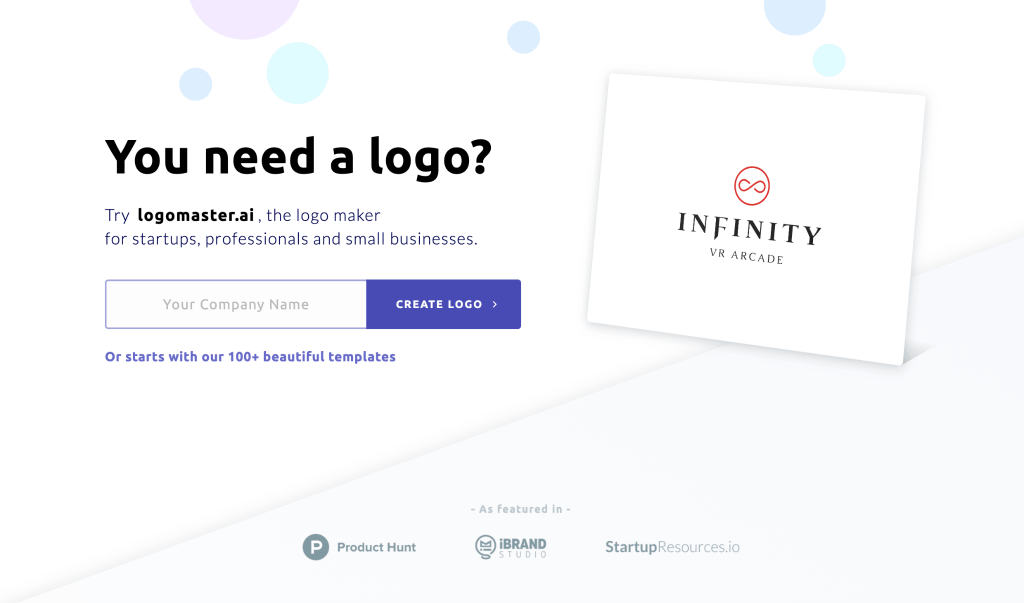 Sometimes, an AI-powered logo creator can work as a jumping-off point to develop a captivating brand identity. Logomaster is one of the fastest tools we've seen, with fewer steps necessary to build a custom logo. From there, you can get ideas of how you want your logo to look and feel. The final designs are relatively limited compared to other AI software, but they work well as inspiration.
Logomaster.ai is also great for buying branded swag and other products. You can put your new logo on various items like water bottles, scarves, tote bags, and even power banks. You can brand these items for personal use, or you can use them for swag bags and the like.
Pros
Excellent support service
Fewer steps are needed to create a logo
Fast results
Cons
Limited iconography
Limited design selection
Pricing: $25 for a one-time logo, $75 for an editable logo, and $125 for five variations, plus extras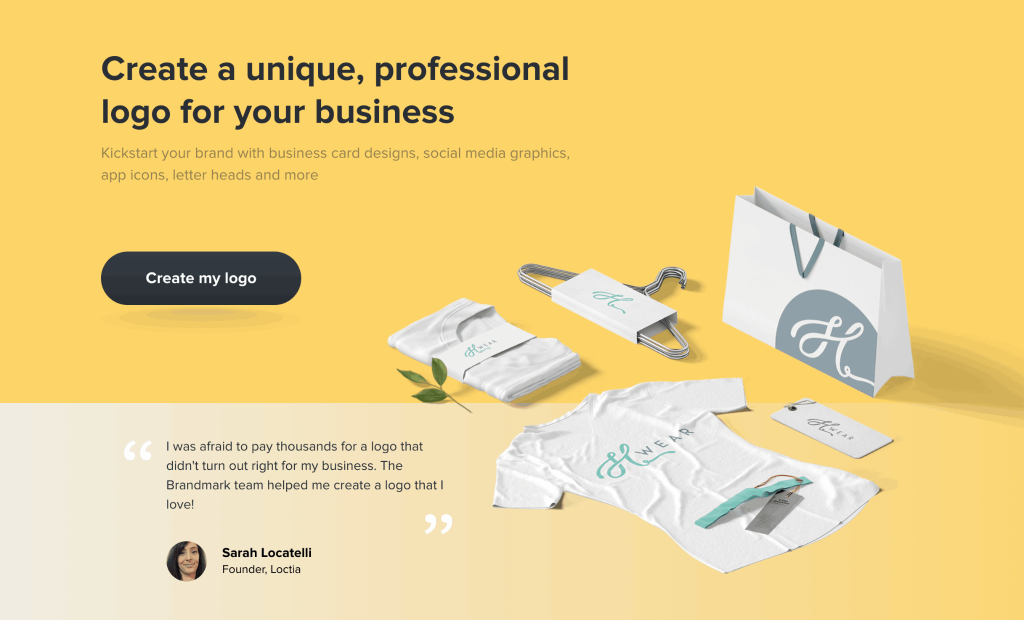 Some AI logo creators use icons and industry selection tools to develop ideas. Other software, like Brandmark, uses keywords to help refine your logo selection. The benefit of using keywords is that you can enter as many options as you like rather than choosing from a pre-selected list. This way, you can ensure that your logo is as unique as your business.
The basic logo maker works well, but where Brandmark shines is with its secondary logo creation tools, which are:
Logo Rank – Get objective measurements to see how your logo stacks up against the competition.
Logo Crunch – Create various iterations of your logo to work on different platforms and profiles.
Font Generator – See which fonts will work best on your marketing materials and website.
AI Color Wheel – Utilize color theory to make your logo stand out better.
Pros
Tons of design options
Customize your logos afterward
Access to logo refinement tools like color wheel and logo rank
Cons
Keywords may not translate perfectly for your logo
You can't change icons after the fact
Pricing: $25 one-time fee, $75 for digital files, $175 for designer logos and files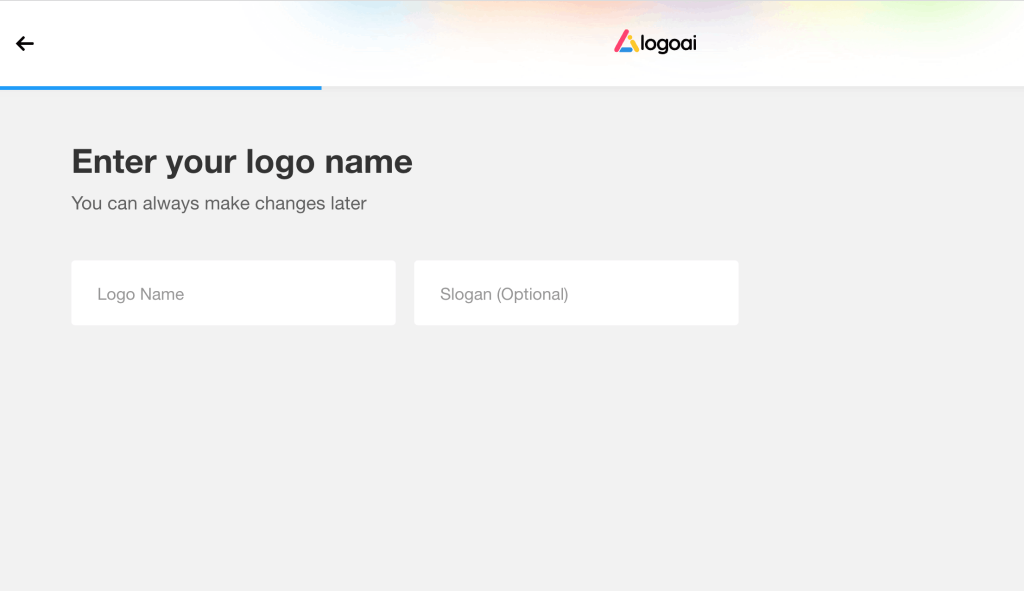 Seeing a logo by itself is one thing, but seeing how it looks on various products is much better. Logoai is a pretty standard logo maker, but where it excels is with the mockup generator. This tool enables you to put your logo on different items so that you can visualize its appearance in the real world. Sometimes, logos don't translate well to physical mediums, so using the mockup generator can help you craft the perfect logo for all situations.
Another benefit we like about Logoai is that the tool offers a seemingly endless supply of initial designs. You can also add icons to refine your selection further until it's perfect.
Pros
Tons of design options
Easy to refine your logo afterward
See how your logo looks on branded products
Cons
Limited data points
The tool may cut off your business name
Pricing: $29 Basic, $59 Pro, $99 Brand level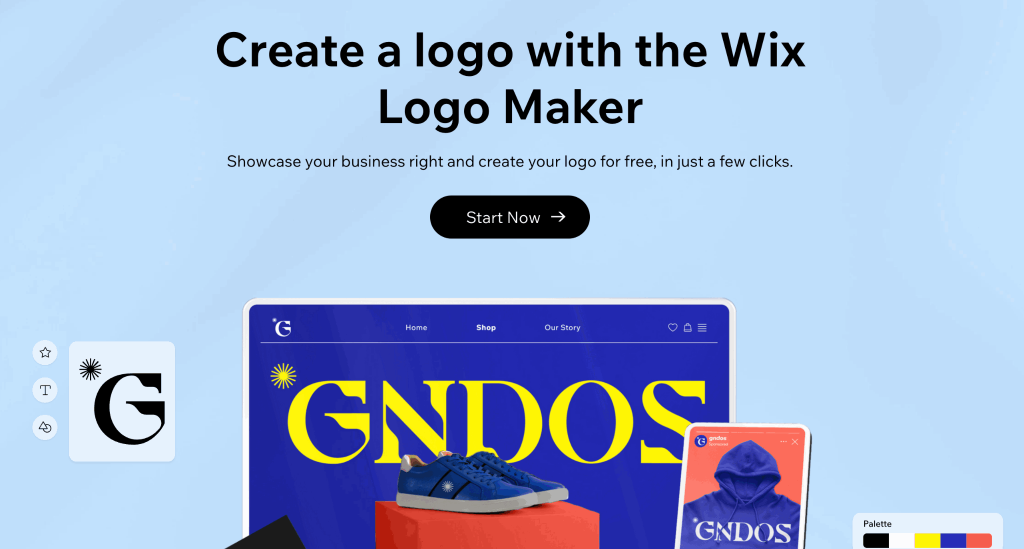 You might be familiar with Wix already as a website builder. Wix is an excellent platform that allows businesses of all shapes and sizes to develop a captivating site. Now, the company also offers a free logo maker, although the results are a bit limited. With other software, you can buy multiple versions of a logo to use in different situations. Unfortunately, Wix only provides a single logo design, no matter which plan you choose.
The advantage of using the Wix logo creator is that you can access Wix's suite of website development tools even if you are not a Wix premium member. Upgrading your logo purchase also means that you get a fully customized site that integrates your new design. This setup is a perfect example of synergy in action.
Pros
Intuitive logo maker
Tons of iconography available
Built-in website integration
Cons
Need a Wix account to get started
Only one logo design per purchase
Pricing: You need to contact Wix for exact pricing, but the site offers five unique premium plans.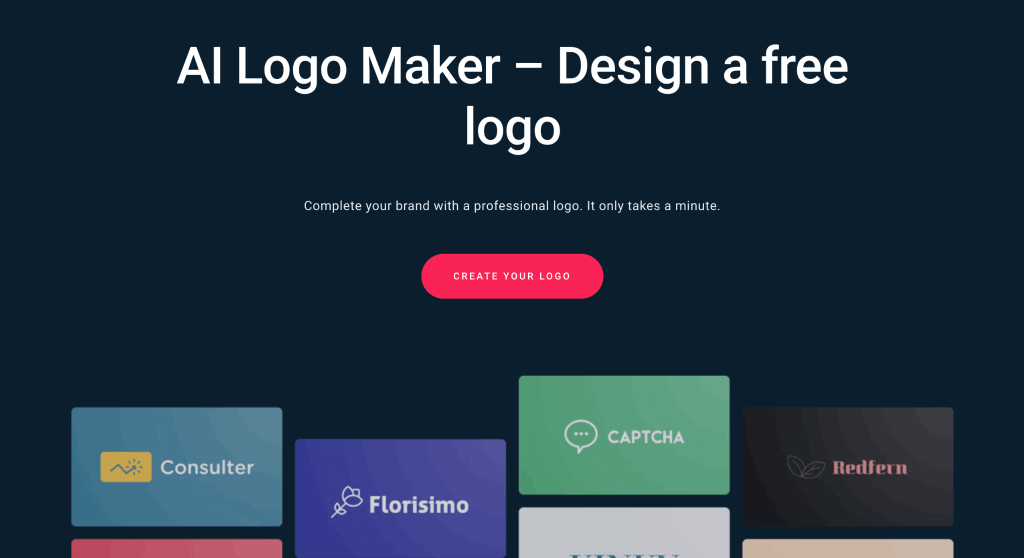 As with Wix, Zyro is a web development service with a free logo maker tool. What sets this tool apart is that you dive right into customization, meaning that you can build your perfect graphic from scratch. Another unique element of this creator is that you can develop your own icons using the AI tool. So, even if you're not artistically inclined, you can still create a one-of-a-kind graphic to make your logo stand out.
Zyro also has an AI slogan generator that can help you come up with a captivating slogan for your business. If you want to go further, you can use Zyro as a web host for your site. Finally, Zyro also offers design inspirations to help you get those creative juices flowing.
Pros
Logo and slogan generator
Customize your logo from scratch
Develop your own graphics and icons
Free to use your initial logo
Cons
Limited selection for the icon generator
Pricing: Free logo maker tool. Hosting plans range from $8.90 per month to $29.99.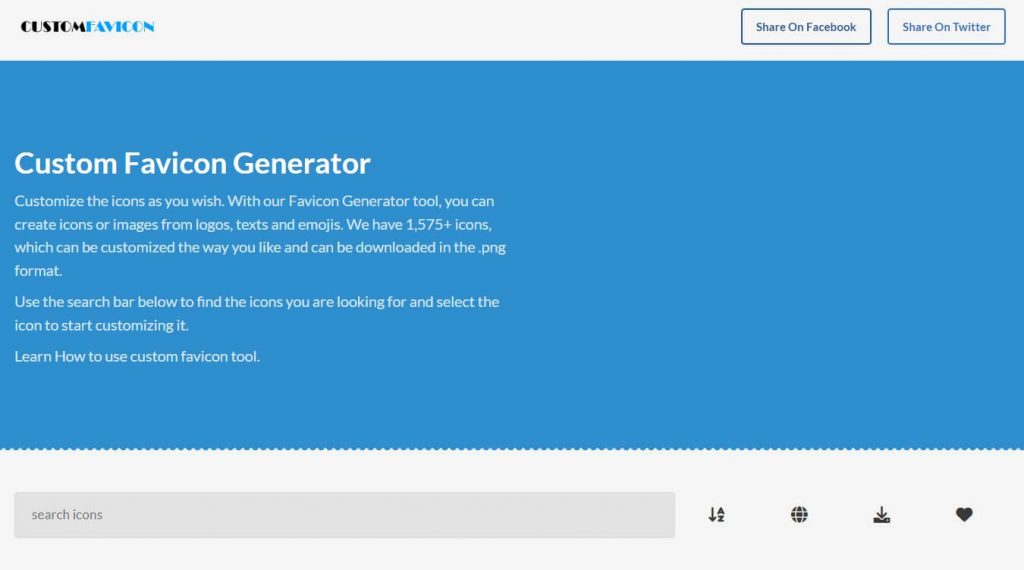 On Custom Favicon, you can create logos from more than 2000+ collections of icons. This tool provides you the option to search for your desired icon in making logos. Once you have selected an icon, you can easily customize and create it by using different settings. It provides you with background, icon, shadow, and border settings to customize based on your preferences. It also provides you with the color code feature, where you can choose and apply it to the logo.
Unlike other logo creator tools, this Custom Favicon tool allows you to create an unlimited number of logos. If you aren't satisfied with the logo you made, you can even reset and create the logo from the scratch. The logos you create with this tool can also be used as favicons too.
Pros
Unlimited icons to create logos
Easy to customize
No subscription required
Cons
Can download the logos only in .png format.
Pricing: Completely free logo creator tool
Now that you've seen how well these AI-powered logo creators work, there's no reason not to have a compelling brand identity. So get creative!
Was this article helpful?