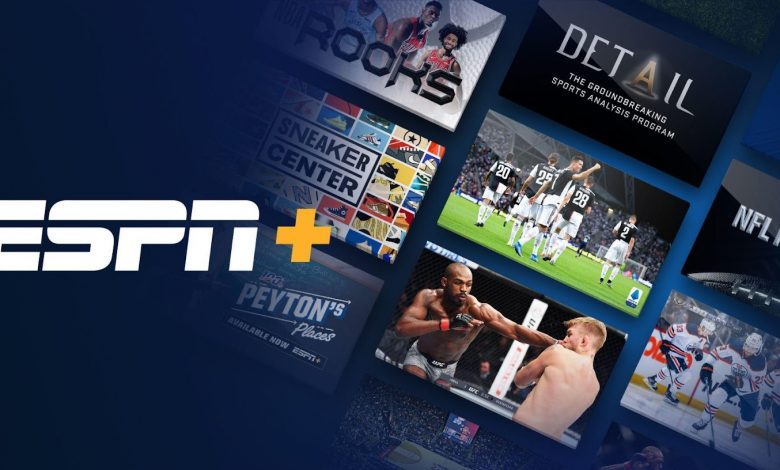 ESPN Plus, an exciting feather added to the over-crowded OTT crown to bring back the playground excitement in your drawing-room. The sports live stream channel ESPN Plus gears up your sporty spirit and downloads ESPN offline is trendy. You can download ESPN offline matches and tournaments and build your sports library to keep the excitement alive.
ESPN Plus, the sports giant live stream, brings the nail-biting moments of league matches, Copa America, English Football League, Coppa Italia, FA Cup, Indian Super League, etc. These are a few world-famous championships that broadcast from ESPN Plus. Fans are excited to catch up with new events on ESPN Plus.
Starting its journey in 2018, ESPN has been getting recognition from all sports lovers worldwide. ESPN Plus added the extra mileage to the speed in ESPN since its launch. The sports stream is famous for live streaming basketball matches, NFL, NHL, MMA, NFC, etc., during their active season tournaments.
How do you watch ESPN Plus?
To watch ESPN Plus live, you need a supportive device, an active internet speed, a subscription plan, and great energy to feel the thunder-striking exciting matches.
Devices you need:
You can watch ESPN Plus through the ESPN app on your iPhone, iPad, Android phone, and Tablet. Besides,
Chromecast
Amazon Fire TV
Roku
Android device
Smart TV etc., are the supportive device to watch and feel the supercharged excitement.
ESPN Plus monthly charges are now $6.99 and annually $69.99 with the varieties of events, live tournaments, and many more exciting events to entertain all the sports lovers globally.
As ESPN Plus increases the subscription charge, they design their program module to meet the requirement. Now subscribers can purchase UFC PPV events and get access to an archive of on-demand content, including 30 for 30 libraries, ESPN shows, films, games, highlights, and many other exciting sports stuff.
How to download ESPN offline for the later watch?
ESPN Plus allows its viewers to watch and download offline content. There are no such restrictions on the expiry date of downloads. More interesting is you can find all the download matches and tournaments in your ESPN Plus app library. There are no title restrictions in ESPN Plus live stream, meaning you can download multiple titles through your app.
However, they impose restrictions on games. You cannot watch games offline. And not all the matches and tournaments are available for download and offline watch.
What is your stand to fix the issue?
Due to professional commitment, relocation, family responsibilities, you may miss the vital matches you do not want to do. Download offline features must support those who cannot manage to sit to watch live streams. Exciting games are hard to miss, but situational demand forces us to skip those exciting moments.
You can select a third-party downloader to mesmerize your offline watch experience. MyStream ESPN Plus downloader you can rely on to provide you all your favorite games, tournaments, matches, and the latest sports news offline.

ESPN Plus downloader, a product of FLVTO MyStream downloader, is designed to support your offline watch experience. FLVTO MyStream downloader runs on the latest upgraded computer or laptop and provides you all the facilities to download your favorite streaming shows, movies, games, videos, etc.
FLVTO MyStream downloader comes up with:
Download from 1000+ websites and social media platforms
Download the content in standard picture quality and audio soundtrack
No glitch, no commercial break, no hazy pictures to disturb your watch
Save and share both options available
ESPN Plus downloader similarly lets you download ESPN offline, never to regret missing any tournament or match. The features and the benefits of the MyStream ESPN Plus downloader fit into the requirements of the sports freaks. If you are one of them, reading the elements will influence your decision, and you might not keep any second thought to install the software.
The feature and benefits list to avail download ESPN offline
If you want to know how the software works, read its detailed description of the features and functional benefits. Here we go:
Crystal clear picture
If you feel supercharged to see the droplet over grass, you are a serious sports geek. And yes, the software also provides the best picture quality to give you a clear picture of the playground. You can watch your favorite player dribbling the football in 1080p, and you can even fix the resolution based on the original show.
Batch download to cover the entire tournaments
You cannot sit and watch only one match of the entire tournament, especially when your favorite team is still in the queue and showing a nail-biting performance. The software provides you the solution by downloading all the following matches and saving them for you.
Subtitles and meta info in customized form
You can select the subtitles of the commentary of the match in your language. The metadata info like tournament name, playing team names, the country participated, etc., can be saved in your native language. It will help you understand what is going on in the dressing room and between the players. If the commentary is fast speaking, you still can better understand in download matches.
No ads break to disrupt your mood.
In-game, every moment counts. Commercial breaks can ruin exciting moments. But with this software, you can watch a break-free match, and you can enjoy every drumbeat in the playground.
Audio sounds that are cheering louder.
Who else does not like to hear the cheering drum beat and feel there in the celebration? The software allows you to get goosebumps with the loudest cheering with a 5.1AAC audio track.
Convert the file into MP4 and save them
If you watch ESPN Plus videos on highlight matches and special moments clips, you can download them and convert them into MP4 for a better audio-visual format. The moments become memorable for you when you watch them in MP4 format.
Maintain a turbo speed
If you are in a hurry to watch the skipped match, do not worry. The software allows you to do within a minute to download your favorite game or game so that you can watch it instantly.
All these features and benefits of the MyStream ESPN Plus downloader make it a critical tool to any sports lover. You must be curious to know about the pricing details of the software, right?
Here it is.
The price plan of the software
Please do not think the price will burn your pocket. Click the link and know the details: https://flvto.ch/checkout.
How to install the software to download ESPN Plus matches offline
It is a simple task, and you can do it quickly. Read the steps to installation and enjoy unlimited matches offline.
Let's begin!
Step 1: Install the software.
Go around the official website and click on the download link.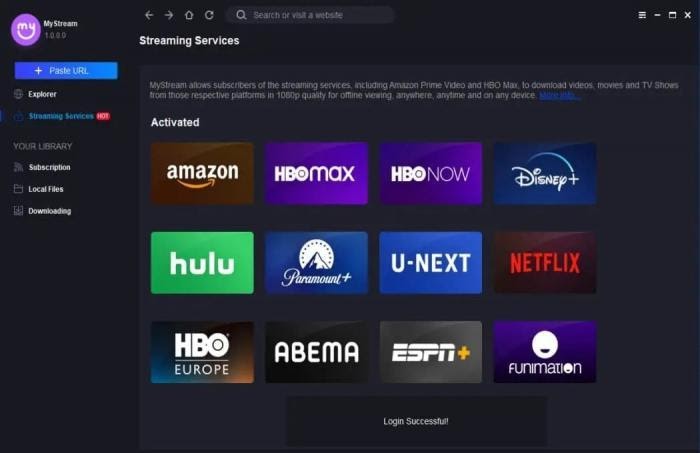 Step 2: Open the streaming window
To click on the ESPN Plus service, open the streaming service window.
Step 3: Signup to your account and browse matches
Log in to your ESPN Plus account and browse the matches, tournaments, and highlights you want to watch offline.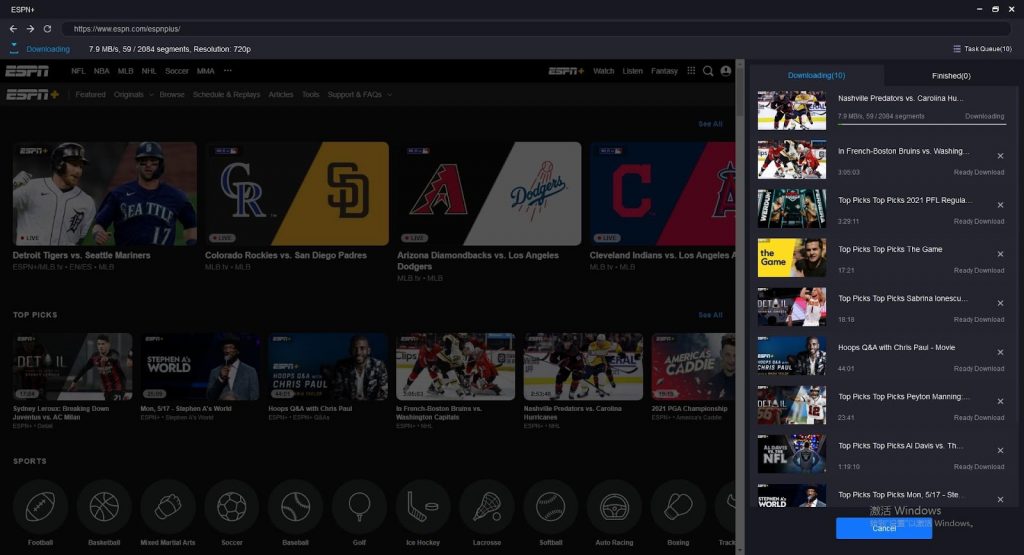 Step 4: Tap on the subtitles and meta info
Before hitting the download button, select the subtitles and meta info language.
Step 5: Download it.
Click on the download button and wait for a few minutes to finish the process. If the match is part of a tournament, the software will download all the following games.
The entire installation and download process will take a little time so that you can enjoy more and more matches offline.
You might feel that MyStream Downloader has other products to offer. Here is the list, which you can check.
MyStream Downloader other product lists you may be interested to know.
MyStream Netflix downloader
What if repeated internet failure compels you to skip the Netflix movie collection? Do not worry. You can still watch and download them through MyStream Netflix downloader, your best offline assistant.
MyStream Hulu downloader
If your watch taste is a bit different and you prefer to watch award-winning and selected movies and shows, Hulu could be your good choice. Download the movies with MyStream Hulu downloader.
MyStream Amazon Prime downloader
Amazon Prime has started gaining popularity and creating a fan base. Download the premium content with MyStream Amazon Prime downloader.
MyStream HBO downloader
HBO already got the tag to broadcast standard and quality content for viewers of all ages. Download those content before HBO cancels the broadcast agreement with the show owner with MyStream HBO downloader.
MyStream Disney Plus downloader
Disney Plus, another popular live stream among the crowded OTT queue, broadcasts quality content. Walt Disney takes care of the content broadcast responsibility, but you rely on MyStream Disney Plus downloader for your offline watch and save the great movies for a lifetime.
MyStream Paramount Plus downloader
Though Paramount Plus is a famous production house in Hollywood, the live stream slowly progresses towards its goal. If you wish to download the content from Paramount Plus, you can install the MyStream Paramount Plus downloader.
MyStream U-Next downloader
U-Next is another growing live stream for grown-up kids if you wish to download its content for offline watch through MyStream U-Next downloader.
MyStream Abema TV downloader
The toddlers and kids' preferable channel is AbemaTV that telecasts cartoon shows, jingles, etc. you can download their program for your toddler through MyStream Abema TV downloader.
MyStream Funimation downloader
Funimation is famous for the Anime series, and your grown-up kids are fans of Anime. Install MyStream Funimation downloader to watch Anime offline.
Final words
MyStream ESPN Plus downloader provides you the best offline experience. Apart from the match, you can watch anything sports-related content and download them for a further watch. The software allows you to download ESPN offline and feel similar excitement to be physically present in the playground. Feel the beat, and enjoy the ultimate excitement with the MyStream ESPN Plus downloader.
Thank you for visiting techowns.com. Keep connected with us by following our Facebook and Twitter pages.
Was this article helpful?