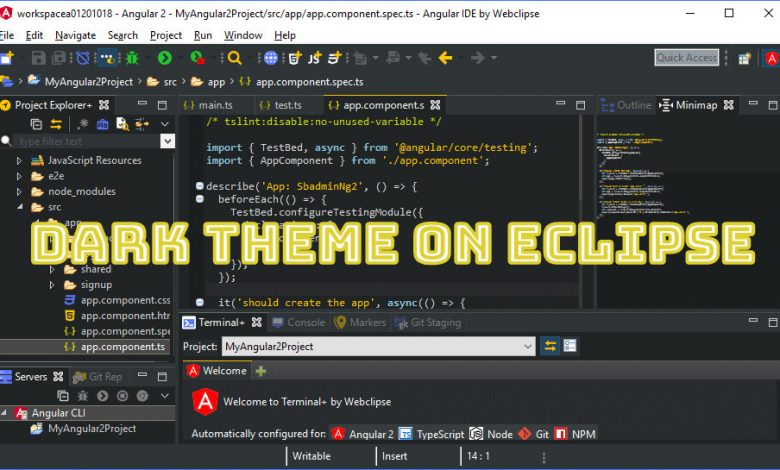 Eclipse is one of the popular IDE (Integrated Development Environment) written in Java language and some programs are written in C or C++. It is entirely free and open-source IDE technology provided with a vast number of plugins from an active community. You can perform everything you want through Plugins. It runs on all leading operating systems including Windows, Mac, Linux and Ubuntu. Eclipse supports a huge variety of themes, including Dark mode. It is an innovative tool that provides a lot of customization, the dark theme is one among them. Enabling dark theme on Eclipse will bring a new look to its home screen, system functions, and also helps the user to achieve a major comfort level.
Steps to Enable Dark Mode
Eclipse supports dark mode but there is no direct option to enable it. To get dark mode, you need to install the any of the Color theme plugin on your Eclipse.
#1: Open the Eclipse on your computer and click the Help tab at the top left of the screen.
#2: Next select Install New Software option form the drop down list.
#3: Click Add button to the right of work with search field.
#4: A pop up will appear, here provide the Name of the colour theme and and enter the Color theme URL in the Location field.
#5: Next click OK button.
Note: If you want to install the plug-in in offline mode, click the Archive button next to the Location field. The plugin will be saved in the form of Zip file in your device.
#6: Select the Eclipse color theme and then click Next.
#7: Again click Next, after that click OK from the security warning prompt. Instantly it will start the installation.
#8: Once the software gets installed, you have to Restart Eclipse.
#9: After the restart, click Home button and select Preference option.
#10: Here, search for the colour and select the Color Theme option, it will show a list of available colour themes.
#11: Finally choose the dark theme for the list and click Apply.
To Conclude
This is the simple procedure to enable dark theme or mode on Eclipse. Change the existing light colour theme to dark and it will give a new look to enhance your work. Also many consider dark theme is the best for eclipse and at the same time safer for the eyes. So, if you are a lover of dark mode and wish to get the same on eclipse you can do it in a matter of minutes. Comment below if you have something to ask regarding eclipse dark mode. Also, do follow our Facebook and Twitter accounts for more related tech updates.
Was this article helpful?