Twitter is a popular social media platform where you can share your thoughts via tweets. It was launched on July 15, 2006. In almost one and a half decades, Twitter has grown to be one of the most used social platforms around the world and stands unique among the other social media platforms like Facebook, Instagram, etc. If you had mistakenly tweeted or want to delete any of your old tweets from your Twitter profile, you can do that with ease. There may be several reasons for you to delete a tweet or a retweet. So today let us the various ways on how to delete a tweet on Twitter.
Ways to delete a Tweet on Twitter
Using the Twitter app on a smartphone (Android / iOS)
Using the PC
Using Third-party Apps
How to Delete a Tweet using the Twitter App on Smartphones
Step 1: Open the Twitter app on your smartphone (iOS or Android)
Step 2: Tap the Profile icon on the top left corner of the screen.
Step 3: Choose the Profile option on the left pane.
Step 4: All your tweets and retweets will appear. Scroll down to the tweet you want to delete. Tap the Down Arrow on the top right of the tweet.
Step 5: Delete Tweet option will appear. Tap on it.
Step 6: On the confirmation screen, click the Delete button.
Note: You can't delete a retweet using these steps. To delete a retweet, click the Retweet icon on the bottom of the retweeted post. Undo Retweet option will appear, tap on it to delete the retweet. No confirmation will be asked.
Steps to Delete a Tweet on Twitter using PC
Step 1: Open any web browser and go to twitter.com.
Step 2: Sign in if asked. Tap the Profile icon on the left side of the screen.
Step 3: All your tweets will appear. Click the Down Arrow button as you did on the smartphone.
Step 4: Delete option will be displayed. Click on it.
Step 5: On the Confirmation pop-up, click the Delete button.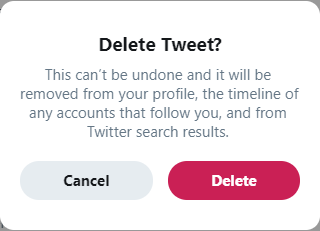 To delete the Retweet, click the Retweet button and click Undo Retweet.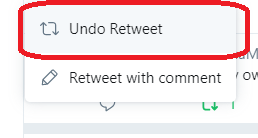 Steps to Delete a Tweet using Third-Party Apps
There is no way that you can delete all your tweets at once. At least, there is no official way to do it. That is why you should use the third-party services like TweetDelete, DeleteAllTweets, TwitWipe, Cardigan are some of the services that you can use to delete all your tweets.
These apps are helpful if you want to delete old tweets by year or when you want to delete tweets by date. As you cannot do these on your official Twitter app or from the website.
Our Opinion
Don't go for third-party services unless it is the utmost necessity. Instead of deleting all the tweets, deactivate your account and create a new account with the same username. This will delete all your tweets, retweets, and all your past twitter activity.
These are the tips and hacks that you can use to delete tweets on your Twitter account. If you have something to ask, leave it in the comments below. Follow us on Twitter and Facebook for more updates.
Was this article helpful?