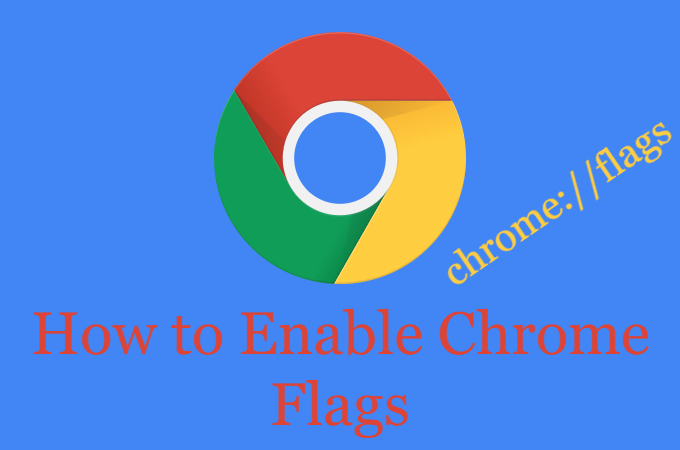 Google Chrome Flags are a bunch of experimental attributes and settings that are mostly used by developers. These attributes consist of the characteristics of the browser but are not accessible by the customers. Chrome Flags allows you to enhance your browsing experience and make use of the new attributes. Chrome flags are hidden well in the Chrome browser so that the average user won't notice them.
These flags have advanced features like hardware and GPU acceleration which are required for developer testing. In flags, a lot of beta features will be available. By accessing the flags, you can get to access those beta features. But, not all the beta features will come to stable releases. Some of them will be scrapped without any pre-notice.
Steps to Enable Google Chrome Flags
[1] Open Google Chrome.
[2] Search chrome://flags in the search bar.

[3] Now, the Chrome Flag displays a set of features that you can enable or disable.

[4] Beneath every feature, a brief description is given to make you aware of its use.
[5] You can also search for any feature by typing in the Search Bar.
[6] Once you have enabled a feature, Relaunch Now button is displayed. Click the button to relaunch Chrome with the changes made.

[7] If you're not satisfied with the Chrome Flag settings, you can reset it by clicking the reset all to default button.

The flags can be accessed on the Chrome browser of any device like Windows PCs, Android smartphones, iPhones, iPads, and Mac PCs.
Advantages of Chrome Flags
It helps you to fix small bugs in Chrome.
Improves your browsing experience
It's super beneficial for developers.
It helps the user explore various features.
Some of the Best Chrome Flags
[1] Parallel Downloading Chrome Flag

When you're trying to download several apps or games simultaneously, you will face issues. It takes a longer time to downloaded and sometimes the download gets canceled. In such cases, you can enable Parallel Downloading Chrome Flag where it helps you to download them faster since it creates several connections with your source website. You can enable it from the drop-down menu list displayed on the screen.
[2] Show Autofill predictions

We all know the Chrome browser has autofill predictions. But, sometimes, the autofill predictions may disturb our browsing experience where we need to sign in with our friend's account. The Show Autofill predictions flag allows you to auto-fill the words by giving them a guess depending on the location, name, and some other factors. Use the drop-down menu to add this flag. By clicking the Default drop-down menu, you can enable and disable the Autofill predictions chrome flag. You can disable this flag by heading over to the Chrome settings.
[3] Force Dark Mode for Web Contents

Most of the users use dark mode for browsing. Using dark mode enhances the presentation of a website while reading. It is the same as the dark mode we use in our smartphones. The words seem to appear more clear when you have enabled dark mode. If you don't want the dark mode flag, you can disable it by clicking the drop-down menu.
[4] Pull-to-refresh gesture

Pull-to-refresh gesture is used to refresh your page. With just a swipe from the top of the screen, you can refresh the page just the way you do on your mobile phones. This helps you to load new content in seconds. Similar to the other chrome flags, you can enable it or disable it as your choice.
[5] Smooth Scrolling

Enabling a smooth scrolling feature displays the content on the web smoothly. Similar to mobile phones, you can scroll smoothly in your Chrome when you have added this flag. The content seems to appear clearer and slides across your screen. For a better experience with Chrome, you need to add this flag to your Chrome Website. You can disable this feature anytime you feel it's unnecessary. Unfortunately, the flag is removed from the browser.
Conclusion
Chrome has several advanced features because of which it is the most used browser all around the world. In every update of Google Chrome, there are several new features. With a few simple steps, you can add any attribute to Chrome to make your browsing experience better.
Follow our Facebook and Twitter pages to get more tech updates.
Was this article helpful?