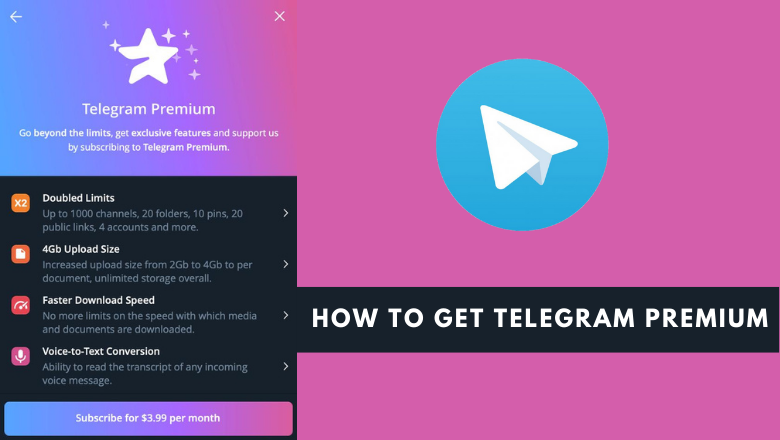 Telegram is one of the most secure apps for messaging and sharing media files with friends and colleagues. The platform lets users sync the data on all platforms. Telegram is free to download but restricts users with limited features. Unlike other social media platforms, Telegram offers premium features to users. With Telegram premium, you will get exclusive features, such as ad-free, swift download speed, stickers, profile badges, and more. The premium isn't a one-time purchase. It is based on a monthly subscription.
Telegram Premium Cost
The cost of Telegram premium varies depending on the location you reside.
| COUNTRIES | PRICING PER MONTH |
| --- | --- |
| India | ₹179 |
| United States | $4.99 |
| United Kingdom | £4.99 |
| Europe Union | €5.49 |
Prerequisites to Get Telegram Premium
The process of upgrading to Telegram Premium is quite simple.
1. The Telegram Premium version will be available in the app of version 8.8 and above. If you are using the older version, update Telegram on your smartphone.
2. Make sure your Android/iPhone runs on the version that supports Telegram.
How to Upgrade to a Premium Account on Mobile App
1. Open the App Store or Google Play Store, and check if the Telegram app is up-to-date.
2. Launch the app and sign up for a Telegram account with your phone number. After creating a free account, navigate to the Settings option at the bottom-right corner.
3. Scroll down and tap Telegram Premium from the list.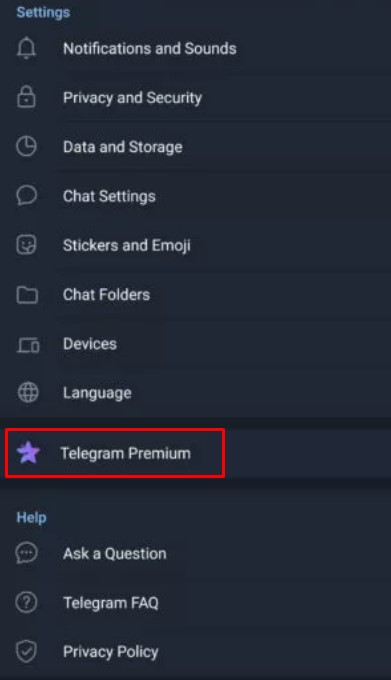 4. A new window would appear, listing the key benefits of upgrading with an option to Subscribe.
5. Tap Subscribe. Make the payment via App Store or Google Play, and experience the benefits of the Telegram premium.
Note: You can also install Telegram on your Apple Watch to communicate with your friends right from the wrist.
How to Get Telegram Subscription on Desktop
1. Open the Telegram desktop app or browser version.
2. Click the Hamburger Menu on the top-left and choose Settings.
3. Click Telegram Premium at the bottom.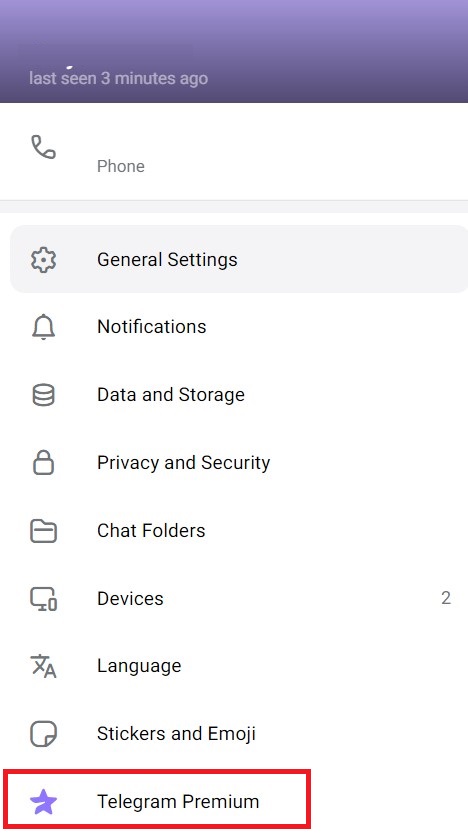 4. Next, click Subscribe For XX Per Month.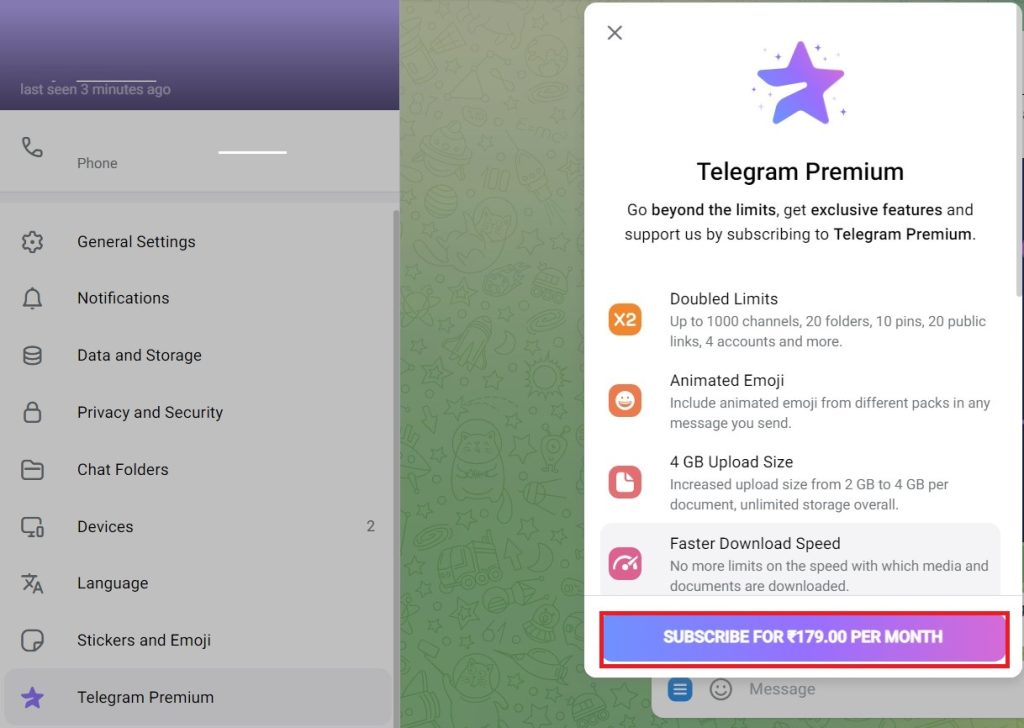 5. The chat will be opened in the Premium Bot. Click Pay.
6. Accept the Terms of Service and proceed with the process.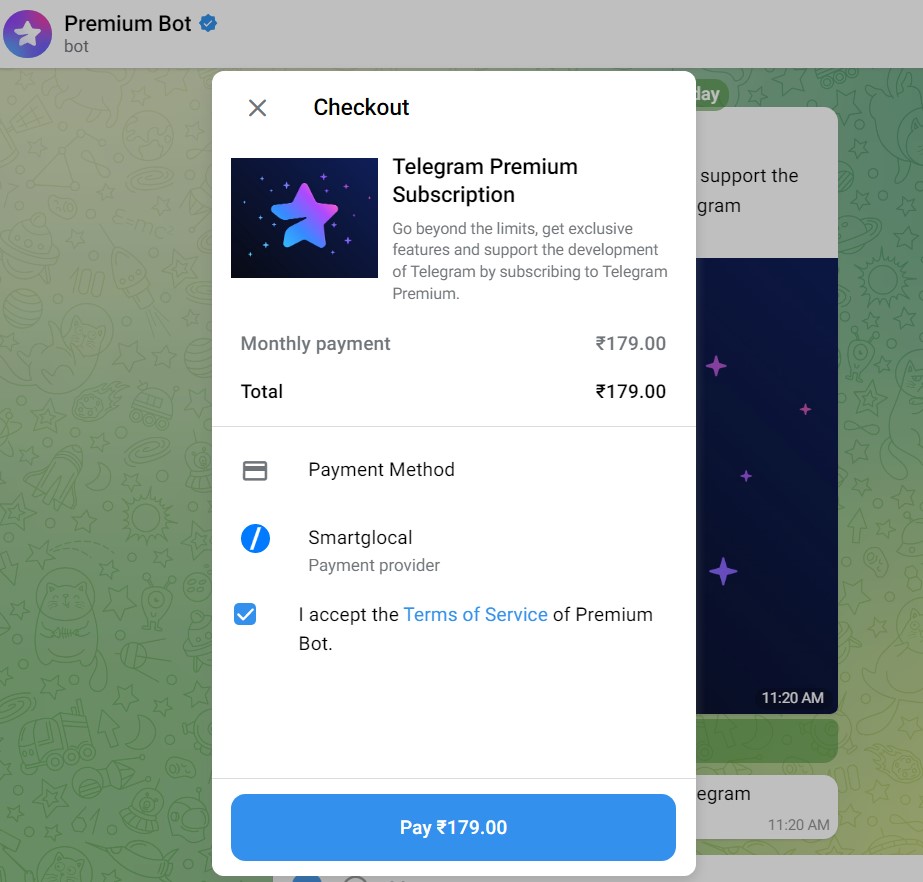 7. Enter the card details and complete the payment.
8. Once done, you can start using the premium version.
Alternative Method To Get Telegram Premium on Desktop
You can also purchase the subscription by visiting the Telegram Premium Bot directly.
1. Open the Premium Bot page on the desktop.
2. Next, click Open in Web.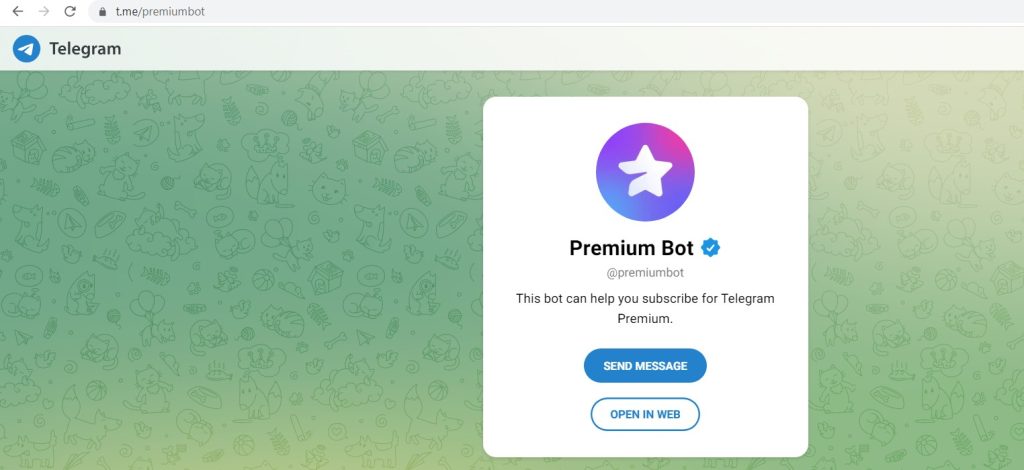 3. Finally, click Pay to proceed with the payment.
Is It Possible to Get Telegram Premium For Free?
No. Unfortunately, the platform doesn't offer Telegram Premium for free. In addition, you can't get the premium version using other third-party platforms as well.
Telegram Premium Features
Several unique features make Telegram Premium a better option. Here are some key features of upgrading to a premium account.
| | |
| --- | --- |
| Doubled Limits | Channels you subscribe to, pinned chats, using public links, and saving GIFs & stickers will be doubled from the free version. |
| Download Speed | The download speed will be brisk and easily done without the speed limits. |
| Animated Emojis | Unique animated emojis will be different from the free version. |
| Conversion of Voice to Text | Easily converts voice messages into text and can respond swiftly to your friends. |
| Infinite Reactions | Now, you can use unlimited reactions to your friends and colleagues in the message. |
| Upload Size | With the increased upload size, you upload documents upto 4GB and get unlimited storage. |
| Ad-Free | You won't get ads in public channels and can access them seamlessly. |
| Profile Badge | The profile badge will be added near your name, which denotes using Telegram Premium. |
| Premium Stickers | New stickers with effects. |
| Chat Management | Manage and organize chats easily by creating folders, hiding, and more. |
| Emoji Status | Add animated emojis near your profile name. |
| Premium App Icons | You can change the app icon of Telegram on your mobile. |
| Profile Picture | In addition to images, you can keep video GIFs as your profile picture. |
Note: Apart from smartphones, you can also use Telegram on Android TV by using the web version or sideloading the Telegram Apk file.
Frequently Asked Questions
1. How to get a Telegram account without a Phone Number?
The users have the option to use the TextNow App. It is a third-party application that generates a free number that is US or Canada based for free. By doing this, we can access the Telegram account without a Phone Number.
Was this article helpful?