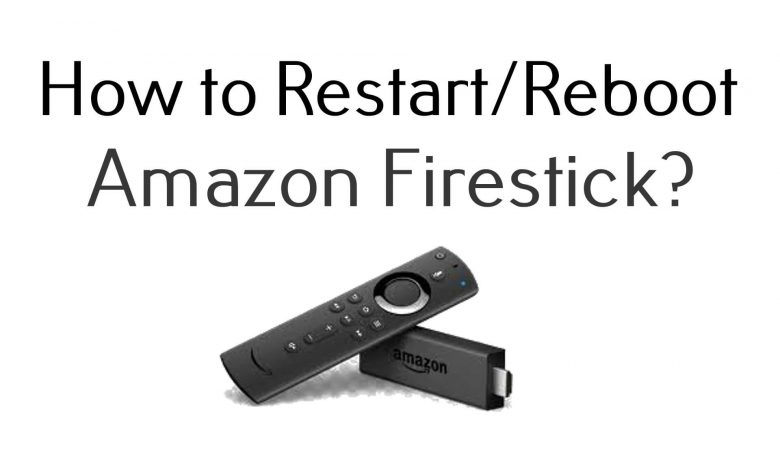 Amazon Firestick is a portable streaming device that looks like a tiny gadget which plugs into the HDMI port on your TV. It gives access to your favourite movies, games, various streaming services, music, photos and TV shows. You can stream media content from various sources on your TV through Firestick over the internet connection. Some of the Firestick supported streaming services are YouTube, Hulu, Amazon Prime, Sling, Netflix and many more. Firestick comes with a remote control that features Alexa voice assistant to perform various functions. You can restart Amazon Firestick 4K (and other gen.) whenever you face an issue or lag like black screen, no signal received, restarts itself while streaming. There are many other reasons to restart or reboot firestick and let us see how to do it in under a minute.
Features of Amazon Firestick
Firestick lets you access thousands of movies from various languages and TV shows, episodes, songs and games.
It supports various video qualities of media contents like 720p, 1080p and 4K quality.
Amazon Prime members can get unlimited access to Amazon Prime Video and music.
Firestick comes with an Alexa voice remote. Press the voice button to search for your favourite titles.
You can take the Firestick with you while travelling to watch your favourite shows and movies by plugging into the HDMI port of the TV, connected with WiFi.
It is supported by more than 300000+ apps under several categories like live TV, movies and TV shows. Some of the contents are not supported in particular regions.
Reasons to Restart Firestick
Running out of storage space which is due to the applications you are using.
Downloading and installing apps from third-party sources that may have caused any issues.
Not having the apps up to date.
Not updating the Firestick to the latest version.
Methods to Restart or Reboot Firestick
It is very easy to restart Amazon Firestick. Restart is different from reset, so you don't worry as restarting won't reset your device to factory settings.
There are three ways to reset your Firestick device.
Restart Firestick from Settings menu
Restart Firestick using Remote
Restart by Unplugging from the Power Source
Method 1: Restart Amazon Firestick from Settings
To restart your Firestick from its settings is not a complicated task. The Firestick remote is require for navigation between on screen options.
Step 1: Launch the Firestick and click on the settings option on the top of the home screen.
Step 2: Select My FireTV option.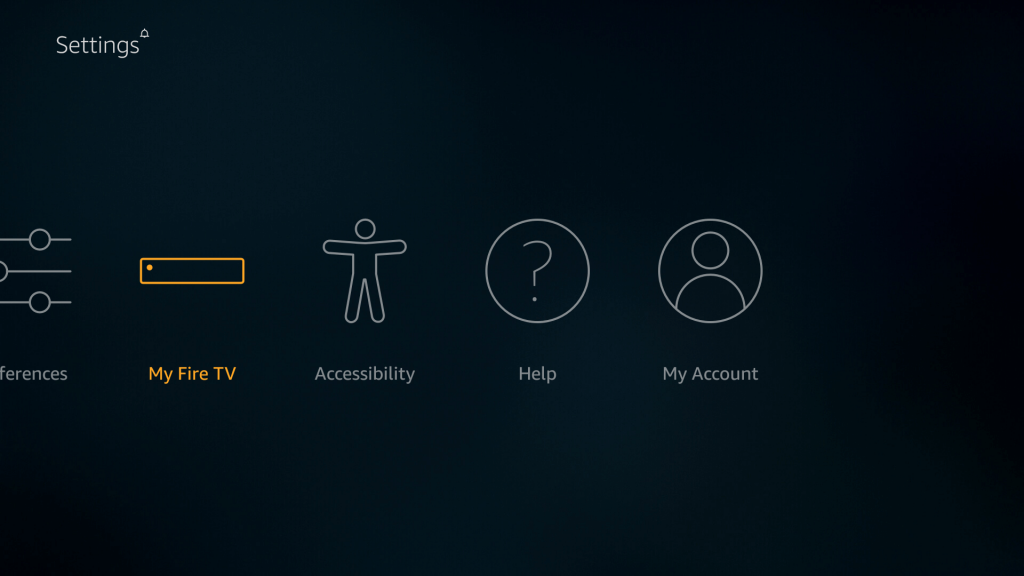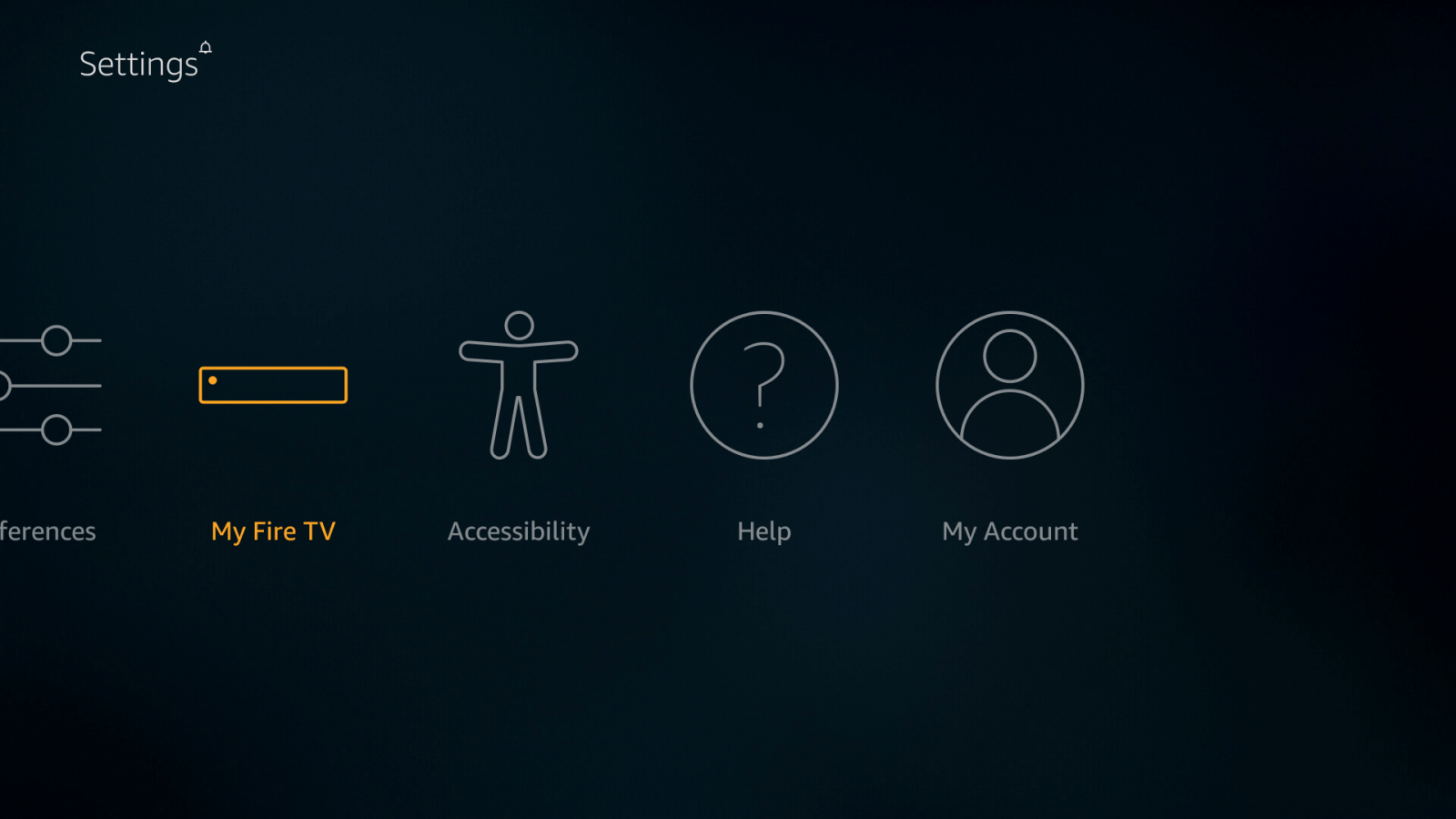 Step 3: Scroll down Restart option and click on it.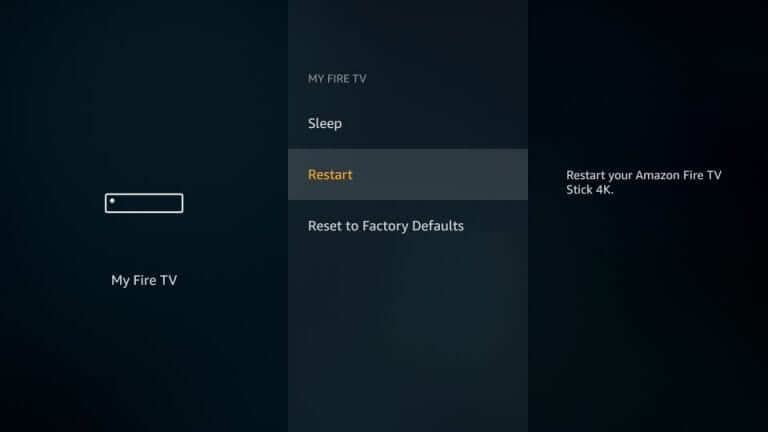 Step 4: Click Restart again from the prompt window.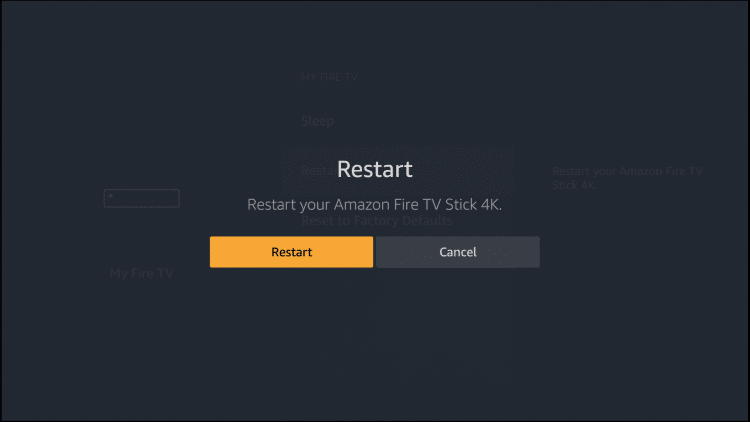 Step 5: Now your Firestick will start restarting and the Power off notification is displayed on the screen.
Method 2: Restart Amazon Firestick Using Remote
If your are realizing any hang or if the firestick is frozen, it is difficult to navigate to settings option to restart your Firestick. At that time you can restart your device directly using the remote.
Step 1: Switch on your TV and launch the Firestick.
Step 2: Take your Firestick Remote.
Step 3: Press and hold the Play or Pause button together for 5 seconds.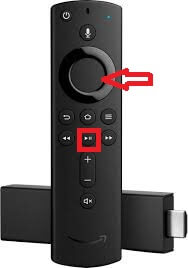 Step 4: Now your device will restart automatically without any confirmation prompt and notification on the screen
Method 3: Restart the Firestick by Unplugging from the Power Source
It is not an effective way to restart your Firestick. This Method is followed only when your Firestick screen is frozen or hang, and you are not able to navigate to the settings menu or in case of your remote controller is not working properly. In this method, Firestick will restart on its own.
Step 1: Unplug your Firestick device from the power source.
Step 2: Wait for a few minutes, the Firestick device will begin to restart internally.
Step 3: Now Plug in your Firestick into the power and access it without any issues.
This is an essential method to reboot the device when the above methods are not working.
Our Opinion
Restarting your Firestick is as simple as that. Once the Firestick is done with the restart, it may take a few minutes to turn on. To avoid restarting, you are required to delete the apk files of all the installed apps to free up the Firestick storage. Avoid using third-party apps it may slow down your device. Update your firestick and install the new version.
If you have anything to share, leave it in the comments below. Follow us on Twitter and Facebook for more updates.
Was this article helpful?