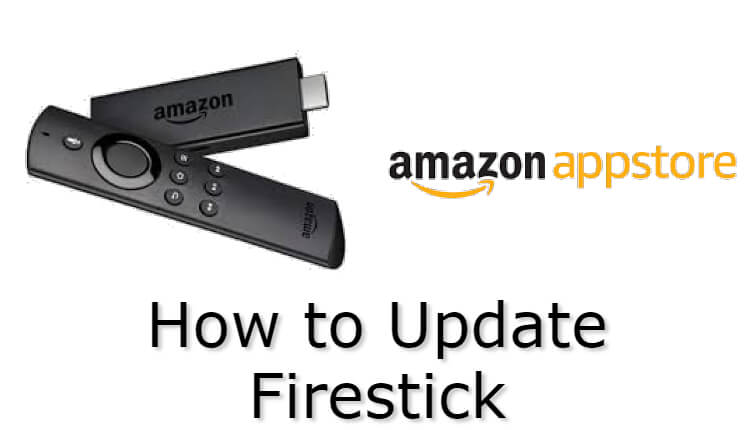 Firestick is a streaming device that has the capability to convert your normal TV into a smart TV. With Firestick, you can install any Android app on your TV and stream video/audio content. Like every other smart device, you need to update your Amazon Firestick to get new features and get rid of software issues. Usually, Amazon firestick updates automatically in the background and wouldn't have to do anything about it. Sometimes, Amazon officially notifies you to update the Firestick. In those situations, you need to know how to update your Amazon Firestick.
Why you need to Update Amazon Firestick
Updating Firestick will improve your device performance and fix bugs. Some particular apps will open only if you update your Firestick to the new version. Amazon releases new software updates frequently, so it is worth checking for new updates once in a while. If your Firestick is connected to the internet, it will automatically update to a new version. However, if you wish to update manually, you can do it and let us see how.
Update Amazon Firestick
Updating your Firestick to its latest version is a simple process. Until now there are four streaming devices launched by Amazon. In all the devices, the procedure to update the Firestick is the same. The name of the options may vary according to the devices.
Step 1: Tap the Settings option on the right side of the Firestick Home screen.
Step 2: Choose My Fire TV or System under the Settings menu.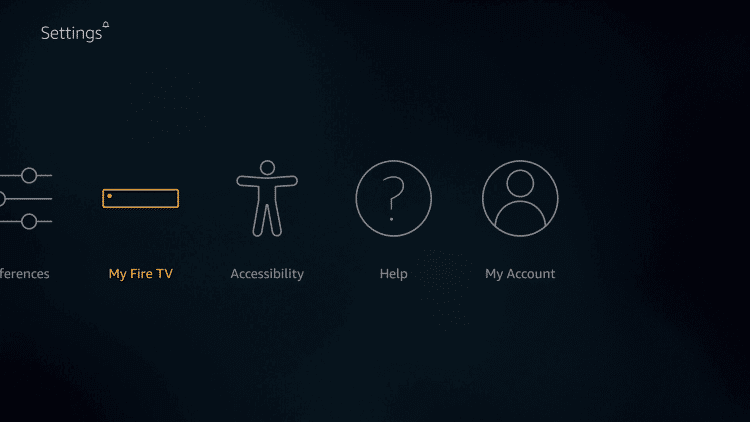 Step 3: Click the About option.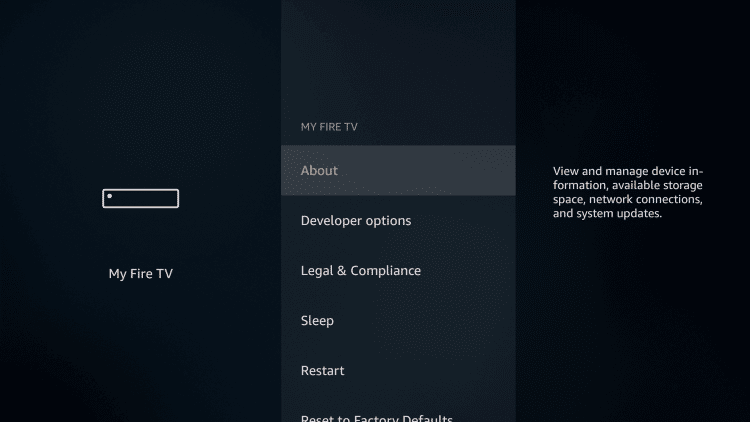 Step 4: Click on the Install System Update option. On the right side, you will see some instructions about the update.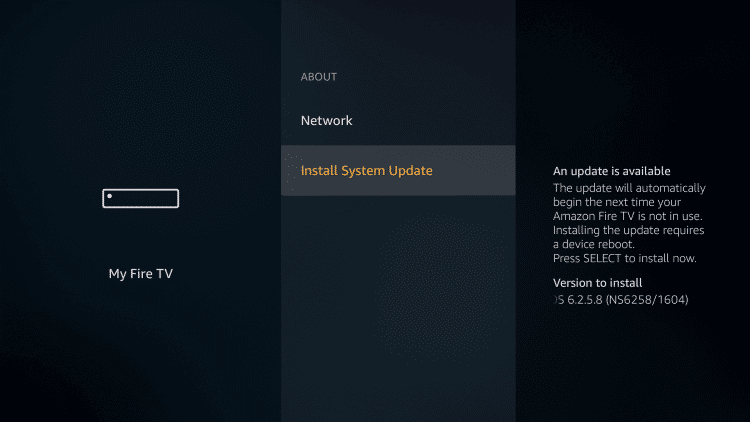 Step 5: Your Firestick will download the latest software.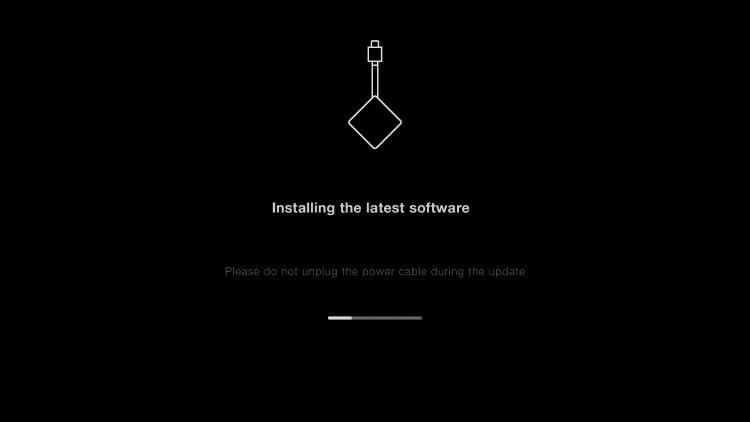 Step 6: After installing the new software, restart your Firestick and you are good to go.
Step 7: If you see Check for Updates instead of Install System Update. Click on it to check if any new updates are available. If any new update is not available, you will see the below screen.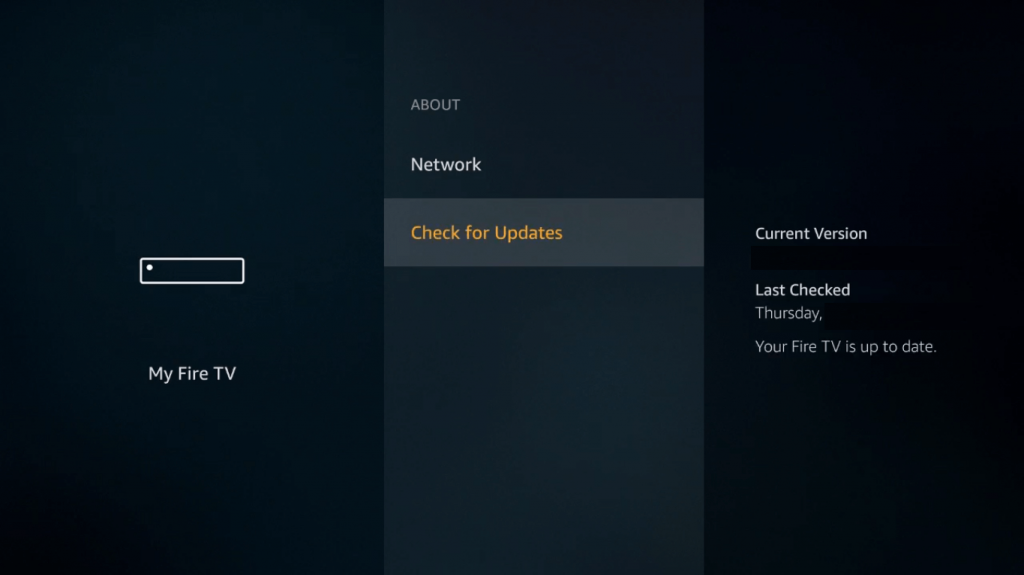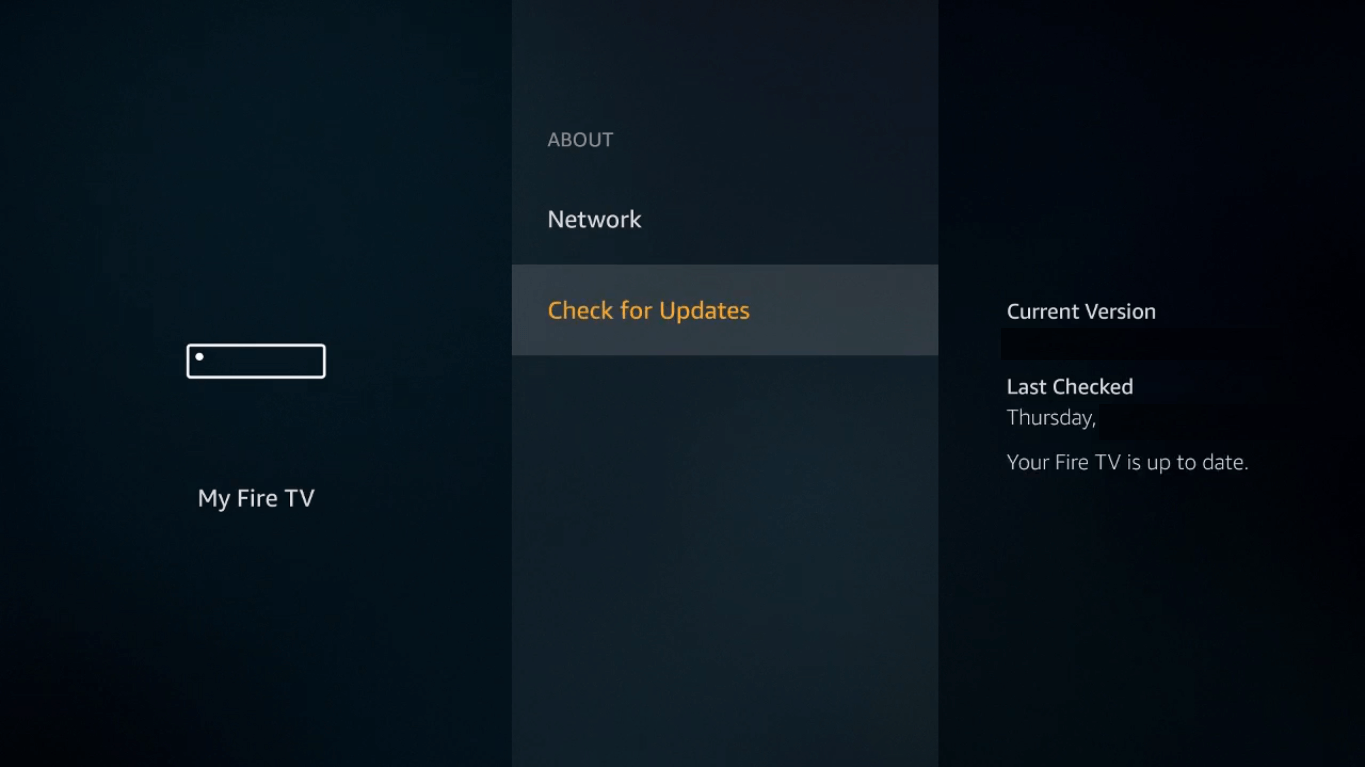 How to Update Apps on Firestick
Now you have updated your Firestick, it is time to update apps on your Firestick. To install apps, you can access the Amazon App Store. There are plenty of apps available in the store. You can install any app that is available on the store. In addition to that, you can install Android smartphone apps too. Since the Firestick runs on Fire OS (Bellini) which is very similar to Android OS, you can install all the Android smartphone apps. If you want to update any of your installed apps, do the below-mentioned steps.
Step 1: On the Firestick Home screen, tap Apps or Your Apps & Games.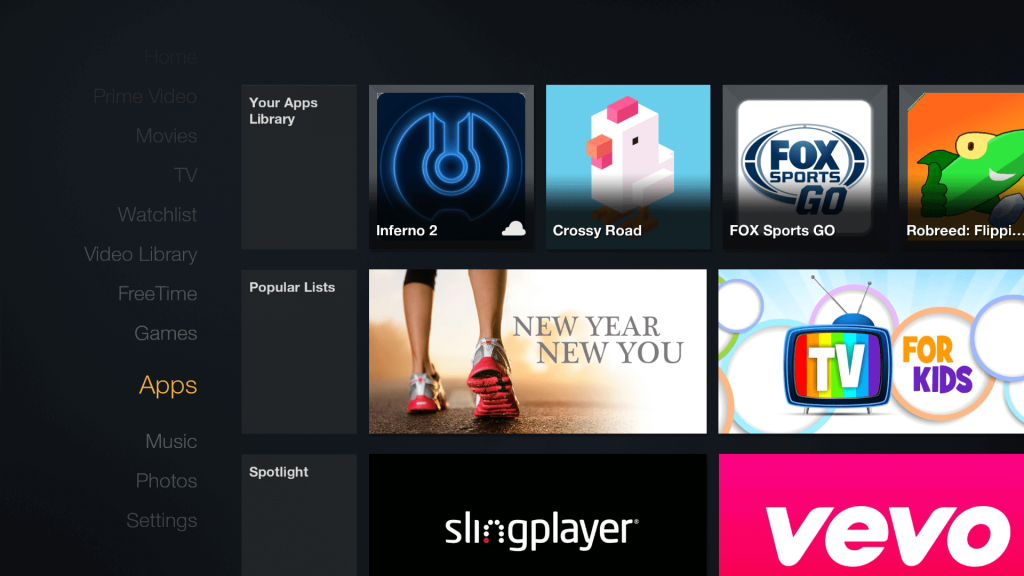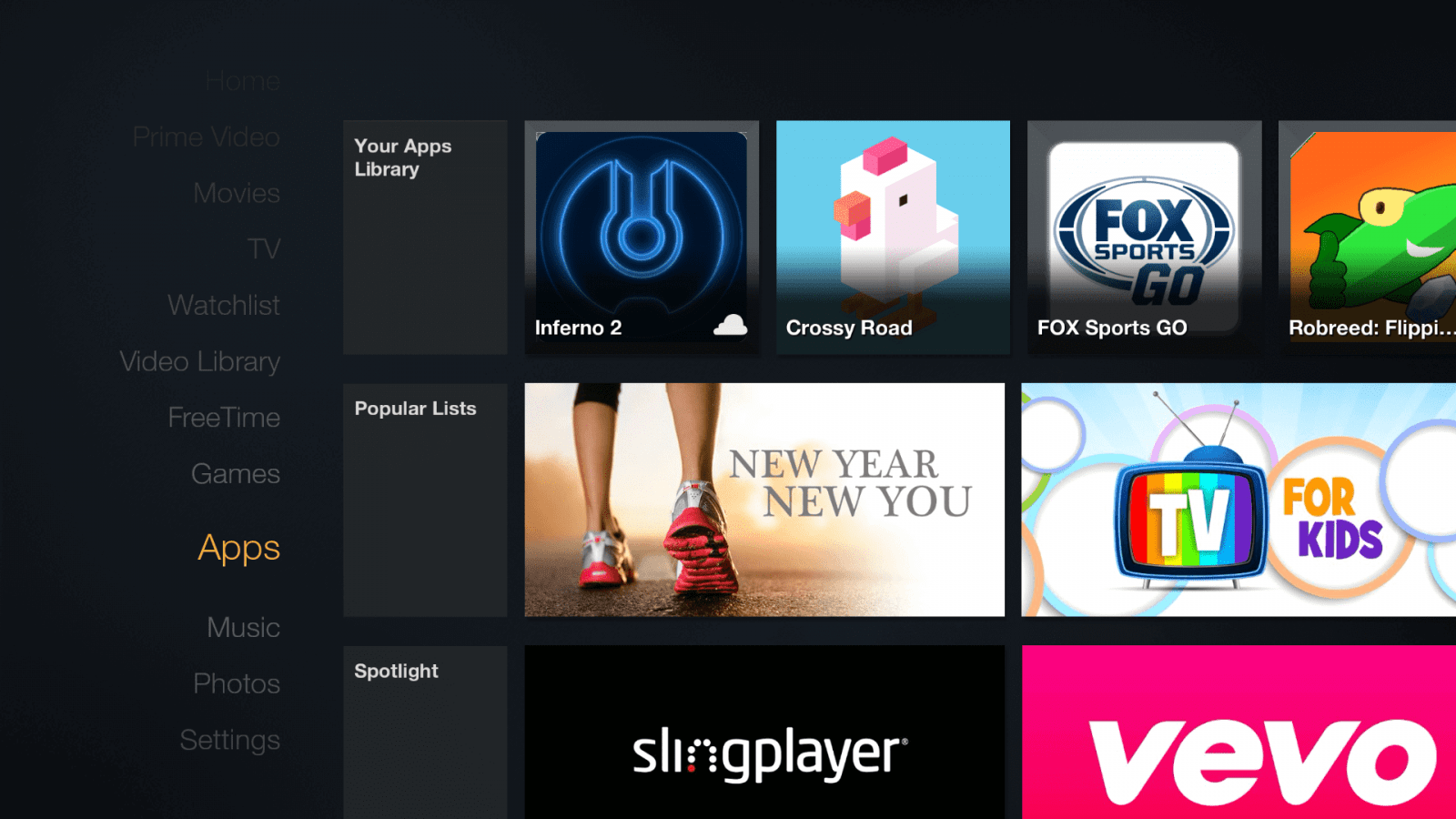 Step 2: Choose the app you want to update, if you can't find your desired app, click See All.
Step 3: By clicking the app will show you three options, More Info, Update, and Uninstall.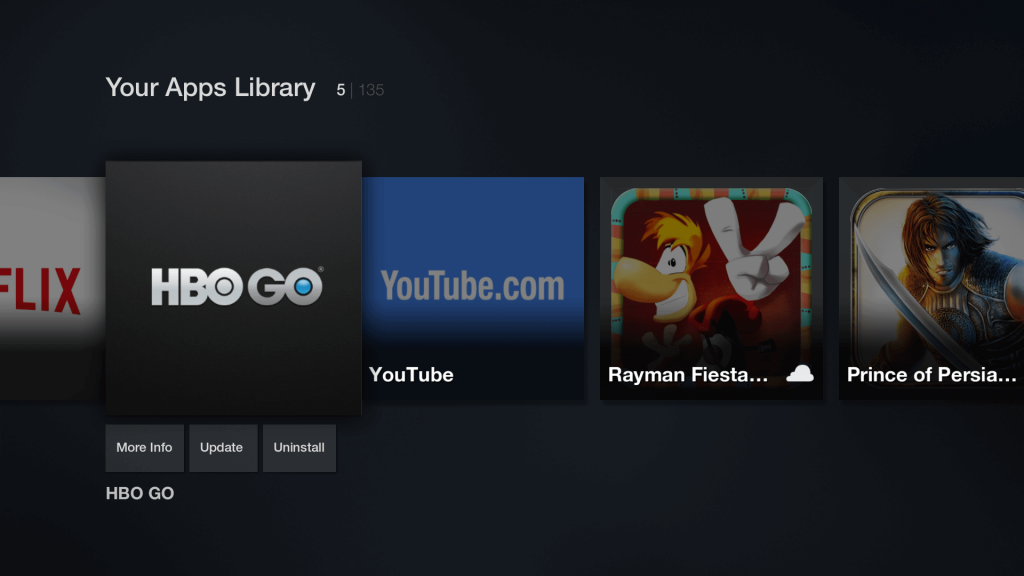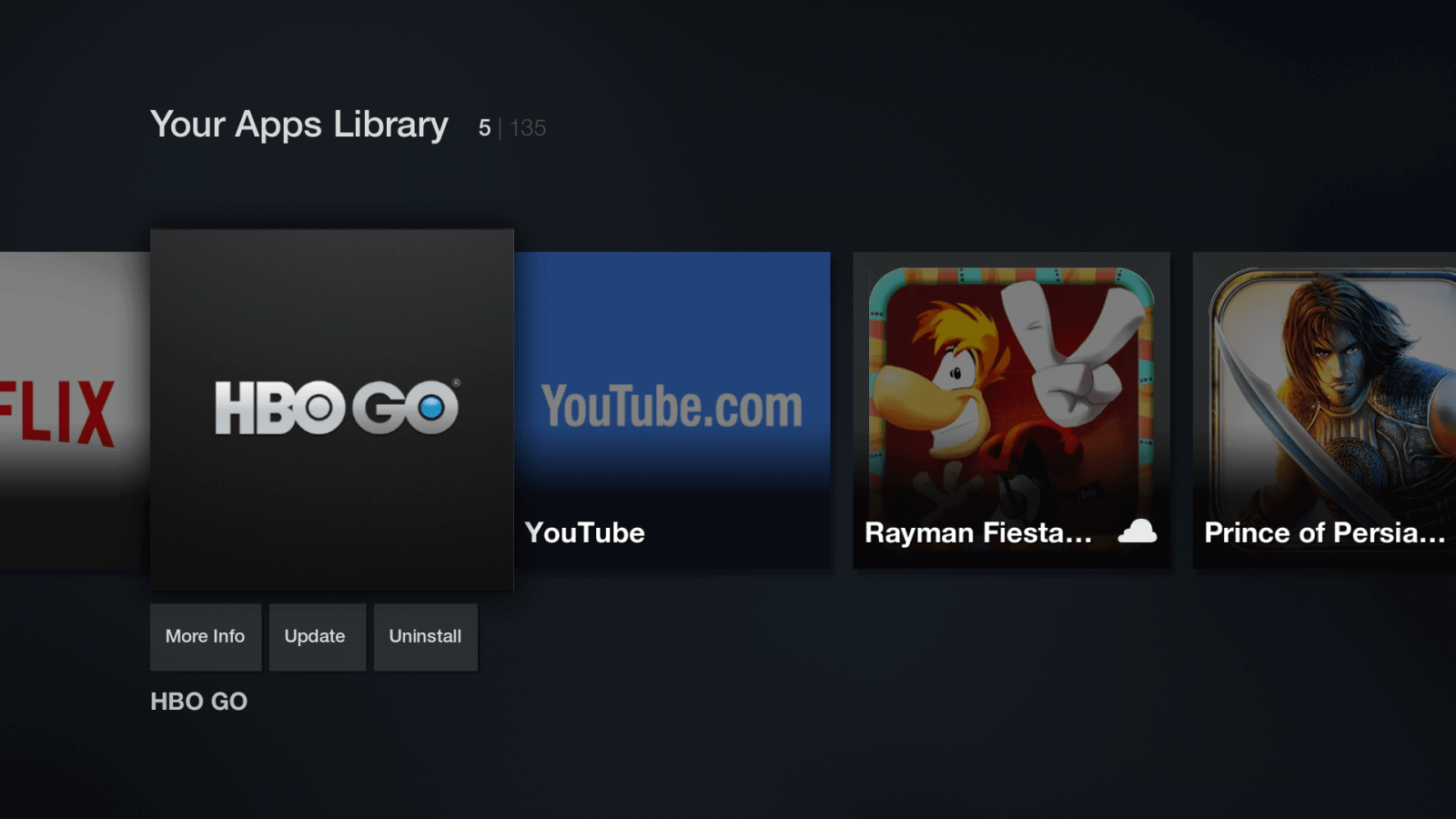 Step 4: Click Update to update the app.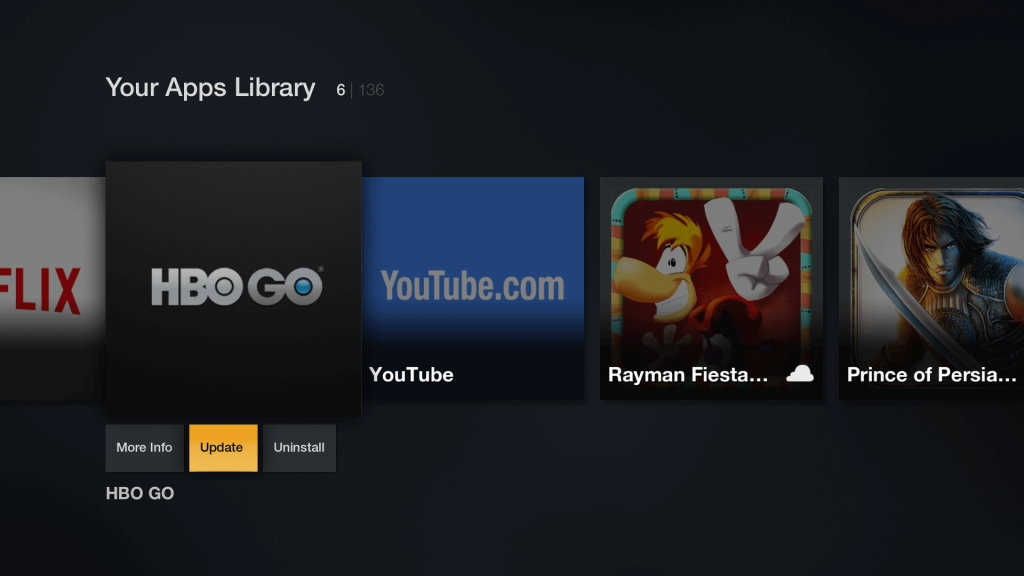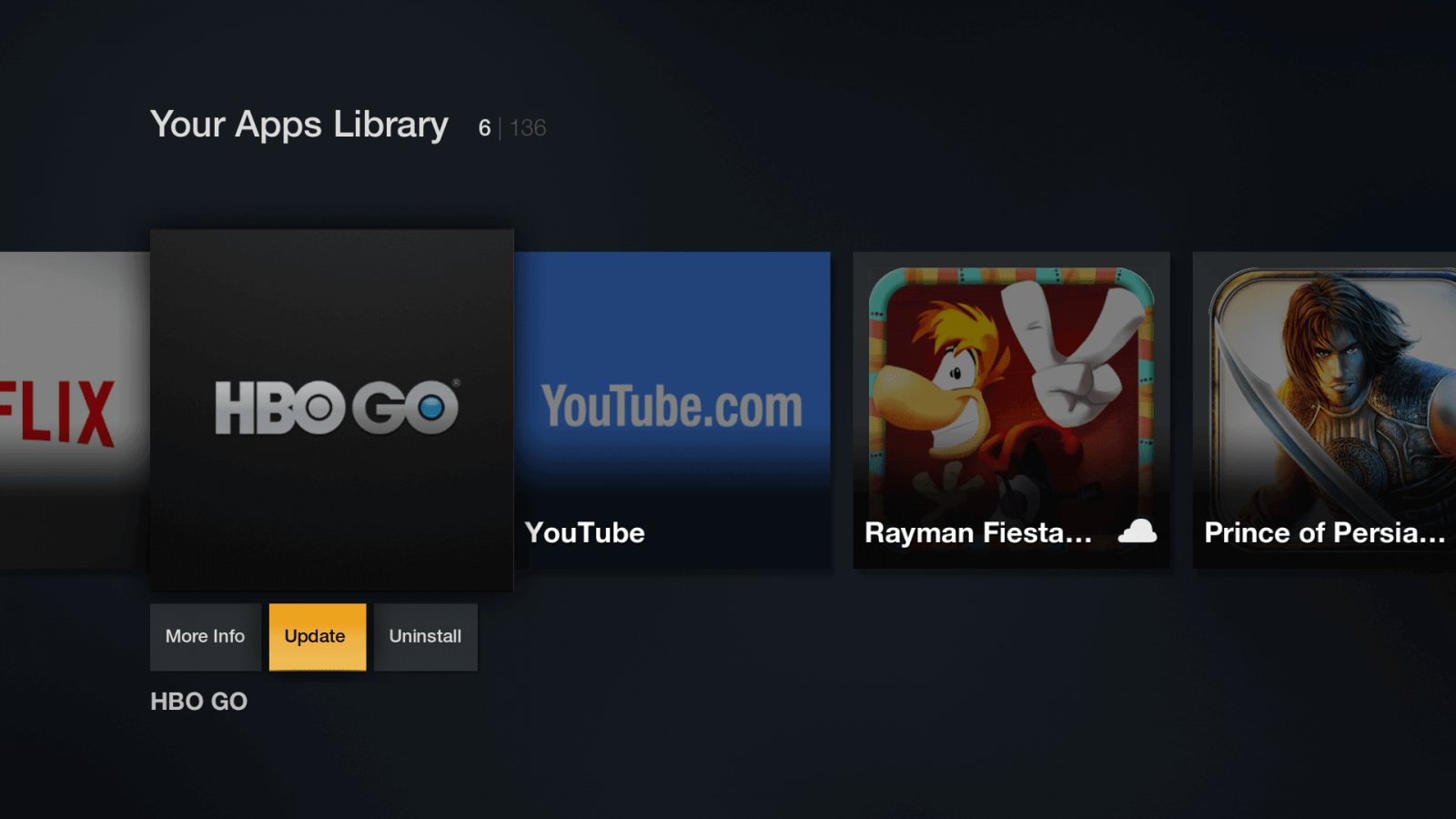 Step 5: On the next screen, click the Update App Now option. The app will start to update.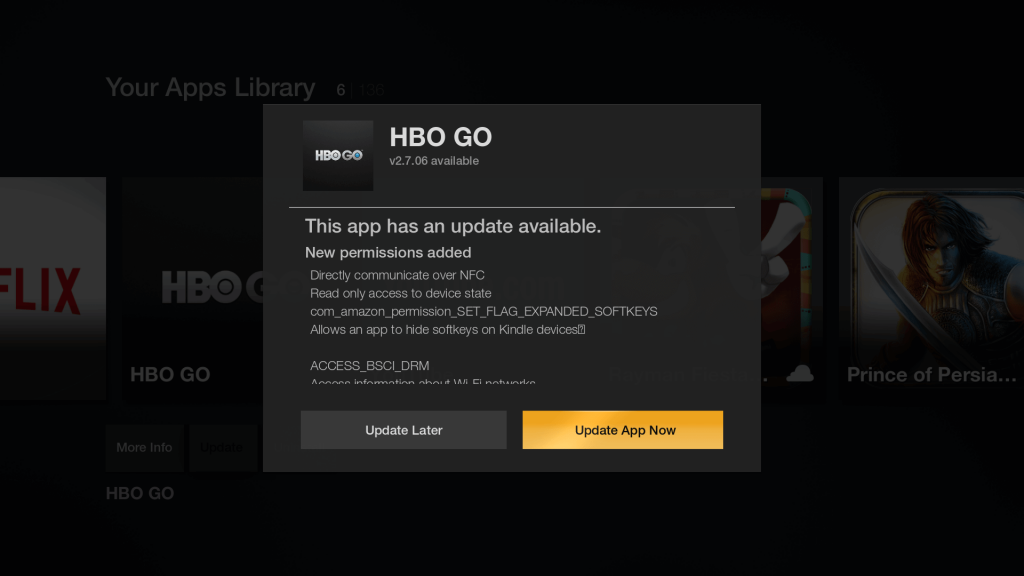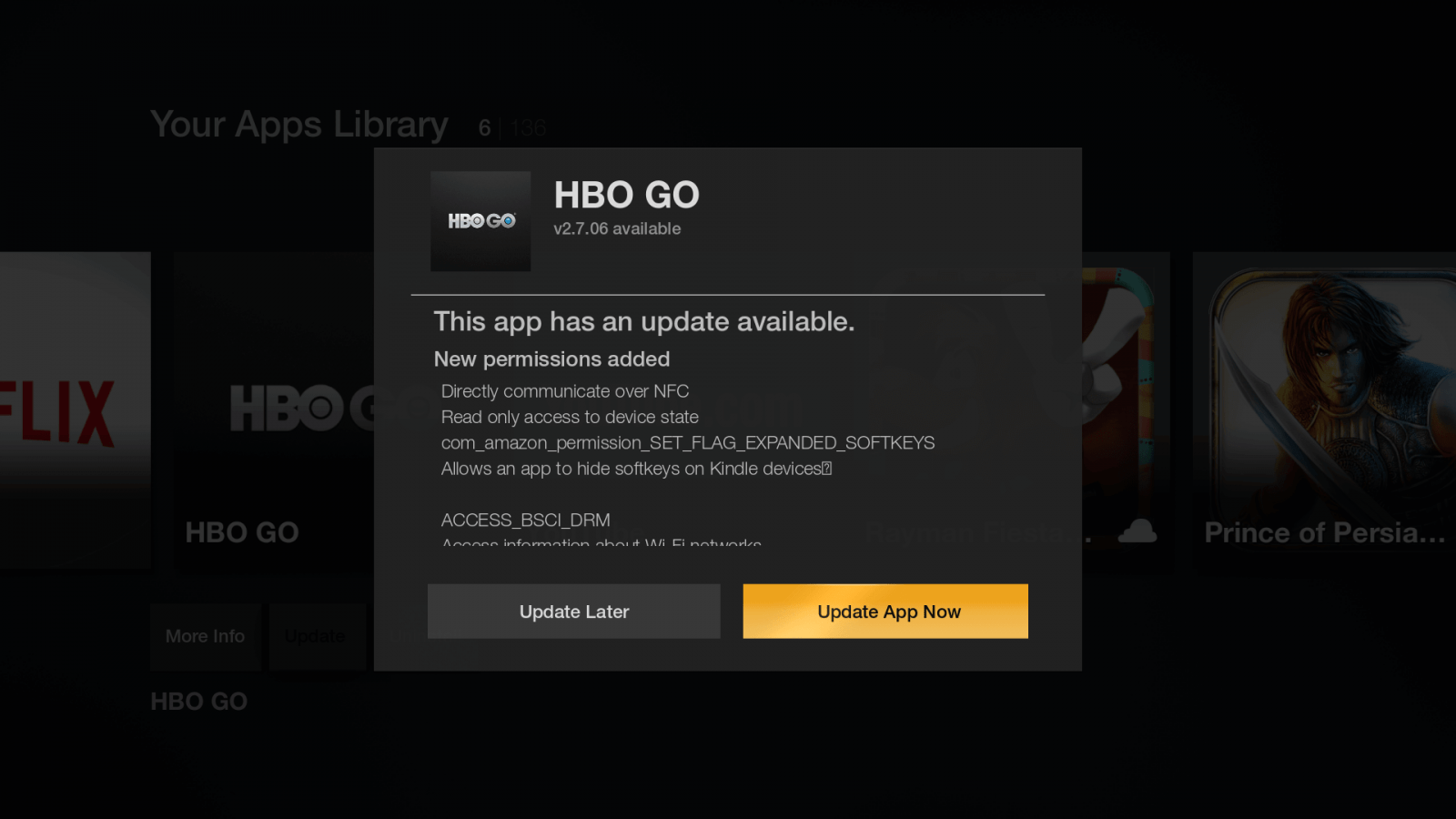 How to Turn Off/On Automatic Updates on Firestick
If you turn on Automatic Updates on your Firestick, the apps you have installed on your Firestick will automatically update whenever there is a new update. In this manner, you don't need to check manually for every app update. This feature will drain your cellular or WiFi connection without your permission. If you want to turn off this feature, do the same as mentioned below.
Step 1: Click on Settings on the Firestick Home Screen.
Step 2: Choose the Application option.
Step 3: Scroll down and click the Appstore option.
Step 4: Click on Automatic Updates. Choose Turn On or Turn Off as per your convenience.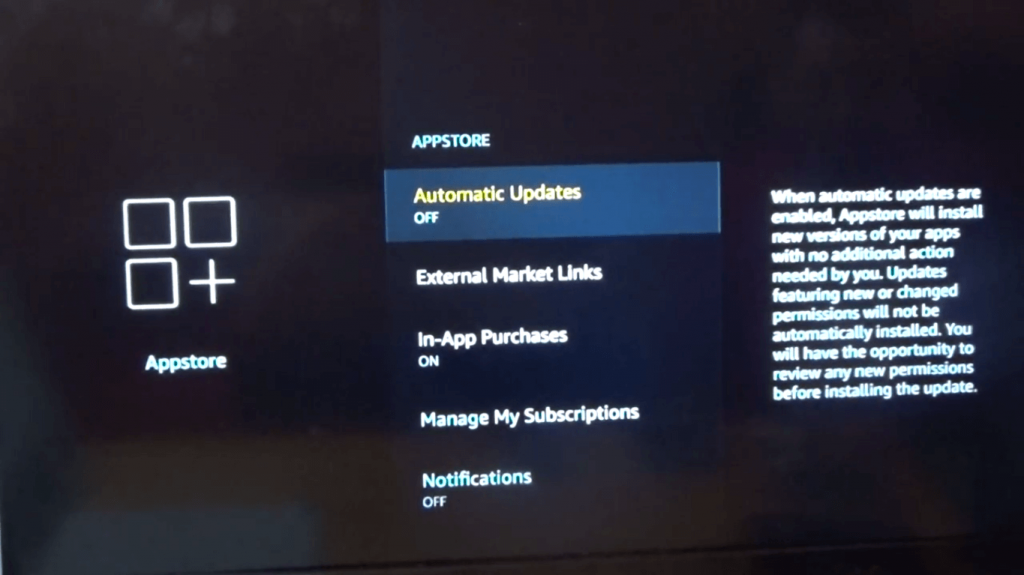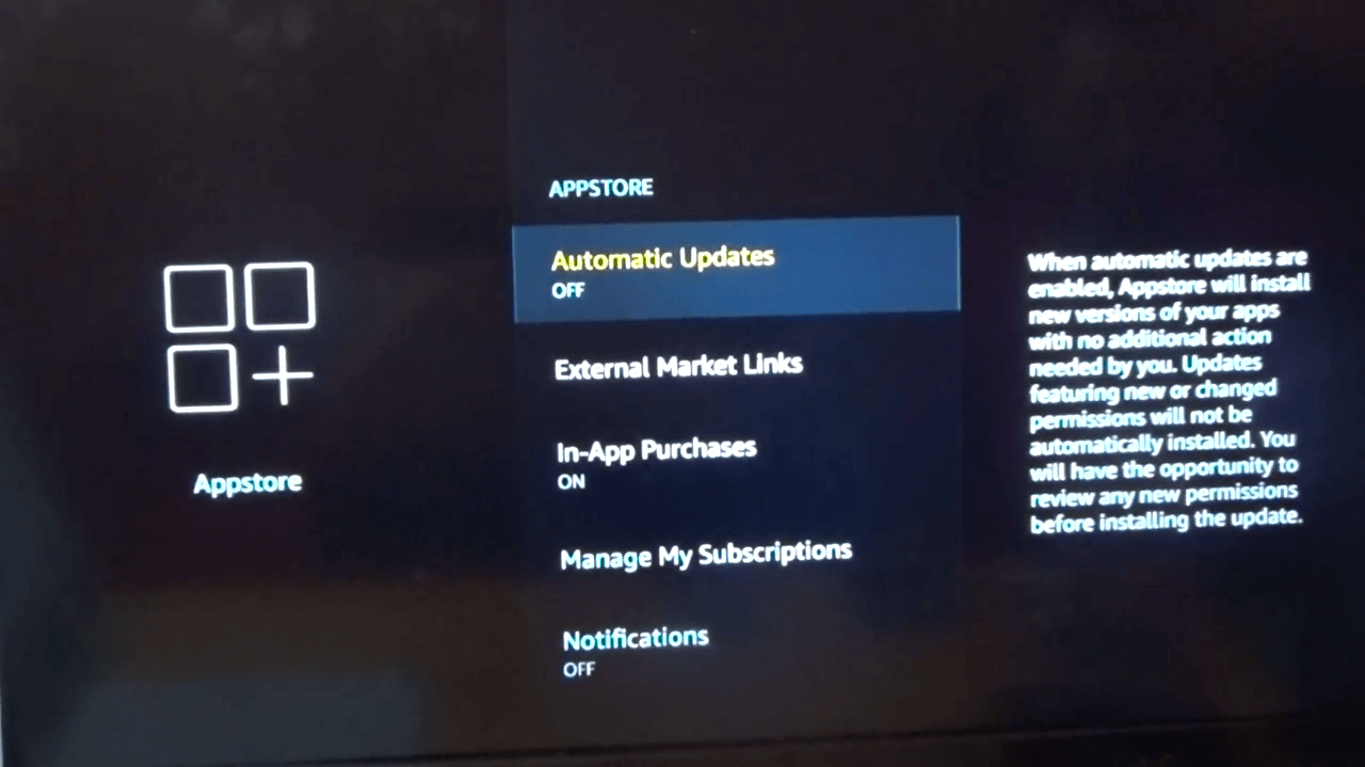 How to Update Sideloaded Apps on Firestick
As mentioned above, you can install Android smartphone apps on your Firestick. But you can't update the apps as you update apps from Amazon App Store. If you want to update those sideloaded apps, you need to download and install the updated apk file from the website.
To Sideload apps, you must have used Downloader or ES File Explorer. To update the apps, you need to follow the same steps as you did to install the apps. Go to the website, copy the download link, and paste the download link in any one of the sideloader app.
Updating Firestick and apps on Firestick is a simple and easy process. Amazon Firestick is one of the best streaming devices available on the market now. Follow the above-mentioned steps to update your Firestick and your Firestick apps.
Leave a comment below if you need help or if you are stuck somewhere. Follow us on Twitter and Facebook for more updates.
Was this article helpful?