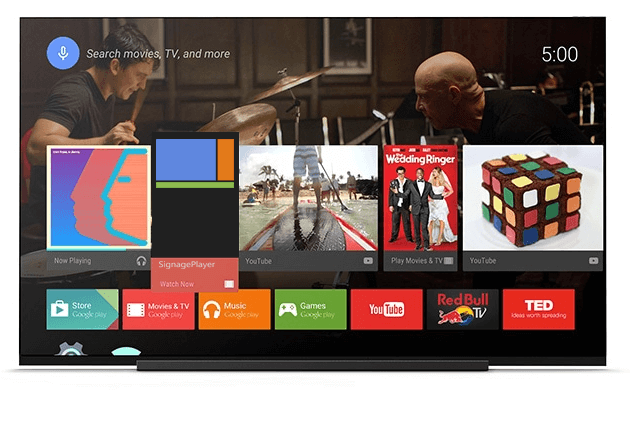 There are three ways to use Android with your digital signage. You could stream content from your phone to your TV, which is doable, but costs a lot of phone battery, it isn't very stable, and it relies on you leaving your phone on location for the duration of the operation. The other method is to have an Android Smart TV and install digital sign apps into it. The third method is to use an Android TV box, which is the most preferred option.
You Need an Android Digital Signage Player
There are quite a few of them on the market. They are the devices you use so that you can use the Android system on your TV. You can use devices like the Android Fire TV Stick, Zidoo Box, Pickcel PX300, and many more.
Set this up with your TV or digital sign the same way you would if you were setting the device up with your TV to use at home. You could also buy a Smart TV with the Android operating system if you wish. There are quite a few on the market, but basic smart TVs are more popular. "Basic" means it is a pretty blank slate that already has a few TV streaming apps on and allows you to add more apps if you wish.
Install The Digital TV Software
Once your device is set up and connected to your digital sign/TV, then you need to add the digital signage software. It is no different to adding other apps to your digital set top box or smart TV. The most common choice is Kitcast for Android TV because it installs as quickly and as easily as the Netflix app, and if you already have a video ready to go, then you can have the thing running in minutes.
The great thing about the popularity of digital signs is how easy and user friendly it has all become. Back in the bad old days, installing was a case of unpacking files, mounting and all that nonsense. Nowadays, you download the app, it installs, you log in and you are done. With that said, you may want to do the sign up with the digital software company before you start. It makes this part a lot easier, and they often offer advice on how to set up your devices too.
Running Content on Your Digital Sign
You can add a video to your digital software and then stream it from your computer to the digital sign. Some people do this if they have several digital signs and they want to control them from a central hub. If you are not too fussy about directly controlling your digital signs, then you can simply load a video and have the Android TV device run it on a loop.
Even if you do not want to run your digital signs live using your computer, even if you want to load a video and let it run, you will still need an Internet connection. The Internet connection keeps the TV device connected to your digital sign. Plus, with Internet connection, you can run several signs in a single location.
Controlling Your Content
The digital sign software is going to allow you to control your content. In most cases, it allows you to create content and then schedule it. You can have videos load right away and loop, or have them run one after the other, or have a single video running for a while and then have it change at a certain time of day. You have a fairly high level of control, and you can do it all from a laptop, PC or tablet. Working digital signs is pretty intuitive these days.
Was this article helpful?