Pinterest is a social media platform which allows users to share images about the things they are interested in. Among all other social media networks, Pinterest has more female users than male users. If you are owning a brand, then you can create a business account and share your brand with Pinterest followers. You can easily create a business account as Pinterest supports both type personal and business accounts. You can also switch your personal account into a business account as well. Once after creating Pinterest for Business, you can create any number of boards and pins for your followers to use.
Note: Before learning how to use Pinterest for Business, learn how to use Pinterest first.
Pinterest For Business
If you are running a brand, you can create a business account. There are two ways to create a business account:
Creating a New Business Account
Converting your personal account into a Business Account
How to Create a New Pinterest Business Account?
Follow the steps below to create a new Pinterest Business account:
(1) Logout from your personal account on Pinterest (if you already have a Personal account).
(2) Open the web browser on your computer and go to pinterest.com/business/create/.
(3) Feed the required details (email & Password) and click Create account.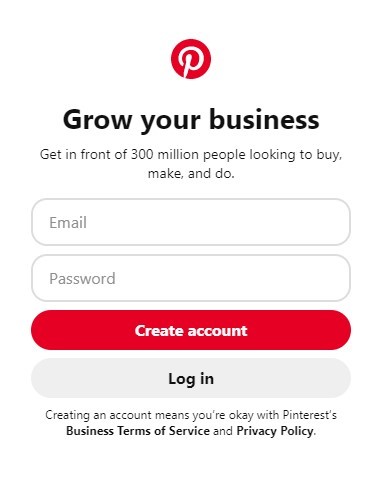 That's it. A new Pinterest Business Account is created.
How to Convert a Personal Account to A Business Account?
Follow the steps below to convert a personal account into a business account:
(1) Open the web browser and go to pinterest.com/business/convert/.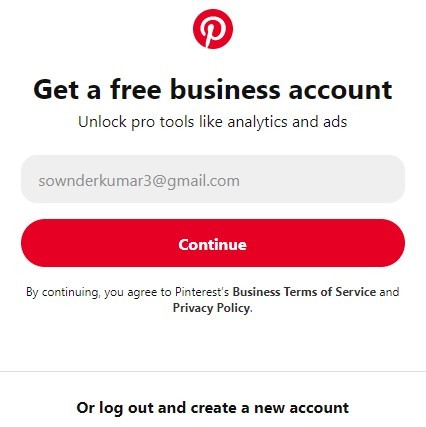 (2) Now login to your Pinterest account.
(3) Enter your business details and website. After that select the business type.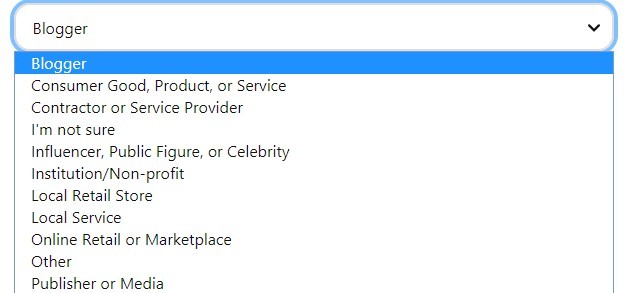 (4) Now click Create account to convert your Pinterest personal account to Business account.
How to Link Business Profile to Your Pinterest Account?
If you want both business and personal account synced, then follow the instructions below:
(1) Login to your Pinterest Personal account.
(2) Click on the Menu icon (three dot icon).
(3) Click Add a free Business Profile.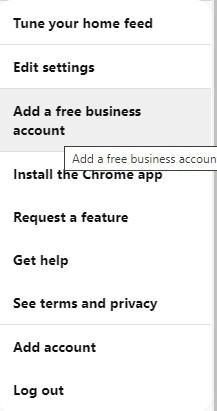 (4) After that fill the required details like Topics that describes your business, interest in Advertisement or not, Business name and Type and other optional details ( email, website and more).
(5) You can move any of your personal board to a business profile or click on the create your first pin to get a separate board for business profile.
How to Use Pinterest for Business?
Here is how to use Pinterest for Business:
1) Create Attractive and inspiring Pins
After creating your Business profile, You have to create catchy pins which allow users to follow you and encourage them to know more about your business.
2) Trending Topics and Keywords
Create and share images or visually engaging pins related to your product and at the same time it also gets on with the top trending on Pinterest. By bringing these trending things with your business post, it may be easy to find and share your contents. The trending may include keyword, image, videos or anything.
3) Advertisements
Like other social media Facebook, Instagram and Twitter, you can promote your product by posting advertisements. But you need to pay for the ads and the budget will be based on the specified area, depending on the topic and much more. The cost of Pinterest Ads are pretty affordable. By advertising your product on Pinterest, you will get you additional exposure to your product.
4) Pinterest Analytics
If you post a pin or ads on Pinterest, you will be able to analysis the information related to your posts. You can easily know about the product references, comments and impressions. Pinterest allows you to note down the average viewers on a daily and monthly basis. In addition to that, you will come to know the monthly average engagements. It helps you to understand and move forward to satisfy their demands and eradicate the damages.
5) Add Pin It Button to your Website
You need to add a "Pin it" button on all the images or any other visual contents uploaded in your business website. It will be helpful for Pinterest users so that they can easily pin your content to their boards directly from your website. Adding the "Pin It" button will make it simpler to share.
6) Create Group Boards
You can create a group board and add any number of people to contribute it. If you post any Pin or ads in the group board, there is a chance of multiple people will take look at your ideas.
The above are how to use a Pinterest Business account. With a Business account, you can increase followers for your business and gain more popularity as well.
Share your feedback and queries in the comments section below. Follow us on Twitter and Facebook for more updates.
Was this article helpful?