Roku is a streaming device that is similar to Amazon Firestick, but not completely. Roku runs on the Roku OS which is a new OS. With this, installing unofficial apps like Terrarium TV on Roku is not an easy task. You can only install apps and games that are officially available on the Roku Channel Store. So let us see the possible ways by which you could get Terrarium TV on Roku.
Terrarium TV has stopped its service and is no longer available for any platforms. So, if you want to stream the latest movies and TV shows for free, you need to have any of the Terrarium TV alternatives on your smartphone or streaming device. As of now, Cyberflix TV is the best alternative for Terrarium TV.
Roku OS is a constrained OS where you can install apps and channels that are on the Roku Channel Store. You can't install unofficial apps like Cyberflix TV and Terrarium TV on Roku. If you want, you can cast these apps from your Android Smartphone to your Roku device. For casting and mirroring, there are no restrictions on Roku.
Steps to Cast Terrarium TV on Roku
Step 1: Install the alternative app for Terrarium TV on your Android smartphone using the link Cyberflix TV.
Step 2: On your Roku device, turn on Screen Mirroring.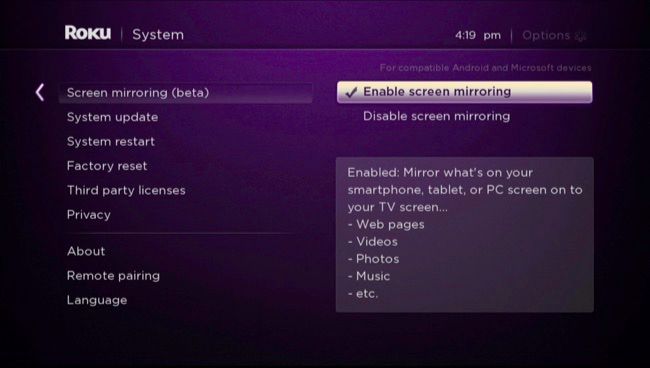 Step 3: Now, on your smartphone, click the Cast icon. If the cast icon is not available, install any casting apps like Cast to TV from the Google Play Store.
Step 4: Then, connect your smartphone and Roku to the same WiFi network.
Step 5: Make the screen mirroring between your Roku and smartphone using the Cast icon or casting app.
Step 6: When the screen mirroring is successful, open the alternative Terrarium TV app (Cyberflix TV app) and choose any video.
Step 7: It will be mirrored to your Roku device. If you want to stop the casting process, turn off the Cast icon or close the casting app.
Lastly, there is no way that you can install Terrarium TV on your Roku device, you can only cast or screen mirror the app using your smartphone. Still, if you are desperate to have Terrarium TV on Roku, use the above steps to cast the app.
If you know any other way to install Terrarium TV on Roku, tell us in the comments section. Follow us on Twitter and Facebook for more updates.
Was this article helpful?