Twitter is a popular social media platform where you can meet millions of people around the world. It is the place where you can convey your thoughts to your follower and also you can follow your favorite personality or influencers. But, few people may not be interested in creating a Twitter account just for viewing the Tweets. Since Twitter focuses on privacy and security, you need to sign in with your account to view Twitter. However, we have a few tricks to search tweets on Twitter without an account.
Can You Still Search on Twitter Without an Account?
No, you can't access or use the Twitter app without an account. Unfortunately, in the mid of July 2023, Twitter restricted certain restrictions on what you can view or do without an account. However, there are certain functions that can be viewed without an account, excluding
Sending your own tweets to your friends or searching other's Tweets
Following accounts to create a timeline
You cannot reply, like, retweet, and pin the tweets
Cannot filter the tweets on someone's profile using the Media and Likes tabs
How to Use Twitter Search Without an Account
As said earlier, you can view certain parts on Twitter without an account, and it can be done only through a web browser. It does not work on the Twitter smartphone app since the app asks you to sign in when you open the app.
#1: Use Twitter's Explore Page
By visiting Twitter's Explore page, you can view Twitter without an account. You can click the tweeted account and see more Tweets from them. Moreover, you can click the Share button to share the Tweet with your friends. If you want to change any data privacy, navigate to the Settings option and customize as you need. In addition, you can choose a topic from Trending, News, Sports, COVID-19, and Entertainment to view more tweets that are trending in the world.
#2: Search Twitter Without an Account
Using the Twitter Explore page's search bar, you can search and view the Tweet without an account.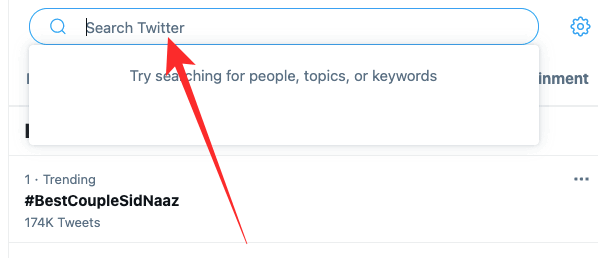 In the search bar, type the topic or username and click the Enter button. You will get the search result in the Top tab by default. In addition, you can also click on the Latest, People, Photos, and Videos tab to view more Tweets.
Apart from this, there are few third-party websites tools that show trending Tweets and do not require a Twitter account. You can try Trends24 or GetDayTrends sites to view the Tweets on Twitter.
FAQ
How do I search Twitter with Google?
In the Google search bar, type site:twitter.com -site:m.twitter.com intitle:"on Twitter"keyword (keyword means the topic you want to search) and press Enter. You will get a list of related topics.
How to find Tweets URLs?
Navigate to the Tweet for which you want to find the URL → click the Share icon → select Copy link to Tweet. While using the PC, you can find the Tweet link in the URL bar after opening it.
What to do when Twitter search not working?
In case the Twitter Search is not working, you have to close the app and relaunch the app. You can also log out from the app and log in again.
Was this article helpful?