Apple TV app has been available for a long time and it has received a new feature update with the release of iOS 12.3 in 2019. It is called Apple TV Channels and with which the users can take control of the channels easily from within the TV app itself. Whether you own an Apple TV, iPhone, iPad or Mac, its users will be able to stream movies, TV shows, etc., with an internet connection and Apple ID. By choosing or subscribing to streaming services, you can watch contents in 4K HDR quality with Dolby Atmos on Apple TV and Mac. To know more about Apple TV Channels, you may read the article further.
Apple TV Channels: An Overview
Apple TV Channels is a streaming service incorporated within the Apple TV app. With this, you can subscribe to the channels you want from within the TV app. You don't need to download the apps separately. Just from within the Apple TV app, you can watch anything including on-demand contents that are available with the subscription on all your devices. In other words, Apple TV app is the one-stop destination for all the streaming services. So, you can buy and stream TV shows, movies, and other contents easily. By subscribing to Apple TV channel through Apple TV app, you will get the billing for all the subscription together from Apple.
Requirements to Get Apple TV Channels
If you have iPhone or iPad with iOS version 12.3 or later, the Apple TV Channels subscription can be done. Similarly, you need to have Apple TV HD or Apple TV 4K with tvOS 12.3 later to access Apple TV Channels. In addition to this, you can use Apple TV Channels on a Mac with macOS Catalina, latest smart TV's, and more.
How to Subscribe to Channels
It is fairly easy to subscribe to any channel on Apple TV Channel. Keep in mind that the subscription charges vary with each and every channel. You will find the trial period, monthly price along with renewal terms prior to confirming the subscription.
Tip Keep note that if you have already subscribed to any of the streaming services, you cannot use that as a part of Apple TV Channel.
(1). Irrespective of the device you, launch the Apple TV app.
(2). Click on the Watch Now tab to see a list of channels.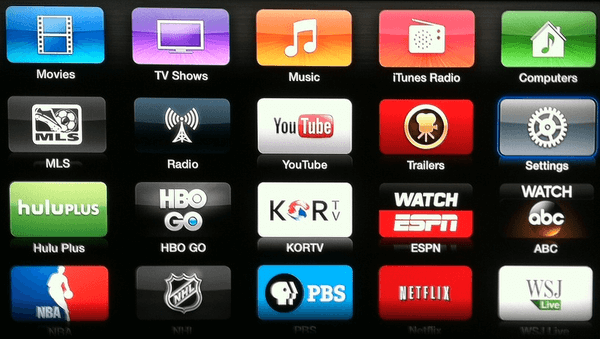 (3). Look for your preferred app and click on Try it Free. For instance, STARZ.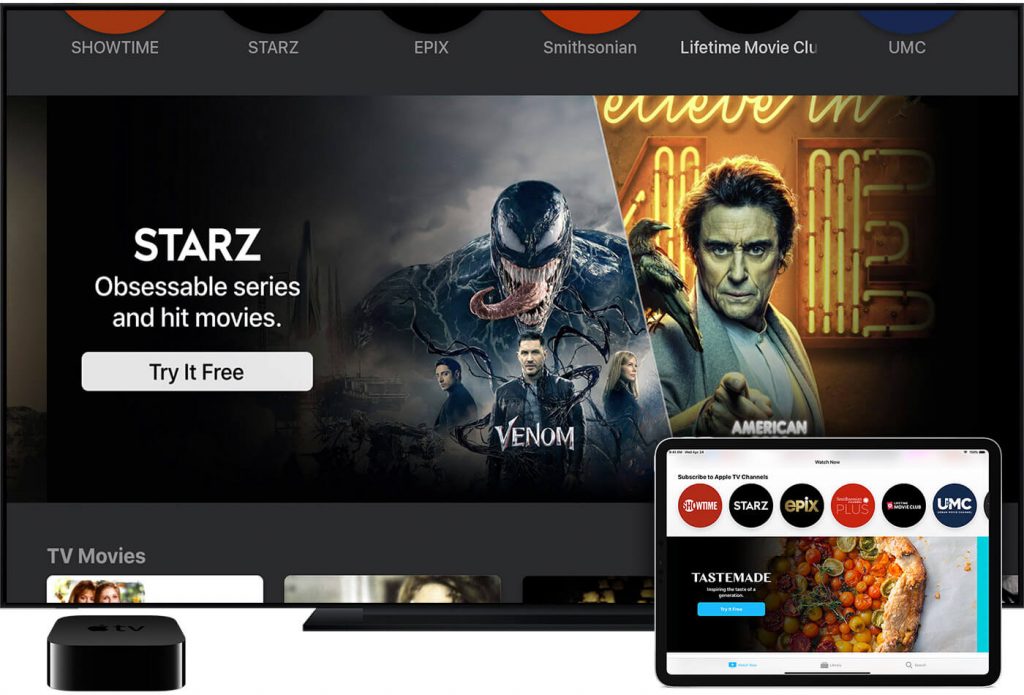 (4). Now, the in-app purchase approval screen will be displayed with a trial period. Confirm purchasing it.
Note: If are about to access content from a channel, then click on Try It Free button.
(5). Enter your Apple ID and password to use App Store and iTunes Store.
Note: If you don't have an Apple ID, then create one.
(6). Confirm your billing details and add a valid payment method.
(7). When prompted with terms and conditions, agree to it.
Advantages of using Apple TV Channel
Find out what are the benefits you get by using the Apple TV Channel.
It lets you stream contents without downloading that particular app.
You can access the subscription on any device you have signed into the TV app with Apple ID.
It supports streaming contents from each channel on three devices simultaneously.
You will be able to sign in to the website or app with the same Apple ID you used to access Apple TV app.
List of Channels Available with Apple TV App
Apple TV+ – $4.99
Acorn TV – $5.99
BET – $9.99
Britbox – $6.99
Cinemax – $9.99
CBS All Access – $9.99
Comedy Central Now – $3.99
CuriosityStream – $2.99
Epix – $5.99
History Vault – $4.99
HBO – $14.99
IFC Films Unlimited – $5.99
Lifetime Movie Club – $3.99
MTV Hits – $5.99
Moonbug Kids – $1.99
Mubi – $10.99
Nick Hits – $10.99
PBS Living – $2.99
Showtime – $10.99
Starz – $8.99
Shudder – $5.99
Smithsonian Channel Plus – $4.99
Tastemade – $4.99
Urban Movie Channel – $4.99
Up Faith & Family – $4.99
Any subscriptions made to these channels are only month-to-month with a 7-day free trial. And there are no yearly subscriptions for Channels. So the numbers mentioned above are the cost per month.
That's all about Apple TV Channels. It is important to note that the availability of the channels and its pricing differs with countries.
Hope you like the article. So start streaming your favourite channel from the list without the hassle of a cable network. Is there any other popular channel we have missed out on the list? Comment below and bring it to our knowledge. Stay up-to-date about latest articles from our Twitter and Facebook page.
Was this article helpful?