Key Highlights
Built-in settings: Click the Time icon → Dark theme → Enable
Chrome flags: Launch Chrome browser → chrome://flags → Enable Dark mode for System UI/ Web Contents → Restart.
Like Windows, macOS, Android, and iOS, Chromebook also comes with dark mode. If you don't like with using the light interface, now you can switch to dark mode on your device. Once you enable the dark mode on your device, the entire user interface turns to dark mode instantly.
How to Enable Dark Mode on Chromebook [Newer Version]
In the new update of Chromebook, you can enable the dark mode using the Chrome Flags and default settings.
Using Built-in Settings
1. Click the Time at the bottom right of your Chromebook.
2. From the list of menus, you can find the Dark theme icon. Click on it.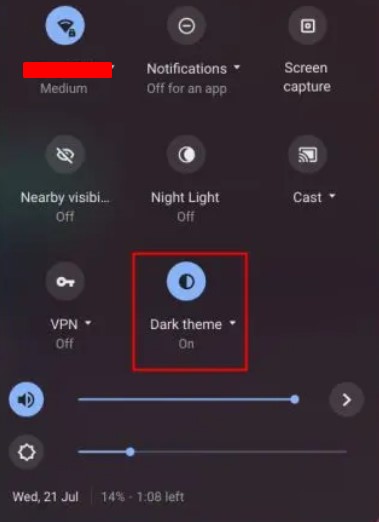 3. Click the toggle button to enable dark mode on your device. Similarly, you can disable the theme by clicking on the toggle button.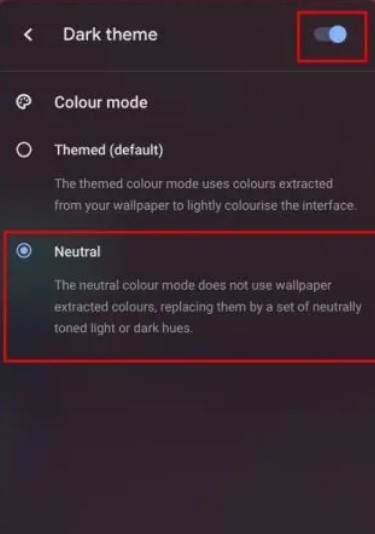 Using Chrome Flags
1. Launch the Google Chrome browser on the Chromebook.
2. Type the chrome://flags on the address bar and press Enter.
3. On the search bar, type dark mode.
4. Select Enable in the Dark/Light mode of system UI menu. Also, select Enable for Force Dark Mode for Web Contents.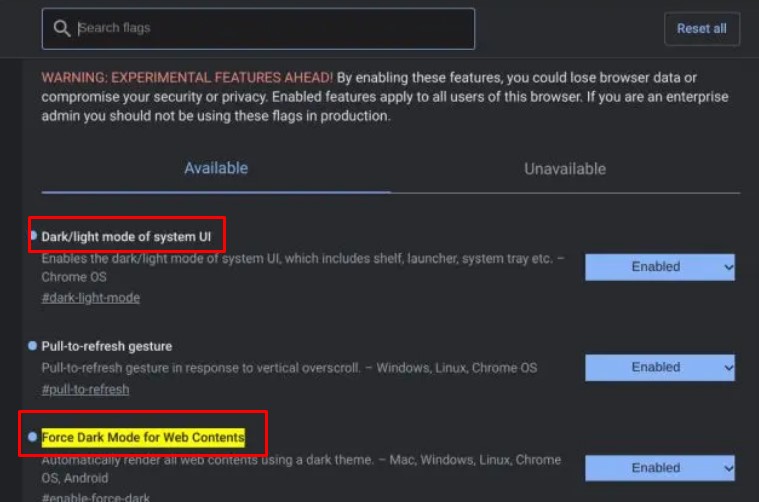 5. Once done, click Restart.
6. You can see the dark mode applied on your device.
Tips! When you are facing issues such as app crashing or freezing, you need to restart your Chromebook to resolve the basic issues.
How to Enable Dark Mode on Chromebook [Older Version]
If you are using the older version of Chromebook, you need to switch between the channels to enable it. The dark mode can be enabled only through the Beta channel. Therefore, you need to switch to Beta to enable the dark theme on your device.
1. Open the Chrome browser, and log in to your Google Account.
2. Click the Time icon (bottom right corner).
3. Further, click Settings and click About Chrome OS (At the bottom).
4. Click Detailed Build Information → Change Channel.
5. Click Beta from the list of options and click Change Channel.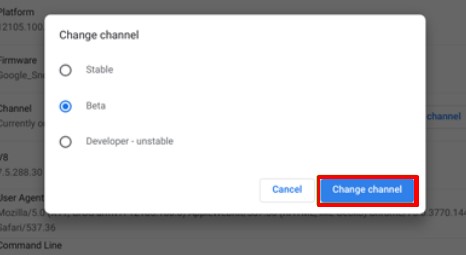 Once the download gets completed, click Restart. The Beta channel will be activated, and the dark mode will be applied.
Note: When switching between the channels, you need to backup your important data, as it will get swept off.
Frequently Asked Questions
1. How much do Chromebooks cost?
Normally, the price of the Chromebook varies based on the specifications and the brand. Moreover, it also varies based on the use, such as School, Business, etc.,
2. How to update Zoom on Chromebook?
You can update the Zoom on Chromebook in two different ways. By manually or restarting your Chromebook device.
Was this article helpful?