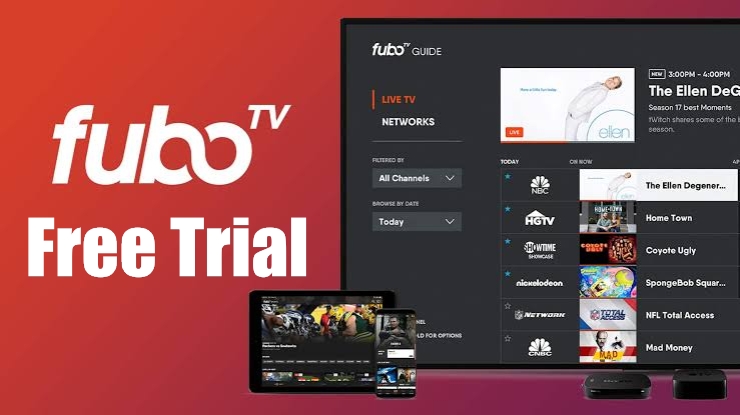 Key Highlights
Browser/app: fuboTV website → Create Account → Choose the Plan → Enter card details → Start free trial.
fuboTV is a premium subscription service that mainly focuses on streaming sports content. It is an American-based streaming service available only in the US, Canada, and Spain. Like YouTube TV, it has a cloud-based DVR where users can record and watch their favorite sport anytime later. Like other premium services, fuboTV also offers a free trial for new users. If you want a premium sports streaming service, sign up for fuboTV and get a 7-day free trial before unlocking the premium version.
fuboTV Subscription Plans
fuboTV offers four subscription plans to users.
fubo Pro – $69.99/month
fubo Elite – $79.99/month
fubo Ultimate – $99.99/month
fubo Latino – $32.99/month
How to Get fuboTV Free Trial
To get the fubo TV 7-day free trial, you must create a user account on the platform.
[1] Open the browser on your system, visit the official website of fuboTV and click Start Free Trial.
You can also use the mobile apps (Play Store | App Store).
[2] Provide the Email address, Password, and Zip Code in the required box.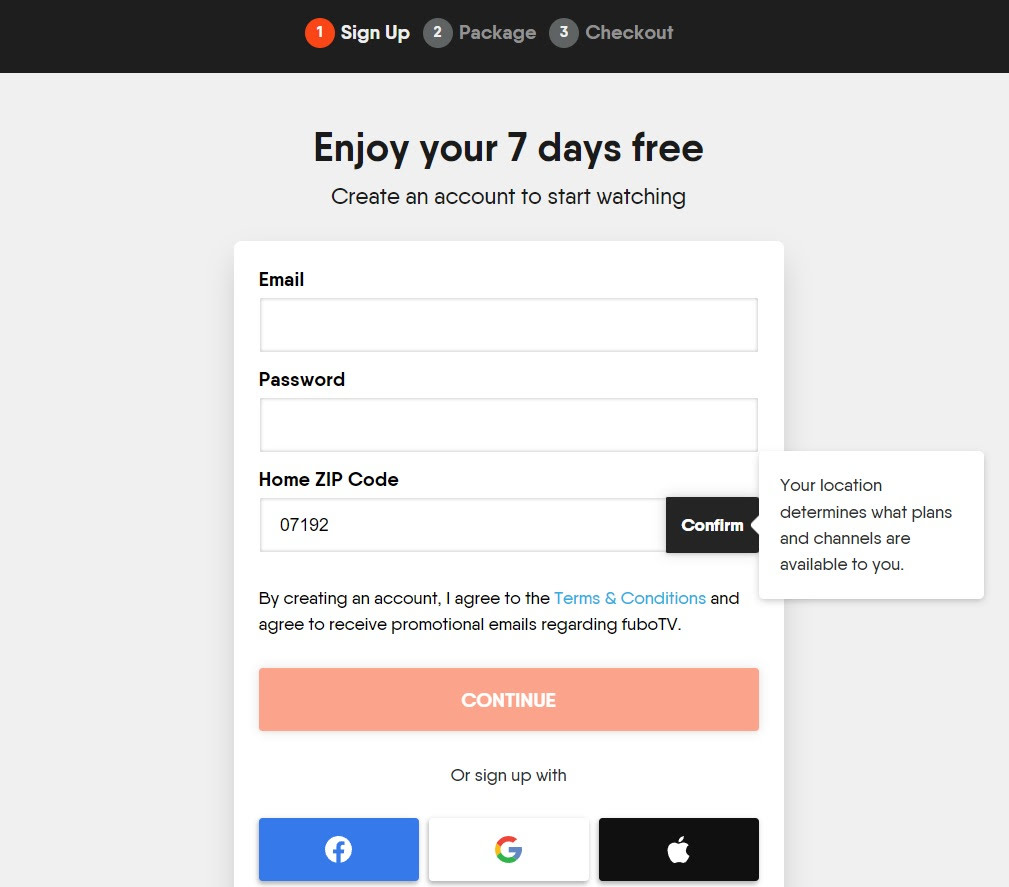 [3] After filling, click on Continue. You can also click and sign up using Facebook, Google, or Apple accounts.
[4] Next, choose the subscription plan you wish.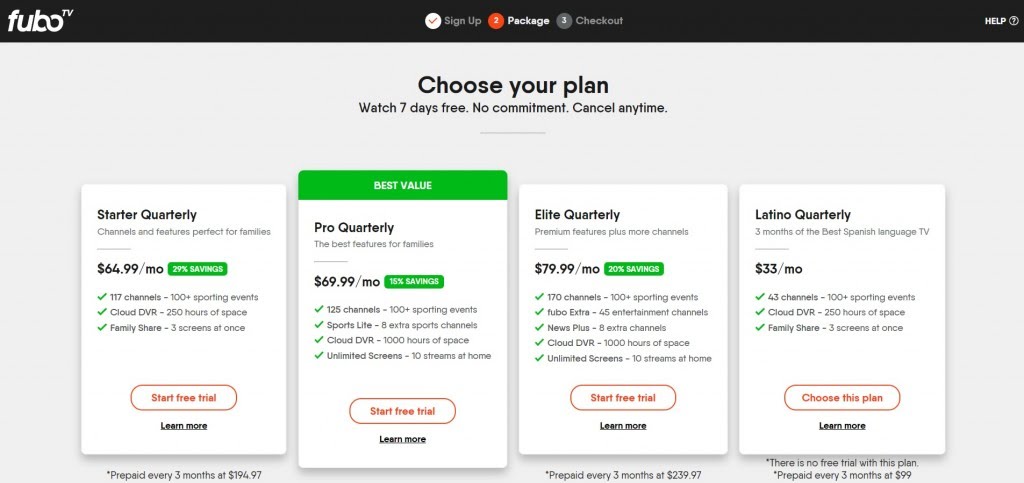 [5] If required, you can add premium channels to your package as an add-on and click on Continue.
[6] Enter the card details for the payment. You will not be charged for the first 7-days.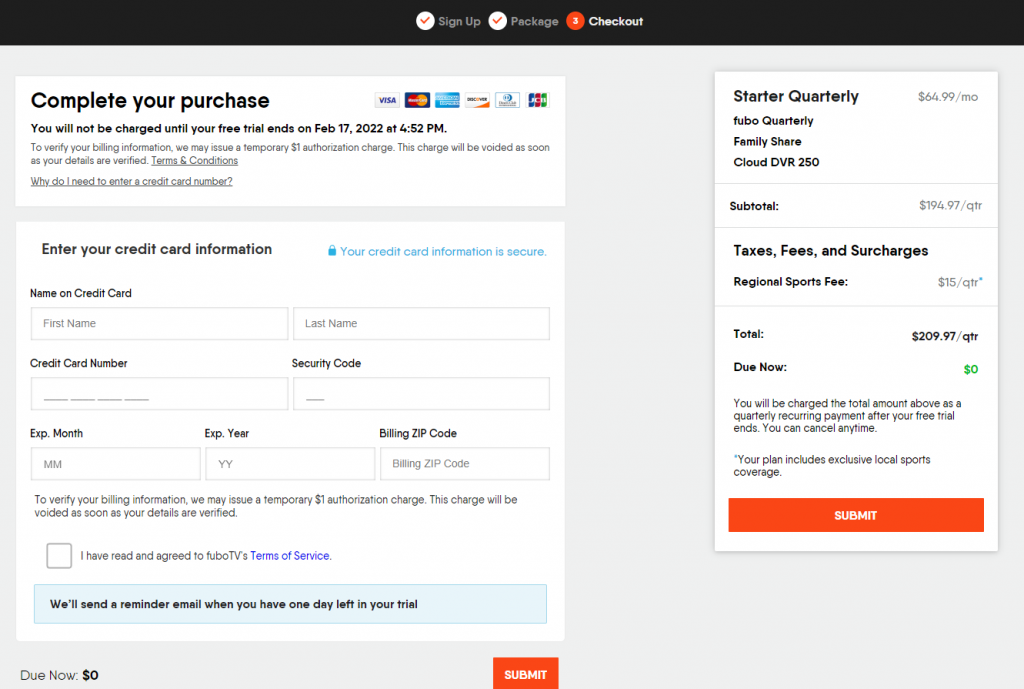 [7] Click on the Terms of Service check box and click Submit.
[8] Once done, click Start Watching fuboTV and stream your favorite sports.
If you have installed the fuboTV app on Smart TVs or streaming devices, you can't stream the channels directly. You need to activate the fuboTV app by linking the code with your user account.
How to Cancel fuboTV Free Trial
After subscribing to the free trial, you can cancel the subscription within the 7-days to avoid automatic debit.
[1] Visit the fuboTV website, click Sign In on the top-right, and enter your login credentials
[2] Click on your Profile and select My Account.
[3] Under the Account page, click Subscription and Billing.
[4] Click Cancel Subscription and choose the reason for cancellation.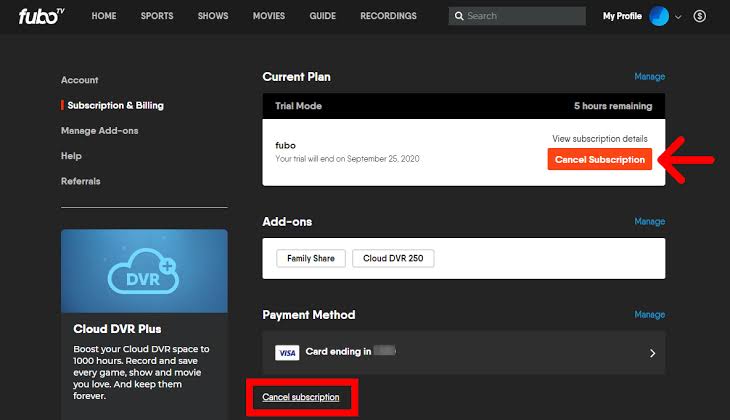 [5] Click Continue and to confirm it again, click on Continue to Cancel.
Frequently Asked Questions
1. How to cancel the fuboTV free trial on iPhone?
Apple provides the easiest options to cancel subscriptions on iPhone. To cancel, go to Settings → Tap on your Apple ID → Subscriptions → Find fuboTV → Cancel Subscription.
2. Why is fuboTV not working?
Sometimes, fuboTV may not work due to server issues, sluggish internet connection, or bugs in the app. To fix this, check the internet connection, uninstall & reinstall the app, or contact customer support for the solution.
Was this article helpful?