Paramount Plus is a subscription-based streaming service that offers a huge library of shows, series, episodes, blockbuster movies, reality, and originals. It allows you to stream content from BET, CBS, MTV, Paramount Pictures, Comedy Central, and more. Paramount+ comes with two subscription plans: Essential plans ($4.99/month with ads) and Premium($9.99/month with no ads). Once you sign up for any one of the subscriptions, you will be charged automatically at the end of the billing date. When you decide to stop using Paramount+, you need to cancel the subscription manually. Uninstalling the application from your device will not cancel the subscription.
How to Cancel Paramount+ Subscription
The cancellation method will vary based on the method that you have used to subscribe.
Via Official Website
Android Device (Google Play)
iOS Device (iTunes)
From Apple TV
From Roku
Using Fire TV
Cancel Paramount+ Subscription via Official Website
[1] Visit the Paramount Plus website on your desktop or mobile web browser.
[2] Login to your Paramount+ account.
[3] Tap the Account tab located at the top right corner of the site.
[4] Under My Account, select Subscription & Billing section.
[5] Scroll down to the end of the page and click the Cancel Subscription menu.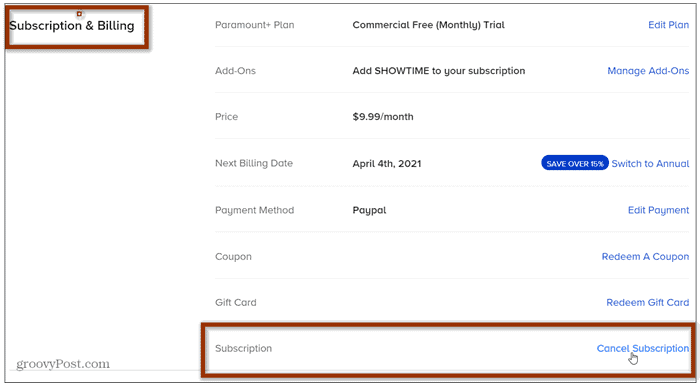 [6] Select your reason for canceling and tap the Cancel Subscription button.
Cancel Paramount+ Subscription on Android Device
Use the below steps if you have signed up for the service via Google Play on your Android device.
[1] Open the Google Play Store app on your Android device.
[2] Click the account that you have used to subscribe to Paramount Plus.
[3] Tap the hamburger icon at the top left corner.
[3] Click Subscriptions on the left pane.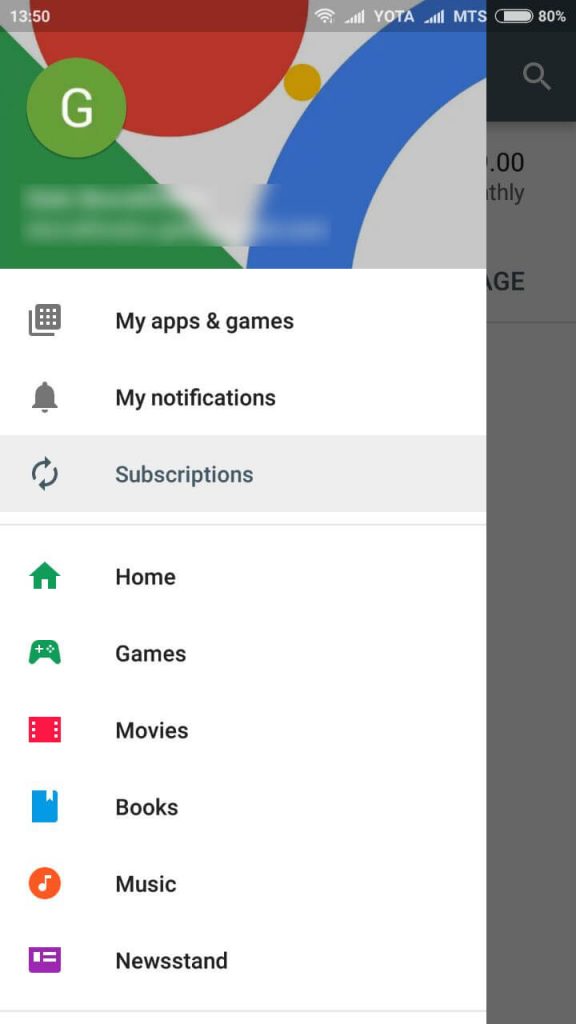 [4] Select the Paramount Plus subscription that you want to cancel.
[5] Tap on the Cancel Subscription option.
[6] Follow the on-screen instruction to complete the process.
Cancel Paramount Plus Subscription on iPhone/iPad
Like Android, iOS device also has specific payment method to sign up for streaming services. In that case, follow the below steps to cancel the subscription on iPhone.
[1] Open the Settings app on your iPhone or iPad.
[2] Tap on your Apple ID at the top.
[3] Select the Subscriptions menu.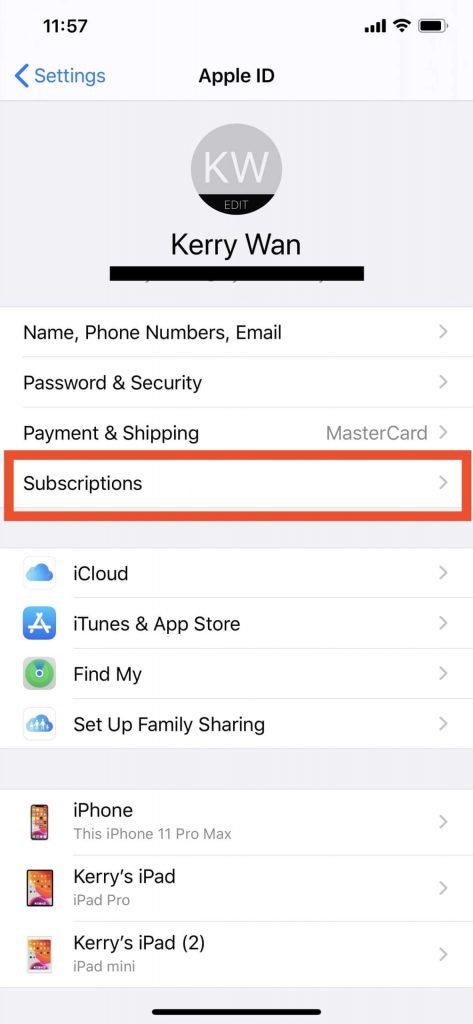 [4] Tap on Paramount Plus subscription.
[5] Select Cancel Subscription and click Confirm to confirm cancellation.
Cancel Paramount Plus From Apple TV
[1] Open Settings.
[2] Go to Users & Accounts and then select your account.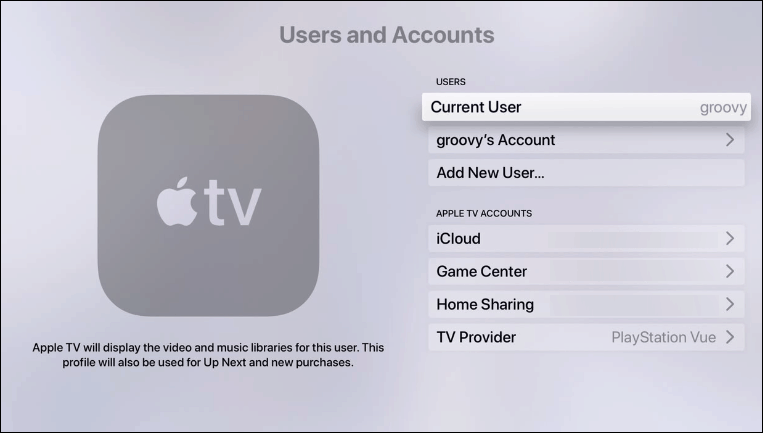 [3] Navigate to Subscription and choose Paramount Plus.
[4] Select the Cancel Subscription button.
How To Cancel Paramount Plus From Roku
[1] Go to the home screen on your Roku device.
[2] Select Paramount Plus channel.
[3] Now, on your Roku remote, press the * (star) key.
[4] Click on Manage Subscription.
[5] Choose Cancel Subscription.
Steps To Cancel Paramount+ Through Amazon Fire TV
[1] Go to the Amazon website.
[2] Navigate to Your Memberships and Subscriptions.
[2] Choose Manage Subscription and then select Manage Your Prime Video Channels.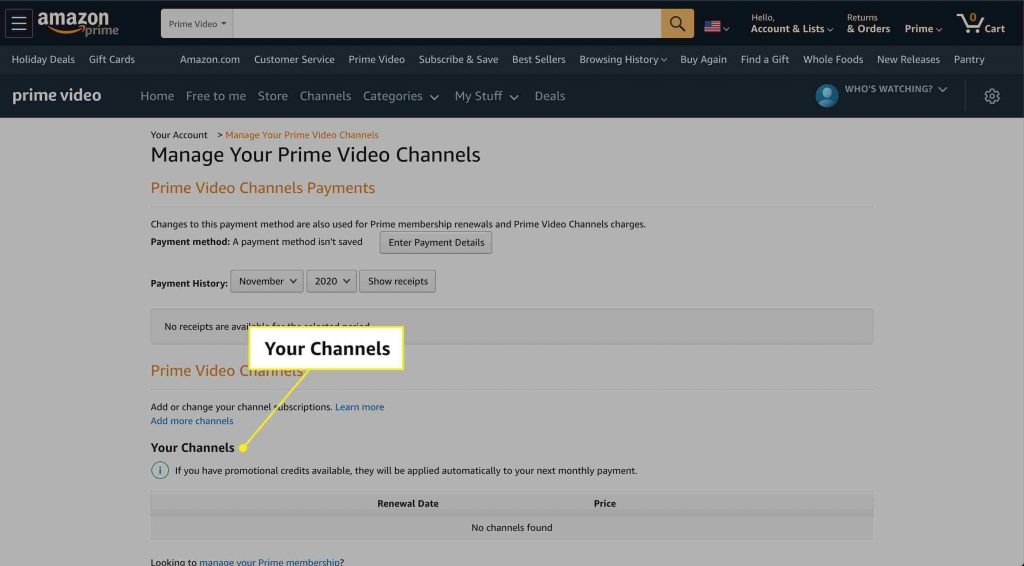 [3] Click on Cancel Subscription next to Paramount Plus.
[5] Tap Confirm if it asks for confirmation.
You can follow the above given ways to cancel your Paramount+ Subscription easily. If you have any doubts about the cancellation process, tell us in the comments section. Stay connected on our social media profiles Facebook and Twitter to get more updates.
Was this article helpful?