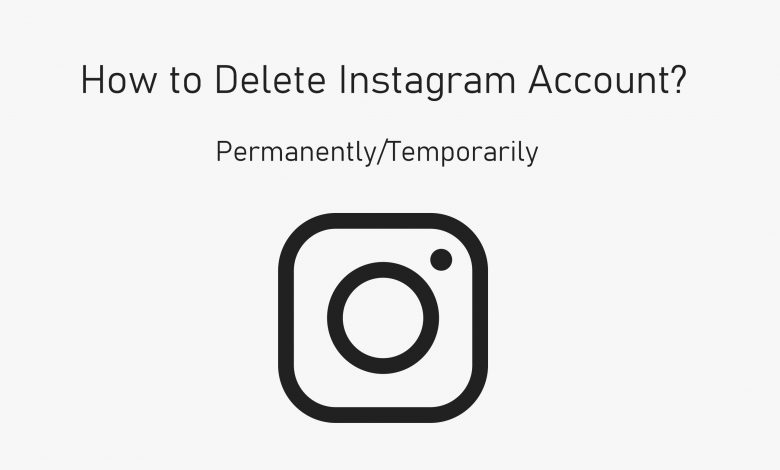 Nowadays, Instagram is a fast-growing social media. It was initially developed by Kevin Systrom, and Mike Krieger. Later Facebook brought Instagram for $1 billion in April 2012. From then on, Instagram is controlled by Facebook and achieved new heights. Now, Instagram is one of the best online marketing tools. Instagram feed is filled with sponsored ads and paid promotions. Due to this many are deleting their Instagram account either permanently or temporarily. If you want to delete your Instagram account, do the below steps.
How to Delete Instagram Account?
If you wish to delete your Instagram account on your phone either Andriod or iOS, well you can't deactivate or disable your Instagram account. This is a neat business tactic played by Instagram. To disable or deactivate your Instagram account, you have to go to the Instagram official site.
You have two options in deleting the Instagram account. You can either choose to Disable Temporarily or Delete Permanently. If you want to figure out what is the difference between Disable Temporarily and Delete Permanently, read the below lines.
Disable Temporarily vs Delete Permanently
Disable Temporarily will switch off your Instagram account for a particular time while Delete Permanently will wipe out all your Instagram data associated with your account. Disabling Temporarily will hide your profile, likes, comments, photos, videos until you reactivate your account. Deleting Account will also hide your profile, likes, comments, photos, videos but permanently. You can't reactivate the deleted account.
As mentioned earlier, you can't temporarily disable or delete permanently your Instagram account on the smartphone. You need to use any of your web browsers to do this. For Android smartphones, Google Chrome is recommended and for iOS smartphones, the Safari browser is recommended. You can also do the same using your PC browsers.
Techowns Tip: How to Delete Facebook Group?
Steps to Temporarily Disable your Instagram Account
(1) Open the web browsers on your smartphone or PC.
(2) Enter the URL instagram.com and log in with your Instagram ID.

(3) Click the Profile icon on the top right corner of the screen.

(4) On the next screen, click the Edit Profile button.

(5) Scroll down till the end, there you can see Temporarily disable my account. Click on it.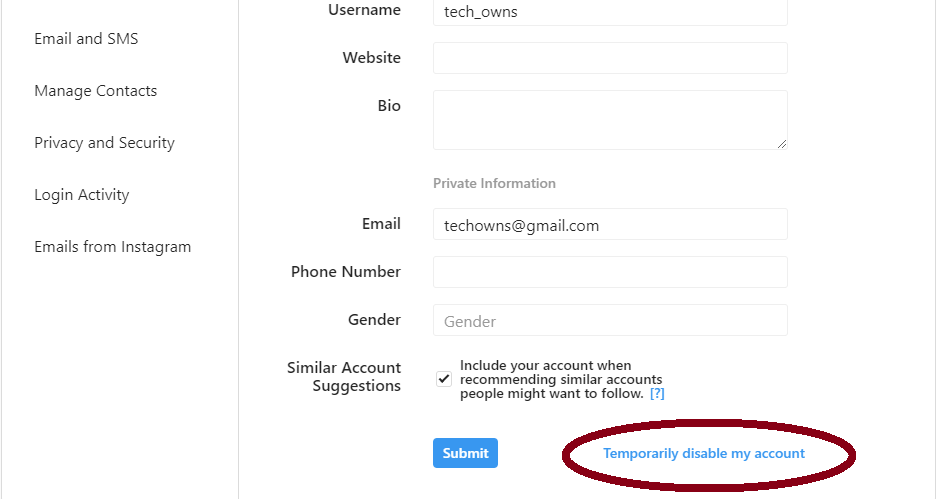 (6) You need to specify a reason for disabling your Instagram account and to enter the Instagram account password. After that click the Temporarily Disable Account button.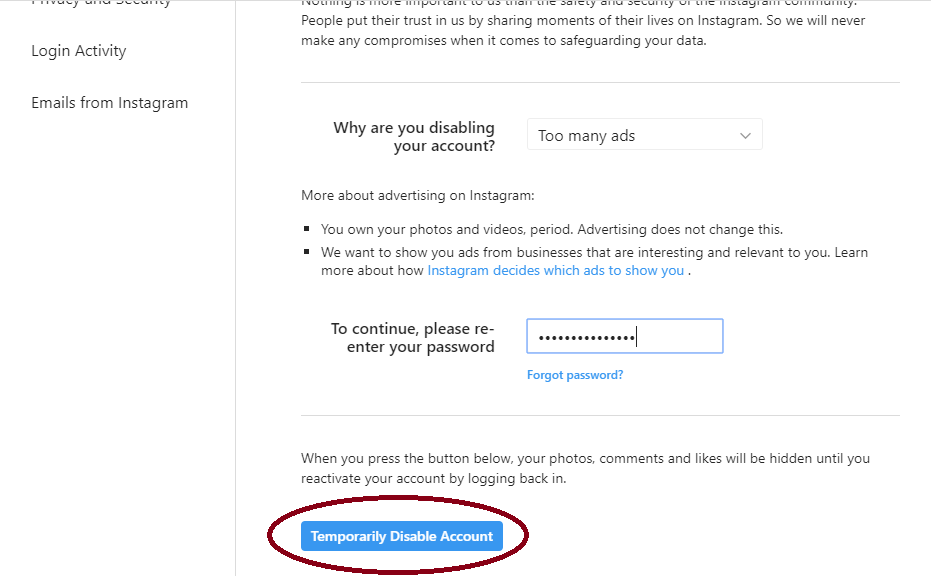 (7) After that, a small pop-up will be displayed. Click Yes to temporarily disable your account.

Steps to Permanently Delete Instagram Account
Like you can't delete or deactivate the account via a smartphone app, you can't permanently delete your Instagram account on the website too. You can't find any buttons to permanently delete your Instagram account as you do in Temporarily Disable your Instagram Account. Follow the below steps to permanently delete your account.
(1) Open the web browser on your PC or smartphone.
(2) Type the link https://instagram.com/accounts/remove/request/permanent/ This is the only link that can be used to delete the account.

(3) Go to the above link and enter your login credentials if asked.
(4) You will get the following screen. Specify the reason for deleting your account.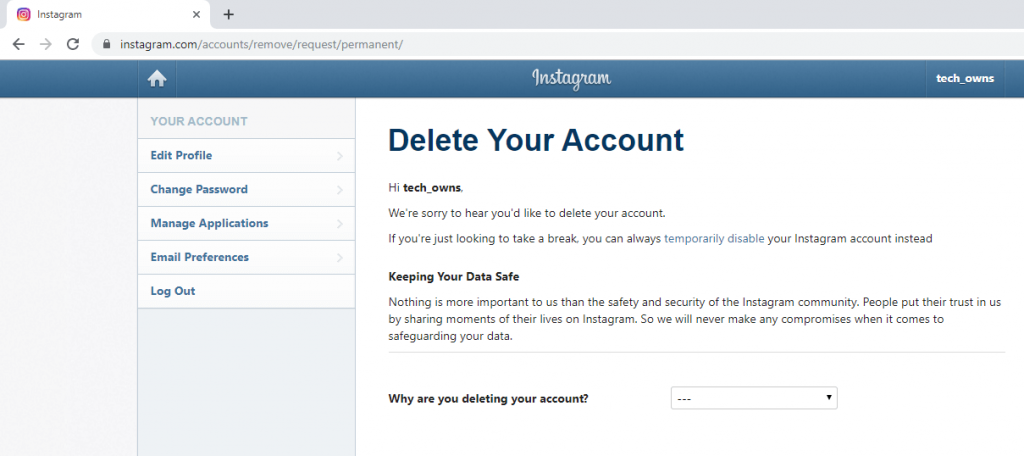 (5) When you specify the reason, you need to type your account password and click on the Permanently Delete my account button.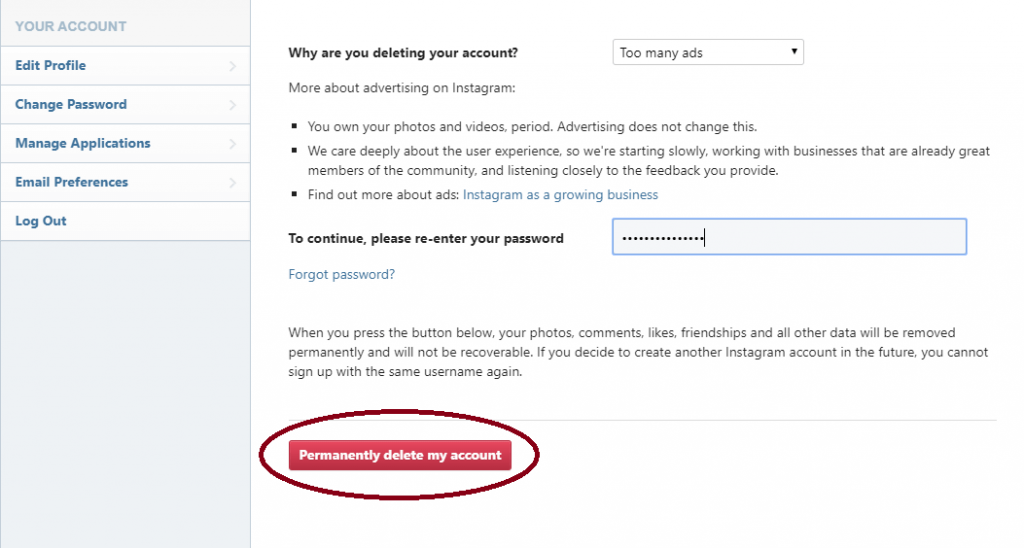 (6) At the top of the screen, A pop-up will appear. Click OK to delete your Instagram account permanently.

Our Opinion
Use the above steps to delete your Instagram account temporarily or permanently. It is wise to temporarily deactivate your Instagram account so that you can use it later. If you delete permanently, you need to create a new account to use it again. Deleting an account permanently will cause loss of data. If you still wish to delete the account, then you can go ahead and follow the second method.
If you have any queries, then leave it in the comment section below. Follow us on Twitter and Facebook for more updates.