How To
How to Get Pandora Premium for Free in 2022
Enjoy and listen to your favorite songs on Pandora premium for free up to 90 days using this simple trick.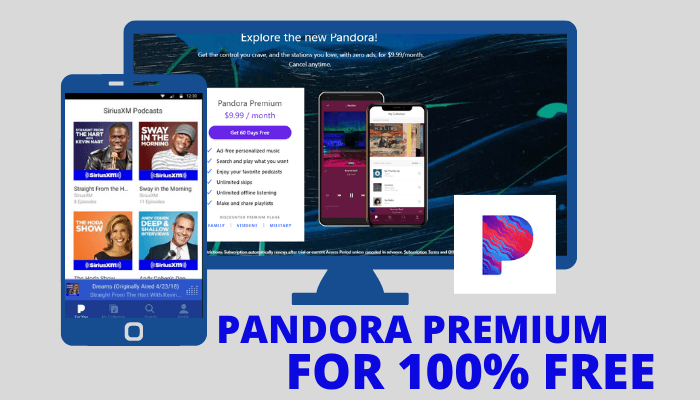 Pandora is an online audio streaming app that offers millions of songs to its customers for free. Pandora is similar to Spotify and YouTube Music which gives heavy competition to the music giants. In Pandora, you can hear as many songs as you want but with ads included in-between the playback. It also offers a premium subscription which offers many excellent features, including offline playback. But, it costs $5-$10 per month. So in this article, we explain to you how to get Pandora premium subscription for free.
Pandora is available in the US, Australia, and New Zealand because GRO – Global Radio Operation has prevented it from launching globally. The only downside of Pandora is that 90% of its features are available to its premium subscribers only.
Pandora Free vs. Plus vs. Premium
| Features | FREE | PLUS | PREMIUM |
| --- | --- | --- | --- |
| All songs available | Yes | Yes | Yes |
| Ad-Free | No | Yes | Yes |
| Search and Play songs | No | Yes | Yes |
| Favorite Podcasts | No | Yes | Yes |
| Skip Songs Unlimited | No | Yes | Yes |
| Offline Listening | No | Yes (limited) | Yes |
| Create & Share Playlists | No | No | Yes |
Subscription Packs
FREE – $0 per month with limited features.
PLUS – $4.99/month with all premium features except playlist creation & sharing.
PREMIUM – $9.99/month with all premium features included.
How to Get Pandora Premium for Free – Activate Free Trial
In order to get Pandora premium subscription for free, you can activate a free trial from the website. The Pandora free trial is available for both Android and iOS apps.
1. Go to Pandora's website and click Sign Up or Log In.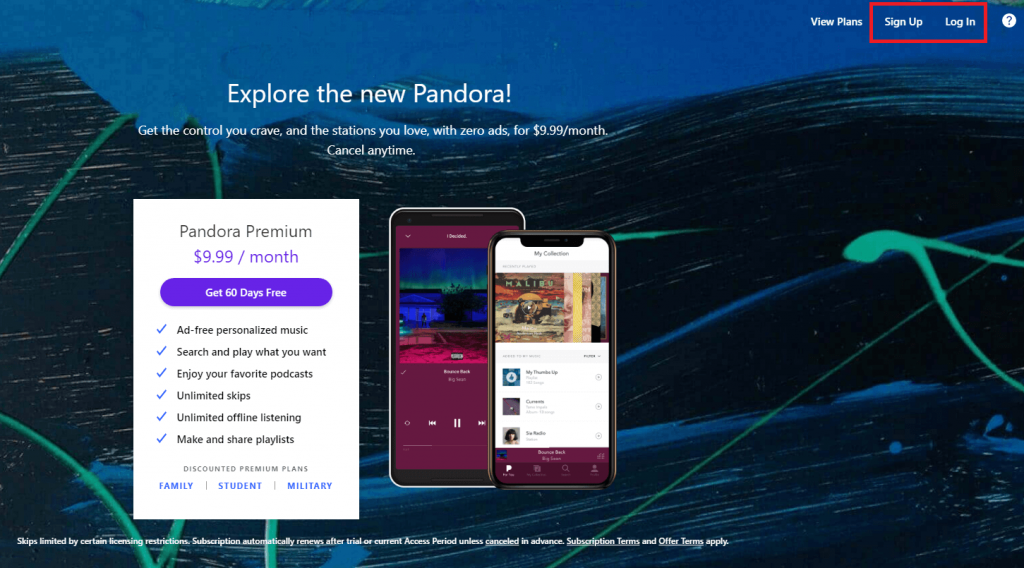 2. Now, login to your existing account or create a new one.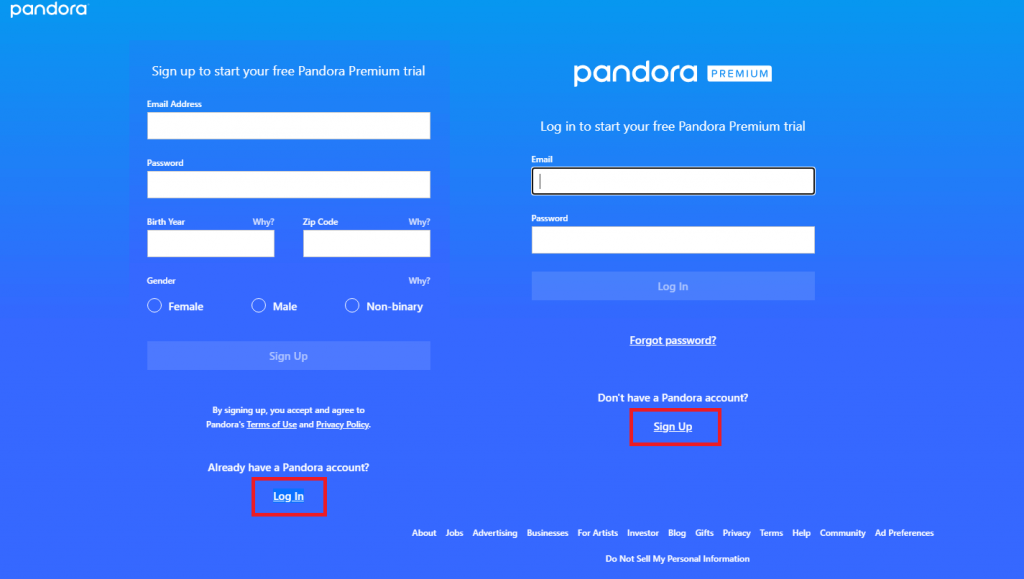 3. Now, click the Upgrade button in the upper right corner.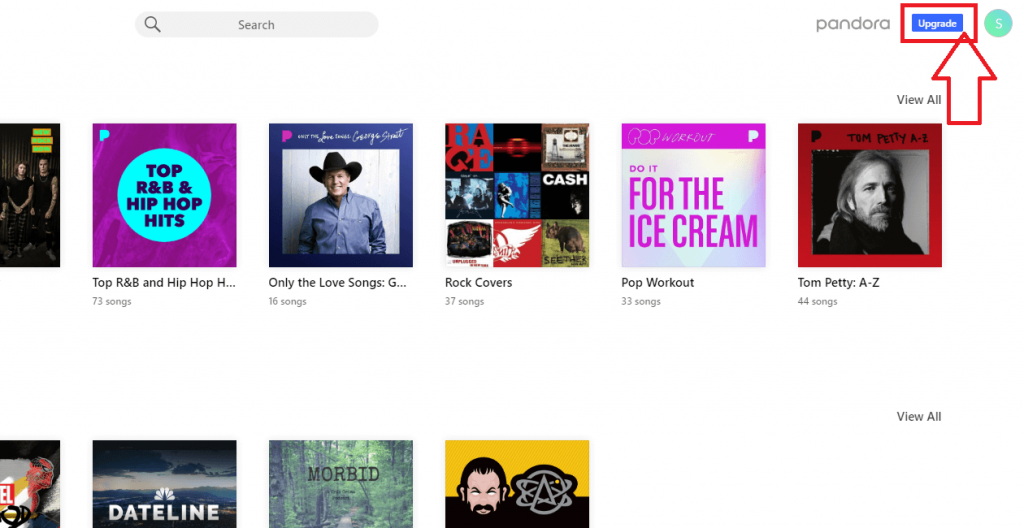 4. Click the Get 60 Days Free button to get the free trial.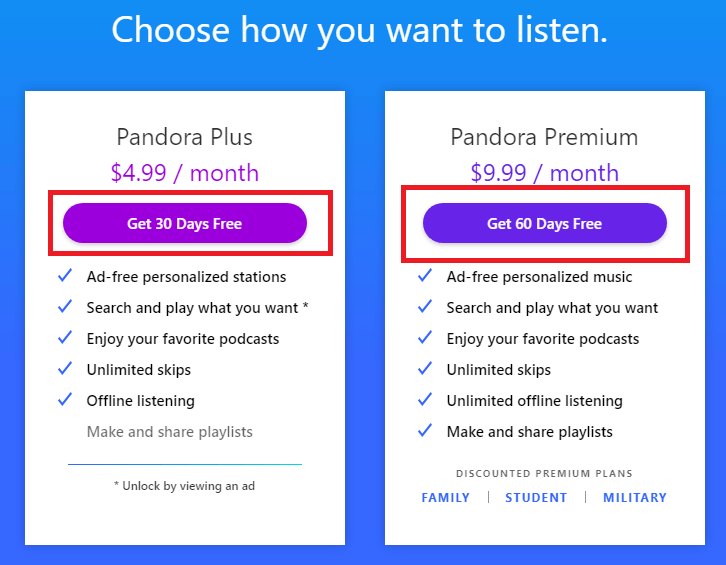 5. Complete the free checkout either using your Credit card or with your PayPal account.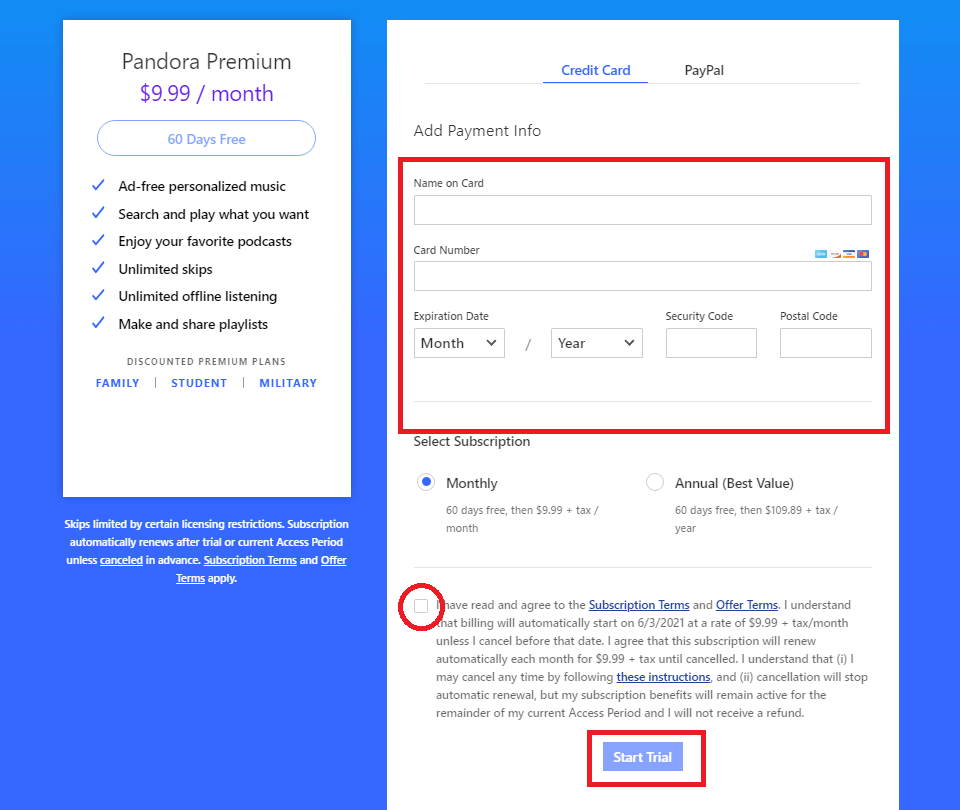 6. After a successful transaction, your Pandora Premium will be activated with a 60-day free trial.
7. Make sure to cancel your Pandora Premium free trial before the 60 days period to avoid billing for the next cycle.
How to Get Pandora Premium for Free Using Promo codes
There are many online retailers providing promo codes for Pandora subscriptions for free with up to 90 days of a free trial.
1. Go to the Groupon website and search for Pandora Premium.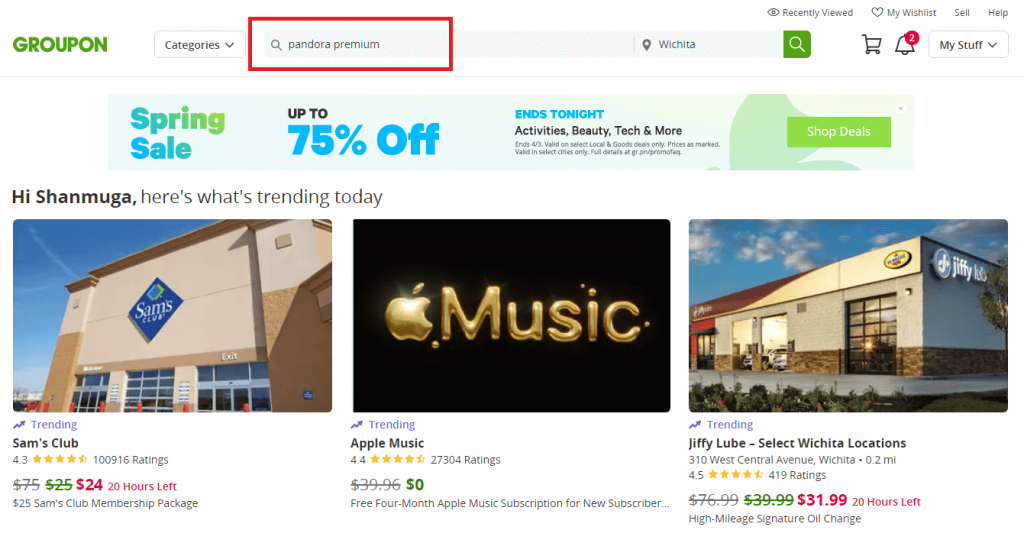 2. Select the First product as shown in the figure below.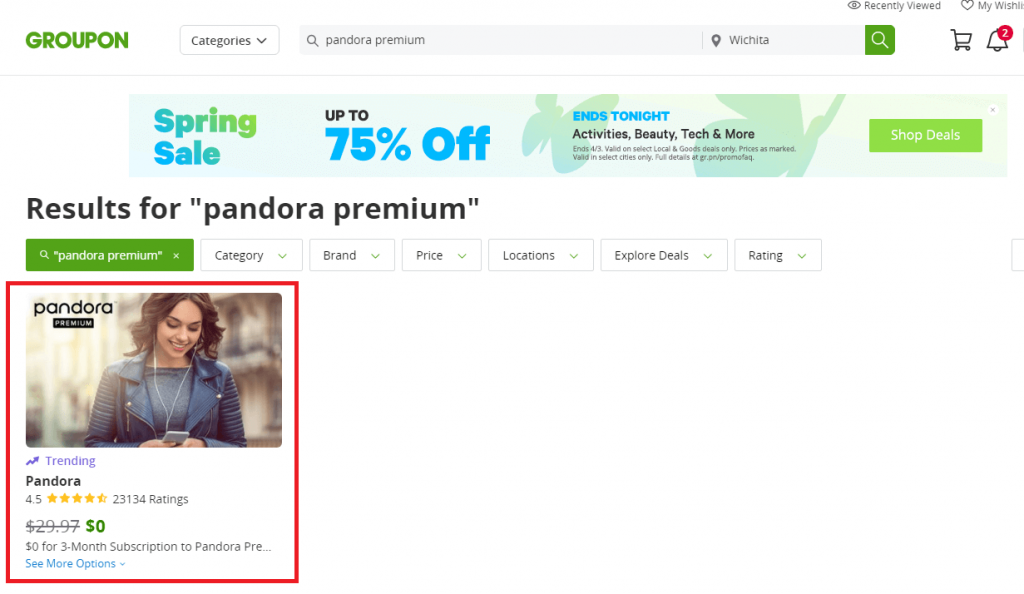 3. Select $0 for a 3-Month Subscription to Pandora Premium and click the Buy button.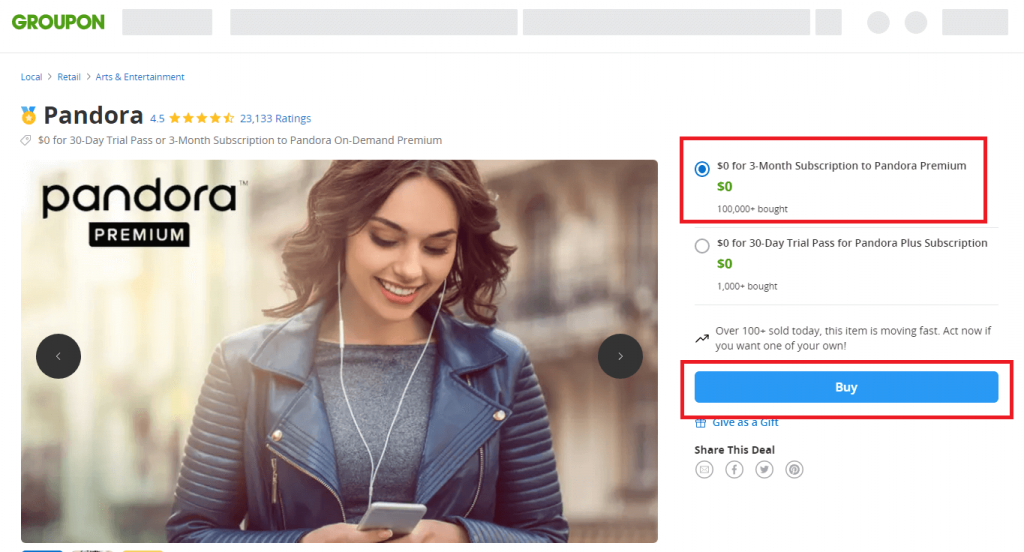 4. Signin to your Groupon account using Email, Facebook, or Google Login.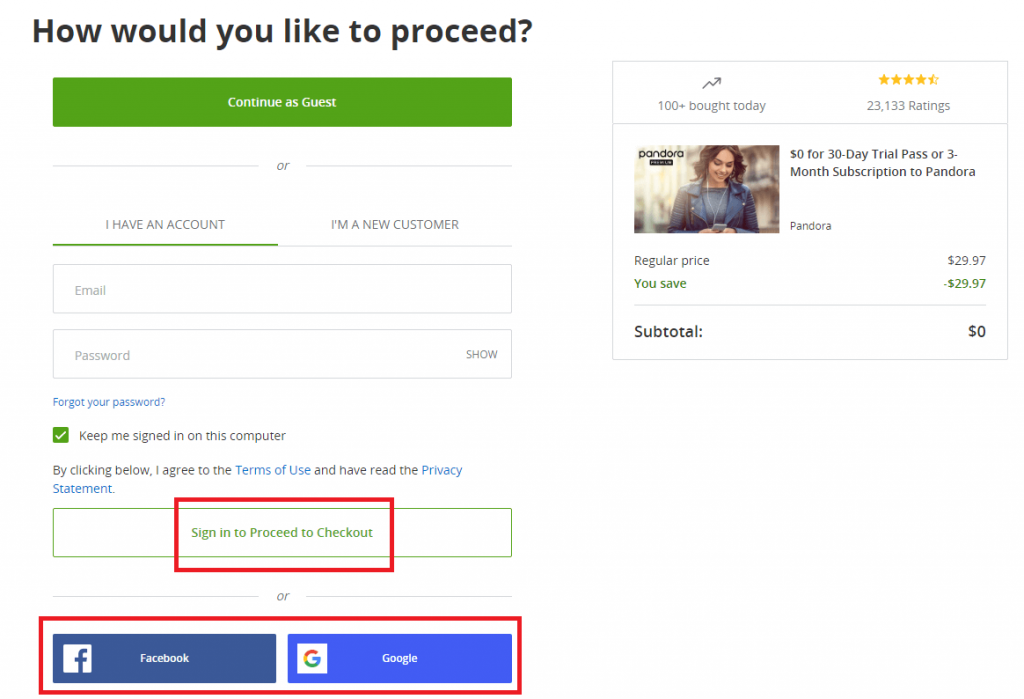 5. Checkout using a Credit card or PayPal and click the Place Order button.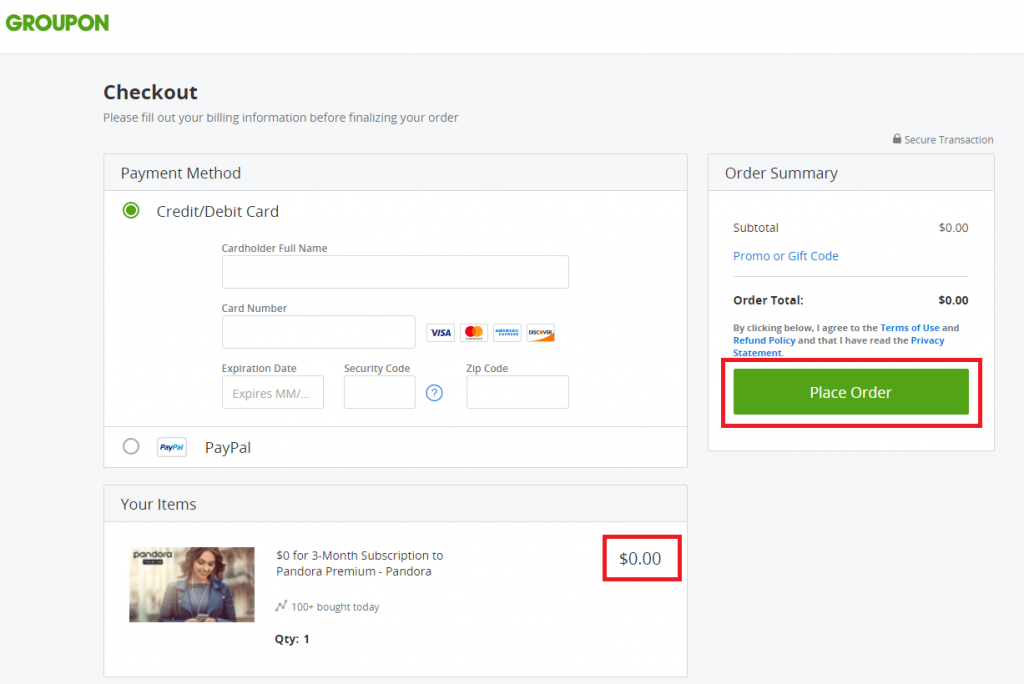 6. After a successful transaction, you'll get a Promo Code through email and also in your Groupon account.
7. Now, go to Pandora Settings > Redeem.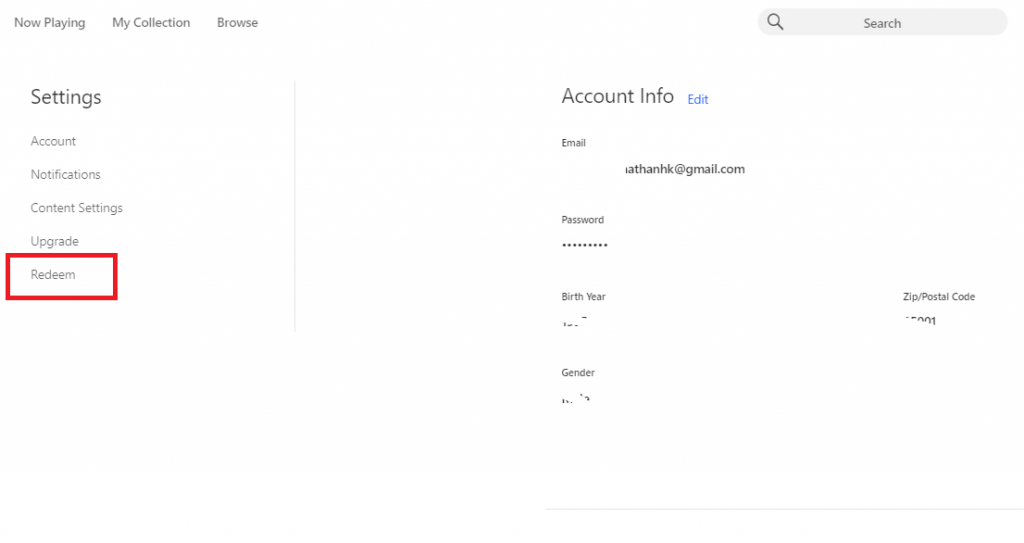 9. Enter the promo code and click Redeem button.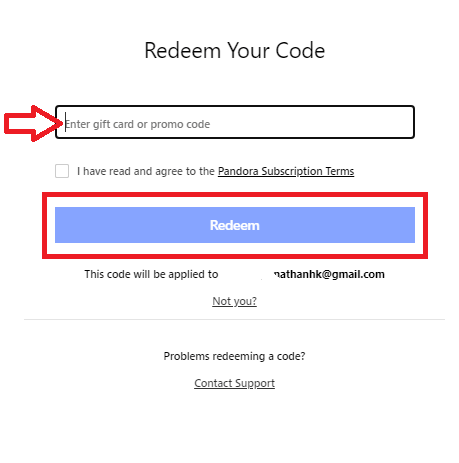 10. Now, you have successfully activated the 90-day free trial in your account.
With this, we can get Pandora Premium for free, either using a free trial or getting a coupon code.
Pandora Premium Discounts
In the Pandora Premium plan ($9.99 per month), you will have various discounts. In the Pandora Premium for Families, you will get all the premium features at $14.99 per month. Though the plan is $5 more than the usual one, in the Family plan, you can use Pandora on six devices. This means that you can get $59.94 ($9.99 x 6) worth of premium features at just $14.99. You can make a group of six members and share the Family subscription.
Similar to the Families plan, Pandora also offers a Student plan. In this, you will get all the Pandora Premium features at $4.99 per month. The Student plan is applicable to students who are all enrolled at accredited educational intuitions, that too in the US only. For this plan, you have to verify your student eligibility annually.
Another discount that you can claim at Pandora is the Military plan. In this plan, you will get all the premium features at $7.99 per month. Like the Student Plan, the Military Plan is only for US residents who are in service or retirees. All three plans have their own terms and conditions. Before claiming these discounts, make sure to read all the conditions properly.
Apart from these methods, you can get the Pandora premium subscription for free by using the MOD APKs. You can find plenty of Pandora Premium MOD APKs that are available for free. In those APKs, you will get all the premium features for free. But these APKs are not reliable. These APKs will work fine for a few days and will stop abruptly. Sometimes, these MOD APKs will harm your smartphones too. So, think twice before getting these MOD APKs.
FAQs
1. Can you get Pandora premium for free?
You can get the Pandora free trial to enjoy the subscription for free.
2. How long can you listen to Pandora for free?
For smartphones, you can listen to Pandora for free for 40 hours per month.
3. Is Pandora Premium free with Sirius XM?
No, even after the $3.5 billion dollar acquisition of Pandora, Sirius XM and Pandora are standalone music streaming platforms.
Was this article helpful?