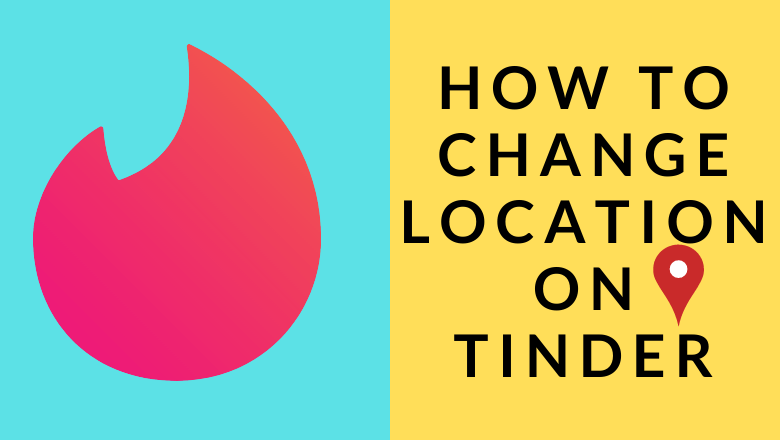 We know that Tinder is the one-stop destination to get a chance to meet our loved ones. Despite Tinder's popularity, it is possible that you may have very few matchmaking options at your location. However, you can break all the location barriers on Tinder using the Passport feature, which is available on its premium version. You can use the Tinder passport to change your location, which will help you find new people in different locations and make new matches. Here are the subscription plans available on Tinder.
| PLAN | MONTHLY | 6-MONTH | ANNUAL |
| --- | --- | --- | --- |
| Tinder Plus | $7.99/month | $4.00/month | $2.67/month |
| Tinder Gold | $24.99/month | $12.50/month | $15.00/month |
| Tinder Platinum | $29.99/month | $15.00/month | $10.00/month |
How to Change your Location on Tinder
1. Open the Tinder app and go to Settings.
2. Go to the Discovery Settings section.
3. Tap on the Add a new location option.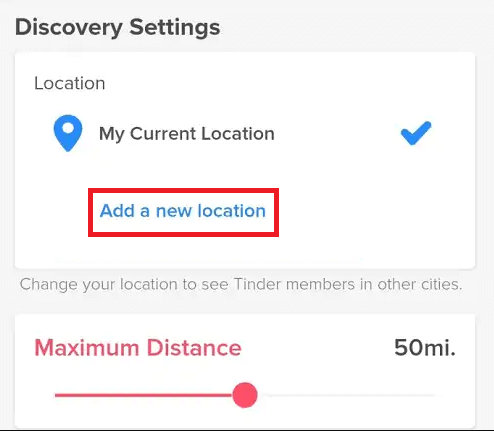 4. Choose a location and drop the pin.
That's all, guys! you will get more swiping options and matches.
1. How to Use MockGo GPS Location Spoofer to Change Location on Tinder (Recommended)
The best option to change your GPS location is using a third-party location app, called MockGo GPS Spoofer. It's a professional tool to change or fake your location in just one click. It can not change your GPS location but also simulate the route you set. So you can view Tinder users in another area. It also works with all location-based apps, such as Life360, snapchat, WhatsApp etc.
Follow these steps to get started:
Download and install MockGo on your Windows or Mac computer.
Connect your iPhone to the computer. Click "Start"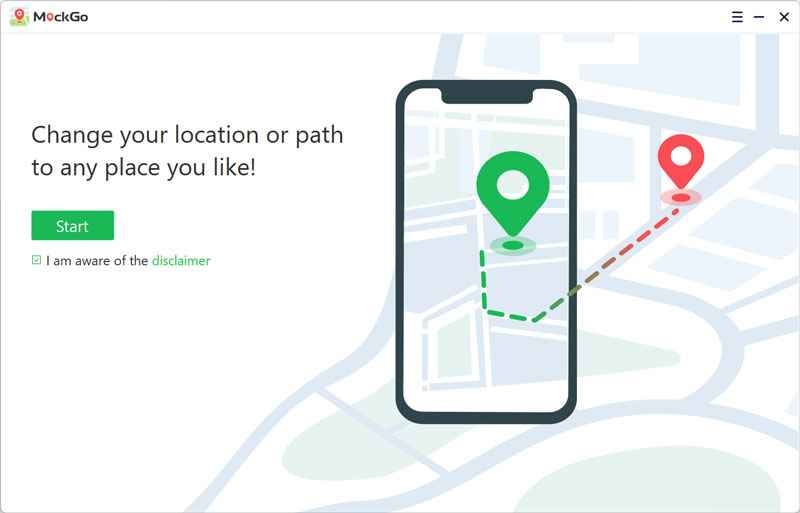 Select a location on the map or search the location you would like to go to in the search bar, click the "GO" button.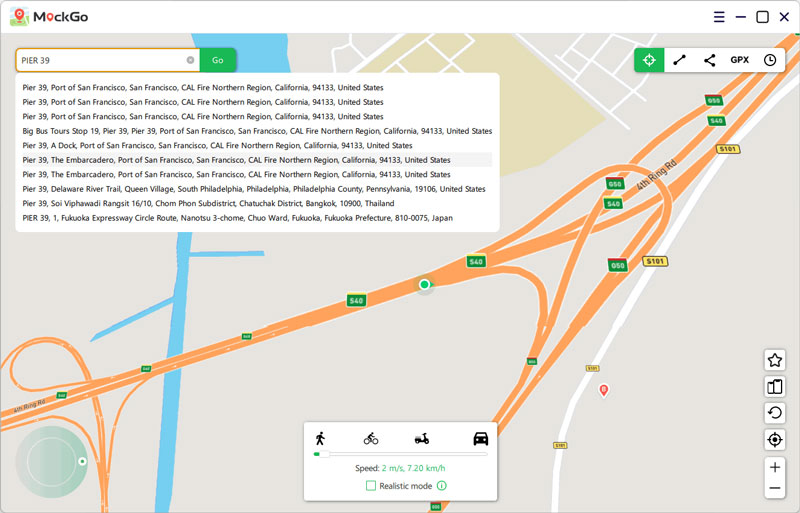 Click "Move Here" to teleport to the new location. The Tinder will update to the location set.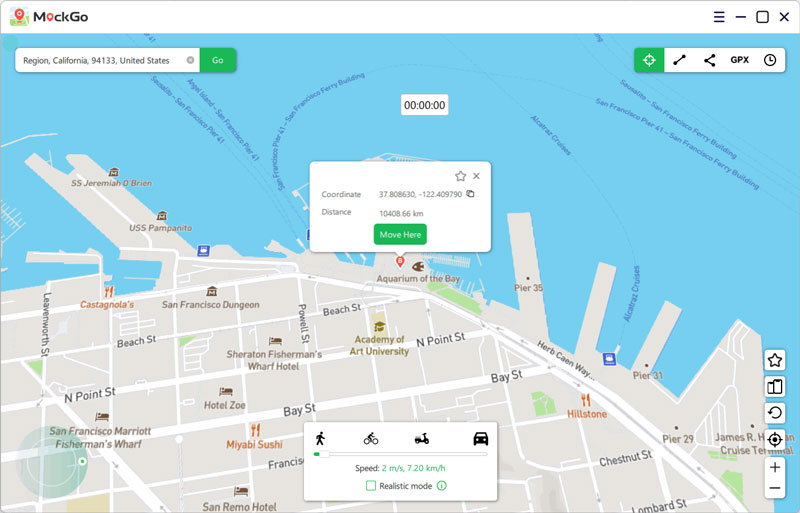 If you want to revert all changes, simply restart your iPhone or iPad. The location will be reverted to your real location.
2. How to Use a VPN to Change Location on Tinder
In case you aren't interested in purchasing the Tinder premium version, you can just subscribe to some of the trustworthy VPNs like NordVPN and ExpressVPN. Using it, you can just connect to different countries' servers like Canada, the US, the UK, and more to find a perfect match for you around the globe.
While comparing to the premium plans of Tinder, we found that ExpressVPN and NordVPN subscription plans are a little bit costlier.
ExpressVPN Subscription Plans:
1-Month Plan: $12.95/month
6-Month Plan: $9.99/month
12-Month Plan: $8.32/month
NordVPN Subscription Plans:
Monthly Plan: Starting from 11.99/month
1-Year Plan: Starting from 4.99/month
2-Year Plan: Starting from $3.49/month
1. Subscribe to NordVPN or ExpressVPN.
2. Install the VPN app on your device. Then, launch the VPN app and sign in to your account.
3. Choose the location where you want to start looking for matches.
4. Open the Tinder app and you will find new people.
Is There Any Option to Change Location on Tinder for Free
Yes. With Tinder MOD APKs, it is possible to change your location on Tinder. The MOD APK version of Tinder will unblock all of its premium features, even the Passport feature. Even though Tinder MOD APK is free to install, it may cause security issues. Hence, we don't recommend or encourage our readers to install unofficial APKs.
Advantages and Disadvantages of Changing Location on Tinder
Advantages
New Location = New people = New Matches
It is one of the most reliable ways to make new matches
Get more views on your profile.
Disadvantages
Requires you to purchase one of Tinder's premium subscriptions
It takes 24 hours on Tinder for new matches to appear in your changed location.
How to Fix Why Can't I Change My Location on Tinder
If you're facing issues with changing your location on Tinder, here are some tips to fix the issues.
Ensure that your Tinder Premium subscription isn't expired.
Close the Tinder app completely and relaunch it again.
Check whether your Tinder app is running on the latest firmware.
Go to your device settings and clear the cache of the Tinder app.
Check your internet connection.
If you're using a VPN, disconnect and connect to a different server
Uninstall the Tinder app and reinstall it.
Is It Possible to Spoof My Location on Tinder?
Faking your location on an iPhone is not easy because of Apple's closed ecosystems. However, MockGo is a location-changer app that lets you spoof your location without jailbreaking. Simply add a new location on your location-changer app, and the GPS on your iPhone will be changed instantly, and you can view Tinder users in another area.
Tip! Delete your Tinder account if you have found the right match or if you want to try a new dating app to get new matches.
Frequently Asked Questions
Does Tinder change the location automatically?
Yes. Tinder takes input from the device location. So it would be updated automatically when the users move to different places.
Was this article helpful?