Key Highlights
App/Website: Log in with your product → Menu → Responsible Gaming → Close Account.
You can also delete your account by submitting a ticket on the Betway support page or emailing [email protected].
Betway is an online betting or gambling application. It offers betting and gambling products like sportsbooks, online casinos, and many more. If you want to stop gambling or betting, you can delete the Betway account permanently to remove all your data from their server. You can delete your account from the built-in settings, submit a ticket on the website, or send an email to the support team.
How to Close My Betway Account
[1]. Open the Betway app on your smartphone or visit betway.com.
[2]. Sign in to your account by entering the necessary credentials.
[3]. Tap on the Menu option.
[4]. Navigate to the Responsible Gaming section under Player Account.
[5]. Scroll down and click on the Close Account option to delete your Betway account.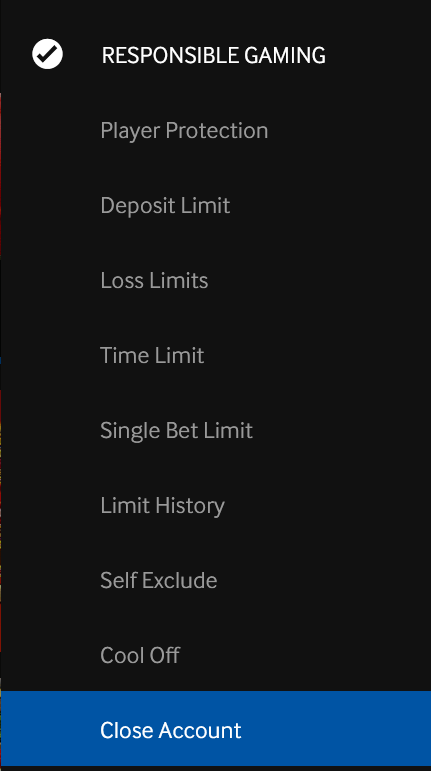 How to Delete Betway Account By Submitting the Ticket
[1]. Launch a web browser on your PC and head to the Betway support page. Submit a ticket window will open.
[2]. Enter your Contact name and Email address in the required field.
[3]. On the Subject box, type Request to Delete my account.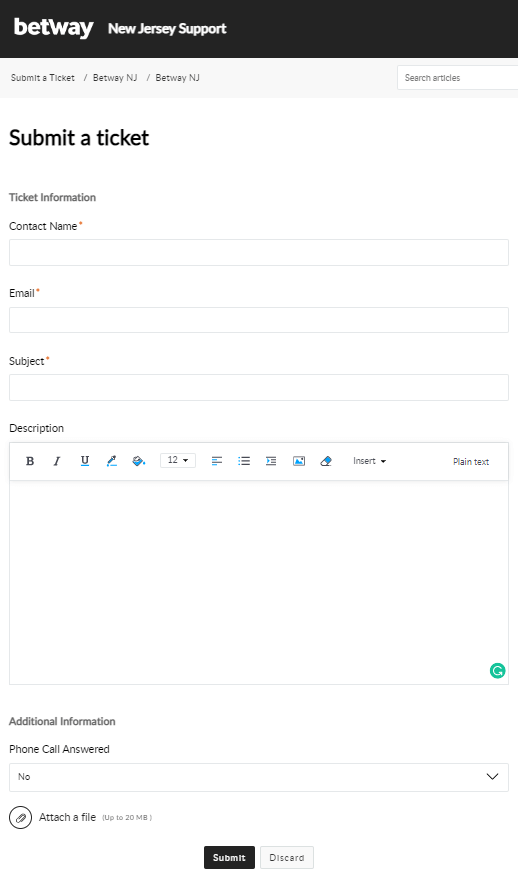 [4]. Write the reason in the Description box and attach the file (optional).
[5]. Tap Submit to raise a Ticket.
Once your account has been deleted, you will get a confirmation mail from the Betway support team.
How to Delete Betway Account Through Email
[1]. On your device, open your email account associated with your Betway account.
[2]. On the left side panel, tap on the Compose button.
[3]. Type Request to Delete my Account in the Subject section.
[4]. Write an email including your username, phone number, email address, and other information.
[5]. Compose an email and send it to [email protected].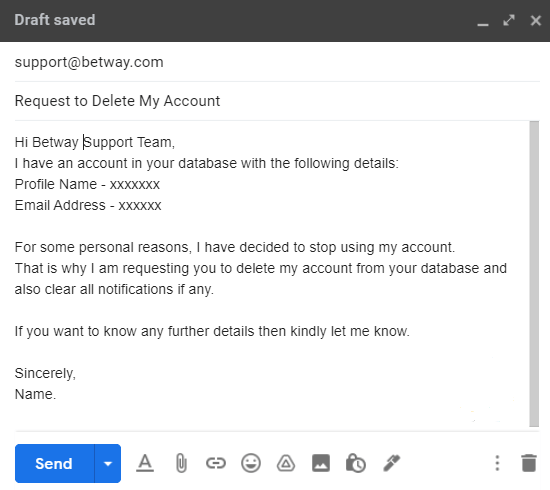 [6]. Finally, tap Send button.
Tips! Delete your Binance account when you want to try out other trading platforms.
Frequently Asked Questions
1. How to cancel Betway withdrawal?
Sign In to your account → tap on Account Settings → Withdraw Funds → Provide account details → Enter total amount → Submit.
2. How to delete my Betway history?
→Navigate to the My Account page.
→Select the History tab.
→Tap on the Delete History button.
3. Can I delete the settled bet in Betway?
No. You cannot delete the settled bet in Betway.
4. How long does it take to delete my Betway account?
Once you have sent the requested email or submitted the ticket, it will take 72 working hours to delete your Betway account permanently.
Was this article helpful?