Archive of Our Own is a website that is used for sharing fanfiction works like fanart, fan theory, etc. Readers can view, comment, and give kudos to the stories written on the website. But the light from the website has created discomfort for many users, which lets to the question, is there a dark mode on AO3? Actually yes. You can turn on the dark mode and change the theme within the website.
How to Turn on Dark Mode on AO3
1: In a web browser, visit the AO3 website and log in to your account.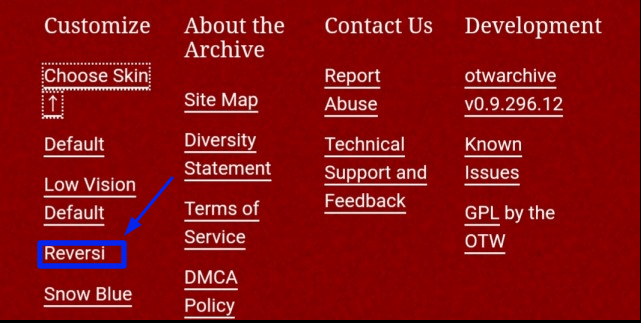 2: Scroll to the bottom and select the Reversi option under the Choose Skin category.
3: By choosing the Reversi option, the dark theme will be enabled on the website.
The dark mode will be disabled automatically when you've logged out of your account. You can enable it permanently by changing certain settings.
1: Tap the Reversi option at the bottom of the page.
2: Scroll down to the bottom of the Reversi page and click on the Use button.

By doing this, the dark mode feature on the AO3 website will be enabled permanently. The dark mode will not turn off even though you log out and log in.

To turn off the dark mode, follow the above steps and click on the Revert to Defaults Skin button on the Reversi page.
Like AO3, you can easily bring dark mode on the Binance website by tapping on the dark theme toggle.
Alternative Method
1: Open the AO3 website and log in to your account.
2: Visit this link and copy the CSS code from the website.
3: On the next step, go to the create new skin page.
4: On the Type field, set it to the Site skin option.
5: In the title, give a unique name for your dark mode.
6: In the CSS field, paste the CSS code. Find the Advanced button and click on the down arrow in it.
7: In the choose@media section, check out the box named Dark on the prefers-color-scheme area.
8: Finally, tap the Submit button and click on Use to apply the dark mode.
Frequently Asked Questions
Is AO3 available on android or iOS?
The answer is No. The AO3 is only accessible through the web version on the browser.
Was this article helpful?