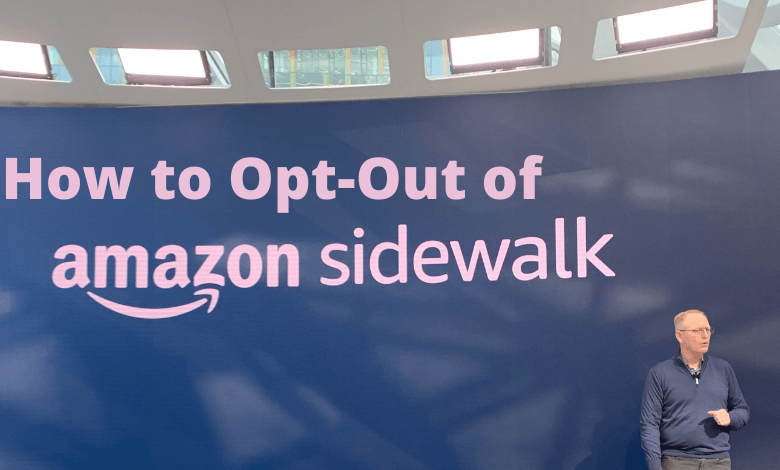 Amazon constantly comes up with various new features, products, and networks to improve its services. Likewise, it has recently launched a feature called Amazon Sidewalk. It helps to keep your neighborhood connected even when you are disconnected from WiFi. It will support various devices to stay connected. But then it can also cost you your privacy too. So it is better to Opt-Out of Amazon Sidewalk whenever not required, and here is how to do it.
What is Amazon Sidewalk
Amazon Sidewalk is a wireless shared network that creates low-bandwidth Bluetooth and Radio signals by using the home's WiFi bandwidth. It makes devices like Amazon Echo devices, Outdoor Lights, Ring Security Cameras, Tile trackers and motion sensors, etc., work better. The network will be pooled together with your neighbors and provides even a stronger bandwidth.
Though Amazon has made Sidewalk with three-layer encryption, there are still some threats to our privacy with the network being shared. Also, Sidewalk is an opt-out feature which means it will remain enabled until you turn it off. So if you do not want to participate in this network sharing, you are just a few clicks away from opt-out of Amazon Sidewalk.
How to Opt-Out of Amazon Sidewalk Using the Alexa App
Quick Guide: Open Alexa app > More > Tap Settings > Select Account Settings > Choose Amazon Sidewalk > Tap Disable.
(1) Open the Alexa app on your mobile phone.
(2) Tap the More option on the bottom right corner of the screen.
(3) Choose Settings.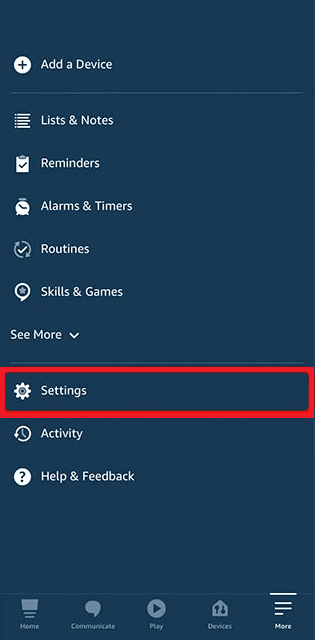 (4) Select the Account Settings.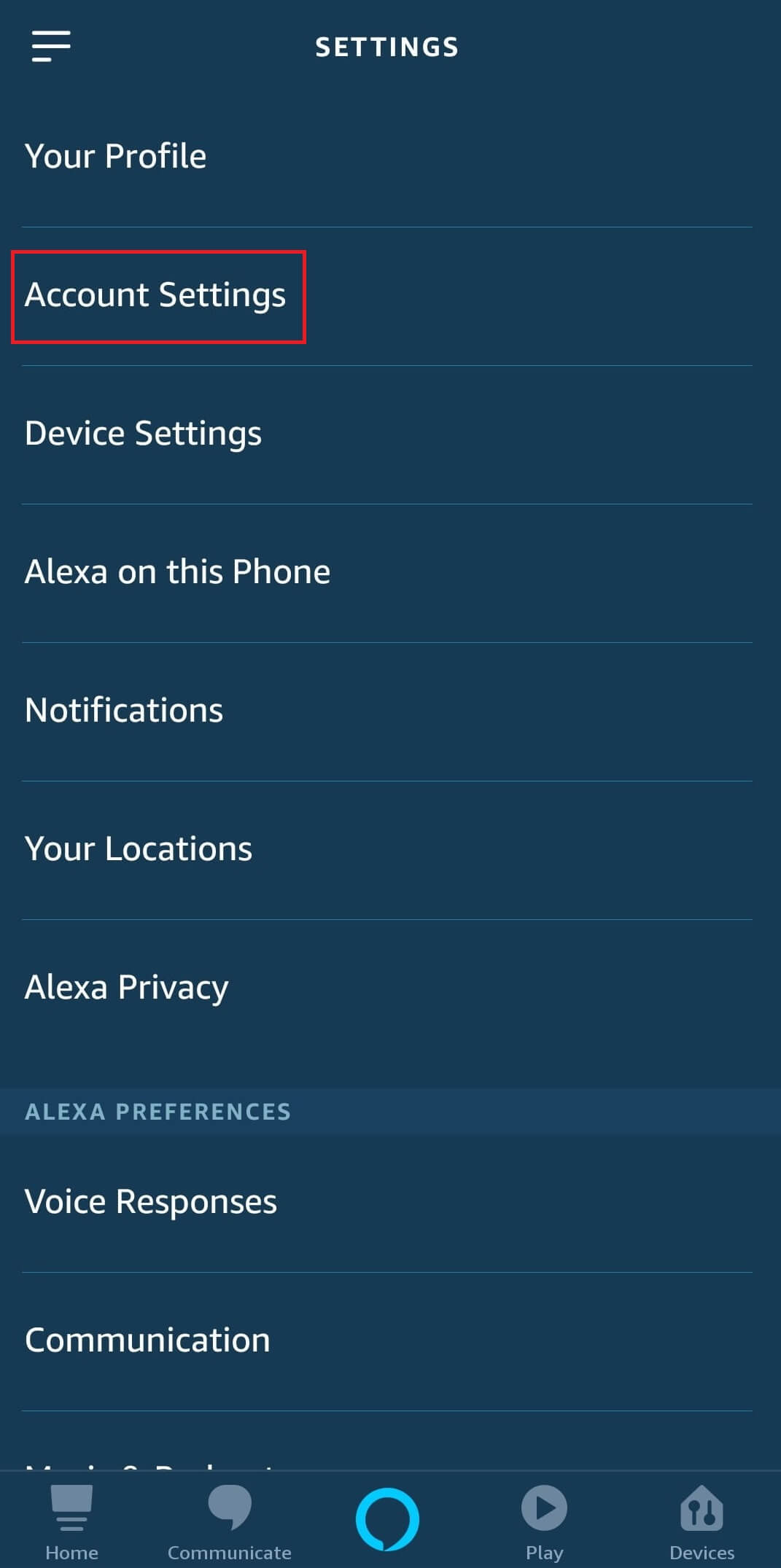 (5) Tap on the Amazon Sidewalk option.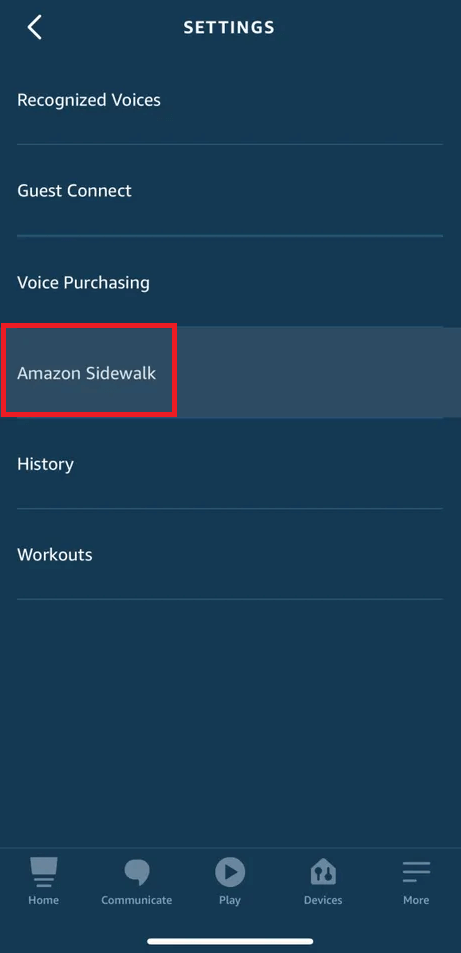 (6) Tap the Disable option.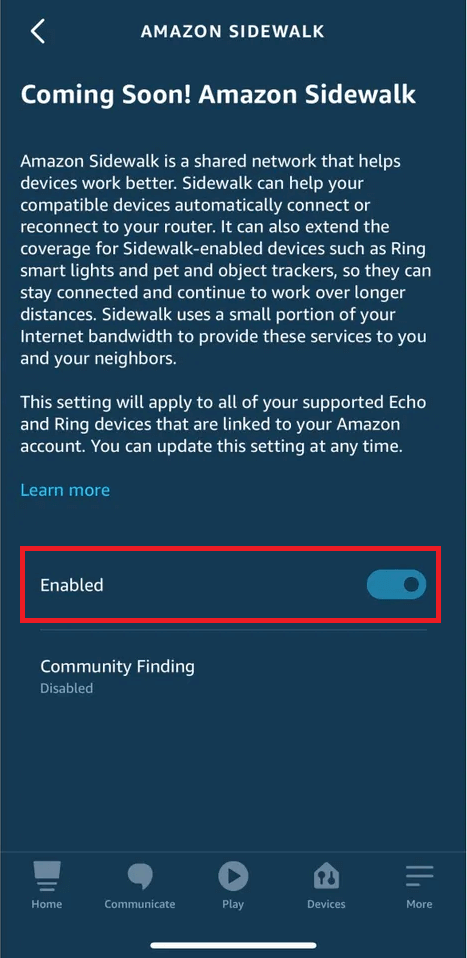 Related: How to Cancel Amazon Freetime Subscription
If needed, you can keep your Sidewalk on and turn off the Community Findings which lets you connect to your neighbor's Echo, Rings, etc., through Sidewalk Bridges. You can turn this future alone by keeping your Sidewalk on.
(1) Launch the Alexa app on your phone.
(2) Tap More > Settings > Account Settings.
(3) Choose Amazon Sidewalk and then select Community Findings.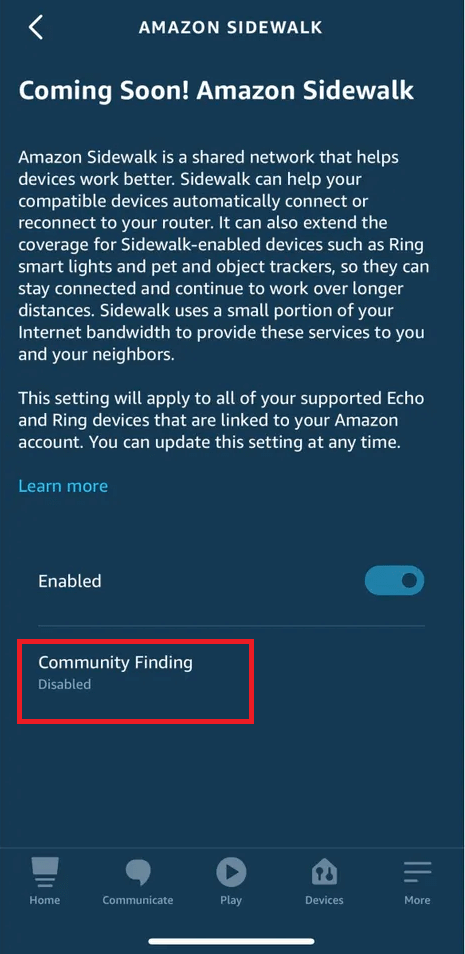 (4) Now disable the toggle near Community Findings to turn it off.
How to Turn off Disable Amazon Sidewalk Using the Ring App
(1) Download and install the Ring app on your mobile phone.
(2) Tap the three-dotted icon on the upper left corner of the screen.
(3) Choose Control Center.
(4) On the next screen, select Sidewalk.
(5) Now Disable the toggle near the Sidewalk.
(6) Confirm that you are opting out by tapping Disable Sidewalk.
Related: How to Enable Dark Mode in Amazon Alexa App
If you have both the Alexa and Ring app, ensure to opt-out of both. Opting out in one app doesn't ensure the other. Though Amazon has white paper assurance, it is early to take the deal. So make sure to opt out of it whenever not required.
Frequently Asked Questions
1. What is a Sidewalk Enabled Device?
The devices that are connected to Amazon Sidewalk to access Sidewalk Bridges are called Sidewalk Enabled Devices.
2. Will Amazon Sidewalk replaces the home WiFi Network?
Sidewalk Bridges require WiFi for normal access. It can share a low bandwidth network with the enabled devices, but it doesn't support high-bandwidth connections like WiFi and mobile networks.
3. How much does it cost to get Amazon Sidewalk?
Amazon doesn't cost a penny to use this feature. However, it does use a small bandwidth from your WiFi or internet network. So the internet charges might be applicable.
Was this article helpful?