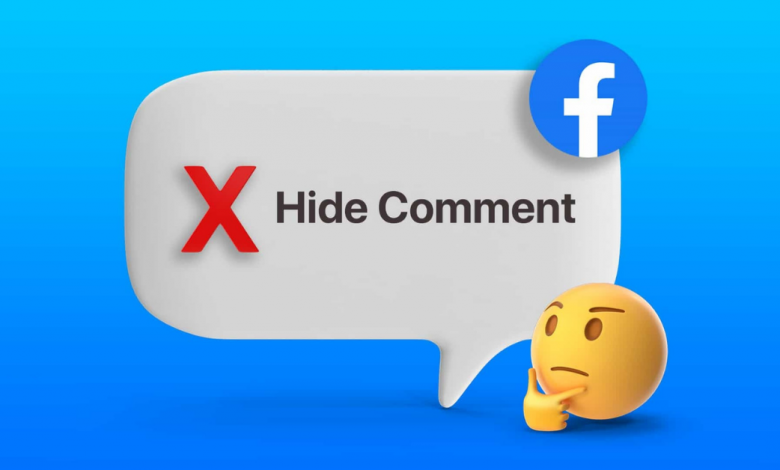 Facebook allows you to like or comment on your friend's posts. Moreover, anyone can comment on a public post of yours, even if they don't follow you. Sometimes, you can accept feedback in the form of comments, but you cannot let it go at times. If you would like to control random comments on your public posts on Facebook, you've entered the right destination. This tutorial will help you turn off comments on a Facebook post from your profiles, groups, business pages, and more.
Guide to Turn Off Comments on Facebook Posts
Quick Guide: Open the Facebook post you want >> tap the three dots icon >> Select Turn Off Commenting.
Personal Profile
You can't completely turn off comments for all Facebook posts. Rather, you can restrict strangers from commenting on a particular post by
[1] Go to the respective post for which the comments need to be restricted.
[2] Tap the three dots icon at the top right corner of the post.
[3] Choose Who can comment on your post option.
[4] It will display two options along with Public.
Friends – Only your friends can comment on that post.
Profiles and Pages you mention – Only the selected profiles and pages can comment on that post.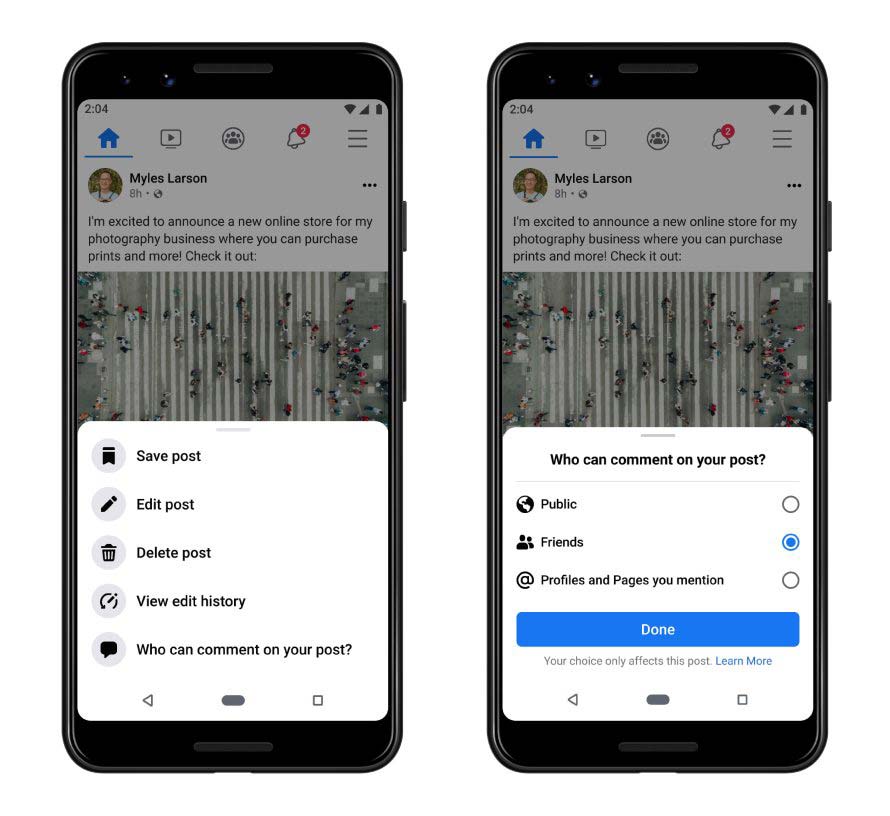 [5] Finally, click Done.
How to Change Posts Privacy from Public
This is another way of restricting unknown persons from commenting on your Facebook posts.
[1] Open the Facebook account.
[2] Click the Down-arrow icon at the top right corner of the page.
[3] Choose the Settings and Privacy option.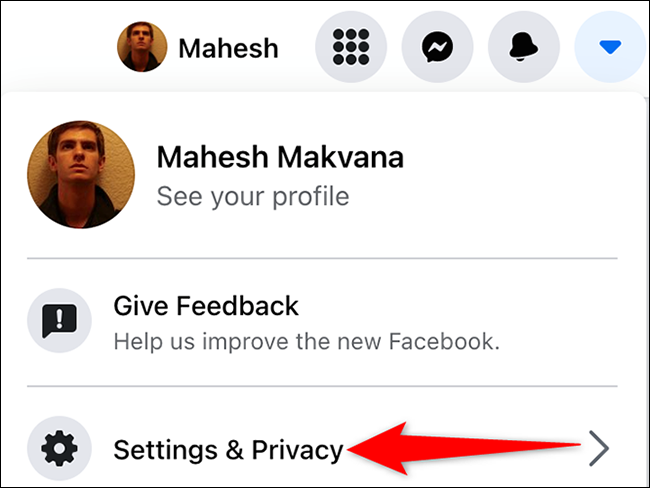 [4] Further, click on the Settings option, and now the General Account Settings page will appear.

[5] Click Public Posts from the sidebar.
[6] You will be directed to the Public Post Filters and Tools page.

[7] Choose Public in the drop-down menu located next to Who Can Follow Me.
[8] On the same page, click on Public Post Comments option.

[9] Here you can choose who can comment on your public posts using the drop-down menu.

Finally, Facebook will automatically update the changes to the posts.
How to Turn Off Comments in Facebook Groups
For Facebook Group posts, only the admin or a moderator has the right to disable comments.
[1] First of all, go to the respective post you wish to hide comments.
[2] Click on the three dots at the top right corner.

[3] Now, you have to select Turn off commenting.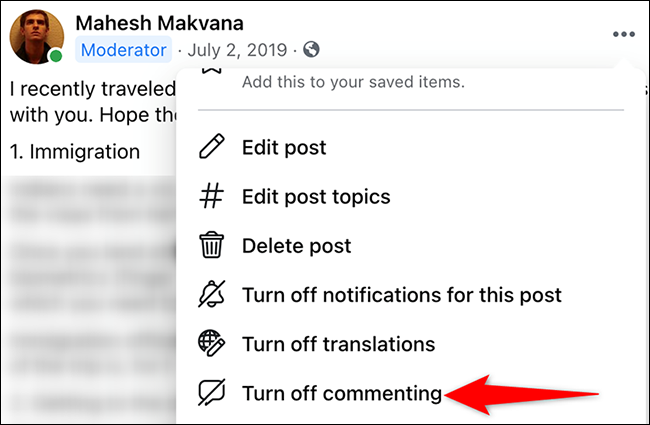 [4] By doing this, the comments for that post will be disabled.
How to Turn Off Comments in Business Pages
When it comes to Facebook Business pages, you can see the comments section filled with trolls by the haters, competitors, spammers, etc. In such cases, comments need to be turned off. For your convenience, we have mentioned a few tricks below.
Using Facebook Moderation
Facebook Moderation is a tool that lets you stay away from negative comments for any post.
[1] Go to the Facebook Business profile where comments need to be turned off.
[2] After that, click on Settings > General > Page Moderation.

[3] You can add keywords like "you," "to," etc., and symbols like full stop (.) to the forbidden keyword list.
[4] It will disable such comments on your Facebook posts automatically.
Using Statusbrew
Statusbrew works well when you want to turn off comments for a specific post. It uses a rule engine that permits us to create a rule and turn off the comments on a post.
[1] Open Statusbrew and go to the Rule engine.
[2] Create a new rule by assigning a new name for it.
[3] Choose the Facebook profile linked to Statusbrew.
[4] Select action as Hide all Comments and condition as Post is.
[5] Click on Save.
[6] Now, the comments will be turned off.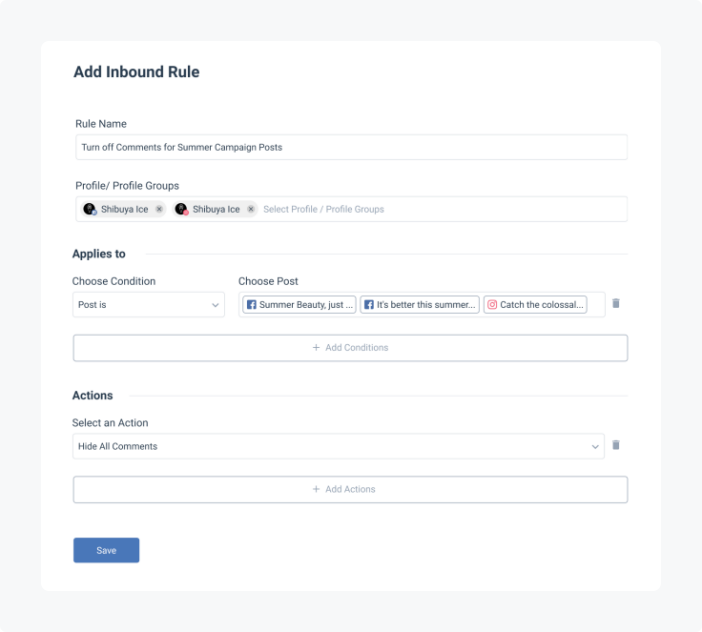 Turn Off Facebook Comments Using Chrome
Google Chrome allows you to access several functions in the form of extensions. Likewise, Shut Up: Comment Blocker lets you hide the comments while using Facebook in the Chrome Browser. You can use this extension for comment-free scrolling.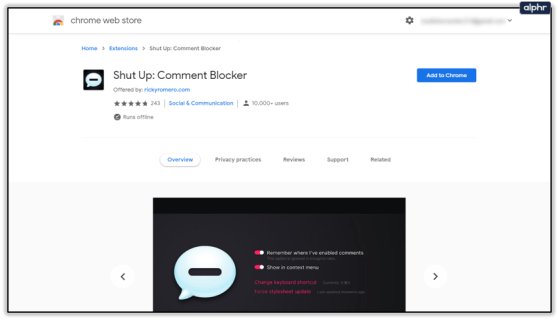 Launch Google Chrome and click the URL search bar.
Search for Shut Up: Comment Blocker and open the link.
Now, tap Add to Chrome button.
Within a second, it will be added to your browser.
Related – How to Make a Facebook Post Shareable
Frequently Asked Questions
Can you turn off commenting on Facebook posts?
Yes, you can turn it off comments only for that particular post.
How to delete your comment on a Facebook post?
First, you have to choose that post > Press and hold the comment > Select Delete > Click Delete.
How to turn off comments on Facebook post with mobile?
From your Facebook mobile app, go to the respective post and tap the three dots icon. Further, click on Turn off commenting.
Was this article helpful?