Nvidia Graphics cards work out-of-box and brings in new updates frequently. You will find Nvidia Driver as a software driver installed on the PC with Nvidia Graphics CPU. Its work is to communicate between the Windows PC operating system to the Nvidia device. Hence it is the most required software required to be installed on the PC to ensure that the graphics are working properly. If you are concerned about improving device performance, then it is vital to update Nvidia drivers regularly. Updating the Drivers will indeed keep your PC up-to-date and will also notify you whenever a new driver is released. In order to update Nvidia drivers, you can follow our detailed procedure given in the section below.
How to Update Nvidia Drivers?
There are different ways by which you can update drivers on Windows (10, 8, 7, XP)operating systems. The section below covers them in brief.
Pre-Requirements:
Get to know about your Nvidia graphics card installed on your computer before proceeding to update.
(1). Press Windows key + R to open Run command and type as DXDIAG.
(2). To find if it is a 32-bit or 64-bit system, go to System tab > Operating System.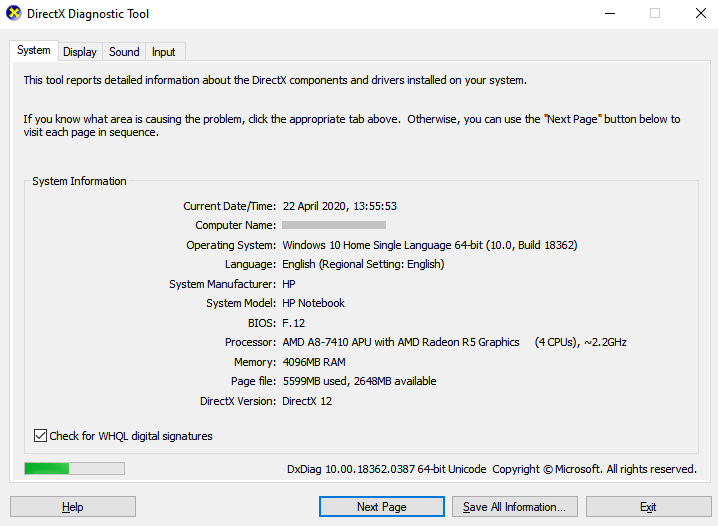 (3). Select Display tab to find the Chip Type to know your graphics card.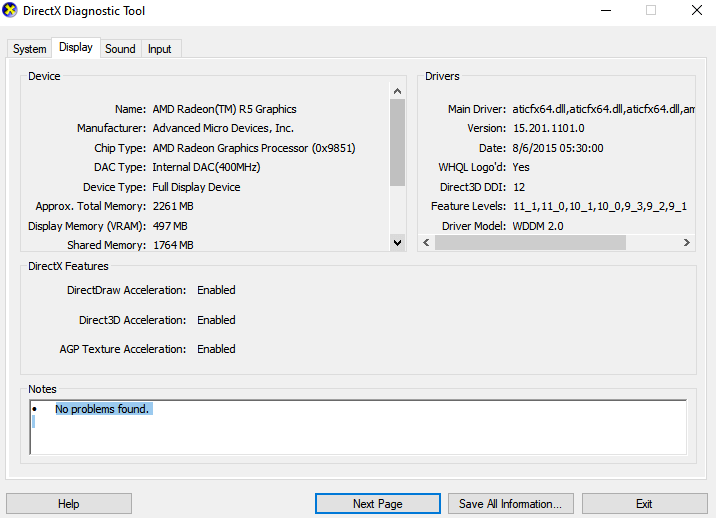 How to Update Nvidia Drivers Manually?
Manually updating Nvidia Drivers is the most used method and the procedure involves the steps given below. In this method, you will need to download the recent drivers from its official website and then run the installer to overwrite the old drive.
(1). Visit https://geforce.com/drivers using the browser on your PC.
(2). Hover to click on Drivers tab next to Geforce Experience.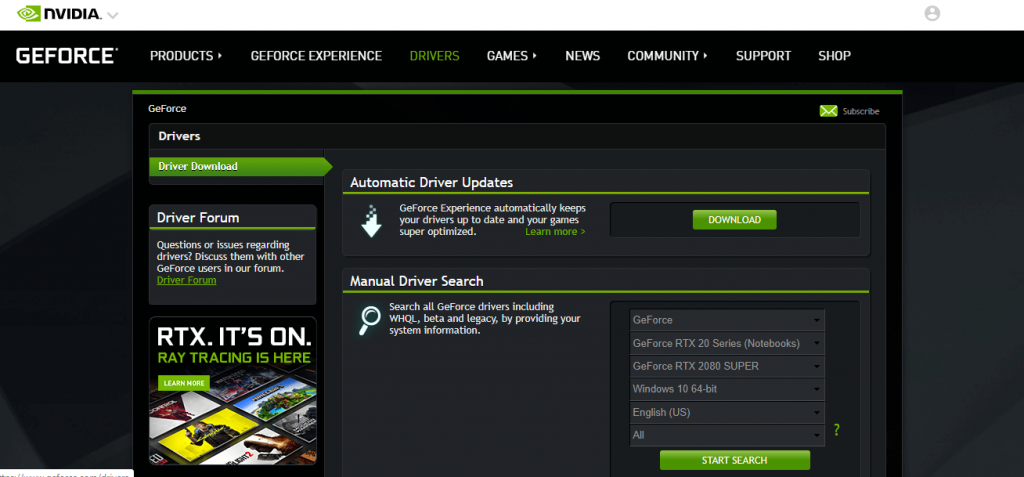 (3). On the next screen, tap on the drop-down on each of the menu to narrow your search. Select Start Search.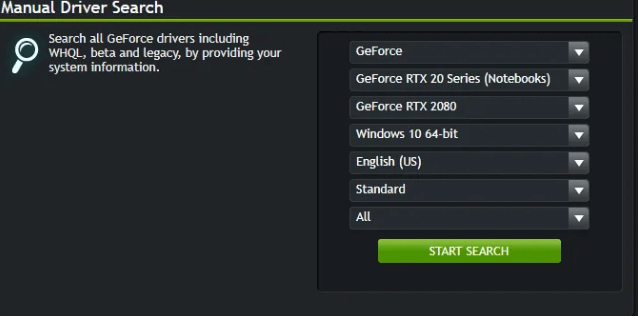 (4). Search for and click on the Download button to get the latest version of Nvidia Drivers on your PC.
(5). Run the installer to update the drivers. With this the old drivers will be removed automatically and the updated driver will be installed.
Tip! If you get any issues or problem, then use System Restore to reverse the process and try once again.
You can also use a driver updater software on Windows to easily updates Nvidia drivers and other drivers at the same time.
How to Update Nvidia Drivers through GeForce Experience?
Yet another way to update Nvidia Drivers is by using GeForce Experience program. With this, Nvidia will auto detect software releases and notifies you
(1). Visit https://geforce.com/geforce-experience using the web browser to install GeForce Experience program.
(2). After the download, you should launch it. You will be prompted to log in using email and password. Press Log In button.
(3). On the pop-up, click on Update Driver button to let GeForce Experience update it.
(4). Tap on the Drivers tab and tap on the Check for updates button.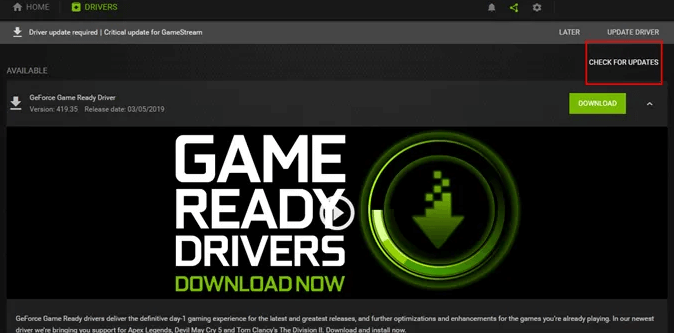 (5). Click on Download driver button to proceed with the available updates.
(6). Hover to select Express Installation button. The users who have a sufficient amount of knowledge in choosing the right driver for your PC can choose the Custom option and choose the drivers.
(7). Just wait until the drives are installed on your PC. When you get any issues, then click on System Restore tool to get back.
How to Update Nvidia Drivers by Updating Ubuntu Drivers?
On Ubuntu, it is possible to update Nvidia Drivers with the helps of updating Ubuntu Drivers.
Note: With Ubuntu, Nvidia Drivers will not be installed automatically. So to update it, you need the Additional Drivers window.
(1). Launch Additional Driver window at first by typing as Drivers on the Dash.
(2). Wait until you find the list of available drivers. Then select the latest drivers to begin with the downloading.
(3). Tap on Apply Change button to let Nvidia Driver to install.
(4). Reboot your PC and with this you will get the latest version of Nvidia Drivers.
Our Opinion
Hope this article has guided you dealing with updating Nvidia Drivers on your Windows and Linux PCs. You may choose any of the methods to update your Nvidia Drivers. With this, you will get the best of gaming and device performance.
Are there any clarifications on how to update Nvidia Drivers? Then let us hear it as comments. Visit us on our Facebook and Twitter pages to read more such articles.
Was this article helpful?