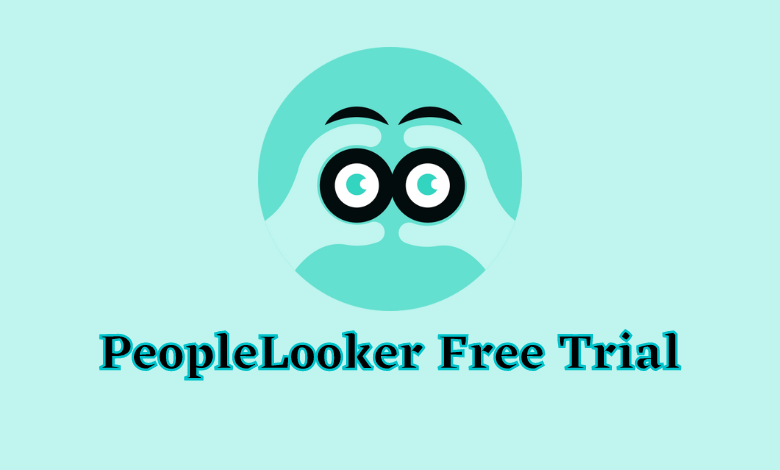 Key Highlights
PeopleLooker doesn't offer a free trial to new users.
Instead, you can try the trial version for 7 days by subscribing for $1.
PeopleLooker is one of the best public record search engines that provides background information on users to find addresses, photos, criminal records, and more. If you have a firm looking to check and verify the background information of employees or applicants, you must try PeopleLooker. Moreover, it can also be used by individuals to find information about specific people. To access the platform, you must subscribe to the premium plan. Unlike other platforms, PeopleLooker doesn't offer a free trial to new users. Luckily, it provides a special offer to users to access the trial period for $1.
How to Utilize PeopleLooker Free Trial With $1
[1] Open the browser and visit the PeopleLooker website – https://www.peoplelooker.com/ from your smartphone or PC.
[2] Click Sign Up at the top right.

[3] A pop-up will display on your screen for confirmation. Click I Agree and Continue.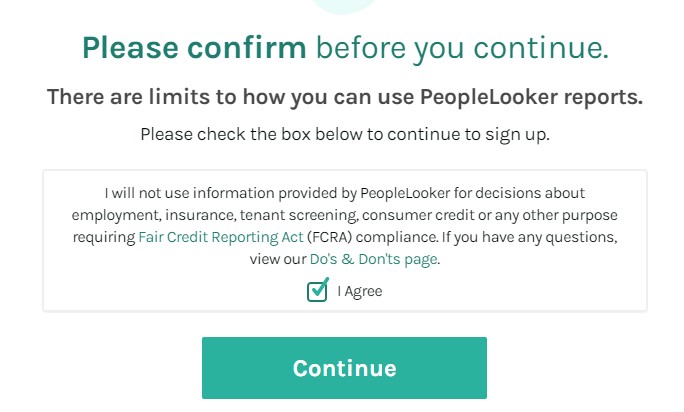 [4] Now, here's the important tip, click the Back tab from the PeopleLooker website.

[5] Further, a pop-up will display, offering you access to the platform for just $1.
[6] Click Try PeopleLooker for $1.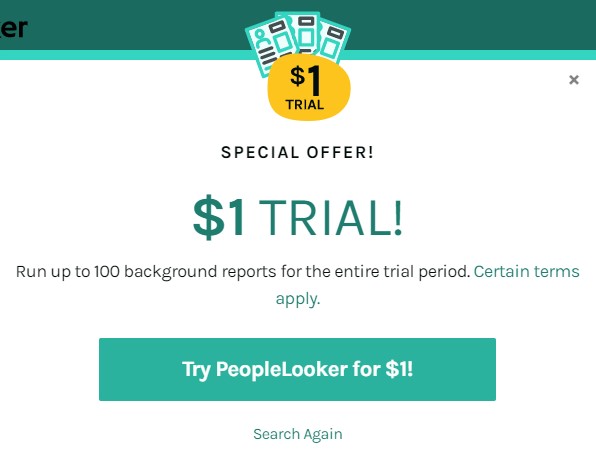 [7] You can see the special offer section displaying 7 Day Trial Membership. Select it.

[8] Scroll down and proceed with the payment process (Credit card, PayPal, or Google Pay) and click View Results.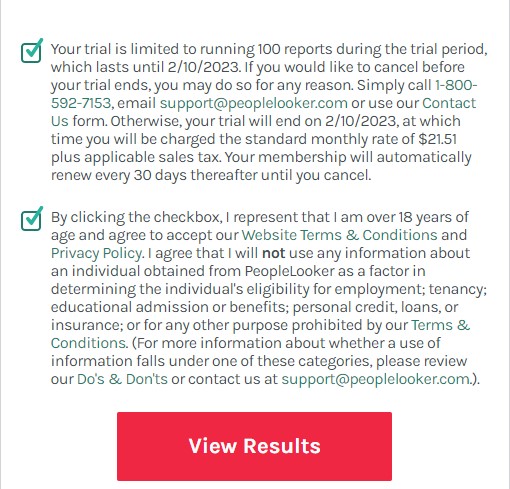 [9] Finally, after creating your password along with your mobile number, you can get access to navigate all the content on PeopleLooker for 7 days.
PeopleLooker Subscription Plans
If you like PeopleLooker, you can subscribe to its membership plan to continue using the platform. The platform offers users monthly, and quarterly membership plans to access special features.
| MEMBERSHIP PLAN | PRICING |
| --- | --- |
| Monthly | $22.86 |
| 3 Months | $54.83 |
| Special Offer | $1 (Only for 7 days) |
How to Cancel PeopleLooker Subscription
If you're done using PeopleLooker, you can cancel the subscription anytime from mobile, desktop, or by contacting Customer Support.
Google Play
[1] Navigate to the Google Play Store on your Android device.
[2] Tap the Profile icon → Payments & Subscriptions.

[3] Tap PeopleLooker from the list of active subscriptions.
[4] Next, tap Cancel Subscription.
[5] Finally, tap Continue → Cancel to end the PeopleLooker subscription.
Tips! You can sign up and get a 7-day free trial on Spokeo if you aren't satisfied with the PeopleLooker features.
Contact Form
[1] Open the browser and visit PeopleLooker's contact form.
[2] Choose the Topic as Billing and further fill in the necessary details.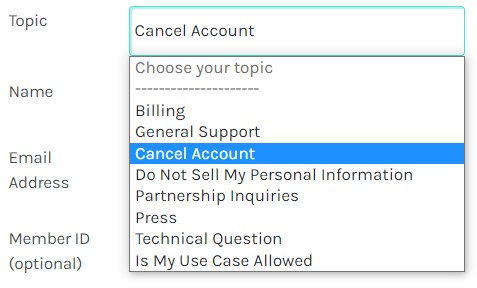 [3] From the Message box, compose a request to cancel your subscription plan and click Submit.
[4] Once canceled, you'll receive a cancellation mail from PeopleLooker within a few business days.
Cancel via Customer Support
Besides the above two cancelation methods, you can also revoke the subscription via Customer Support. You can directly contact Customer Care Helpline at 1-800-592-7153 from your mobile or email [email protected] requesting them to cancel your subscription. Also, remember that you must provide them with the 9-digit member ID and account details, such as Name, email address, phone number, etc., to cancel your subscription with ease.
Frequently Asked Question
1. Is PeopleLooker legal?
Yes. PeopleLooker is legal to use. As it complies with federal and state laws, including Fair Credit Reporting Act (FCRA), you can legally access public records and other information.
Was this article helpful?