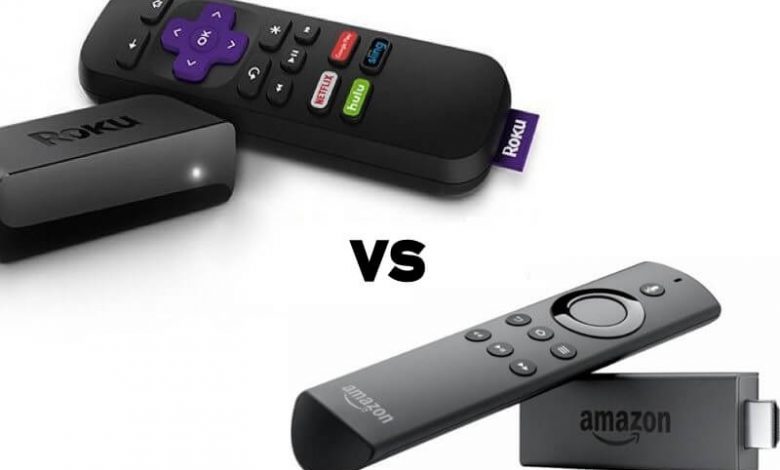 Cutting the cord is increasing every day with the increase in the price of cable TV subscription. The cord-cutters aka the streaming devices are used as the cable TV replacement. So, anyone can enjoy streaming videos from different streaming services like Netflix, Hulu, Prime Video, and lots more. If you have ditched your cable TV connection, then you can choose between Roku and Firestick. Both of them are versatile media players and are reasonably priced. Choosing either of them isn't complex if you know what Roku and Firestick are offering. The article covers exactly the same and so you can continue reading to find which is the right cord cutter for your entertainment needs.
Roku Vs Firestick – Which Models to Compare?
When it comes to Amazon's Firestick, the right model to compare is the Roku streaming stick. Fire TV Stick 4K is the currently available media player when it comes to streaming sticks from Amazon. Similarly, Roku has the Roku Streaming Stick+. So, right on this article, we would compare these devices in terms of streaming services, quality, cost and more other factors.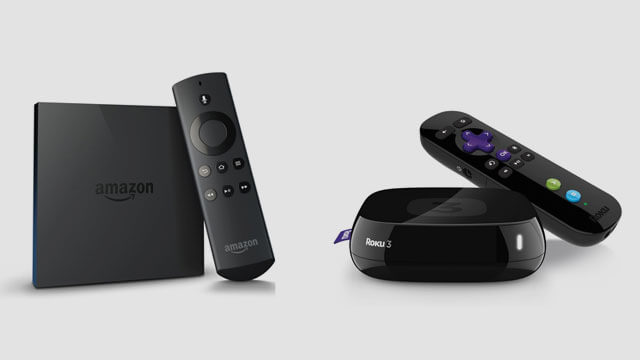 Roku Vs Firestick – Comparing their Price
Amazon's Fire TV Stick's entry-level model costs $39.99 while the Fire TV Stick 4K model costs $49.99.
Roku Streaming Stick is priced at $49.99 while the Roku Streaming Stick+ costs $59.99.
If you want a relatively low-cost digital player, then you can choose between the Firestick models. Otherwise, you can consider choosing between Firestick 4K and Roku streaming stick as both of them costs the same. If paying $10 extra means you so much, then Roku Streaming Stick+ isn't for you.
Roku Vs Firestick – Comparing Processor, GPU, & More
The basic Firestick model incorporates 1.3 GHz of processor whereas the Firestick 4K features Quad Core 1.7 GHz processor. They have IMG GE8300 GPU. The similarities with both the models are 8 GB of internal storage space and 5.0 Bluetooth support.
Roku Streaming Stick has come up with the Quad-Core processor and it has ARM Cortex A53 as the GPU. Its storage space is 256 MB and 512 MB while it can be extended using the micro SD card.
Firestick consumes a power of up to 4W while Roku stick consumes less than 3W. However, both the streaming devices supports 5V – 1A as the power input.
Roku Vs Firestick – Comparing Video & Audio Quality
With Firestick basic model, you can stream in 720p and 1080p resolution with up to 60 FPS. Whereas the Firestick 4K model supports video streaming quality up to 2160p. Make sure you have Ultra HD TV to experience this video quality with the Firestick. They support Dolby Vision and Dolby Atmos in addition to HDR, HLG, AAC, AC3, etc.
Roku Streaming Stick provides 4K Ultra HD quality streaming on Ultra HD TV. It provides smooth video playback with 60 FPS or lower with certain apps. Roku supports most video and audio formats like MP4, MOV, MKV, AAC, WMA, MP3, and more.
Roku Vs Firestick – Comparing Setup & Design
Both Roku and Firestick are streaming sticks and they look exactly similar. They are designed to be rectangular in shape and you can set it up easily. Both come with a remote controller. All you require is to just plug them into the HDMI port of your smart TV. Firestick weighs 43.4 grams while Roku stick is slimmer and is only 26 grams.
Roku Vs Firestick – Comparing Interface
The interface of Firestick seems to be modern and more user-friendly. It lets you customize and organize apps but will clutter your experience at times. The only drawback is Firestick will bring you more of Amazon's own contents than anything else.
Roku stick's interface is more customizable and lets you organize your channels as you want. The channels will be available as a scrollable list. So, accessing third-party add-ons is easy and you can navigate the interface with ease.
Roku Vs Firestick – Comparing Remote Controls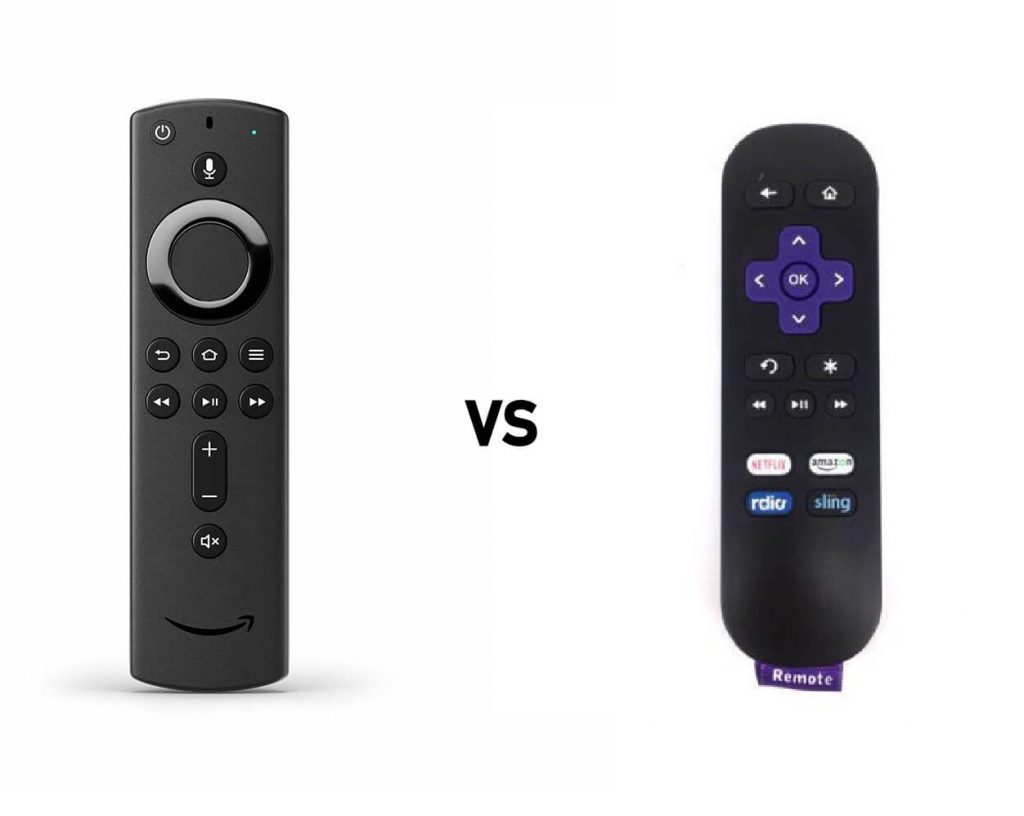 Firestick and Roku streaming devices have their own dedicated remote controller. Firestick remote has control buttons to play/pause, control volume, skip to next track, move to previous page, etc. In addition to this, Firestick remote supports voice controlling over Alexa or with Echo speaker.
Roku streaming sticks also have same similar buttons on the remote as like Firestick remote. However, it includes shortcut buttons with which you can select and assign channels to each button. So, you can conveniently access Roku remote and change channels with ease. Roku streaming remote also supports voice control.
Firestick, as well as Roku, has their own free remote apps on the Play Store and App Store. By installing the app, you can control Firestick and Roku stick right from your handheld.
Roku Vs Firestick – Comparing Apps & Contents
Amazon Firestick and Roku supports the same similar number of apps and contents. You can download apps from the Amazon App Store for the Firestick and it supports several hundreds of apps.
Roku stick has a wide range of channels or apps support and they are available on Roku Channel Store. In addition to official channels, Roku has a large number of private channels support.
Roku and Firestick support most of the popular video as well as music streaming services like Netflix, Hulu, Spotify, YouTube and more.
You can sideload apps or apk files to Firestick using various methods like using Aptoide TV app, Downloader app and ES File Explorer app. Similarly, you can sideload apps to Roku using the Development Application Installer.
Roku Vs Firestick – Comparing Gameplay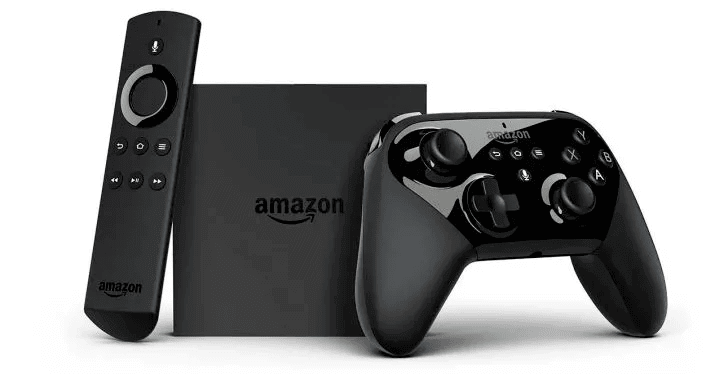 You can play games using Roku stick and Firestick on your smart TV. However, Firestick isn't worth if you play hardcore gamings. But still, you can enjoy playing Minecraft, Star Wars and more.
Roku excels when it comes to playing high-end graphics games on a smart TV. You will get absolute entertainment much higher than Firestick. So, Roku stick is better to choose than Firestick if you play games for hours.
Roku Vs Firestick – Comparing Other Features
Firestick is worth using if you browse the web more often. You can use the Silk Browser or Firefox to search for contents from the internet. Whereas, Roku doesn't support web browsing at all.
Roku can be used if you cast contents from smartphone to Roku smart TV. It uses Miracast and hence you can transfer contents from Windows and Android devices to Roku connected TV. Both Firestick and Firestick 4K models don't support screen mirroring.
Which one to Buy? Roku and Firestick – Final Verdict
It isn't that easy for us to conclude with one device among Roku and Firestick. Every other entertainment enthusiast will have their own streaming preferences. So, we leave the choice of picking between Roku and Firestick to you. Just go through the differences between both of the streaming devices and get yours. We have even compared Firestick Vs Chromecast. Have a look at that too and you can take your decision.
Let us know which streaming stick you have picked between Roku and Firestick in the comments. For more such articles, connect with us on Twitter and Facebook.
Was this article helpful?