SHAREit application brought the revolution in transferring contents by reducing the transfer time from hours to seconds. Share any amount of data and files with people who are around you at any time by using SHAREit. When comparing with cross-platform file transfer applications, SHAREit tops the table and it is the first fastest cross-platform app that can be accessible for all operating systems like Android, iOS, Windows PC, Mac, and Windows Phone.
SHAREit was launched in the year 2013 and made its global launch in the year 2015. It changed the way how people use to transfer files using a wired connection between devices or wirelessly using the Bluetooth technology which is very slow. SHAREit is available in 45 languages. More than 1.8 billion users use this application globally. SHAREit has been one of Google's top-10 downloaded apps for the last five years. SHAREit is one of the best file sharing apps for Android.
What Makes SHAREit Special
SHAREit allows transferring files, images, videos, music, and other android mobile applications. While comparing to the Bluetooth transfer speed rate, it is 200 times faster, and it transfers upto 20 MB/second. SHAREit allows you to log on using a phone number, and you can enable GPS to make a better connection.
The user can enjoy high-quality audio/video both online and offline with the integrated music & video player. SHAREit is the best cross-platform application that can be installed on both Android and iOS powered smartphones, gadgets, which makes it possible to bridge the gap between the two devices. SHAREit can transfer files of all kinds at high-speed with no data usage.
How to Install SHAREit?
Before we begin the installation, there are two things to be noted which are the requirements to SHAREit.
OS Version: Windows 7, 8, 8.1,10, and above.
Space required: 6.15 MB
There are two simple ways to get SHAREit on your device.
SHAREit Website
SHAREit can be downloaded safely from its official website at https://www.ushareit.com/ and this is the best way to install SHAREit in an Executable package (.exe) from the internet. Steps to download are as follows.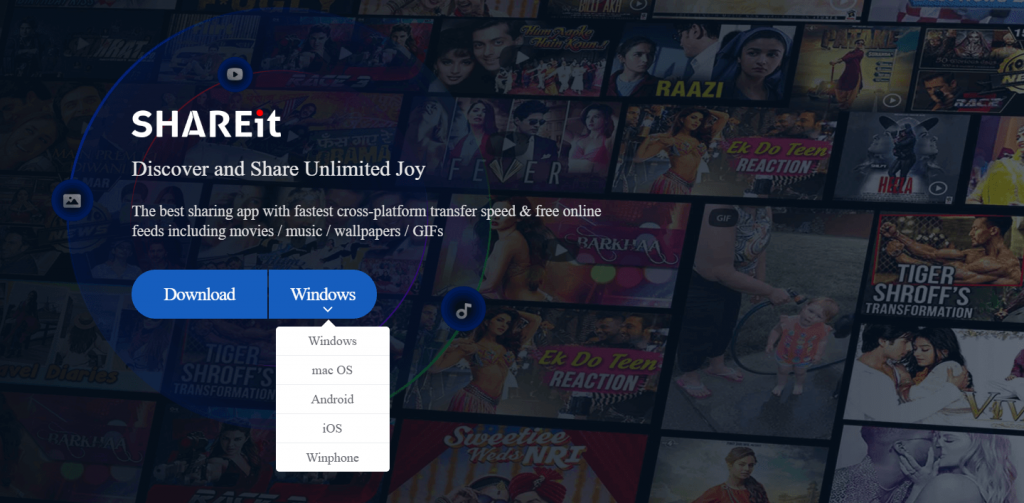 Make sure your device is connected to the internet
This link https://www.ushareit.com/ will take you to the official website
Choose the OS platform and click the download button
Install the file on your device and run it
After installing, create an account and start transferring files through SHAREit
Official Stores
SHAREit can also be downloaded from Microsoft Store, Google play store, and Apple's App Store. It is one of the easier ways to download and install SHAREit directly from the official store.



Steps to download SHAREit on Windows are pretty simple, which are as follows.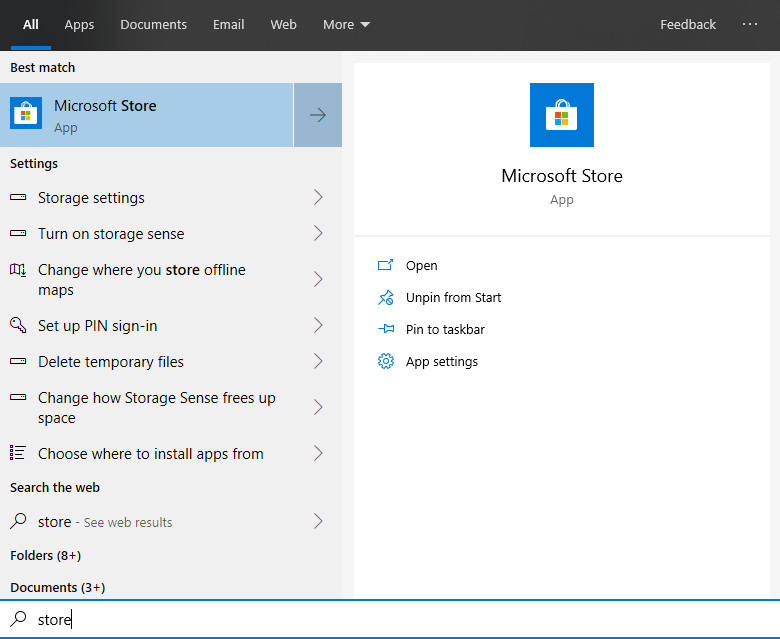 Go to Microsoft store in your PC
Type SHAREit in the search box & do the search
Click on Get and it will be installed on your Windows
After installing, start transferring files using SHAREit

How to use SHAREit?
How to SHARE Files from Android to Windows PC using SHAREit
How to SHARE Files from iOS to Windows PC using SHAREit
How to SHARE Files from Android to iOS (iPhone/ iPad) using SHAREit
How to SHARE Files from iOS (iPhone/ iPad) to Android using SHAREit
Open any browser and go to the official website of shareit https://www.ushareit.com/
Choose "Windows" platform and download the .exe file
Install SHAREit
Open the application and select "Show QR code"
In Android mobile, open SHAREit and click the "Send" option
Choose the file you want to share and click on "Next"
Prefer the "scan to connect" option
Now scan the QR code of PC on your Android mobile
Finally, the file will be automatically shared from an Android phone to Windows
Once the device is connected, you can share any number of files between them until you close the app.
Download the SHAREit app on your iPhone/iPad from Appstore and in PC from Windows store
Make sure that both iPhone and PC are connected to the same Wi-Fi network
Open SHAREit on iPhone and tap the avatar on the top left corner, choose "Connect PC/MAC" and tap "scan to connect" option
In PC open SHAREit, and select "Show QR code" option
Scan the QR code using the iPhone's SHAREit "scan to connect" option
Once the devices are connected, start sharing the files
Download the SHAREit app for Android from google play store & for iPhone from the Appstore
In Android, open SHAREit, click on "send" option & select the file to share & click on "Next"
On the next screen, tap the option in the top-right corner and click on "Connect to iOS"
There will be a pop-up to ensure whether the devices are in the same network. If so, click on "continue"
Or else SHAREit will start a Wi-Fi hotspot on the sender Android phone
In the iPhone, turn on Wi-Fi & connect to the network created in Android Phone
Now, open SHAREit in the iPhone and then click on "Receive" where the iPhone's name will appear on the sender's screen
Tap on it and transfer files from Android to iPhone
Open SHAREit on Android and click on the "Receive" option
Ensure whether both the devices are in the same WiFi network
Or else SHAREit will automatically create a WiFi hotspot network on your Android device
In the iPhone, turn on WiFi and join the network created by the Android Phone
Now, open SHAREit on your iPhone and click "Send" then choose the files to share
Select the files and click "Next" where the receivers name will appear in search
Tap on it & transfer data from iPhone to Android
Endnote
In the olden days, the only way to transfer files at a higher speed is via LAN (Local Area Network), which is okay for devices connected to the same network. But for smartphone users, Bluetooth was the only option until the launch of SHAREit, where you can connect to a hotspot, and transfer files between devices. Transferring files over hotspots don't consume cellular data. Using any one of the above methods, share files between PC and your mobile phone.
I hope this content was useful to you. If you have any queries, comment below. Do follow our Facebook and Twitter accounts for more related tech updates.
Was this article helpful?