WhatsApp is a multi-platform messaging app across the world. Users can create a free account and can chat, make voice or video calls, share photos, videos, documents, audio, etc. It doesn't charge you for sharing the contents or chatting with your friends. Rather it requires the internet to send the messages and so on. Recently, Whatsapp has introduced a new feature called Flash Calls. The feature will replace the current verification method on Android devices. It means the feature will help you to log into WhatsApp without entering the 6-digit code manually.
The complete process is automatic and one can use it on WhatsApp without any fear. However, you must allow WhatsApp to read your call history.
How to Use Automatic Verification on WhatsApp With Flash Calls
WhatsApp Flash Calls is an automated calling feature. Only Android users can access this feature. iPhone users cannot access this feature on their WhatsApp because Apple won't allow for a public API.
Here are the steps for verifying the WhatsApp user account via flash call:
#1. Install the WhatsApp from Google Play Store on your Android mobile.
#2. Launch the app.
#3. Review the Terms and Service and then tap Agree → Continue.
#4. Select your country code and enter your mobile number.
#5. Tap Done or Next. Then, tap Continue to make the Flash Call.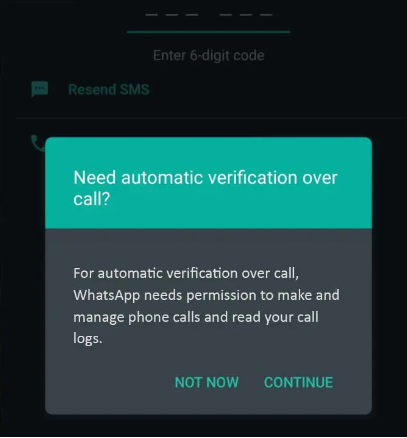 #6. You will get a call automatically to your registered mobile number. Upon accepting the call, your mobile number will be verified.
#7. Now, you can start using WhatsApp on your device.
READ NEXT
Frequently Asked Questions
1. Why I don't have WhatsApp Flash Calls on my iPhone?
iOS doesn't allow the public API to access the call log, so iOS users cannot access the WhatsApp Flash Calls feature.
2. Why don't I get the Flash Call from WhatsApp?
>Make sure that you have entered the correct mobile number.
>Check that your mobile number has the network signal.
>Check that the mobile number is engaged or on another call.
3. Is WhatsApp charging for calls?
No. You can make free voice or video calls. It only needs internet access to make the calls.
Was this article helpful?