Chromebook isn't yet another regular laptop both by functionality and appearance. It was targeted at those people who use the web the most. The most noticeable physical difference is its keyboard with Chrome OS function keys. So, those used to the traditional keyboard will find the Chromebook keyboard quite different. The most obvious thing that anyone will find missing on its keyboard is the Caps Lock key. Instead, you will find a Search key that will hold a magnifying icon. There may be times where you need to type all in caps and it the case you will definitely miss the Caps Lock key. But no more worrying about its absence as we help you out with caps lock on Chromebook.
How to Turn On Caps Lock on Chromebook?
The section below will help you turn on caps lock on the go.
(1) Press Alt + Search key (Assistant icon or magnifying glass) on your Chromebook.
(2) Wait for an arrow to appear on the bottom right notification bar.
With this Caps Lock is turned on your device.
Note: To turn off Caps Lock on Chromebook, press Shift key or otherwise, press again on Alt + Search. You can even use the cursor to click on the time icon on the right side of the menu bar to select CAPS LOCK is on option.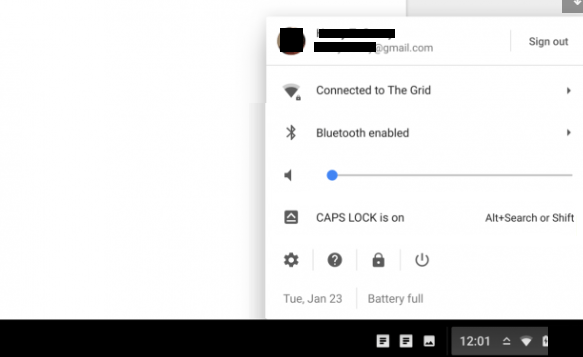 By following the above steps, you can turn on Caps Lock on Chromebook. Turning on Caps lock is a bit different like copy and pasting option on Chromebook.
How to Change Keyboard Setting for Caps Lock?
Chromebook supports changing keyboard settings for caps lock. Here is how you can do it.
(1) Hover to the right side of the menu bar to click on the Time. Else just press Alt + Shift + s keys.
(2) On the menu, select Settings icon.
(3) Click on Device from the list of options.
(4) Select Keyboard to choose keyboard shortcuts as per your preference.
Our Opinion
The omission of Caps Lock key in addition to deleting key, function keys, print screen, doesn't mean Chromebook is too odd to use. Instead, it is designed to make typing much easier and comfortable. In case of turning on caps lock, all you need is a one-click of a button.
We hope this section has provided useful tips and tricks to use Caps Lock on your Chrome OS. Stay tuned with our Facebook and Twitter page for more such useful article updates.
Was this article helpful?