Are you confused about choosing the best one between Google TV and Google TV? You've landed in the right place. At the end of the article, you will have a better idea on which one to buy. Initially, Google has released three generations of Chromecast to cast the contents from smartphone or computer to PC. But later, they have released Chromecast with Google TV (simply called Google TV) to compete with the streaming devices like Firestick and Roku. So we have to really know the difference between these two just to choose which one to go for. Here is our comparison on Google TV vs Chromecast 3rd Gen.
Chromecast with Google TV vs Chromecast 3rd Gen
For better understanding, we have divided the comparison into seven halves.
Price and Value
Streaming Quality
User Interface
Apps
Specifications
Design
Remote
Price and Value
Chromecast with Google TV: $49.99
Chromecast 3rd Gen: $29.99
According to price, Chromecast 3rd gen is the cheapest one to buy. But, the features offered by the Chromecast with Google TV is far more way better than your ordinary Chromecast. Google TV is also slightly costlier even while comparing with other two leading competitors: Amazon Firestick and Roku. Anyway, with Google TV, you can install any applications from the Play Store you want. So Chromecast 3rd gen may be cheaper, but then the features and functionalities are too less for $30.
Streaming Quality
Resolution of Chromecast with Google TV: Up to 4K UHD at 60 FPS
Resolution of Chromecast: Up to 1080p at 60 FPS
With Google TV, the user will be streaming content from the apps directly installed on their device. But with Chromecast, the user will be casting the contents from a phone or computer to the connected TV. So obviously, the streaming quality will be reduced, even if you play with a 4K resolution.
User Interface
Chromecast with Google TV: It has got an interface like an Android TV
Chromecast: No interface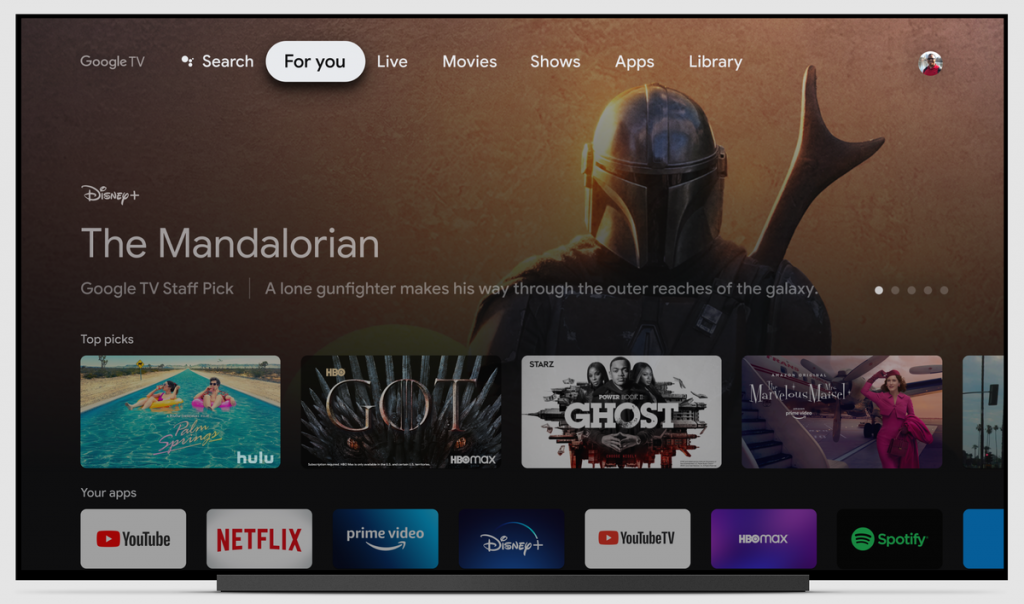 Google TV presents an Android TV appearance or UI on your TV. Those who have used Android phones or tablets will find familiar with the Google TV interface too. But then, the Chromecast device will not have an interface other than just a Google Logo appearing on the screen. The device will stream whatever you have select to play on your device.
Apps
Chromecast with Google TV: It supports nearly 6500 Android TV apps.
Chromecast: No apps can be installed on Chromecast, but there are apps that support casting.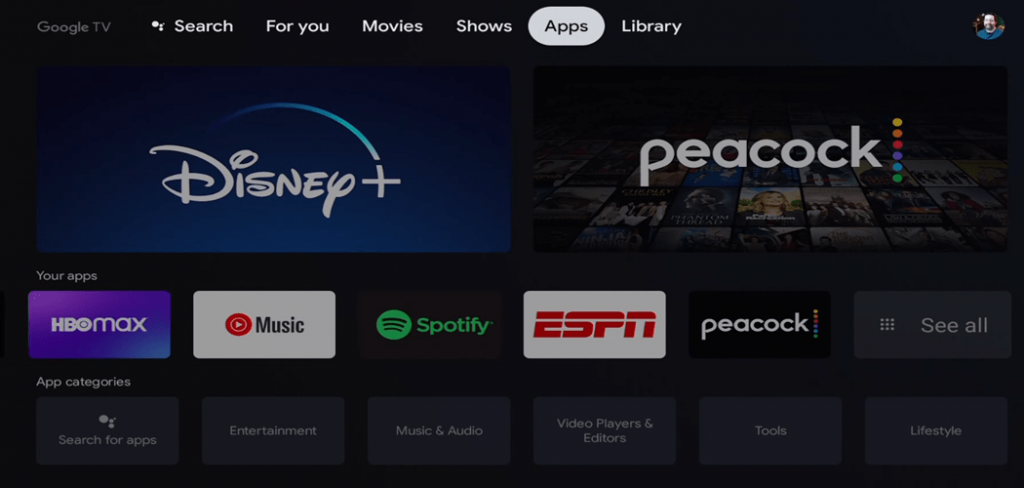 As we mentioned earlier, Google TV supports installing apps & games from the store. Google Play Store will be there for you to provide the apps you want. The interface will allow you to search for the apps from the home screen. Like Firestick, you can also sideload apps on Google TV with the help of the Downloader app. But as far as Chromecast is concerned, only selected apps provide native Chromecast support, or you need to screen mirror the device to cast.
Specifications
Chromecast with Google TV: Video Formats – HDR10, HDR10+, Dolby Vision; Audio Formats: Dolby Digital, Dolby Digital Plus, and Dolby Atmos.
Chromecast: Video Formats – Not Applicable; Audio Formats – Not Applicable.
The videos and audio streamed on the Google TV will be from the device. To cast to Chromecast, the video and audio quality depends totally on the device from which you are streaming.
Design
Chromecast with Google TV: 6.4*2.4*0.5 inches; Colors – Snow-white, Sunrise Coral, Sky Blue, etc.
Chromecast: 6.4*2*0.5 inches; Colors – Chalk white or Charcoal Black.
Chromecast is a round-shaped dongle, and the Google TV is an oval-shaped dongle. The Google TV streaming device comes in various colors. But then the Chromecast will be available in black or white colors only. Both the devices are designed in a way to connect with the TV via HDMI source.
Remote
Chromecast with Google TV: Controlled by the remote
Chromecast: Not Applicable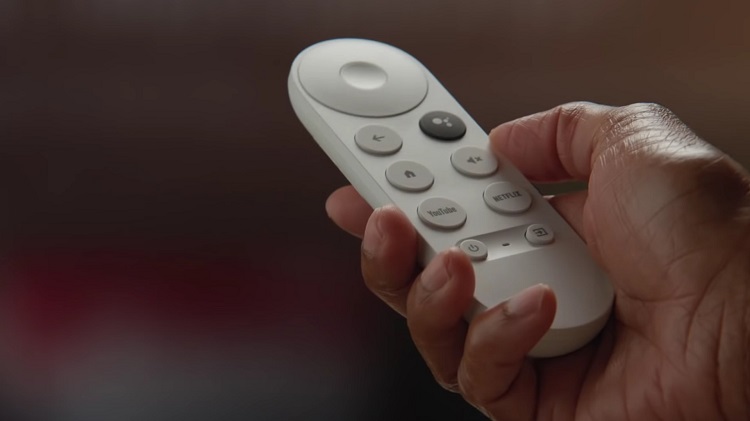 The Chromecast with Google TV will have its own remote control to control the device. In contrast, the Chromecast device don't have any remote. It can be controlled by the smartphone or computer from where the contents are streamed.
Google TV vs Chromecast – Which is the best one?
The answer is simple. Google TV is the best one to buy as it provides both the app installation and casting feature. Whereas Chromecast supports only the casting feature. Chromecast is affordable, but with 20 more dollars, you will have extended features and functionalities along with casting support.
Shout all your feedback in the comments section. Follow Techowns' Facebook and Twitter pages for comparison tutorials.
Was this article helpful?