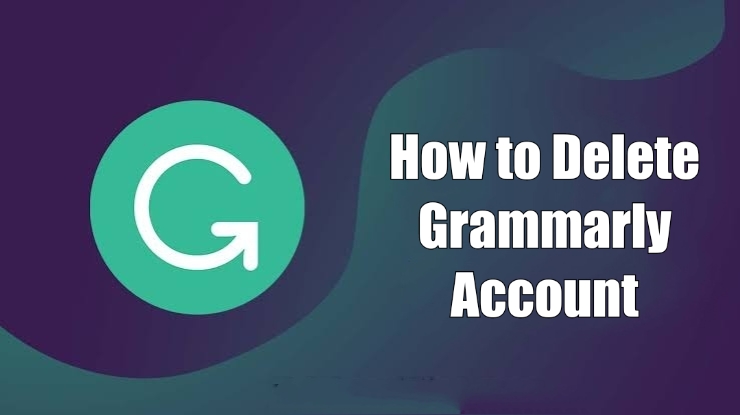 Key Highlights
Mobile & Desktop: Account → Delete Account → Enter the account password → Confirm.
Grammarly is a Productivity app that helps users correct grammatical mistakes such as grammar, synonyms, punctuation, and spelling. Moreover, the platforms support users by providing suggestions for the error sentences. Though the platform offers more features, users still delete their Grammarly account when unsatisfied with the product or switch over to Grammarly alternatives.
Also, remember that if you want to delete your Grammarly account permanently, you can terminate the account only on the browser version of the desktop and mobile.
How to Delete Grammarly Account on Browser
[1]Open the default browser on your desktop or smartphone browser, and go to the Grammarly website.
[2] Log in to your Grammarly account using the details.
[3] Click Account on the left panel of the screen.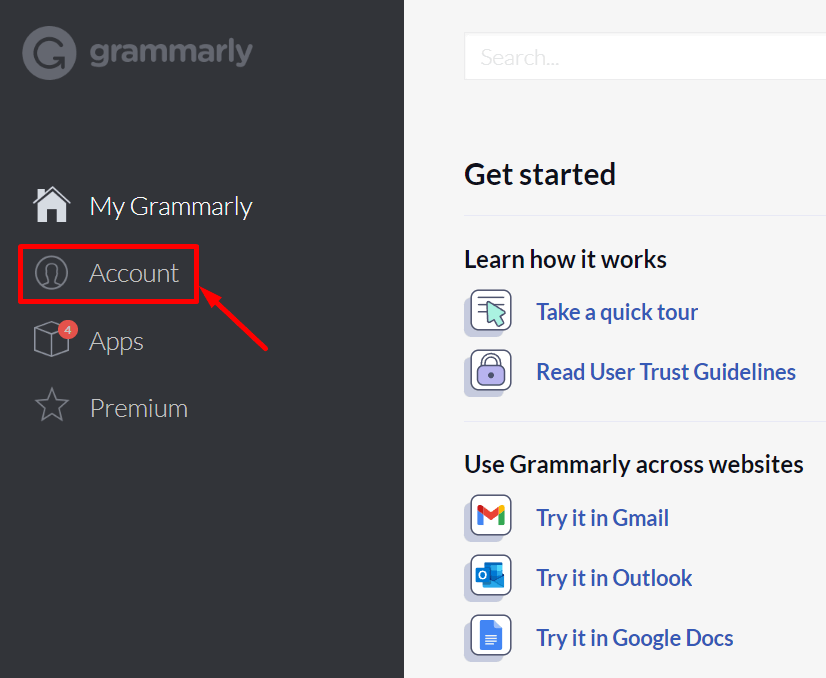 [4] The Account Settings page will appear. Scroll down and click Delete Account.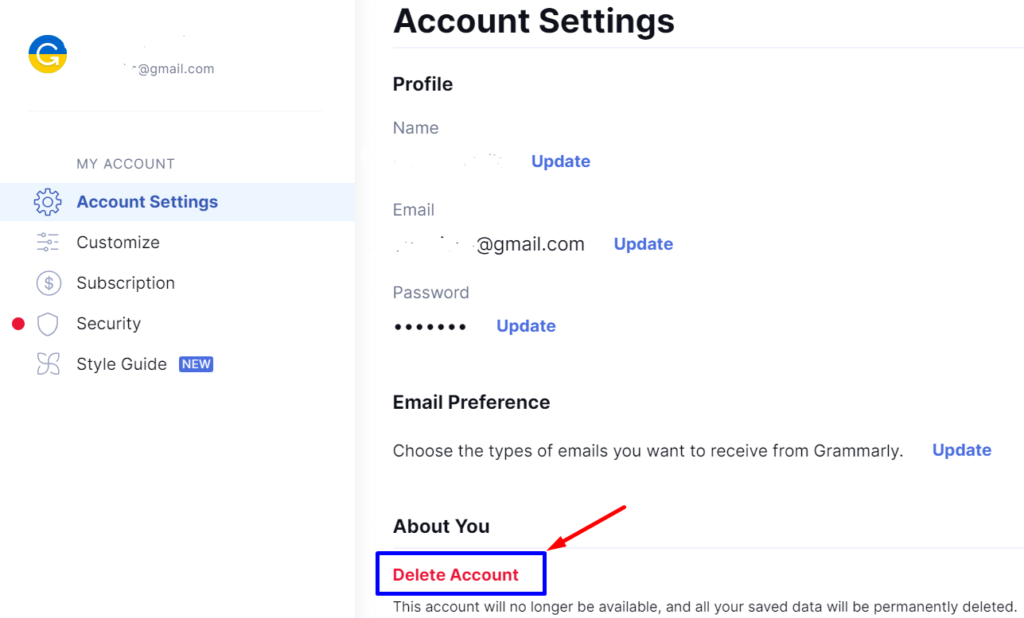 [5] Enter your account password to confirm deleting your account.
[6] If you've signed up using your Facebook account, you need to enter your Facebook password to delete the account.
How to Cancel Grammarly Premium Subscription
You must cancel your Grammarly subscription before deleting the account to avoid extra charges.
Cancel Grammarly Premium Account
[1] Log in to your Grammarly Premium account.
[2] Click Subscription on the left panel menu.
[3] Scroll down and click the Cancel Subscription link.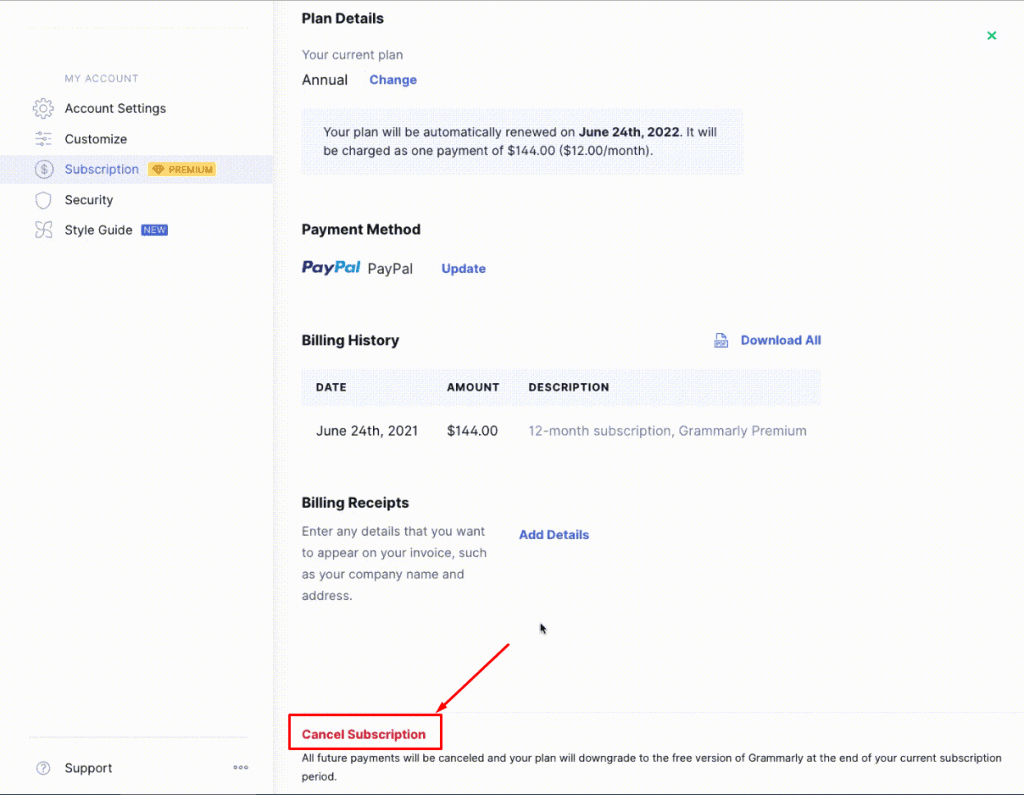 [4] Then, click Yes, Continue.
[5] In the next screen, select the problem from the drop-down and click Yes, Continue.
[6] Next, choose the reason for cancellation and click Cancel Subscription.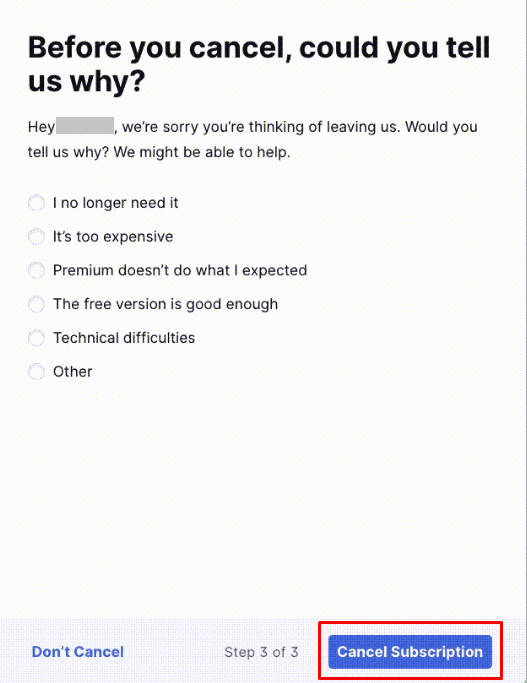 Cancel Grammarly Business Account
[1] Go to the Grammarly subscription page on your smartphone and desktop.
[2] Click Cancel Subscription at the bottom.
[3] Then, choose Yes, Continue.
[4] Choose the reason for cancellation and click Cancel Subscription to confirm your cancellation.
How to Deactivate Grammarly Account
Unlike other platforms, Grammarly doesn't offer the deactivate feature to temporarily freeze the account. However, you can use the below steps to do so.
Sign out or log out from the Grammarly account
On the browser, turn off your Grammarly extension.
Remove the Grammarly extension from your browser. By doing so, Grammarly will not work or check the grammar, spelling, plagiarism, etc., on your content.
Alternatively, you can also request to delete the account by sending the mail to [email protected] from your registered email ID. Remember that once you delete the Grammarly account, you cannot retrieve it again. This will delete all your saved documents as well as personal data.
Was this article helpful?