Tinder is one of the foremost dating apps globally, with millions of users worldwide. Being one of the topmost dating apps, it comes with many strict guidelines and rules. Tinder has its own set of rules and standards that you must adhere to use the service. You may lose your ability to use the app if you consciously or unknowingly disregard them. As a result, you must respect Tinder's rules and understand how to get unbanned from Tinder.
Tinder bans mean getting rid of people who break the community guidelines. Tinder will ban your user account if you use the app maliciously. You lose all of your conversations, matches, and anything related to the app. When you are banned, you will get a notification upon launching the app.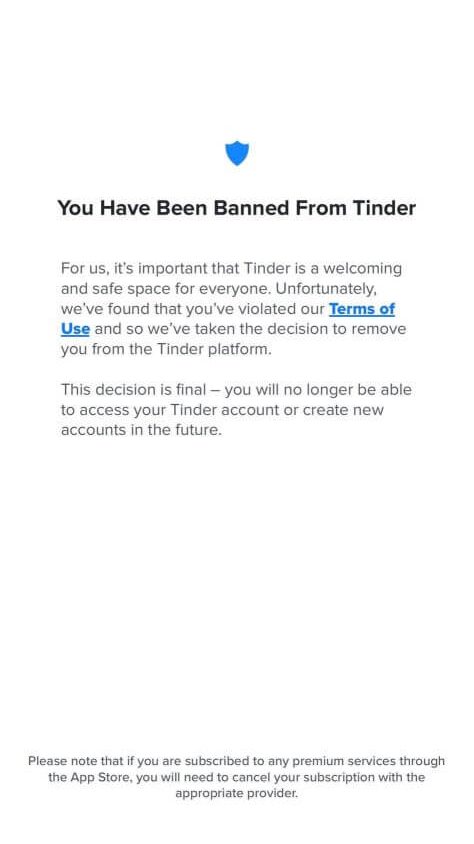 Getting banned from Tinder must be a heartbreaking experience for missing out on all the potential matches. Hence, we have come up with some methods that might help you get unbanned from Tinder.
Submitting an Appeal to Get Unbanned from Tinder
This is the first and foremost step you should take if you want to get unbanned on Tinder. Simply contact the service and request the unbanning procedure, which will show why the account has been banned. Make a simple request to the service, and your account will be restored. You have two options for contacting Tinder Support. Use them to request a review for your account if you believe you haven't broken their terms of service or community rules.
Via Dropping an Email
The simplest option is to send an email to Tinder at [email protected]. If your Tinder ban was truly an error, they might be able to unban your Tinder account. If you're lucky, you'll get your account returned, and none of your matches will be lost.
Via Official Support Form
Tinder customer service can be reached by submitting a request on the website.
[1] Under the What can we help you with? query, select the Trouble with account login option.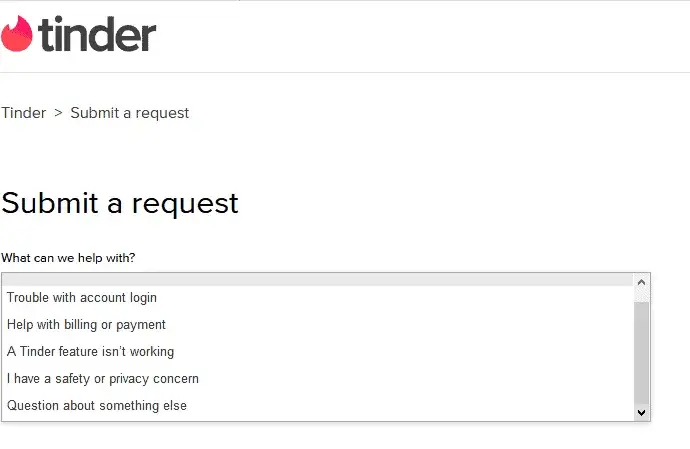 [2] Select Can't log in, my account was banned. Please include your email address, phone number, and a brief explanation in your message.
Follow these guidelines for the request's description section:
Describe your perspective on the situation. Always be courteous and respectful. If possible, take images to prove that your behavior was appropriate.
If they respond by telling you that your Tinder account has been suspended due to policy breaches, you will not be able to reactivate it. If they don't respond within a reasonable amount of time and you believe you've broken their policy, don't hold out hope for a successful Tinder ban appeal.
Changing Your Credentials to Get Unbanned from Tinder
Changing your basic credentials on Tinder might be a good alternative if appeals do not work. Tinder keeps all the data about you for three months after you delete the Tinder account or after Tinder bans your account. If you start a new account in less than three months with the same credentials, Tinder will be able to connect something with your old account, and they will ban or shadowban you again without hesitation. To avoid this, it is better to create an account with the new credentials. Here are a few of the credentials you can change to make a new account.
Different Email Address
Don't use the same email address for your new Tinder account. Tinder will recognize you easily. It means you won't be able to link your new Tinder account to the same social media accounts (Facebook, Instagram, etc.) as your banned account. If you're trying to get back on Tinder via email, use a different email address.
Different Sim Card
You will need this when it comes to verifying your new Tinder account. It's a crucial part.
[1] Borrow a number from a friend who's not using Tinder.
[2] Or, get a new phone number that wasn't used on Tinder before (you can buy it or use one you already have).
[3] Get a disposable/burner number.
You'll need it for SMS verification if you log in with a phone number.
You can utilize a throwaway phone number, a virtual phone number that you can only use for a limited time. At the end of the day, an online Tinder number ensures that you remain undetected and successfully avoid a Tinder ban.
Changing Google Play / Apple ID Account
Since your Google account/Apple ID collects all the data, reinstalling the app with the same google account/Apple ID can provide Tinder with enough information to figure out who you are.
Tinder does not block your Apple ID, but it does block your device. If you're trying to get back after being banned from Tinder, it implies you'll need a new gadget.
Creating a New Account in Tinder to Get Unbanned
Once you've completed the steps above, you'll be ready to go. Use a different email address than the one you used on the banned account. You can link it to a different Google account and confirm it with your new phone number. Don't log in to the same Facebook account you used on the banned account. Use a new Facebook account to connect with Tinder.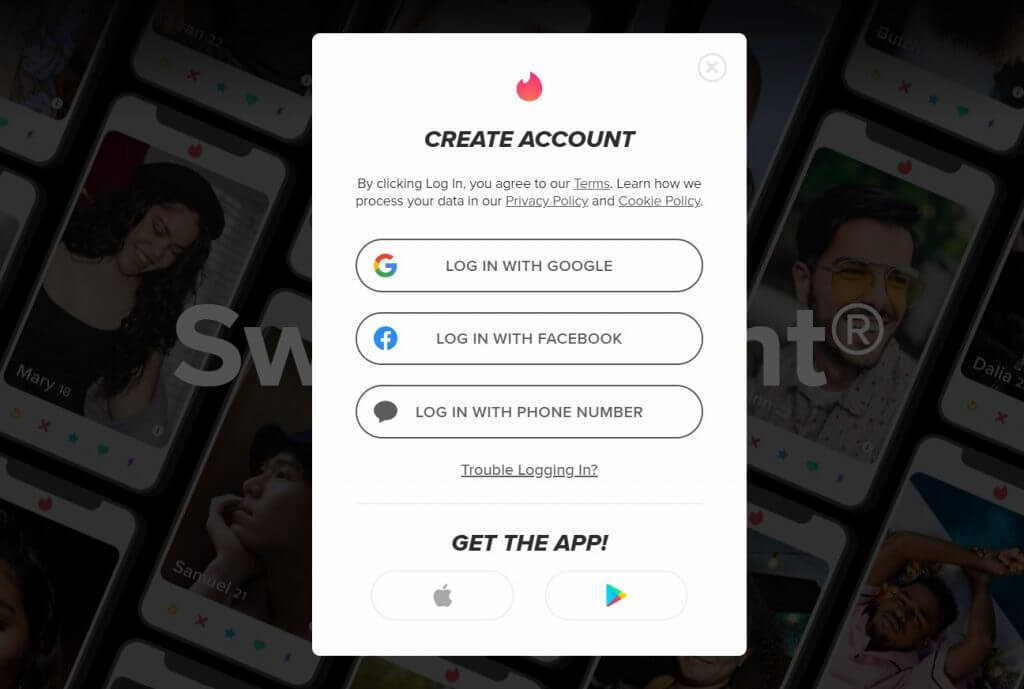 Do's and Don't
[1] Tinder detects images, implying that it does keep track of your pics. That's why you won't be able to utilize the ones you had before you were banned.
[2] Connecting your Instagram account to your previously banned account is another technique of begging Tinder to reinstate your ban. That is not something you should do.
[3] You must use different bank details than the ones you used.
Related – How to Get Tinder Gold for Free
[4] Don't try to apply for face verification. It will alert Tinder that a banned user is attempting to re-enter the service.
Using Incognito Mode in Browser to Get Unbanned from Tinder
This strategy hasn't gotten much attention. However, it appears to have worked for some folks who tried it. The reason could be you don't have to install Tinder on your smartphone, making it more difficult for Tinder to figure out who you are. If nothing else works out, this is the last resort.
The steps are as follows:
Follow the steps from the previous section. Create a new Tinder account with the exception that you will not be installing Tinder this time.
Open the incognito mode of the browser and visit Tinder.com.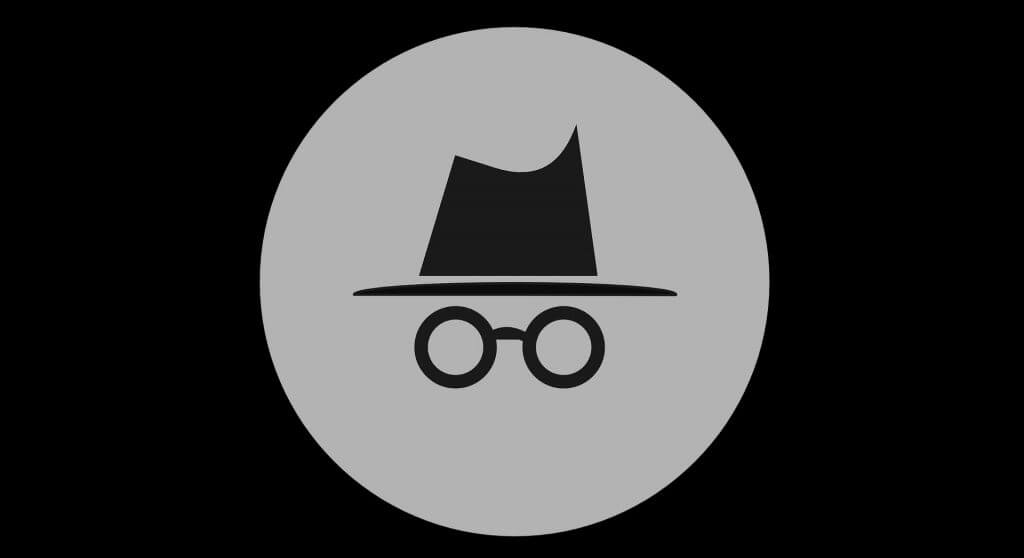 You can't find 'login with Google' in the incognito mode. Instead, you can log in using Facebook or a phone number (which should not be the same as the one associated with your banned account).
FAQ
How to get unbanned from Tinder on iOS?
The quickest way to get Tinder unbanned is to send a polite request to the Tinder help system. Contact the service and request the unbanning procedure, which will show why the account has been banned. Then, make a simple request to the service, and your account will be restored.
How do you get unbanned from Bumble?
The only way to reuse the services of Bumble is by deleting your existing account (if you still have access to it) and registering a new one with different login details than the one Bumble has blocked.
Was this article helpful?