Sometimes working in Google Docs might be tricky. Though it is similar to Microsoft Word, some specific tasks like remove header in Google Docs, add or remove footer, add superscript and subscript, change margins, etc. can be a difficult task for you. When you type any kind of document, it should have a header. But what if the header you created was a wrong one. You need to get rid of the header when you make the final correction. Also, certain documents doesn't demand the need to have a header. If you don't know how to remove the header in Google Docs, this article will help you do it.
Ways to Remove Header In Google Docs
We all know that Google Docs is only available on the web and smartphone devices. In both, you can remove the header and footer easily.
In the Web platform
In Smartphone app
Note: Have in mind that you cannot add or remove header to a specific page on Google Docs. If you remove it, the header disappears from the entire document.
How to Remove Header in Google Docs in Web platform
(1) While you are working on Google Docs, click on the header area using your mouse pointer.


(2) If you are working on a document with more number of pages, getting to the header may be difficult for you. In that case, press the key combination Ctrl + Alt + O and then Ctrl + Alt + H to go to the header independent of where you are.

(3) Once you are in the header space, click the Options drop-down button.
(4) Click on the Remove header option. This will remove the header from your document.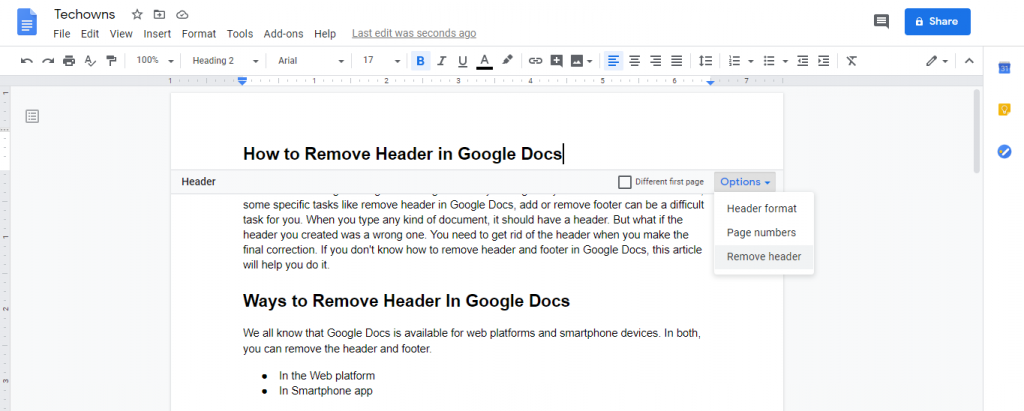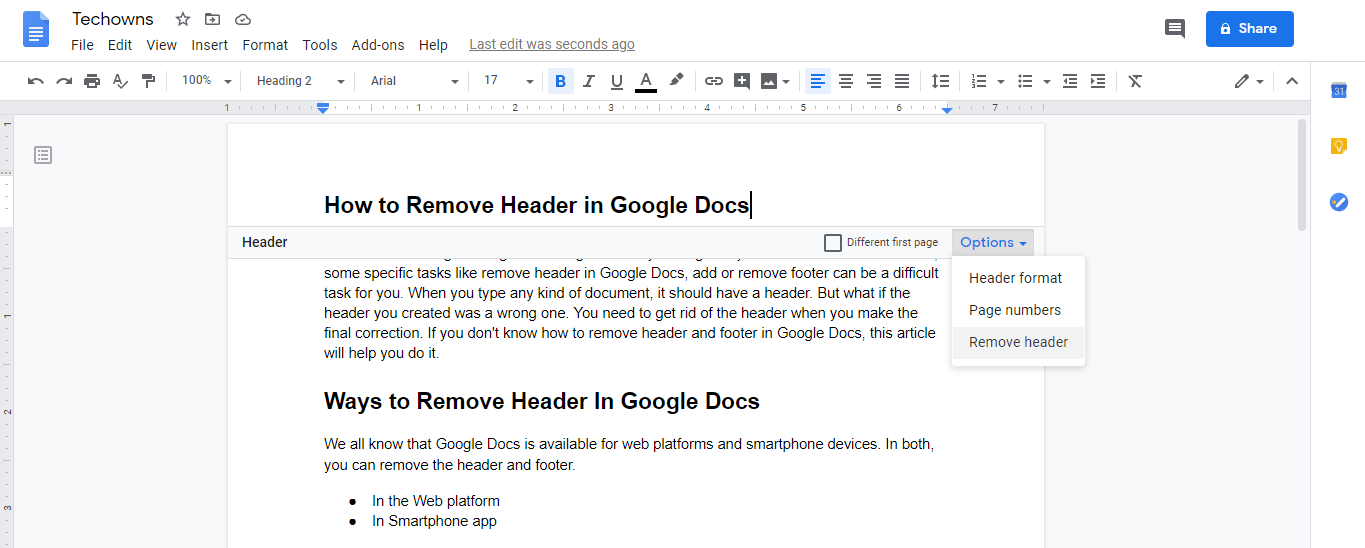 You can also use the command, Format –> Headers & footers –> Remove header. Don't forget to place the cursor on the header while doing this.


How to Remove Header in Google Docs in the Smartphone app
We don't recommend this method as the Google Docs smartphone app doesn't have a feature to delete the header. This is the same for both the Android and iOS apps. You have to use the backspace key on your smartphone or you can select the whole header text and delete it.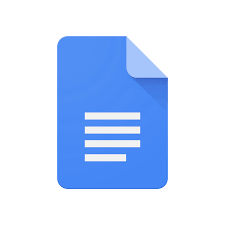 This will consume more of your time and so we suggest you remove the header in web platforms. For better navigation, use the Google Docs in PC.
Also Google Docs has a Dark Mode. See how to enable and use it?
To conclude
These are different ways that you can use to remove headers in a Google Docs platform. Delete the unwanted or wrongly misplaced headers on your document. If you have any doubts about the headers in Google Docs, tell us in the comments section. Follow techowns on Facebook and Twitter to catch our latest articles instantly.
Was this article helpful?