Key Highlights
To Get Pandora on Apple TV: Open App Store → Search for Pandora → Get → Launch → Activate → Sign in → Done.
Are you delighted to listening music from Pandora on your Apple TV? Then you can directly get the Pandora app from the App Store on Apple TV. Pandora is a subscription-based music streaming service that offers plenty of songs to listen to for free. To enjoy the features like playing on-demand songs, customizing your playlists, and downloading songs for playing offline, you have to subscribe to the premium plans of Pandora. You can even mirror your iOS device screen to your Apple TV and listen to Pandora's trending playlists.
How to Get Pandora on Apple TV
1. First, turn ON your Apple TV and ensure to connect with the proper internet connection.
2. Head over to the home screen of Apple TV and tap on App Store.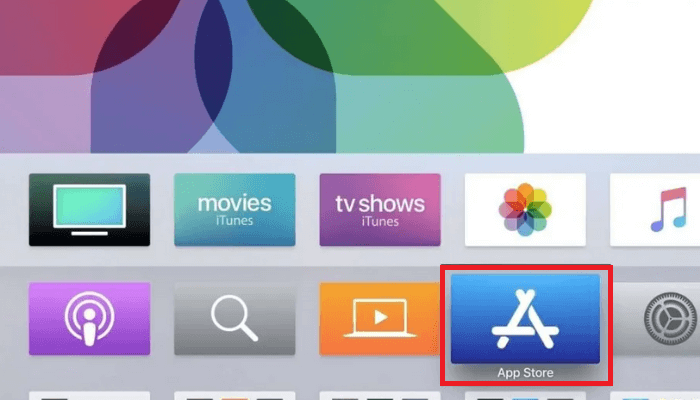 3. Hit the search icon and search for the Pandora app on the search bar.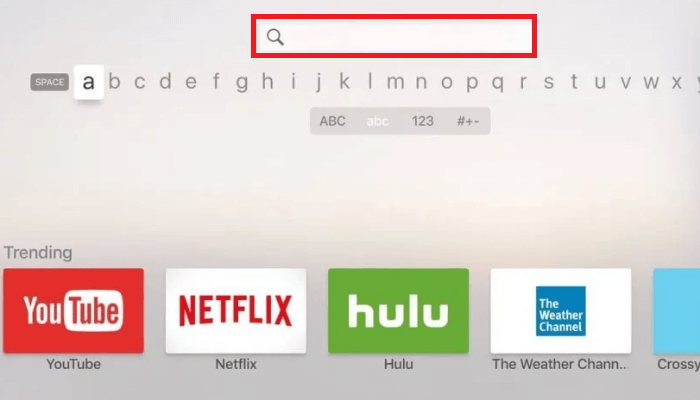 4. Click on the Pandora app and hit the Download or Get button.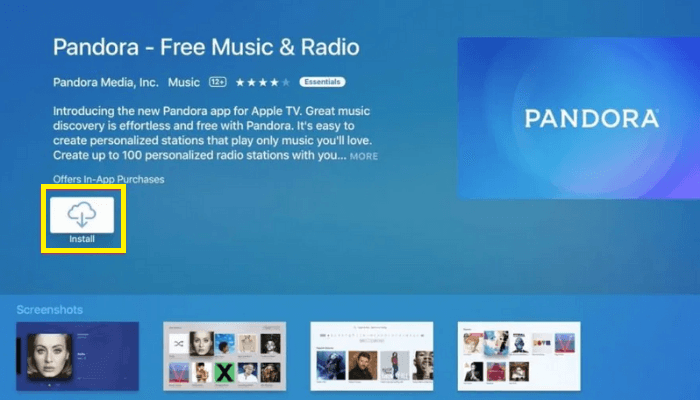 5. Launch Pandora and start listening to your favorite songs and podcasts.
How to Activate Pandora on Apple TV
1. Open the Pandora app on your Apple TV, and you will get the three options
Create your New Account.
Sign in with your Email.
Sign in with the Activation code.
2. Hit the Sign in with Activation Code option. Note down the activation code.
3. Go to the activation website of Pandora (http://pandora.com/apple) from any of your devices.
4. Enter the Activation code on the website and hit the Activate Now button. Pandora is activated and ready to use.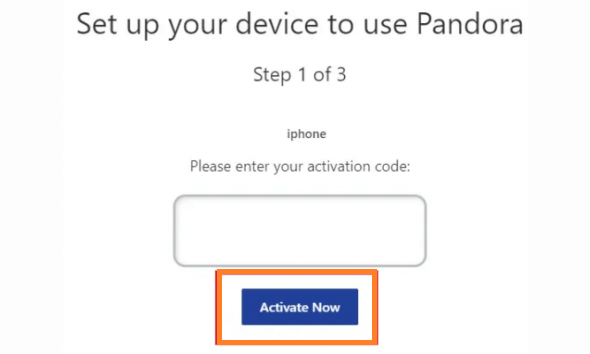 5. Sign in with the required details and start exploring your favorite music.
How to Airplay Pandora on Apple TV Using iOS device
1. Ensure to connect the iOS device and Apple TV to the same WiFi connection.
2. Get Pandora from the AppStore on your iOS device.
3. Tap on the Screen Mirroring option from the Control Panel.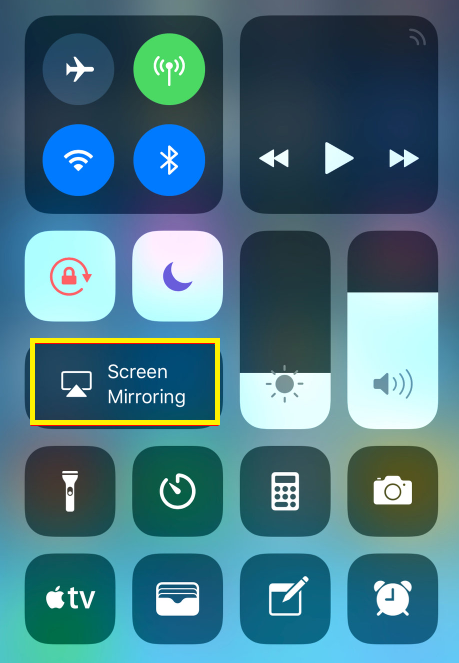 4. Choose your Apple TV device. Your iOS device is mirrored on Apple TV.
5. Log in to your Pandora account and start listening to songs from the playlist.
Subscription Plan of Pandora
By getting any one of the subscription plans, you will get the additional features of Pandora, like listening to music without ads, access to unlimited offline listening, creating and sharing your playlists, and more. You can cancel the Pandora Subscription on the official website.
PLANS
PRICING
FREE TRIAL
Pandora Plus
$4.99/ month
30 days
Pandora Premium
Pandora Premium Family
Student Premium
Military Premium

$9.99/ month
$14.99/ month
$4.99/ month
$7.99/ month


60 days

How to Sign Up for Pandora Account
1. Visit the sign-up website (www.pandora.com/account/register) of Pandora from any of your browsers.
2. Enter the required details and tap on the Signup button.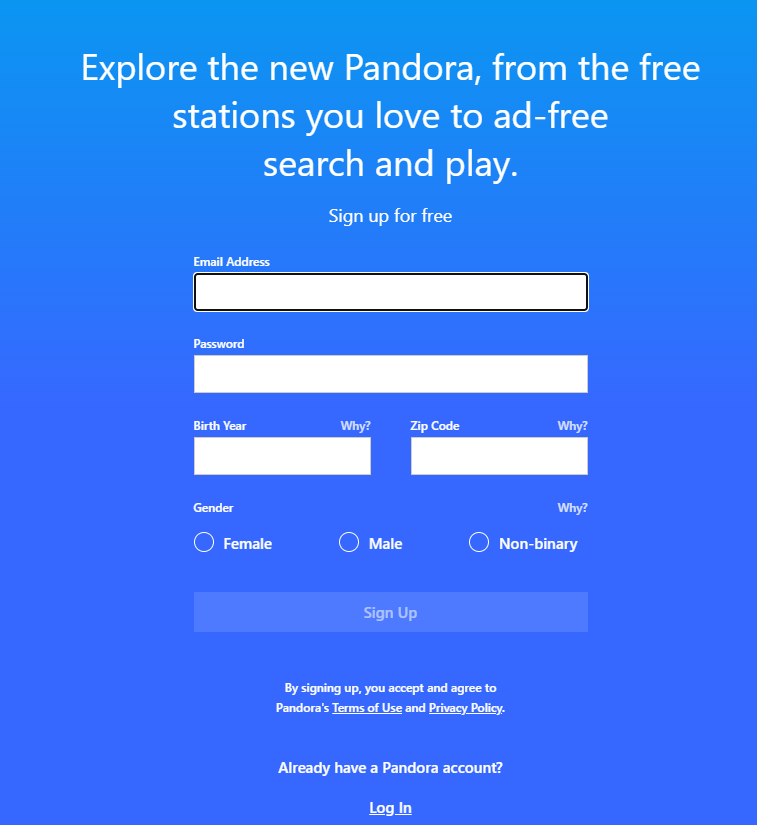 3. Hit any of the subscription plans and complete the payment.
4. Start listening to your favorite music on the Pandora app.
Things You Get with Pandora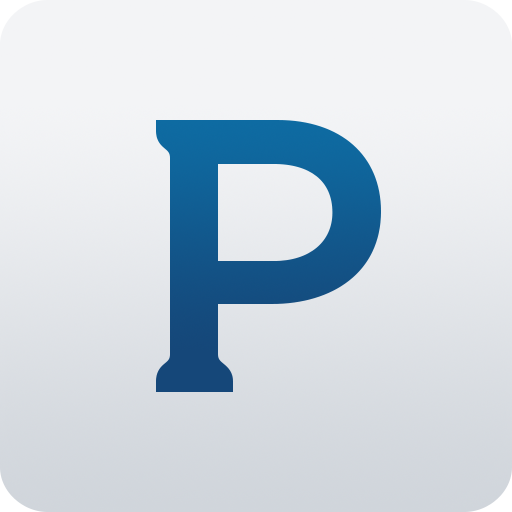 With Pandora Radio Station, create your own station according to your own playlists.
Get to know about the new songs with the user-friendly interface of Pandora.
You can play your favorite songs, albums, and podcasts from any of your devices, as Pandora is compatible with most devices.
Listen upto 3 radio stations offline with the Pandora Plus pack.
Get daily updates on trending songs on Pandora.
How to Fix the Not Working of Pandora on Apple TV
At times Pandora may go to working conditions like loading for songs, error in displaying lyrics, and getting stuck in between the songs. These types of issues can be solved with the below-listed troubleshooting steps.
Get connected with a strong internet connection.
Update the Pandora app on your device.
Uninstall and install the app again.
Log out and log in to your account again.
FAQ
How to sign out of your Pandora account?
To sign out from the Pandora account, open your Pandora app. Tap on Settings and hit the Sign Out option.
Does Pandora come for free?
Yes. You can access Pandora for free, but to access the premium features of Pandora, you must buy any one of the subscription plans.
Can you get the Pandora app on your Apple Watch?
Yes. You are able to get the Pandora app on your Apple Watch and easily switch between your favorite tracks on your Watch itself.
Was this article helpful?