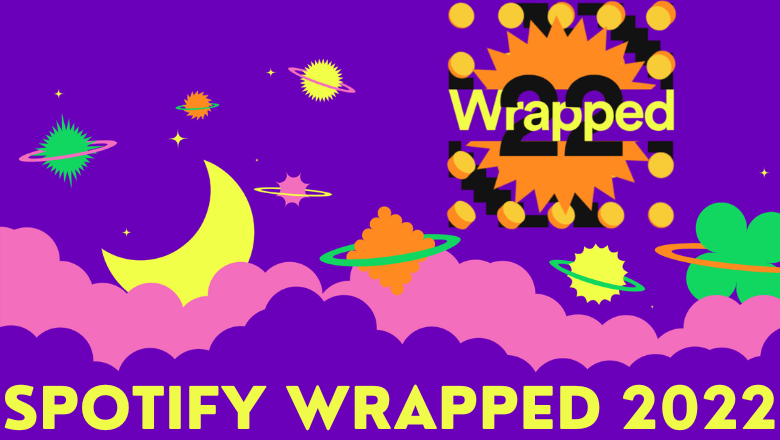 Spotify is the Swedish digital music streaming service that offers access to millions of songs. Recently the developer has brought out a new feature called Spotify Wrapped 2022. This feature was released globally to find your top list of most streamed songs, artists, playlists, and many more.
What is Spotify Wrapped 2022
Spotify Wrapped 2022 is rolled out from November 30 this year. It recaps your favorite songs, artists, albums, genres, podcasts, and playlists. With this feature, you can gather all the data under one roof. Spotify Wrapped can be accessible only in the Mobile app. Android and iOS users can celebrate the new features by upgrading the app to the latest version.
You can share your personalized Wrapped cards through Instagram Stories, Facebook Messenger, WhatsApp, Snapchat, and many more to let your friends know what music you listened to this year.
Tip! As a new user, you can get a 30-day free trial on Spotify to test out the features.
How to Access Spotify Wrapped on App
1. Update your Spotify app
It is important to update your Spotify app to the latest software version to access Spotify Wrapped 2022.
Note: Check whether you are using the recent version – 8.7.88.496 or higher.
On Android
[1]. On your Android phone, open the Google Play Store app.
[2]. Tap on your profile icon at the top right corner.
[3]. Click on the Manage apps & devices option.
[4]. Search Spotify, and if the update is available, You can see the Update available label next to it.
[5]. Tap Update to get the latest version of Spotify.
On iPhone
[1]. Initially, unlock your iPhone and navigate to the App Store.
[2]. Tap your Apple ID icon at the top right corner.
[3]. Scroll down to see the recent updates. Tap Update next to the Spotify app to update only that app.
2. Launch and Sign In
After installing the latest version of the Spotify app on your smartphone, launch the app. Then Sign in to your account using your Google ID or Apple ID, or other supported platform ID to gather all the data on Spotify.
By doing so, all the information, including songs, artists, and playlists across the devices, will be synched.
3. Listen to your Spotify Wrapped 2022
[1]. Open the Spotify app and ensure that you are logged in.
[2]. At the bottom, tap the Jump In button on the prompt screen to find the Wrapped 2022 musical recap.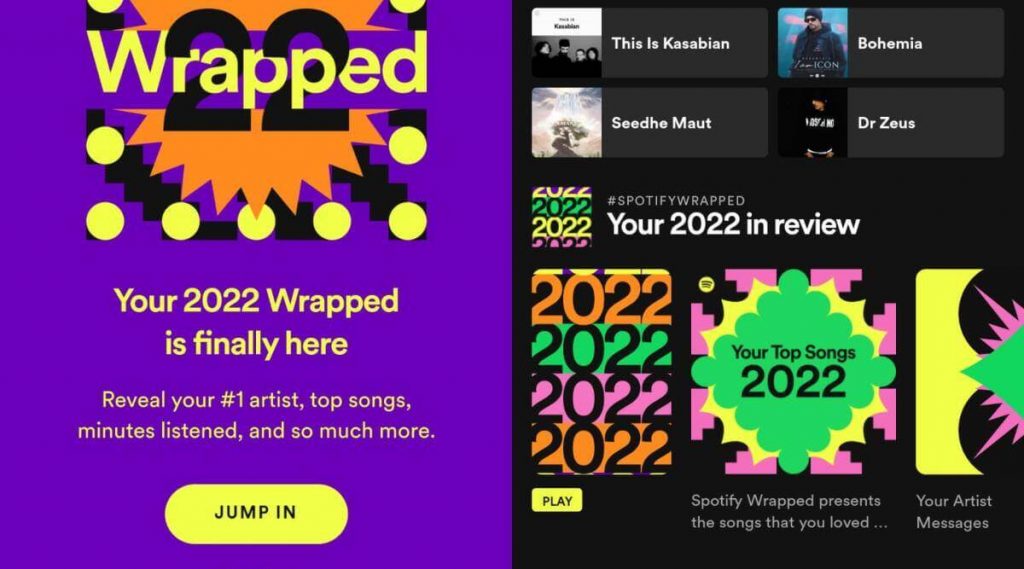 [3]. You can skip this prompt and reveal your Spotify Wrapped 2022 later.
[4]. Also, you can share your Spotify Wrapped 2022 on social media.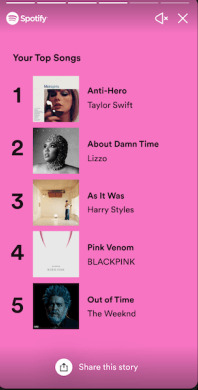 Frequently Asked Question
Who is the most-played artist on Spotify in 2022?
The most-played artist on Spotify in 2022 is Puerto Rican, the singer and songwriter of Bad Bunny, Drake, and Taylor Swift dominate.
Was this article helpful?