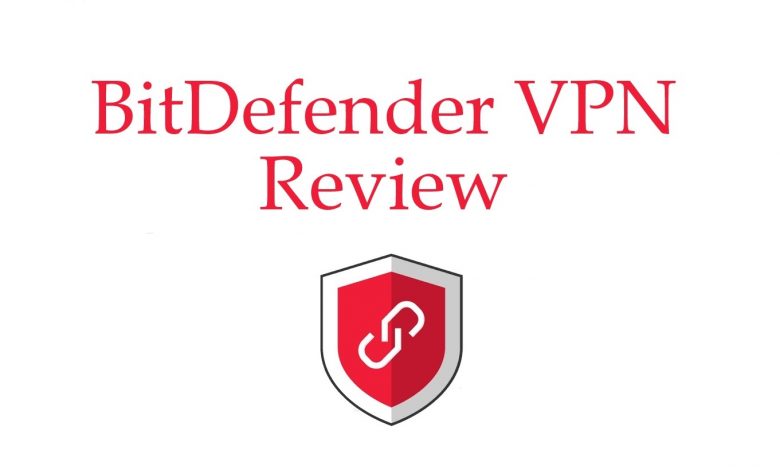 With the development of technology, it is really a huge threat to surf online. To protect ourselves from unwanted spying and to secure our privacy, VPN was developed. In the VPN line up, you can find an infinite number of VPNs. But if you are looking for a good VPN service, then only a few VPNs are available. A Few VPNs are ruling the VPN industry with the quality of service they provide. One of such quality VPNs is the Bitdefender VPN. Apart from serving as an antivirus, Bitdefender is working on completely securing your Network security as well.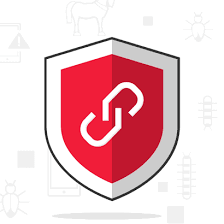 What is Bitdefender VPN?
Bitdefender is a cybersecurity and anti-virus software firm founded in 2001. It develops and delivers internet security software all over the world. It offers three services.
Bitdefender Antivirus Total Security
Internet Security
Bitdefender Antivirus Plus
Bitdefender VPN is not their standalone service. If you buy any of the above-mentioned services from Bitdefender you can get VPN services for an additional cost or free.
Bitdefender VPN Overview
As we mentioned earlier, you need to have any of the Bitdefender's primary service to get the VPN service.
| | |
| --- | --- |
| No. of Countries | 27 |
| No. of devices | Up to 10 depends upon your plan |
| Encryption | AES-256 bit encryption |
| Supported Platform | Computers, smartphones. |
| Jurisdiction | Romania |
| Contact Support | Support Centre, Email, Phone Contact, Live Chat, Forum |
Pros
Cheaper price
Available for free
Easy to use
Unblock Netflix
Cons
Not a standalone service
Not suited for professional use
Doesn't have any additional features
Bitdefender VPN Supported Devices
Bitdefender is a popular service, it is available on common smart devices. You can have Bitdefender services on your iOS and Android smartphone, Windows and Mac computers. Bitdefender has services tailored for specific devices. You can get specific services like Bitdefender Antivirus Plus 2020 for PC, Bit defender Antivirus for Mac.
It is clear that Bitdefender VPN is available only on popular devices like Smartphones and Computers. Other devices like Linux OS, Routers, Amazon Firestick are left out.
Jurisdiction
Bitdefender is based on Romania which is far away from the 14 eyes. So their user data is secured with utmost security.
14 eyes refer to 14 countries which include the United States, the United Kingdom, Australia, Canada, New Zealand, Denmark, France, Holland, Norway, Belgium, Germany, Italy, Sweden, and Spain.
The thing between these 14 countries is that the intelligent-sharing practices in those countries will gain access to your online data. To prevent this, you need to use a VPN that has a jurisdiction which is far away from the 14 eyes or at least not in the 14 eyes.
Pricing
You can't buy Bitdefender VPN individually by any cost. You need to have any of the Bitdefender Security Services on your device. Before buying the Bitdefender VPN, buy any of the security services.
The Bitdefender VPN has two subscription plans.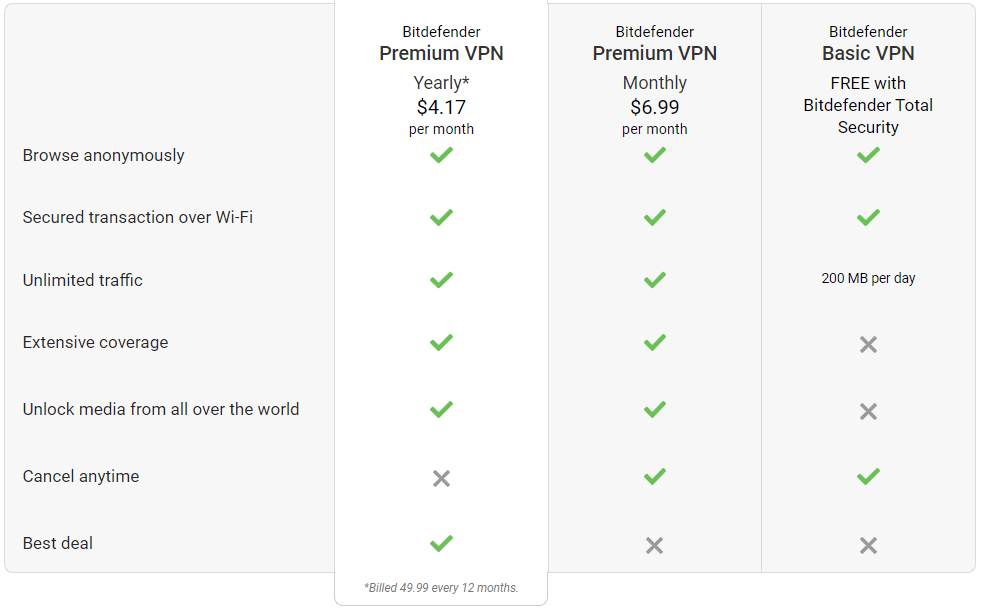 | | |
| --- | --- |
| Time Period | Price |
| Monthly | $6.99 billed per month |
| Yearly | 49.99 per year ($4.17 billed per month) |
As you can see in the table above, you get better value for your money if you choose a longer pack. You can have access to Bitdefender VPN on devices that you have brought Bitdefender Security Services. For instance, if you have purchased Bitdefender Security Service for 4 devices, you can use Bitdefender VPN on those 4 devices.
Bitdefender Free Version
You can access Bitdefender VPN for free only if you are a member of Bitdefender Total Security User. There are a lot a limitation on the free version.
With the free version, you can use only 200 MB per day which is very low when considered to daily data usage. Other than this data limit, you won't be able to choose the location of the server. You can get access to its Automatic Server location. You can't unlock media files from around the world.
Bitdefender VPN Servers and Locations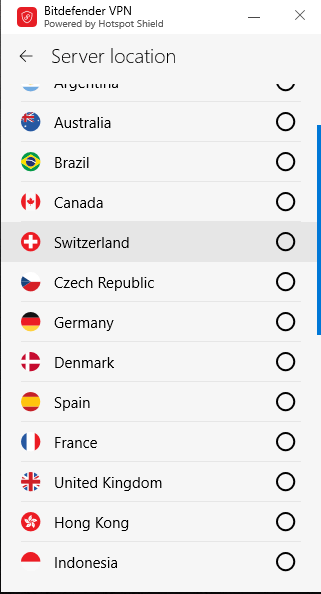 Since VPN is not the primary service of Bitdefender, a lot of common information is not available on their official website. The server and location count is one of them. The server count is nowhere available even in the premium VPN version.
The VPN is available on 27 countries that include popular locations like the United States, the United Kingdom, Australia, Germany, and so. You can choose any of the 27 countries.
But if you are a free user, you can't get to choose your desired server. It will automatically choose the server that is available on your time of connection.
Powered by Hotspot Shield
Yes, Bitdefender is powered by Hotspot Shield, which is one of the top VPNs. It is one of the indications that you are getting the premium level service. This clearly shows that Bitdefender is not maintaining its VPN service on their own. It works by using the Hotspot Shield Network.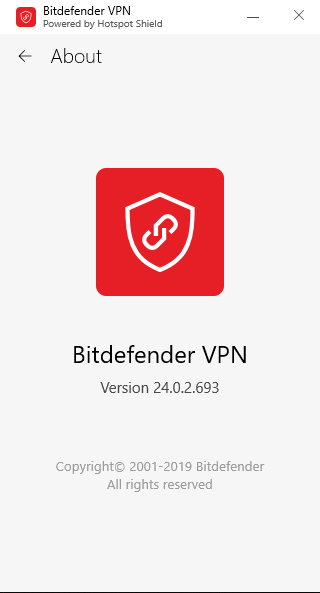 Torrenting and streaming services
Like the servers count, torrenting is also not mentioned on their website. Using the Bitdefender VPN, you can do torrenting but it is very slow. We confirmed that by asking a query in the live chat.
In the streaming services part, Bitdefender VPN will serve as expected. For the best part, it unblocks popular streaming services like Netflix, BBC iPlayer, Hulu, and Amazon Prime Video. But you can't expect to unblock those services every time. It may or may not works as you expected.
Bitdefender VPN Logging Policy
As mentioned in their Terms and Condition, they do collect some of the user data like cookies. Since they are offering 200MB of free data every day, they must be able to access the bandwidth used by the user but it can't see the website you are visiting and the contents of your online traffic.
Hotspot Shield is having one of the suspicious logging policies in the VPN services. For instance, in August 2017, Hotspot Shield is accused of spying their user's data and selling it to the advertisers. Having this negative history on the back, it is maintaining the Bitdefender VPN. So, no one can give guarantee that it won't store any logs.
Features of Bitdefender VPN
Features are one of the major missings in the Bitdefender VPN. In fact, it doesn't have any common features like Kill Switch, Split Tunneling, and much more. An unbranded free VPN offers more features than the Bitdefender VPN. It offers a very simple UI in which you have to open the app and click on "Connect" to connect to a virtual network.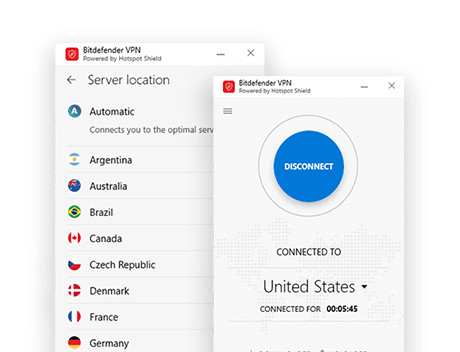 In the Setup option, you will get four options: My Account, Settings, Support, and About. In the Settings menu, you will get three toggle options: Notification toggle, Open the VPN on Startup and use VPN for unsecured Wi-Fi.
Performance and Speed Test
Though the VPN doesn't have any key features, it doesn't disappoint you with the performance and speed. On average, the VPN takes around 40 seconds to connect which is low when compared to other paid VPN services.
In a 16 Mbps WiFi connection, Bitdefender VPN clocks around 12.28 Mbps download speed, 10.97 Mbps upload speed, and ping time is 166 milliseconds on an Automatic Server.
US Server
Ping: 203 milliseconds
Download Speed: 10.19 Mbps
Upload Speed: 5.57 Mbps
Germany Server
Ping: 212 milliseconds
Download Speed: 9.48 Mbps
Upload Speed: 4.74 Mbps
UK Server
Ping: 300 milliseconds
Download Speed: 9.75 Mbps
Upload Speed: 5.98 Mbps
Russia
Ping: 214 milliseconds
Download Speed: 10.21 Mbps
Upload Speed: 6.88 Mbps
It is advised to use the server that is nearer to your location. If you choose a location that is far away, you will get a slower speed. The performance and speed test are taken website speedtest.com by Ookla. The speed test results may vary according to your location.
Customer Support
Bitdefender VPN has Live Chat, Email chat, Support Centre, Phone call support and Bitdefender Forum. It is evident that Bitdefender VPN has a bunch of support channels for its customers. But the quality is not that much appealing.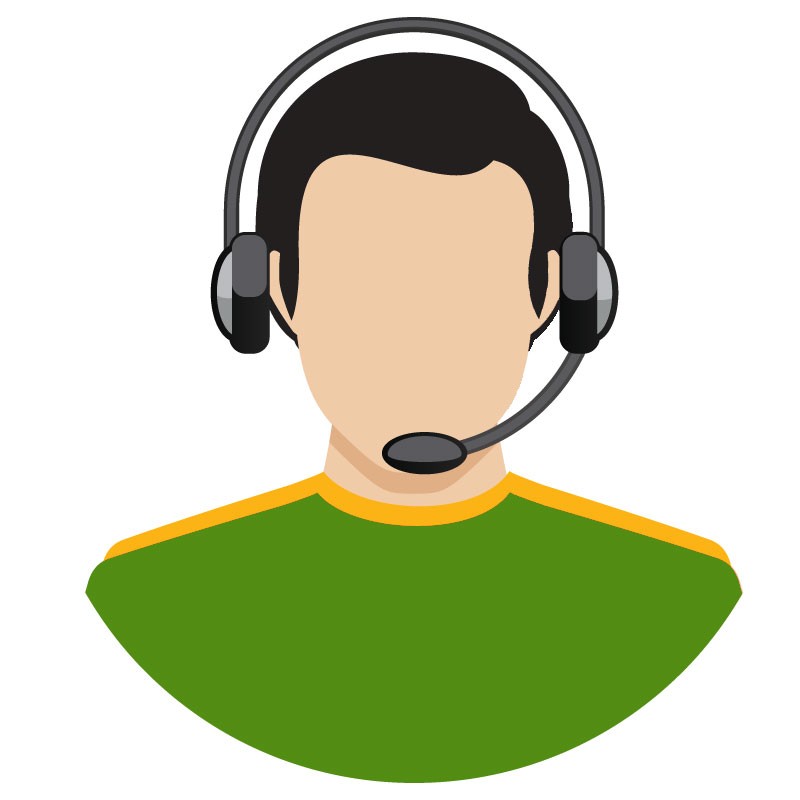 In the Live chat, it takes more than 10 minutes to connect. The Live chat option is not directly available on the website. You need to go Support Page and choose Home Support or Business Support. There only you will find the Live Chat option.
In the Email support, you can get a more clear solution to your query. Usually, it takes a day to get a reply from them. When compared to live chat, Email is far better.
There is no Support Centre button on the home page of the website which is a major drawback on a website.
Bitdefender VPN User Interface
Bitdefender VPN is one of the easiest VPN when it comes to usage. You just need to tap on Connect to turn on the VPN. If you want you can change the location from the 27 available locations.
It is the simplest VPN with no extra features. You can enable or disable a few options on the Settings menu. On the backside of this, there no additional feature in this VPN.
The VPN app has a simple view which doesn't even occupy half of your PC screen. Once connected, you can browse through the internet with 100% anonymity.
Our Opinion
On the whole, if you are looking for a perfect VPN that offers plenty of features, then Bitdefender VPN might not be the ideal choice. But if you using Bitdefender antivirus and planning to use this additional benefit, then this will be the best one to use. As you can't install this app without Bitdefender total security, you can have a trial as well. With our experience, this VPN is good compared to other services.
Still, wondering about Bitdefender VPN? Ask your queries in the comment section below. Follow us on Twitter and Facebook for more updates.
Was this article helpful?