At the start of the new decade, VPNs are one of the things that everyone needs to have. Internet security is the most needed thing in the next decade. To avoid internet threats, VPNs are introduced. UltraSurf VPN is a free VPN service provider that is available in most of the world. VPNs like NordVPN and ExpressVPN are premium VPNs where you can pay money to get the services whereas UltraSurf VPN is available for free.
UltraSurf VPN Overview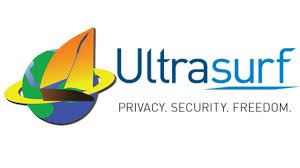 | | |
| --- | --- |
| Jurisdiction | United States |
| Servers | Not mentioned on the website |
| Website | ultrasurf.us |
| Simultaneous Connections | No login required |
| Netflix | Yes |
| Torrenting | Yes |
| Encryption Protocols | 256-bit miltary-grade protection |
| Supported Platforms | Android, Windows, Chrome Extension, Firefox Extension |
| Chat Support | Email support only |
Pros
Available for free
Unblock Netflix
Easy to connect
Cons
Keeps logs
Not available for iOS
Jurisdiction
UltraSurf VPN provider operates in the US which comes under 14 eyes. If you choose a VPN that has jurisdiction on 14 eyes, you will face some consequences. The USA, UK, Australia, New Zealand, Canada, Belgium, Denmark, France, Germany, Italy, Netherland, Norway, Spain, and Sweden are the 14 eyes countries. VPNs in these 14 countries will follow strict logging policy and data retention.
It is advised to choose a VPN that has the jurisdiction away from the 14 eyes. CyberGhost VPN, NordVPN, ExpressVPN are the best examples of this.
Servers and Country Location
The number of servers is still unknown and didn't even specify on the official website. The available countries also not specified on the website. The server location and available countries are still a mystery among the users.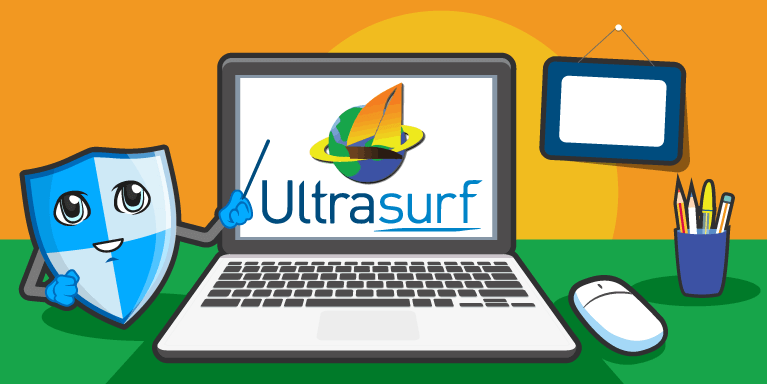 Even though the servers counts and the available country location is not given, UltraSurf is continuing its services without any fuss. Giving VPN services for free is one of the major reasons for this inadequate information.
UltraSurf VPN Supported Devices
UltraSurf VPN is not a popular VPN service, it is only available on limited devices.
| | |
| --- | --- |
| Smartphones | Android |
| Desktop | Windows |
| Browser Extensions | Google Chrome and Mozilla Firefox |
| Streaming devices | Amazon Firestick |
As you can see in the above table, the UltraSurf VPN is available on the Android platforms alone, it is not available for the iOS devices.
Pricing
UltraSurf VPN is totally a free VPN service. It never asks for any login information, just download the VPN and use it on your own. As far as free VPN is considered, UltraSurf VPN is one of the best VPNs available.
UltraSurf VPN Logging Policy
The logging policy is not clearly mentioned on the website. But they tend to keep logs on your browsing data. Since the VPN is located in the USA (14 eye country), they will monitor your browsing data once you connected to the VPN. If they say, they won't keep logs on your data then they are literally lying about it. In 14 eyes, they will definitely monitor your data.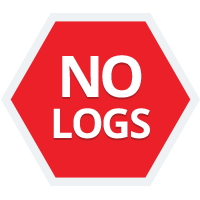 Encryption and Security
UltraSurf VPN has 256-bit military-grade protection for its servers. In addition to this, it also offers the SHA-256 cryptographic hash function.
Though it has the above-mentioned encryption and security, the tunnelling protocols are not mentioned. The website doesn't have any information regarding the OpenVPN, PPTP, and SSTP protocols.
Streaming and Torrenting
In the streaming section, UltraSurf can unblock popular streaming services like Netflix, HBO, Hulu, and YouTube TV. Though the VPN is free, it can be used to unblock streaming services. Unblocking streaming services with the other location will give you access to the contents that are restricted to your location.
UltraSurf VPN can be used for torrenting but the chances are higher that your browsing history can be monitored once you connect to the VPN. The jurisdiction is within the 14 eyes, torrenting is not recommended even it is possible on the VPN.
UltraSurf VPN User Experience
UltraSurf doesn't have any user interface. You can open the VPN app and click the Connection toggle button and leave. You don't have any user control for a single connection button. Though it has a simple UI, it will display you the data upload speed and download speed.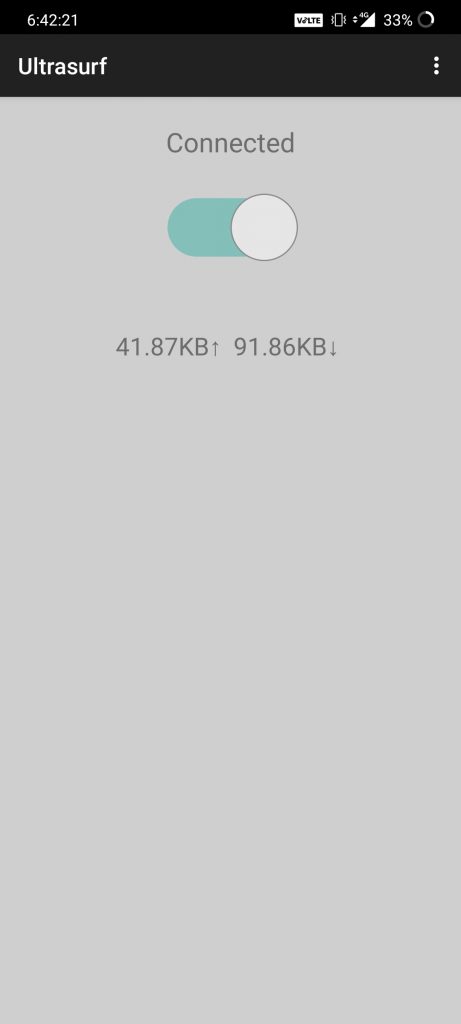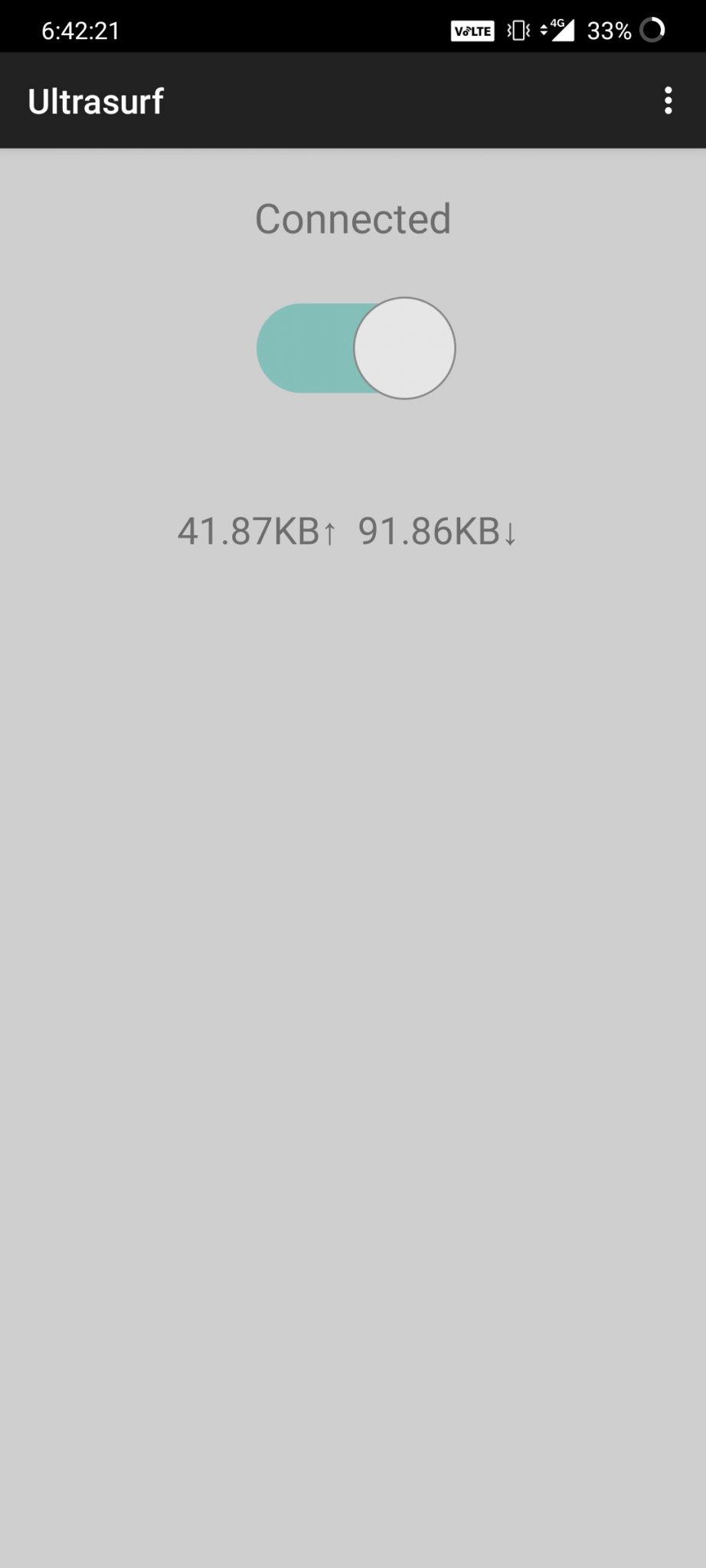 Whenever you connect to the VPN, it will always redirect you to the UltraSurf official website. This may annoy some users. There is no way that you can stop the redirecting process.
Speed and Performance
No VPN will give you the 100% download speed. Connecting to the VPN will eat up some speed. But in UltraSurf VPN it will eat up most of the speed and leave you with very low download and upload speed.
Before connection to the VPN, we got a download speed of 20.25 Mbps, upload speed of 16.80 Mbps, and pings of about 25 milliseconds.
While connecting to the VPN, we got a download speed of 6.25 Mbps, upload speed of 4.60, and pings 343 milliseconds.
The performance of the UltraSurf VPN is pretty low and it is one of the worst performance by a VPN. The worst performance is mainly due to the free availability. They are not maintaining the VPN servers to deliver a good performance.
Customer Support
UltraSurf VPN is not so popular VPN only a few bunches of people are using it. In the customer support page, they don't have live chat support or a support centre. They only have an email chat.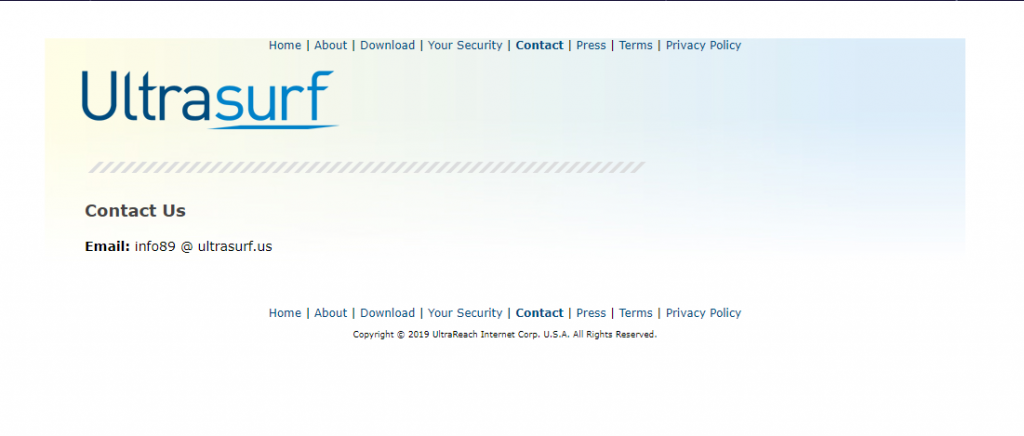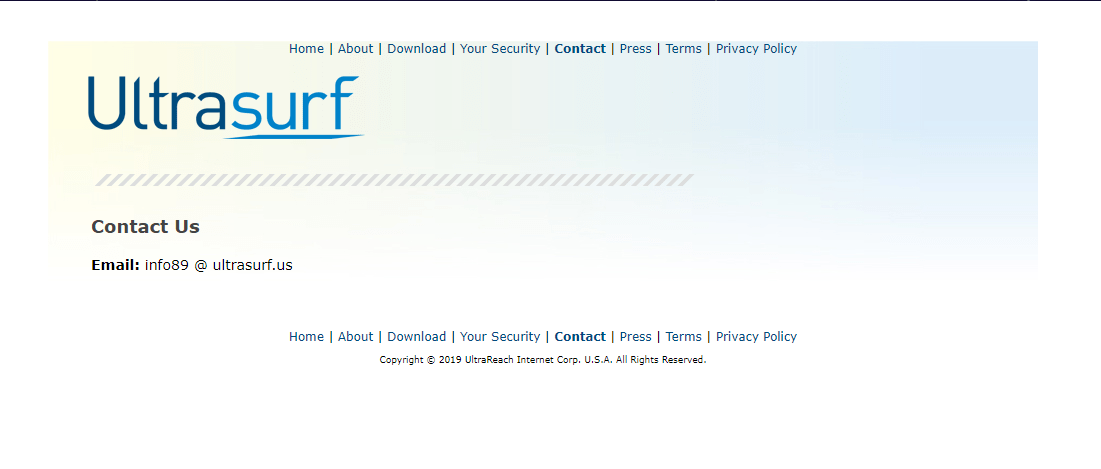 In fact, you don't need a live chat or support centre for UltraSurf VPN. You are just going to download the VPN and use it. You just have to click the Connect toggle button and start surfing the internet. For this task, you don't need any help from others. If you have any connection issues or some performance issues, you can email them.
Our Opinion
VPNs are introduced for safety and security purposes. But the premium VPNs like NordVPN encounter security threats and are vulnerable to privacy attacks. Even paid premium VPNs are encountering security threats, free VPNs are even more vulnerable to these threats. If you want your browsing data and your online privacy to be safe & secure, go for any premium VPNs. UltraSurf VPN is a free VPN. There are many privacy issues in a free VPN. But still, you can use UltraSurf VPN as it is one of the best among the free VPNs.
If you have any queries or feedback, let us know in the comment section below. Follow us on Twitter and Facebook for more updates.
Was this article helpful?