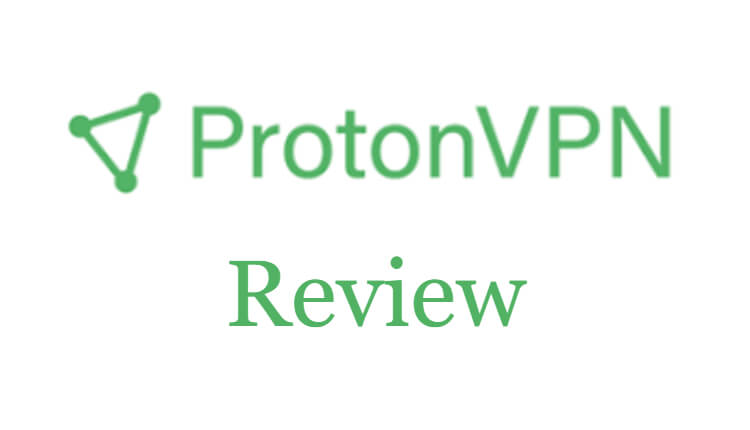 VPN (Virtual Private Network) is one of the most used things in the present decade due to security problems and malware threats. There are a huge number of VPNs available for free which do nothing other than asking your personal details and showing unwanted ads. In the midst of this, paid VPNs are ruling the internet security. One such paid VPN is the ProtonVPN. Read more to know about the ProtonVPN's advantages, disadvantages, and much more.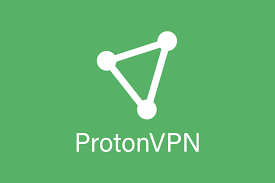 ProtonVPN Overview
| | |
| --- | --- |
| No. of Servers | 577 |
| No. of Countries | 44 |
| No. of devices | 10 |
| Encryption | AES-256 AND 4096-BIT RSA for key exchange |
| Logs | No Logs Policy |
| Kill Switch | Yes |
| Torrenting | Allowed |
| Streaming Services | Netflix |
| Jurisdiction | Switzerland |
| Customer Support | Support Page and Email support |
| Website | https://protonvpn.com/ |
Pros
Easy to Use
Available for Free
Unblock Netflix
Cons
No live chat support
Takes a long time to connect
Pricing
ProtonVPN has three subscription plans. As the paid VPNs are considered, ProtonVPN is one of the cheapest VPN. All the plans come with a 30-day month back period. Like all the VPN services, you will get less price when you opt for long-time plans.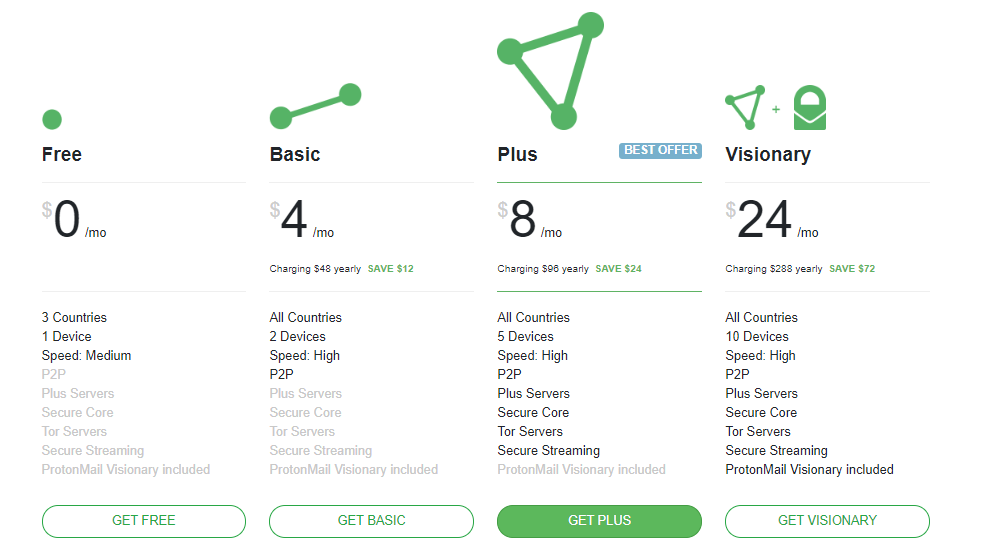 | | | | |
| --- | --- | --- | --- |
| | Monthly | Yearly | Two-year |
| Basic | $5 per month | $48 per year (Billed $4 per month) | $79 for two years (Billed $3.29 per month) |
| Plus | $10 per month | $96 per year (Billed $8 per month) | $159 for two years (Billed $6.63 per month) |
| Visionary | $30 per month | $288 per year (Billed $24 per month) | $479 for two years (Billed $19.96 per month) |
In the Basic Plan, you get 2 simultaneous VPN connections and server access to all the countries with no data limit. This plan comes with P2P support and File sharing support. You will high speed internet connection.
In the Plus Plan, all the Basic Plan features are included. In addition to that, you will get 5 simultaneous connections and get additional protection against VPN server compromisation. You can unblock geo-restricted content. Torrenting also included in this plan.
In the Visionary Plan, you will get all the features that are included in the previous plans. Other than the VPN service, you will get ProtonMail encryption.
Other than these plans you will get free ProtonVPN too. But there are several limitations too. You will get only one simultaneous connection and the speed is minimum. You can't unblock geo-restricted content and P2P support. In the free plan, there is no restriction on the data limit. You can use the free VPN with unlimited data usage.
ProtonVPN also offers a free trial option too. You can free trial for up to 7 days. In the free trial, you get all the privileges that are available on the Plus Plan. After 7 days, you can buy any of its plans or you use the VPN for free with the limitations.
Supported Devices
Being a not so popular VPN, ProtonVPN is supported by only common devices like Android smartphones, Windows computers, iOS devices, macOS and Linux Platforms.
ProtonVPN doesn't have an extension to use specifically on the web browser. You can't have the VPN on your routers. Maybe, in the future, we might have the ProtonVPN on more devices.
Servers and Locations
ProtonVPN has 577 servers in a total of 44 countries with a Gbps capacity of 675.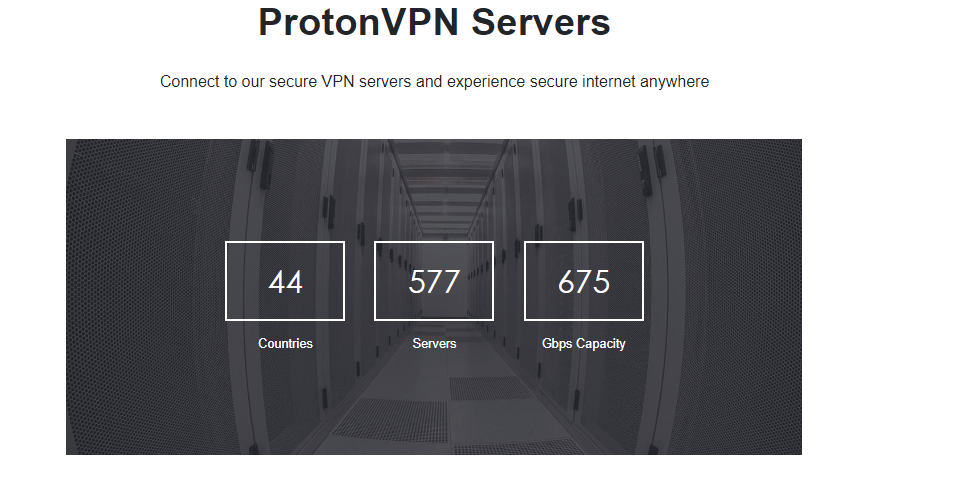 Though it has 577 servers, you can access all the servers in a free plan or in a Basic Plan. You need to be a Plus Plan user or a Visionary Plan user to access all the servers. In order to get the Secure Core feature that is available only on the Plus Plan and Visionary Plan, they have this limitation on the servers list.
Higher the number of servers means lower the traffic on each server. By comparing to other VPN like NordVPN and ExpressVPN with more than 3000+ servers, ProtonVPN has only 577 servers. But the ProtonVPN has only a million users. For a million users, 577 servers are more than enough.
Encryption
ProtonVPN is encrypted with AES-256 bit encryption and the key exchange is encrypted with 4096-bit RSA. For message authentication, ProtonVPN uses HMAC with SHA384.
This means that the VPN uses only the highest encryption to protect your information. All your network traffic is encrypted with high security. By using the ProtonVPN, you don't need to worry about the privacy threat.
Jurisdiction
ProtonVPN is a subsidiary of Proton Technologies AG which is located in Geneve, Switzerland. It is important to know the jurisdiction of a VPN. As per certain law enforcements, a VPN needs to provide some information to the country and have the right to keep some information without disclosing it. Depends on the country, this law varies.
In this case, the country is Switzerland. The country has a rich history of being neutral. But the only issue is that Switzerland is one of the 14 eyes. In those 14 countries, there is a worldwide agreement that they will help the government to keep track of each other citizens for the sake of worldwide security.
Features of ProtonVPN
ProtonVPN has some unique features which are absent in popular VPNs. Secure Core is one such feature that is available only on the ProtonVPN.
Secure Core
ProtonVPN's Secure Core feature gives you a unique way to protect against network-based attacks. By enabling this Secure Core feature, your internet traffic is routed through multiple servers before leaving the network.
This means that a person who monitors the internet traffic at the exit of the server can't able to find your original IP address. These Secure Core servers are places in locations like Switzerland, Iceland, and Sweden which are protected by high privacy laws.
Forward Secrecy
In ProtonVPN, all the encryption cipher suites are the ones that are having the perfect forward secrecy. This means that if your encryption key on a subsequent session gets violated, it can't be decrypted. In Forward Secrecy, you won't get the same encryption for more than one session.
Strong Protocols and Encryption
With the 256-AES, 4096-bit RSA, and HMAC with SHA384 encryption, all your private is strongly protected. In the protocols section, ProtonVPN uses IKEv2/IPSec and OpenVPN. ProtonVPN doesn't have the support of PPTP (Point to Point Tunneling Protocol) and L2TP (Layer to Tunneling Protocol)/IPSEC even though they are cheaper to operate.
Other than these features, ProtonVPN has common features like Kill Switch, Split Tunneling, DNS Leak Protection, and IPv6 Protection. On the feature-wise, ProtonVPN is one of the best VPNs to have.
Additional features like P2P support, Unlimited Bandwith, Professional Support, Quick Connect, Managing profiles, Quick Country Selector, Modern Interface, Multi-platform support are some of the features that are worth mentioning in ProtonVPN.
Torrenting and Streaming Services
As mentioned in the ProtonVPN website, torrenting is allowed on Plus and Visionary Plan. ProtonVPN has P2P support, so it can be used for torrenting. But if you a user of Basic Plan, you can't use the ProtonvVPN for torrenting.
In the streaming services section, it can unblock Netflix but can't do the same on BBC iPlayer. Other than Netflix, it can unblock Hulu and Amazon Prime. Unblocking Netflix is one of the toughest tasks for a VPN as Netflix is constantly stoping the VPNs that bypass its geo-restrictions. For now, it safer to say that ProtonVPN is safer for torrenting and streaming services.
Logging Policy
ProtonVPN is following the no-logging policy. They are storing any information about user connection and website visits. However, they store the information of your most recent login to make sure who is signing in on your account.
In the past years, ProtonVPN has not reported any security breach or any privacy threats. Popular VPN like NordVPN and Hotspot Shield encountered a security breach for at least a single time. By considering this security breach and potential threat, Proton VPN is one of the best VPN to have on your smart device.
Performance and Speed Test
ProtonVPN will slightly disappoint you when you considered on a speed basis. On a 75 Mbps internet connection, the Fastest server clocked 20.55 Mbps download speed and an upload speed of 15.42 Mbps with the Ping time 75 milliseconds. For the fastest server, the speed is so disappointing.
Then we connect to the nearest server manually. Now, the results are somewhat satisfying.
US Server (Nearest Server)
Pings: 75 milliseconds
Download Speed: 49.25 Mbps
Upload Speed: 23.66 Mbps
Germany
Pings: 100 milliseconds
Download Speed: 51.54 Mbps
Upload Speed: 28.84 Mbps
United Kingdom
Pings: 50 milliseconds
Download Speed: 54.89 Mbps
Upload Speed: 30.48 Mbps
Hong Kong
Pings: 154 milliseconds
Download Speed: 24.14 Mbps
Upload Speed: 14.54 Mbps
It is highly recommended not to go for the fastest server. If you go for it, you will not get the expected speed. Go for your nearest server to get the maximum speed. The speed test result may vary according to your location. If you want to check the speed for yourself, head to speedtest.com
Customer Support
The absence of Live Chat is one of the major flaws in ProtonVPN. To contact customer support, you need to submit your question on the Support Form and wait for them to reply to your email. This will usually take 1-2 days.
Other than email support, they have a Support Centre where you can find solutions to your issues. The solutions are categorized into different segments like Accounts, Download and Setup, General Information, Access Content, and Troubleshooting. You can also search for your query in the search bar, you will get the desired result.
Without the Live chat support, ProtonVPN is delivering the solution to its users via email or their support page. If they include Live Chat support, it will be easier to contact them.
User Experience
ProtonVPN is one of the simplest to use yet having many in-depth features.
On opening the app on your PC, you will get the ProtonVPN screen which consists of the Quick Connect button and the Countries list on the left side of the screen. On the right side, you will see all the available server locations on a world map which is quite intriguing.
If you click Quick Connect, it will connect to the fastest server. When you click the drop-down arrow on the country location, you will get the servers list. If you click the Info icon corresponds to the server, you will get information like server load, server IP, and features available on that server.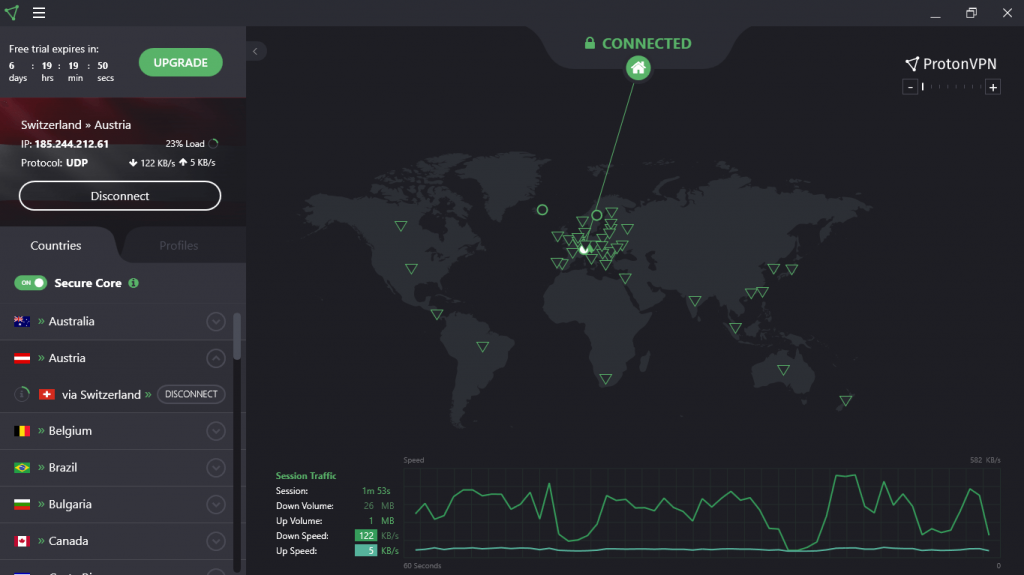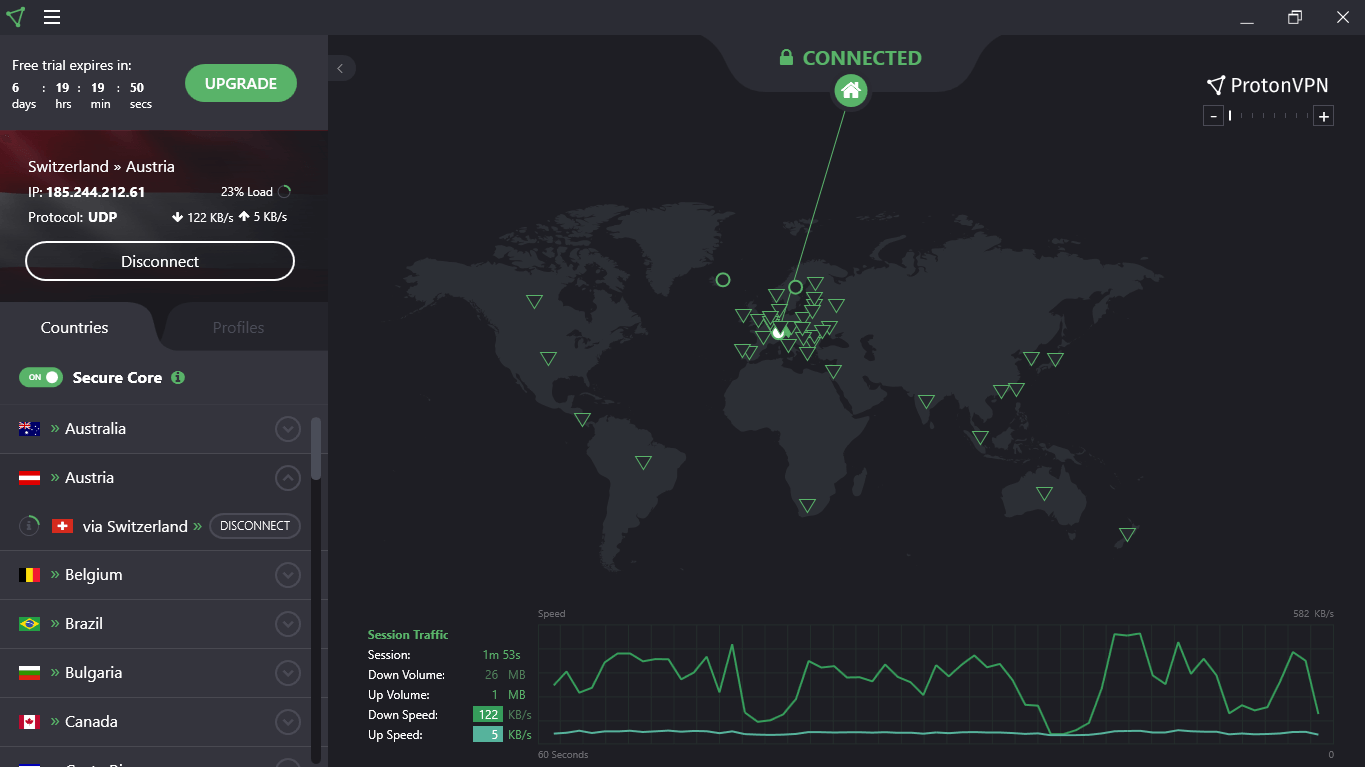 On the bottom right, you can see all the session information like time of the session, download volume & speed, upload volume & speed. The bottom right side is full of details and data.
Click on the Menu icon to open the customize option where you can find Accounts, Profiles, Settings and so on. In the settings menu, you can find options like Kill Switch, Split Tunneling, DNS leak, IPv6 lead option. For a beginner too, the app will be very easy to use and navigate.
Connecting time in the ProtonVPN is a bad thing. It takes too long to connect. When you made a connection, you can literally see the progress like Initializing Connection, Authenticating User, and Assigning IP and then only you are able to connect to the VPN. On average, it takes around one minute to connect.
Missing Features on ProtonVPN
Though the ProtonVPN is rich in new features, there are some common VPN features that are missing in the VPN.
Features like Ad-blocker, browser extensions, not available for the routers are some of the missing features that are common in VPNs like NordVPN and ExpressVPN. By considering its cost, the missing features are not much of a concern.
ProtonMail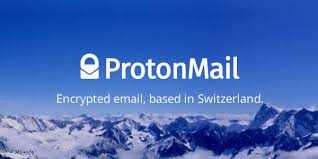 ProtonMail is the other service offered by Proton Technologies. It is an encrypted email system used to communicate securely. ProtonMail also has a subscription plan in three ways. Each plan has limitation like 20GB storage, send up to 1000 messages per day like that. You can have a free plan too.
In the free plan, you will get only limited resources. Like you will only 500MB storage and 150 messages per day. You won't get a personal domain name. Your free encrypted ProtonMail will look like this [email protected]
With the encrypted ProtonMail, your email conversation can't be tracked. It is a highly secured mode of communication that no one will track your email communication.
ProtonVPN is one of the safest VPN until now. All the popular VPNs have encountered at least one security breach and potential threat. Maintaining low grounds and having minimum users is one of the reasons for ProtonVPN's success. For its low cost, ProtonVPN is delivering more than enough. ProtonVPN is not the best VPN but it will never disappoint you with its services.
Ready for ProtonVPN on your devices? Leave a comment below. Follow us on Twitter and Facebook for other updates.
Was this article helpful?